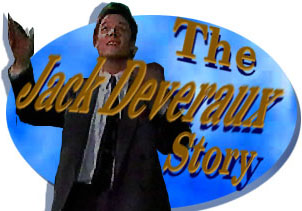 oldEpisode Three-hundred-thirty-two: Jack
Plays the Stocks, This Makes Hawk
Interested. Discovering Jennifer Has a
Diary, Hawk Is Determined to Read It.
Jack and Jennifer Share a Romantic Evening.
---
[Air date early September 1991]
SCENE ONE: IT IS THE NEXT DAY AND JENNIFER IS TRYING TO HELP HAWK AGAIN. JACK IS NOT AT ALL HAPPY. HE IS NOT AS TRUSTING OF HAWK, AND *KNOWS* THAT HAWK HAS THINGS ON HIS MIND WHEN IT COMES TO JENNIFER.

JACK: Jennifer, I need to talk to you.

JENNIFER: Wait just a minute Jack.

JACK: No, not in a minute, not in a nanosecond, now.

HAWK: Just go on with your husband Jennifer. Don't keep him waiting. I think I can just manage on my own here. I'm just going to go on back and take a little nap in my room and leave you two love birds to do a little billin' and cooin'.

JENNIFER: Heheh.

HAWK: Alright?

JENNIFER: Alright. Be careful.

HAWK: I will.

HAWK SHUFFLES ON BACK TO HIS BEDROOM.

JACK: Alright, that's it. I don't want you taking care of Vulture anymore.

JENNIFER: His name is Hawk, Jack.

JACK: Whatever.

JENNIFER: What am I going to do with you? I told you the only reason that I'm being so attentive to Hawk is that I want to get him out of here as soon as possible so we can have time to ourselves. I mean it is practically still our honeymoon you know.

JACK: Yeah, some honeymoon. And Baby Howie makes three.

JENNIFER: What's that supposed to mean Jack?

JACK WALKS OVER AND PICKS UP THE PHONE BOOK, AND LEAFS THROUGH IT, READING OUT LOUD.

JENNIFER: What are you doing with the phone book?

JACK: Alright.... "New, new, new...."

JENNIFER: New what?

JACK: "New.... new.... new.... nun.... nunnery...."

JENNIFER: What?

JACK: "Nurses," nurses, that's it. I'm going to break down and get Baby Howie his own nurse so I can get mine back.

JENNIFER GIVES HIM A LOOK OF HOPELESSNESS.
---
SCENE TWO: NOT LONG LATER, JACK IS STILL STUDYING THE PHONE BOOK WHEN HOWIE COMES BACK OUT TO THE LIVING ROOM.

HAWK: Hey Jack, where's Jennifer?

JACK: Never mind Jennifer, I'll see to your every need.

HAWK: Yeah well I sure wish there was some way I could repay you Jack.

JACK: So do I my friend, so do I.

THE PHONE RINGS AND JACK PICKS IT UP.

STU: Hey Jack, it's Stu, got a pen?

JACK: Why?

STU: Cause you like to make a killing.

JACK: Heheheheh. (Whispering to himself) Yeah I'd to make a killing alright and not just on the stock market.(Back talking to Stu) Say you wouldn't happen to know anybody who could ah.... ah never mind, never mind.

STU: Listen, take this down. Heavy Metals Inc.

JACK: Heavy Metals.... no, no don't tell me. Some over-the-hill rock group that has more tattoos than talent.

STU: No, it's the fastest rising metallurgy company around. They're at 9 now, they'll be at 16 when the news breaks.

JACK: The.... what news?

STU: The news. Look that's all I can say except.... Buy .

JACK HANGS UP. HAWK HAS BEEN PAYING ATTENTION TO JACK'S CONVERSTATION.

HAWK: Hey Jack, I didn't know you played the stock market.

JACK: Actually there's a lot you don't know.

HAWK: Well actually I just asked because I watch the market a little myself and I don't think too much of your friend's stock, the Heavy Metals.

JACK: He ain't heavy, he's my broker.

HAWK: Hahah. Yeah well you know if you really want to pick up a stock that's just really taking off Jack, it's Super Industries. That's where you're going to make that killing that your good buddy is talking about.

JACK: You know I really appreciate your guidance at this point. I tell you the next time I'm in the market for some sugar coated pork bellies, you are the first person I'm going to call on. Hopefully in your own place.

HAWK: Well I'm just trying to repay a little of that kindness you're giving me Jack and nothing wrong with giving a good friend a little tip is there?

JACK: Well I don't mind taking a tip from anyone.... especially if it comes from people who have their own pot to.... to, ah.... I think you get the picture.

HAWK: Yeah, well suit yourself there Jack.
---
SCENE THREE: LATER HAWK IS HOME ALONE WHEN JENNIFER RETURNS LOADED UP WITH GROCERIES.

JENNIFER: Hi Jack.

SHE SPINS ROUND AND SEES THAT IT IS HAWK.

JENNIFER: Oh Hawk, I'm sorry. Where's Jack?

HAWK: I think he's working.

JENNIFER: Working? He's at the office at this hour?

HAWK: He's a hard worker, ain't he?

JENNIFER: Yes he really is. Listen I picked up some stuff for a late dinner. Will you join us?

HAWK: Not on your life. I think you and Jack, it's about time you had a nice little romantic dinner, just the two of you.

JENNIFER: Well alright. Are you sure you don't mind Hawk?

HAWK: Mind? Well I think that it's the least that I can do. I think I'm going to.... actually I'm going to mosey on back to the old Hawk's nest there and you know and whenever you and Jack get done eating I think you ought to should do the same. Oh, don't forget to lock up.

JENNIFER DOES NOT UNDERSTAND WHY HE SAID THAT UNTIL HE LOOKS AT THE CHAIN AROUND HER NECK. THERE IS A SMALL KEY HANGING ON IT.

JENNIFER: Oh, oh this. This isn't a key to our room. It's a key to my diary. I wear it around my neck so I don't lose it.

HAWK: Oh so you keep a diary?

JENNIFER: Yeah, well actually I just started.

HAWK: Yeah well I guess married life tends to your creative juices just a little bit.

JENNIFER: Well no, not exactly. Do you remember when I told you about that fortune teller we met in Los Angeles?

HAWK: Yeah, what's her name? (Playing dumb to further his manipulation of Jennifer) Passion?

JENNIFER: No DesirĜe.

HAWK: DesirĜe, okay.

JENNIFER: Well when her predications started coming true I thought I should keep track of them and write them all down and that's when I started keeping this diary.

HAWK: Oh I didn't know that people would actually use a diary for stuff like that.

JENNIFER: Oh what did you think?

HAWK: Well I thought that women mostly kept a diary just to keep some of their, confide, like their secret thoughts and stuff that they really don't care to tell anybody.

JENNIFER: Well I do that too, actually. Excuse me.

HAWK: Huh, uh.

JENNIFER: There's plenty of stuff like that in there.

JENNIFER GOES TO THE KITCHEN WITH THE GROCERIES AND HAWK GETS AN IDEA THAT HE WOULD LIKE TO KNOW SOME OF THOSE SECRETS.
---
SCENE FOUR: AT THE SPECTATOR, JACK IS ON THE PHONE AND VERN IS LISTENING ON THE EXTENSION.

JACK: Yeah, so what do you know about this Super Industries? (Beat) What's it selling at? (Beat) That high, huh. (Beat) It.... it opened at what? (Beat) No, no, I'm not interested. I'm just interested in being interested, that's all. I mean if I was interested I'll call the New York Exchange in the morning. Sayonara.

JACK HANGS UP.

VERN: Listen that stock sounds like a climber Jack.

JACK: Baby Howie just got lucky, that's all.

VERN: If I had savings out of that laughable thing you call a salary, I'd jump at it. How come you're not?

JACK: Because Vern, what goes up must come down.

VERN: So you get out real quick, that's the way it works.

JACK: Let me tell you something Vern. The only thing that Baby Howie knows about in terms of stock is live stock. I am not about to spend my hard earned dollars on some fluke.

VERN: Boy I can't believe you're not going after this easy money Jack. Does it mean that much to you, not to believe Hawk? Well he really got to you didn't he?

JACK: No, no, he didn't get to me. Nobody gets to me. You can't be gotten to by someone who doesn't mean anything to you in the first place.

VERN: Oh he's got you jumping. I'm surprised you left him alone with Jennifer.

JACK: Heheheh, you got to be kidding. Well I tell you, why don't you just.... you just lock up here. I think I'll just mosey on home.

VERN: Okay. You do that Jack.

JACK: Yeah. Just do what you were doing.

VERN: Yeah.

VERN IS LAUGHING AT JACK TRYING TO PRETEND HE IS CASUAL ABOUT HAWK AT HOME ALONE WITH JENNIFER.

JACK: Take care.

JACK RUSHES OUT THE DOOR.
---
SCENE FIVE: HE GETS BACK TO THE PENTHOUSE AND OPENS THE FRONT DOOR IN A RUSH THINKING HE MIGHT CATCH JENNIFER WITH HAWK. HE IS CARRYING A BUNCH OF FLOWERS.

JACK: HUH, HUH!

HE SLAMS THE DOOR.

JACK: HUH, HUH!

NOBODY SEEMS TO BE THERE BUT THE TABLE IS SET WITH CANDLES AND WINE GLASSES.

JACK: HUH, HUH!

JENNIFER HAS NOT HEARD HIM AS SHE COMES INTO THE DINING ROOM.

JACK: Ah, there you are.

JENNIFER: Oh, hi.

JACK: Heheheh.

JENNIFER: What's the matter?

JACK: Nothing, nothing, nothing's the matter.

JENNIFER: Jack let me see those. Those are beautiful. How did you know?

HE HANDS HER THE FLOWERS.

JACK: Know what?

JENNIFER: How did you know that I was planning this nice romantic dinner for us? I mean I got everything except for the flowers. It looks like we both had the same idea.

JACK: Yes, well, two hearts that beat as one.

JENNIFER: Huh, uh.

JACK: Two plates.

JENNIFER: Huh, uh.

JACK: Two champagne glasses.

JENNIFER: Huh, uh.

JACK: Ah, what about Baby Howie? What's he going to do?

JENNIFER: He's not going to be here. He's going to stay in his room all night until morning.

JACK IS SUSPICIOUS.

JENNIFER: It was his idea.

JACK: Oh, well I.... I guess that means it's just you and me, Mrs. Deveraux.

HE LIFTS HER HAIR AND BEGINS TO KISS HER CHEEK AND NECK.

JENNIFER: I guess so.

HAWK SNEAKS OUT AND WATCHES FROM BEHIND THEM, THEN DISAPPEARS BACK INTO THE BEDROOM. HE DOES NOT SEEM TO LIKE WHAT HE SEES.
---
SCENE SIX: LATER AFTER DINNER, JACK AND JENNIFER ARE IN THEIR BEDROOM. JACK IS TUCKED IN BED BUT JENNIFER IS STILL UP. SHE SLOWLY BLOWS THE CANDLES OUT AND THEN STANDS IN FRONT OF JACK AND SLOWLY AND SENSUALLY REMOVES HER ROBE WHILE JACK WATCHES. THE SONG AMAZING GRACE FROM THE MOVIE DAYS OF THUNDER WITH NICOLE KIDMAN AND TOM CRUISE PLAYS IN THE BACKGROUND.

There you go, flashing feelings from your eyes
Hey babe, come over here and shove down tight.

JENNIFER PULLS BACK THE ROBE TO REVEAL AN ALL-IN-ONE RED JUMP SUIT. JACK'S EYES BULGE IN DELIGHT.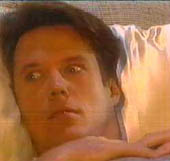 SHE TURNS AROUND AND THE SUIT HAS A WHITE BUNNY TAIL ON THE BACK. SHE WIGGLES HER BACKSIDE AT HIM.

I'm not denying we're flying above it all.

SHE TAKES A FLYING LEAP ON TOP OF JACK AND HE SIGHS LOUDLY AS SHE LANDS ON HIM.


JACK: Ooooooh!

Hold my hand, don't let me fall.
You've such amazing grace.
I've never felt this way.

OUTSIDE, HAWK WANDERS AROUND THE PENTHOUSE. HAWK DOES NOT SEEM TO LIKE THE IDEA OF JENNIFER BEING WITH JACK.

Oh, oh, show me how much you covet me
Oh, oh, show me how I'm me.
Here I go, I'm shaking just like the breeze
Hey babe, I need your hand to steady me. I'm not denying,
I'm frightened if I chose you
Though I'm barely touching you, I should have found my spine.
And it feels divine.
Oh, oh, show how much you covet me
Hey babe, oh baby show me how I'm me.

[NOTE: IT WAS ABOUT THIS TIME IT THAT DAYS HAD DECIDED *NOT* TO RENEW MATTHEW'S CONTRACT; THE NEW HEAD WRITER SUPPOSEDLY WANTED TO GO WITH A JENNIFER AND HAWK PAIRING, AND THEY WERE LAYING THE GROUNDWORKS FOR SUCH A PAIRING.]
[Transcribed by Carol Vaughan
added material by Sally A. Wilson]
---