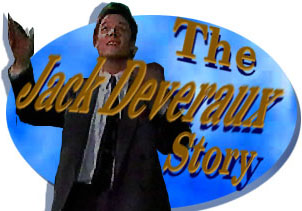 oldEpisode Three-hundred-thirty-five: Jennifer
Tells Jack to Be More Compassionate; Jack
Is Hurt That
Yet Again
She Is Siding
with Hawk over Him. Meanwhile, Jack
Writes a Compassionate Article on Bo.
---
[Air date early September 1991]
SCENE ONE: IT IS THE NEXT DAY AND HAWK IS READING ON THE SOFA. THE NURSE IS BACK AND BRINGS HIM A CUSHION.

LORRAINE: Would you like me to fluff your pillows Hawkie?

HAWK: No thanks. They're fluffy enough.

THE FRONT DOOR OPENS.

JACK: So I'll leave you here for a couple of minutes while I run to the s....

JENNIFER: Hi, we're home.

LORRAINE: So soon?

JACK: Yes, so soon. So do we have any good word, any major recovery to report?

HAWK: No, just same old, same old.

JACK: Great.

JACK IS SORTING MAIL.

HAWK: Oh but Jack you did get a call from your man from the police station there.

JACK: Oh Rupert. What did Rupert have to tell me?

HAWK: He said some guy named Bo Brady got himself thrown in the pokie.

JACK: In "the pokie?" Oh that's big news isn't it?

JENNIFER ARRIVES.

JENNIFER: Jack!

JACK: Really that's not news. I mean he's always doing something like that. Who, did he punch someone in the face this time or what?

HAWK: No, he said some guy named Kiriakis or something like that. He had him arrested for breaking into his apartment.

JENNIFER: His apartment? What happened to his mansion?

JACK: Well look that's totally beside the point. It's the principle of the thing. I thought Victor was a big family man. Isn't this his family, his kith and kin, his tree and branch?

JENNIFER: Jack, you know they haven't exactly been getting along these days.

JACK: So what, that's a good reason for throwing your kid in the "pokie"? This is an outrage!

JENNIFER: Will you just calm down?

JACK: No, I tell you I'm going to talk to the people in this town and let them know what kind of people we have living here.

JENNIFER: What are you talking about, what are you going to do?

JACK: I tell you what I'm going to do. I'm going to do what any self respecting journalist would do. I'm going to write a scathing editorial.

JACK GETS OUT HIS PEN AND PAPER AND JENNIFER RAISES HER EYEBROWS.
---
SCENE TWO: SOME TIME LATER, JACK IS FINDING IT HARD TO GET STARTED. HE KEEPS SCREWING UP HIS PREVIOUS EFFORT AND STARTING AGAIN.

JENNIFER: You know what Jack, look I know that your motives are pure for wanting to do this editorial but I think there's something you have to consider.

JACK: Such as?

JENNIFER: Well for instance what if this editorial rubs Victor the wrong way which it probably will and he takes it out on Bo and Carly?

JACK: Worse than that, what if he takes it out on us? (Beat) You're right, we wouldn't want to rattle the old boy's cage.

JENNIFER: Look you know what, why don't you write it and then show it to Carly and if she likes it, print it and if not, don't.

JACK: Well then I have to leave.... well that would work.... that.... now I just need to get down to work. That's all I need to do. If I can just....

JENNIFER: That's right, but what are you doing?

JACK: I'm just.... aaaaah.... just sitting here waiting for the muse to descent.

JENNIFER: You mean here?

JACK: Yes, here! I mean this is very serious work we're doing here. I mean I need the peace and the quiet of a.... of the home and the hearth of a....

JENNIFER: That is bologne Jack.

JACK: What do you mean bologne?

JENNIFER: It's just an excuse so you can stay here and keep an eye on me. That's what you're doing.

JACK: And why would I want to do that?

JENNIFER: Because of Hawk. You don't trust him.

JACK: What's.... what's to trust? I mean I don't have to worry about him. I mean he's in perfectly good hands.... very good hands of our lovely nurse.

JENNIFER: We both know that Lorraine is no nurse.

JACK: She most certainly is a nurse.

JENNIFER: She is not a nurse.

AT THAT MOMENT LORRAINE AND HAWK COME OUT OF THE BEDROOM. SHE IS HELPING HIM WALK.

LORRAINE: Did I hear my name mentioned?

JACK: Yes we were just commenting on what a credit you are to your profession.

LORRAINE: Well, thank you.

JACK: Certainly. Don't you agree Hawk?

HAWK: Oh yeah, yeah. She certainly is a professional alright. Well listen up you guys, today is the day I've decided to take a step on my own towards getting better. So I'm going to go out for a little stroll around the neighborhood.

NURSE: And I'm going go with him.

JENNIFER: Wait a minute, are you sure you're ready for something like that Hawk?

HAWK: Well I just figure there's no better time than the present to find out. And this will give you guys a chance to spend some time together and get me out of your hair for a while.

JACK: I say amen to that. I mean amen, that's a good idea. (Beat) You two have a great time out there alright, alright. I mean you go out and get the lay of the land so to speak, really. Enjoy, enjoy. Great if you can get work.

HAWK: We will.

JACK PUSHES THEM BOTH OUT THE DOOR AND SHUTS IT IN RELIEF.

JACK: YES, YES! HAHAHAHAH.

JENNIFER: Now that wasn't nice. You could have shown a little bit more concern. You know he is still recovering.

JACK: Concern? He's getting fresh air, a little bit exercise. This could speed up his recovery. I just.... I wanted to encourage him to do that.

JENNIFER: Encourage him? You practically shoved him out the door. What's the matter with you?

JACK: What's the matter with me, what's the matter with you? It's about time you opened up your eyes and opened up your nostrils and smelled that overpowering aftershave. We are cohabiting with a stranger.

JENNIFER: Yes, an injured stranger.

JACK: An injured stranger but a stranger none the less. WE DON'T EVEN KNOW HIM.

JENNIFER: (Beat) You're right, you're absolutely right. We don't know Hawk. We don't know him very well at all, do we.

JENNIFER PICKS UP HER PURSE.

JACK: Wait, what was that second part? I didn't hear anything after....

SHE KISSES HIS FOREHEAD.

JENNIFER: I was just saying you were right. You heard me.

JACK: .... you agree. It was a blur.

JENNIFER: I'll see you later. Why don't you finish that editorial and I'll be back in a little while, okay. Goodbye.

JACK: But.... yeah but.... yeah.

JACK IS LEFT ALONE AND CONFUSED.
---
SCENE THREE: OUTSIDE HAWK AND THE NURSE ARE ON THEIR WALK. HE TELLS HER THAT HE IS HAD ENOUGH OF THE NURSE ACT FROM HER AND HE THREATENS HER THAT IT IS ILLEGAL TO IMPERSONATE A NURSE. HE SAYS THAT HE KNOWS SHE IS AN ACTRESS AND THAT S.A.G. WILL KICK HER OUT IF SHE DOESN'T STOP. SHE GETS SCARED AND RUNS OFF SAYING THAT JACK DOES NOT PAY HER ENOUGH TO PUT UP WITH THAT.
---
SCENE FOUR: MEANWHILE, JENNIFER GOES DOWN TO SEE VERN AND GETS HIM TO SUPPLY HER WITH LOTS OF RESEARCH MATERIAL ON THE HAWKINS FAMILY. SHE ASKS VERN TO KEEP IT FROM JACK BECAUSE JACK WILL GET VERY UPSET ABOUT IT. VERN IS ONLY TOO HAPPY TO STAY OUT OF IT. JENNIFER READS ABOUT HOW HAWK WAS SHUFFLED AROUND IN BOARDING SCHOOLS AS A CHILD. SHE STARTS TO FEEL EVEN MORE SORRY FOR HIM. HAWK HAS FOLLOWED HER AND SEES HER READING ABOUT HIM. HE IS EVEN MORE PLEASED BECAUSE HE KNOWS SHE REALLY IS IN HIS TRAP NOW.
---
SCENE FIVE: SHE RETURNS TO THE PENTHOUSE AND BEGINS TO TAKE NOTES FOR HER STORY. NOT LONG AFTER, HAWK RETURNS ALSO. JACK IS BUSY AT HIS LAPTOP.

HAWK: Well hey everybody. I'm back.

JACK: You're back? Wait a minute, where's.... where's Lorraine?

HAWK: Oh you mean the angel in white?

JACK: Yes.

HAWK: Well she quit.

JACK: What do you mean, she quit?

HAWK: Yeah I think she got what they call burnt out.

JENNIFER: I hear that happens to nurses a lot.

HAWK: Yeah well I think you were really just wasting your money there Jack. You know I just really need some rest, that's all.

JACK: Okay, I think you should get right on it. As a matter of fact, why don't you just go to your room right now and just take the whole night if you can. The whole night.

HAWK: Yeah well, maybe I will. That's a good idea. See you all.

JENNIFER: Okay, goodnight Hawk.

HAWK GOES TO HIS ROOM; JACK SIGHS, FOR YET AGAIN, DESPITE THE FACT THAT SHE IS *IS* WIFE, SHE CONTINUES TO SIDE WITH HAWK OVER HIM.

JENNIFER: You know Jack do you have to be so hard on him? I mean did it ever occur to you that maybe he's had a tough life and maybe he could just use a friend?

JACK: Let me tell you something. A lot of people have had a hard time in their lives. Yours truly included. That doesn't necessarily make you a sympathetic character.

JENNIFER: Can't you just find it in your heart to show a little compassion?

THIS HURTS JACK'S FEELINGS EVEN MORE.

JACK: Don't you remember I don't have a heart. So my capacity to have compassion is severely limited.

JENNIFER: Okay, alright. I give up, I give up Jack.

JACK WALKS AWAY.
---
SCENE SIX: AT THE PENTHOUSE, JENNIFER SITS DOWN AND STARTS TO READ WHAT THE ARTICLE THAT JACK HAS WRITTEN ABOUT THE BO SITUATION.

JENNIFER: Wait a minute. Maybe I don't.

SHE BEGINS TO READ.

"And in our opinion Bo Brady is an upstanding member of this community who doesn't deserve to be incarcerated for this one minor indiscretion"

SHE LOOKS ACROSS TO JACK.

"Isn't there enough injustice in the world today without a father inflicting it on his own son?"

JENNIFER: Jack that is very sweet. I can't believe that you wrote this.

JACK: Well what do you expect? I mean that's.... that's what sells papers.

JENNIFER: No, no, this is good. Carly is going to love this. Come on let's go.

SHE CLOSES THE LAPTOP AND HELPS HIM ON WITH HIS COAT.

JACK: Well....

JENNIFER: Grab your coat, let's go. Grab my purse.

JACK: Well.... oh wait...wait a minute, people will talk.

JENNIFER: Go on Jack, just go.

WHEN THEY LEAVE, HAWK GETS OUT JENNIFER'S DIARY AGAIN AND BEGINS TO READ MORE OF HER SECRET THOUGHTS.

"As I read the story of Hawk's background, of his childhood filled with loneliness and neglect, I felt an overwhelming sadness."

HAWK CLOSES THE DIARY AND IS VERY HAPPY THAT HE IS MANAGING TO FOOL JENNIFER AND GET HER SYMPATHY.
[Transcribed by Carol Vaughan
added material by Sally A. Wilson]
---
---