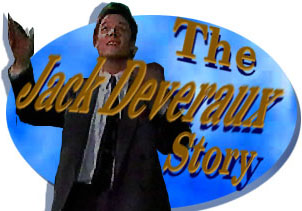 oldEpisode Three-hundred-thirty-eight:
Jennifer Deveraux Birthday Week:
Jack Throws Jennifer a Surpise Birthday
Party. Angry, She Ignores Jack. Hawk
Continues to Manipulate the Situation.
---
[Air date mid-September 1991]
SCENE ONE: THE NEXT DAY AND JACK IS PREPARING A SURPRISE PARTY FOR JENNIFER. HE IS AT THE PENTHOUSE WITH VERN ORGANIZING THE CATERERS.

JACK: Large jumbo shrimp! Couldn't we have just had the large stuff instead of this stuff on a tree!

THERE IS A LARGE DISPLAY OF SHRIMP ON THE TABLE.

VERN: You said you wanted the best.

JACK: What's this colossal olives? Couldn't we have just settled for merely huge?

VERN: Spare no expense you said.

JACK: That's when I thought that Julie was going to give me a little tax break on this whole thing. I mean you think she would. The party was for a member of her family.

VERN: Oh boy you've come a long way baby. I thought your purse strings were welded shut.

JACK: Well let me tell you something, it still hurts. What you're witnessing here is self-sacrificing in the name of love.

VERN: Oh I know love when I see it Jack. What you're feeling is guilt.

JACK: guilt?

VERN: Pure unadulterated guilt.

JACK: Guilt? I'm guilty because I want Jennifer to have a happy birth.... (Beat) a happy birthday week! Happy birth week! That's seven days of merry making and festivities that began on her birthday of which today is only a small part. guilt indeed!

VERN: Oh you forgot Jennifer's birthday! I was there, remember. The little red circle on the calendar, remember? On a guilt scale of one to ten Jack, you are an eleven with a bullet.

JACK: I'm going to cancel your subscription to Billboard!

VERN LAUGHS.
---
SCENE TWO: LATER, AT THE PENTHOUSE, TANNER AND MOLLY ARE HELPING AT THE PARTY AND TANNER ALSO NOTICES THAT JACK IS GUILTY. IT IS PRETTY OBVIOUS TO EVERYBODY THERE. JACK IS HAMMERING UP SOME DECORATIONS FOR JENNIFER WHEN HE HITS HIS THUMB.

JACK: OUCH.... OUCH.... OUCH!

VERN: Jack, don't do that?

HAWK: You got a problem Jack?

JACK IS HOLDING HIS NOTES ABOUT THE PARTY IN HIS MOUTH. HE PULLS THEM OUT AND HOLDS UP HIS THUMB AT HAWK.

JACK: I got.... I got.... more than one problem right no.

HAWK: You know I think maybe you should get that x-rayed.

JACK: You know something, I'm just glad this didn't happen to you, or else we have to call in a whole team of paramedics just to look at it.

HAWK: So what's all the big ruckus here?

JACK: This is no big ruckus. We're just having a little hoe-down. We're just going to doe-ce-doe do until the cows come home to roost.

HAWK: Well that's chicken's roost and cows come home. So tell me what's going on here?

JACK: No, I wish I didn't have to tell you this but seeing as how you're going to park yourself in the middle of everything, I'm having a little surprise party for Jennifer, for her birthday.

HAWK: Well that's great Jack. I mean that sounds like fun.

JACK: It will be.... for us. But not for you. You see your name is conspicuous in that it's missing from the list of guests. In other words, you in there, us out here. YOU GOT THAT?

JACK WALKS AWAY BUT HAWK IS NOT SO SURE ABOUT THAT.

HAWK: Of course Jack, anything you say old buddy.
---
SCENE THREE: ALL THE GUESTS ARRIVE INCLUDING ALL OF JENNIFER'S FAMILY AND THEY HIDE AS SHE COMES IN THE DOOR.

GUESTS: SURPRISE!

JENNIFER: GEE! OH MY GOSH!

JULIE: Jennifer, Jennifer, the best of birthdays to you darling.

JENNIFER: I cannot believe this.

JULIE: Well it's no less than you deserve sweetheart.

JENNIFER: Julie, thank you so much.

HAWK IS STANDING RIGHT UP FRONT SMILING.

JULIE: All your friends are here. And let's see, do you know Conner?

JENNIFER: Oh yeah I do. I just didn't recognize you outside of Wings.

JACK WALKS UP BEHIND JENNIFER.

CONNER: Happy birthday.

JENNIFER: Oh thank you.

MAGGIE: Let me get my birthday kiss.

JENNIFER: Oh Maggie, thank you very much.

MAGGIE: You look gorgeous.

JENNIFER: Thank you. This is great.

MICKEY: Old faithful Uncle Mickey. Happy, happy birthday.

HE GIVES HER A BIG HUG.

JENNIFER: Gosh, I feel like I'm going to cry.

MICKEY: Go ahead, a few tears never hurt anybody.

JENNIFER: Well it might make my nose a little red. I don't want that.

VERN: Listen Mrs. Deveraux, on you a red nose would look beautiful. Happy birthday Jenny girl.

JACK IS SMILING IN THE BACKGROUND.

JENNIFER: Thank you Vern, thank you very much.

JENNIFER LOOKS ACROSS TO JACK.

JACK: Are you surprised?

JENNIFER: Oh yeah, yeah I'm surprised.

JACK: Well you ain't seen nothing yet. This is only the beginning of JENNIFER DEVERAUX BIRTHDAY WEEK! Seven days of fun and festivities like the world has never seen planned especially for you.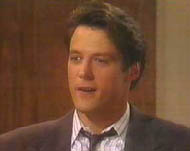 ---
SCENE FOUR: JACK IS TRYING TOO HARD AND THEY BOTH KNOW IT BUT JENNIFER ALSO KNOWS THAT HE IS TRYING HIS BEST.

HAWK HOWEVER IS DETERMINED TO BREAK THE MOOD.

HAWK: Happy birthday Jennifer.

JENNIFER: Hawk, hi, I'm glad you could join us.

HAWK: Well I'd be getting up out of my deathbed to make it to your birthday party.

JACK: Well I'm sure that could be arranged, couldn't? Let's see if we can get to work on it.

HAWK: Heheh. I just want to wish you happy birthday.

HE TAKES HER HAND.

JENNIFER: Thank you Hawk, thank you very much.

HAWK: You're welcome.

JENNIFER: If you'll excuse me, I think I'm going to go circulate a little bit.

HAWK: Okay.

JACK IS HURT WHEN SHE JUST WALKS AWAY FROM HIM WITHOUT A SINGLE WORD OR GLANCE. HE WATCHES HAWK INTENTLY, KNOWING THAT THIS IS BASICALLY ALL HIS FAULT. HAWK IS SMUG AND TAKES A LARGE PLATEFUL OF FOOD.

JACK: Do you think perhaps you could eat a little more?

HAWK: Oh thank you Jack but I'm fine here.

JACK: I suppose irony is not in your lexicon.

HAWK: Well Jack words like that just go right over my head. If you want to talk to me you have to use some of the easier ones there that I can handle.

JACK: Alright.

JACK TAKES THE PLATE OF FOOD FROM HAWK.

JACK: Go to your room and stay there.

JENNIFER OVERHEARS THAT BIT.

JENNIFER: You can eat all you want Hawk.

HAWK: No, no, Jennifer this is my fault. Jack told me earlier that I wasn't really invited to this party.

JACK SIGHS BECAUSE ONCE AGAIN HAWK HAS MANEUVERED HIS WAY INTO JENNIFER'S FAVOR AND MADE JACK LOOK BAD.

JENNIFER: Well you know what, you are now. You're invited as my special guest. Here you are.

SHE TAKES THE PLATE OF FOOD FROM JACK AND HANDS IT BACK TO HAWK.

HAWK: Well, alright, I mean I can't refuse an invitation like that.

JENNIFER: Good, good, enjoy yourself Hawk.

JACK IS TRYING HARD TO REMAIN SILENT AND LOOKS DOWN AT THE FLOOR AS SHE WALKS AWAY AGAIN WITHOUT ACKNOWLEDGING HIS EXISTENCE. JACK LOOKS UP AT HAWK, ALL THE TIME KNOWING THAT HE'S UP TO SOMETHING.

HAWK: Oh this is great. Have you tried this shrimp?

JACK WATCHES HAWK AS HE MOVES OFF AND JOINS THE OTHER GUESTS.
---
SCENE FIVE: MOLLY COMES OVER TO TALK TO HAWK AND JENNIFER OVERHEARS MOLLY SAY THAT HAWK LIVED IN AN APARTMENT NEAR HER. JENNIFER QUESTIONS HAWK ABOUT IT BECAUSE HE TOLD HER THAT HE CAME TO SALEM SPECIFICALLY FOR HOWARD'S FUNERAL. HAWK TALKS HIS WAY OUT OF IT BY SAYING THAT HE WAS LOOKING FOR HOWARD AND THAT WAS WHY HE WAS HERE. ONCE AGAIN JENNIFER BELIEVES EVERY WORD HE SAYS.
---
SCENE SIX: THE PARTY PROGRESSES WITH JACK AND JENNIFER APART UNTIL IT IS TIME FOR THE CAKE. EVERYBODY APPLAUDS AS THE CAKE IS WHEELED OUT.

JACK: Thank you, thank you. (Beat) Jennifer.... (Long beat).

THEY LOOK ACROSS AT ONE ANOTHER.

VERN: Say something Jack.

JACK: What?

VERN: Some nice words about her.

JACK: Well, what could I say expect....

JACK IS UPSET BECAUSE JENNIFER IS SO HURTm HE STUMBLES FOR WORDS.

VERN: Take her hand.

JENNIFER: Here.

JENNIFER EXTENDS HER HAND TO JACK.

JENNIFER: Here Jack, take my hand.

THE GUESTS LAUGH.

JACK: Jennifer, since you came under my jurisdiction as it were.... ah.... I just wanted make sure that.... as you first birthday I wanted to make sure that this would be one you never forgot.


VERN AND THE OTHER GUESTS CLAP AND CHEER WHICH GIVES JACK COURAGE.

JACK: A lot of work, a lot of elbow grease, a lot of spit and polish has gone into.... ah.... making these arrangements all arranged.

THEY ALL CHEER AGAIN.

JACK: And.... ah.... thank you. Every single night of what I've come to call Jennifer Deveraux Birthday Week will bring you something special which should let you know how very special you are to me.

THE GUESTS CHEER AGAIN WHILE HAWK CLAPS QUIETLY JUST BEHIND JENNIFER.
---
SCENE SEVEN: AFTER THE CAKE, HAWK COMES OVER TO TALK TO JENNIFER.

HAWK: Well Jennifer, did you enjoy yourself?

JENNIFER: Well I don't know if enjoy would be the right word. I can't believe Jack had the nerve to pull this off when we both know that he forgot my birthday.

HAWK: Jennifer, now don't be so hard on Jack. He knows that your upset. He's doing everything that he possibly can to make it up to you. Just take it as a sign of how much he loves you.

JENNIFER: I....

JENNIFER NOTICES THAT JACK IS STANDING BESIDE THEM. HE CONFRONTS HAWK.

JACK: I see you've been on your feet all night Howie.

HAWK: Yeah, I sure have Jack.

JACK: Yes, well it's nice to see you doing so much better. Perhaps you can give a little hand to the help and help us all clean up?

JENNIFER: Excuse me Jack, did you just ask one of our guests to help clean up?

JACK: Yeah.

HAWK: I don't mind, really Jennifer.

JENNIFER: Well I do mind.

JACK: Look, the caterer's on overtime. Every little bit helps.

JENNIFER: Look I don't have the energy right now, alright. I'm exhausted and I want to go to bed. Goodnight Hawk.

HAWK: Goodnight Jennifer.

JACK: Jennifer....

SHE WALKS OFF WITHOUT ANOTHER WORD TO JACK. JACK IS EMBARRASSED IN FRONT OF HAWK AND FOLLOWS HER.

JACK: Jennifer!

HAWK STAYS WHERE HE IS AND SLOWLY WHISTLES HAPPY BIRTHDAY TO HIMSELF. HIS PLAN IS WORKING JUST FINE.
---
SCENE EIGHT: LATER, JACK AND JENNIFER ARE IN BED, SHE IS LYING AWAKE FACING AWAY FROM JACK.

JACK: You know some people just don't like surprises. I tell you what, from now on, all activities concerning Jennifer Deveraux Birthday Week will be cleared with you in advance. That's a promise.

JENNIFER: You must be some kind of miracle worker.

JACK: Thank you.

JENNIFER: Getting reservations for all these plans at the last minute.

JACK: I beg your pardon, did you say the last minute? What's that supposed to mean? You heard my toast. I said I'd been working on this for weeks, for months.

HAWK IS STANDING OUTSIDE THEIR BEDROOM LISTENING TO EVERY WORD.

JENNIFER: Oh really. I guess you should make reservations for three then. I assume Hawk is included in all of these plans.

JACK: Why would you assume that?

SHE TURNS TO FACE HIM.

JENNIFER: Because there wouldn't be a Jennifer Deveraux Happy Birthday Celebration Week if Hawk hadn't reminded you that it was my birthday. And if he hadn't you would be living at the Salem Inn right now by yourself.

JACK: Look I don't think we should look at it that way. I....

JENNIFER: You forgot that it was my birthday and Hawk had to call you and remind you.

HAWK SMILES TO HIMSELF.

JACK: Did he tell you that? He lied, he's a liar.

JENNIFER: There is a liar here.... it's not Hawk.

JACK: Are you going to believe some stranger over your own husband?

JENNIFER: Well, you don't have anybody else to blame for that except yourself.

SHE ROLLS OVER AWAY FROM HIM.
[Transcribed by Carol Vaughan
added material by Sally A. Wilson]
---