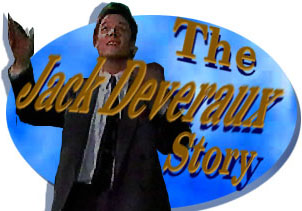 oldEpisode Three-hundred-forty: The
Jackie Awards: When Jack Discovers
Jennifer Has Had a Bad Day, He
Sets up a Special Evening for Her.
---
[Air date late September 1991]
SCENE ONE: IT IS THE NEXT DAY AND JACK FINDS A NOTE IN THE PENTHOUSE FROM HAWK.

JACK: "Went to the hospital for another check-up, Hawk."

JENNIFER: You talking to yourself?

JACK: No, no, I was just reading yet another note from our house pest. I just hope he's on his road to recovery and he'll be out of our lives for good.

JENNIFER: Hmmm. Well I hope he's recovered too.

JACK: And out of our lives for good, right? I mean let's face it, this man has been nothing but trouble since he moved in.

JENNIFER: Jack, Hawk is not the only problem. I mean it's been us too.

JACK: Well absolutely. I have no problems with that. I mean call me selfish but I think that there is something wrong with sharing our first wedded months with another man.

JENNIFER: Is Hawk the reason you lied to me about forgetting my birthday? I don't think so.

JACK: I thought we were past that and things were getting better between us.

JENNIFER: We are, they are. They're just not back to the way they were, but I gotta go.

JACK: But....yeah but what? Wait a minute, you can't just say yeah but....

JENNIFER: I'll be late for work. Jack I'll talk to you about it when I get home.

JACK: We can't....it's a....

JENNIFER: I'll talk to you later.

JENNIFER LEAVES. JACK IS WORRIED ABOUT WHAT IS WRONG NOW.
---
SCENE TWO: HE GOES TO THE HOSPITAL TO CHECK UP ON HAWK.

JACK: Excuse me, excuse me, I need to check on a friend of mine. Well actually he's not really a friend. He's more of a pain in the....ah....well I think you get the picture. Anyway, well he was here for an appointment or he's supposed to be here for an appointment earlier today.. I want to check and see if he really made it.

NURSE: I'd be glad to check for you. What was his name?

JACK: Baby Howie....ah, Hawk. No, Hawkins, Hawkins. He's about (Indicates with his hand) yae tall and....ah....moderately handsome if you're a young impressionable girl with moderate intelligence.

HAWK WALKS UP BEHIND JACK.

HAWK: Well gosh, it's real nice of you.

JACK TURNS TO FACE HAWK.

HAWK: Checkin up on me were you?

JACK: Well you know that I was. You know I don't trust you.

HAWK: That's really too bad Jack because I trust you.

JACK: And why shouldn't you trust me?

HAWK: I just said that.

JACK: No wait a minute, let's back up a minute. I was checking on you and your appointment. So you're here and you're certainly looking very fit and fine.

HAWK: Well thank you Jack and I feel very good too. But the doctor did say I'm going to have to continue with my bed rest and have more therapy.

JACK: I see. He didn't say anything about you continuing your therapy in the privacy of your own hotel room?

HAWK: I'm afraid not. Sorry Jack.

JACK: Yes, you'd be a lot sorrier if you were on my side of the picture. I mean you understand the missus and I are still adjusting to married life?

HAWK: Yeah, yeah, as a matter of fact I've heard you adjusting and frankly, there's enough tension in that place there to spread on bread Jack.

JACK: Heheh, not that it's any of your business but Jennifer and I are doing just wonderfully.

HAWK: You think so?

JACK: As I said, it's none of your business.

HAWK: Right, right, it's not Jack but you know what, I do like you and I think I really give you some good advice on how to treat a lady.

JACK: Really? And what makes you an authority?

HAWK: Well I wouldn't exactly call myself an authority but I think I can be a lot more objective in this situation that you are. I think you need to pay more attention to your wife.

JACK: For your information, Jennifer has my undivided attention.

HAWK: Yeah, for a few seconds at a time maybe. You see I've seen you in action Jack. You don't hear her when she talks. You don't know what she's all about and you really don't know what's important to her.

JACK: I can't believe you are actually standing here telling me how to treat my own wife.

HAWK: I'm just telling you what I see. Do you know Jennifer's been working on a special news report for today? She's been putting a lot of hard work into it for weeks.

JACK HESITATES. HAWK ALWAYS MAKES A POINT OF PICKING ON JACK'S WEAKNESSES.

JACK: I knew that.

HAWK: Sure you did.

JACK: I did. I absolutely did and I do. I tell you one thing I don't know, is when you're finally going to get that clean bill of health and be out of here. I really do hope that it's soon.

JACK WALKS OVER AND GETS IN THE ELEVATOR. THE DOORS SHUT.

HAWK: Me too, Jackie boy, me too.
---
SCENE THREE: HAWK HAS GONE TO SEE HIS PARTNERS IN CRIME. HE TURNS ON THE TV, AND JENNIFER IS DOING HER REPORT ON THE HOMELESS. HOWARD WATCHES HAWK INTENTLY AS THE BROADCAST IS ON. HOWARD DOES NOT LIKE THE WAY HAWK IS BECOMING INVOLVED WITH JENNIFER.
---
SCENE FOUR: BACK AT ALICE'S RESTAURANT, GINGER SEES THE BROADCAST AND REALIZES THAT HOWARD HAS BEEN USING JENNIFER.
---
SCENE FIVE: AT THE SPECTATOR, JACK WATCHES INTENTLY, AND WITH GREAT LOVE, RIGHT TO THE END. HE IS STILL WORRIED ABOUT THE INFLUENCE THAT HOWARD AND HAWK HAVE HAD ON HER.
---
SCENE SIX: AT THE STUDIO, JENNIFER FINISHES AND ARNIE THE BIG STUDIO BOSS CALLS HER OVER AND TELLS HER THAT HER PIECE WAS TOO PERSONAL AND SHE SHOULD REMAIN OBJECTIVE. SHE GETS A REAL WARNING FROM HIM TO STOP ALL THIS HEARTWRENCHING STUFF AND GET BACK TO REAL REPORTING.
---
SCENE SEVEN: JACK PHONES HER IMMEDIATELY HER BROADCAST IS FINISHED.

JACK: Dan, just put Jennifer on. I can see that she's off the air.

DAN: Yes she is Jack but she can't come to phone right now.

JACK: Why not?

DAN: Well she's talking to Arnie.

JACK: Oh well it's nice to see that your boss can come down and see the studio every now and then. I suppose he was just totally moved by her piece.

DAN: Oh, yeah well you could say that.

JACK: Yes and I'm sure everyone is just crowding around her right now ready to give lots of kudos and maybe a big raise for her job well done.

DAN: No, I wouldn't count on that Jack.

JACK: Why not?

DAN: Well from what I see, it looks like Arnie isn't exactly happy with Jennifer's story. In fact from here it looks like he's giving her hell.

JACK: That's very funny Dan.

DAN: Yeah, well Arnie doesn't think so.

JACK: Well.... you're serious? (Beat) Is....is she upset?

DAN: Wouldn't you be? Look, why don't you hold on? I bet she's going to want to talk to you after Arnie finishes demolishing her.

JACK: No, no, wait a minute....um....I can't talk to her right now. Actually just don't....don't tell her I called.

DAN: Ah that's what I love about you Jack. You're so supportive.

JACK: Say goodbye Dan.

JACK HANGS UP. JACK IS UPSET FOR JENNIFER.
---
SCENE EIGHT: BACK AT THE STUDIO, ARNIE IS STILL BLASTING JENNIFER FOR NOT STICKING TO HER NOTES AND GOING OFF ON A TANGENT. SHE SAYS THAT SHE FEELS SO STRONGLY ABOUT THE HOMELESS THAT SHE HAD TO DO IT. HE TELLS HER THAT THEY HAD BEEN WORKING ON A PUBLIC INTEREST STORY ABOUT HOWARD HAWKINS FOR WEEKS AND SHE HAS BLOWN THE WHOLE THING OUT OF THE WATER. HE TELLS HER THAT HER FACTS ARE TAINTED BECAUSE OF HER RELATIONSHIP WITH HOWARD AND NO MATTER WHAT SHE SAID, SHE BLEW IT AND LOST OBJECTIVITY. HE TELLS HER THAT IT BETTER NOT EVER HAPPEN AGAIN.
---
SCENE NINE: BACK AT THE SPECTATOR, GINGER, THE NEW WAITRESS AT ALICE'S RESTAURANT, COMES IN AND TRIES TO FIND SOMEBODY TO TALK TO.

GINGER: Isn't there anybody here who wants to take my money?

AT THE SOUND OF THAT WORD, JACK POPS OUT OF HIS OFFICE.

JACK: Hello. Ah, yes, could I be of service?

GINGER: Yes, I would like to place an ad.

JACK: Ah....yes, well the person who usually does that is not at their desk. They'll be back in just a couple of minutes, I'm sure.

GINGER: Oh, that would be a problem for me. I'm away from work.

JACK: Oh, well, um, perhaps I could do it. Of course it is cash up front?

GINGER: That's no problem.

JACK: Well come right this way.

HAWK HAS FOLLOWED GINGER TO THE SPECTATOR AND HE HANGS AROUND OUT OF SIGHT TRYING TO FIND OUT WHAT SHE IS UP TO. SHE IS THE ONE PERSON WHO CAN BLOW HIS WHOLE COVER. JACK AND GINGER GO INTO JACK'S OFFICE AND SHUT THE DOOR.

JACK: So what did you want this ad to say?

GINGER: Um, here it is.

SHE HANDS HIM A PIECE OF PAPER.

GINGER: Do you think you could get it in the morning paper?

JACK: I'm afraid not.

GINGER: Oh, okay, well I guess the earliest morning edition you can do.

JACK: Yes. Let's see.

JACK READS HER AD.

JACK: "November 14th, 1972."

GINGER: I would like that in big bold letters.

JACK: Well you know bold letters will cost you extra.

GINGER: That's alright. I'm willing to pay.

JACK: Then I'm willing to print. And I quote. "Any young woman who was born on this date please come to Pier No 2 today at 6pm. I have news for you that could change your life." Unquote. (Beat) Is that it?

GINGER: That's it. Now what do I owe you?

OUTSIDE HAWK GETS FED UP WAITING AND LEAVES.
---
SCENE TEN: LATER THAT NIGHT, JENNIFER RETURNS TO THE PENTHOUSE AND IT IS ALL IN DARKNESS. SHE TURNS ON THE LIGHT.

JENNIFER: Jack are you home yet?

SUDDENLY A GRAND FANFARE OF MUSIC BLASTS THROUGH THE APARTMENT AND JACK COMES OUT DRESSED IN A TUX. THE ROOM IS DECORATED WITH BALLOONS AND FLOWERS AND A SPEAKER'S ROSTRUM.

JACK: Yes, good evening madam and right this way if you please.

JENNIFER LAUGHS.

JENNIFER: Is this a game show?

JACK: Right this way. Something like that. Please sit. Please sit right there, thank you. Thank you....thank you.

HE SEATS JENNIFER IN THE FRONT ROW AND GOES UP TO THE ROSTRUM.

JACK: Yes well now that the guest of honor is here, finally, we can go along with the opening of the award show.

THE FIRST ANNUAL JACKIE AWARDS SHOW. JENNIFER APPLAUDS ALONG WITH JACK'S CANNED APPLAUSE.

JENNIFER: The Jackie Awards?

JACK: Yes, thank you, down in front, thank you. (Beat) Now because we've had a lot of big contenders this year, we have a lot of people to honor. So we'll get right on with it. We have the Outstanding Reporter in the Gulf War.

JENNIFER LAUGHS.

JACK: We have the Scoop of the Year Award. We have the Editorial Genius Award....well I'll just save a lot of time and hang onto that myself. Thank you.

JENNIFER LAUGHS ALONG WITH THE CANNED LAUGHTER.

JACK: And last but not least, the one that outshines all the others....ah....Outstanding Achievement in Reporting by speaking from the heart. (Beat) And the nominees are Diane Sawyer, Maria Shryver, Jane Pauley and....Jennifer Deveraux.

MORE CANNED APPLAUSE.

JACK: Thank you, thank you, thank you. The check is in the mail. (Beat) Let's open this up. And the winner is.... Jennifer Deveraux.


JENNIFER ACTS SURPRISED AS THE CANNED APPLAUSE PLAYS AGAIN.

JACK: Yes, for you.

HE HOLDS UP A GOLD AWARD THAT HE HAS MADE HIMSELF. IT IS A GOLD APPLE STUCK ON TOP OF A GOLD CANDLESTICK HOLDER AND GLUED TO A BLOCK OF WOOD [I DO NOT KNOW IF IT IS SUPPOSE TO BE CLASSICAL ALLUSION, TO THE GOLDEN APPLE OF THE HESPERIDES, AND ESPECIALLY THE JUDGMENT OF PARIS].

JACK: This is for you.

HE HANDS HER THE AWARD.

JACK: Congratulations, congratulations. Don't touch it, it's still a little wet.



JENNIFER: I can't believe this.

JACK: Well now you just received an award for your speaking talents. Don't you have a speech to make?

JENNIFER: You're crazy.

JACK: That's not exactly what I had in mind but I guess it will have to do.

JENNIFER: You're also very wonderful.

JACK: And so are you....I mean, at least that's the ruling from the panel of blue ribbon judges.

JENNIFER: Just the panel of blue ribbon judges?

JACK: No.... no. Actually I.... I meant what I said before. I think that your recent reporting is some of the.... some of the best, some of the most humanistic reporting that I've ever come across.

JENNIFER: Oh Jack, thank you. Thank you so much.

SHE GIVES HIM A HUGE HUG. JACK IS HAPPY THAT SHE CARES SO MUCH ABOUT WHAT HE HAS DONE.
---
SCENE ELEVEN: LATER, THEY SIT TOGETHER ON THE FLOOR BY THE FIRE AND SHE PLACES THE AWARD RIGHT IN FRONT SO SHE CAN ADMIRE IT.

JENNIFER: How did you know?

JACK: How did I know what?

JENNIFER: How did you that I had a bad day today?

JACK: Well I run a newspaper. I have ways of knowing these things.

JENNIFER: Did you talk to Dan? Is he the one who told you?

JACK: Now that really doesn't matter who I talked to, what I found out. The point is, your editor was way out of line.

JENNIFER: He said I destroyed weeks of work on a special interest piece on Howard.

JACK: Well....that's showbiz....or newsbiz as the case may be.

JENNIFER: At least he didn't fire me, right?

JACK: I maybe wish he had.

JENNIFER: Jack! How can you say that?

JACK: No, I'm just....I'm just being....I'm just being a little selfish. I was thinking you'd be unemployed, looking for work and....ah....I could maybe hire you back....cheaply.



JENNIFER: I thought you said it would wreck our marriage if we worked together again.

JACK: Well I never really said that but I do think that it would be a real plus to have that award winning journalist on my staff.

JENNIFER: Well I'm flattered Jack and if I ever do lose my job at WATB, you'll be the first one to know.

JACK: I'm glad to hear that.

JENNIFER: After Vern of course.

JACK: If you keep up with this sort of thing, I'm going to withdraw the offer.

JENNIFER: You really meant that didn't you?

JACK: About telling Vern first, yes.

JENNIFER: No. (Beat) You liked my story.

JACK: Yes, I liked it very much.

JENNIFER: You have no idea how much that means to me. To know that my husband thinks that I'm good at what I do. And it's not just that. I mean when I hear the words coming from the man who taught me everything he knows about journalism, that's about the highest compliment I could ever hope for.

JACK IS EMBARRASSED AND BLUSHES AND ROLLS HIS EYES.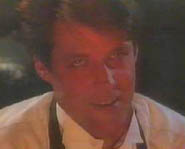 JACK: Everything that I know....where is that laugh machine when you need it? The applause at least. I think we could use some.

JENNIFER LAUGHS.

JENNIFER: We don't need applause. We've got everything that we could ask for, right here.

HE LEANS OVER AND KISSES HER GENTLY A FEW TIMES AND THEN SHE CURLS UP IN HIS ARMS AND RUNS HER FINGERS DOWN HIS FACE AS THEY BOTH GAZE AT THE JACKIE AWARD.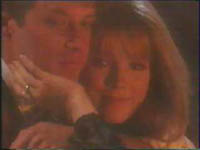 [Transcribed by Carol Vaughan
added material by Sally A. Wilson]
---