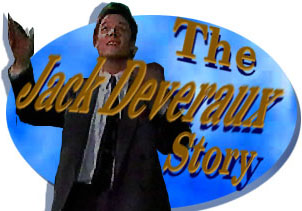 oldEpisode Three-hundred-forty-one: Hawk Is
not Happy That Jack and Jennifer Made up,
He Using Jack's Obsession with Money to
Try It Look Like Jack Is Having an Affair.
---
[Air date late September 1991]
SCENE ONE: IT IS LATER THAT SAME NIGHT AT THE PENTHOUSE. HAWK NOTICES THE JACKIE AWARD BUT HAS NOT MENTIONED IT YET.

JENNIFER: Did you happen to see my piece on the homeless earlier?

HAWK: Oh yeah of course I did and I thought that it was really terrific.

JENNIFER: Well thank you but the owner of our station didn't think so.

HAWK: You got to be kidding.

JENNIFER: No and that's why I was so upset when I was driving home. But then when I got home, Jack had set up this whole thing. He had music and applause and he gave me this and he made me the journalist of the year.

HAWK: Well now it all makes sense.

JENNIFER: What does?

HAWK: Well why Jack was wanting me to get out of the house this evening.

JENNIFER: Hawk, he just did that because he really wanted to make this special for me.

HAWK: Yeah well I'm sure he succeeded there.

JENNIFER: He did. It was wonderful. And so was Jack. He was really caring and sensitive and what was shaping up to be one worst days of my life turned out to be one of the best.

HAWK: Well you know Jennifer, I keep telling you you've got one heck of a guy there.

JENNIFER: Well I know that but he does have his downfalls. He did forget my birthday.

HAWK: Yeah.

JENNIFER: And he would rather be tortured than say I love you. But no matter how bad things get, I can't stay mad at him for very long.

HAWK: So you really do love him don't you?

JENNIFER: Oh yeah. I'll always love Jack. And I know that Jack will always love me.

HAWK: Well I wish you two all the best too.

JENNIFER: Well you don't have to because after everything we have been through nothing can break us apart. Jack and I are going to be together forever.

JENNIFER WALKS BACK INTO THE BEDROOM.

HAWK: Well we'll see about that.

HAWK IS NOT AT ALL HAPPY THAT JENNIFER HAS MADE UP WITH JACK. HAWK PICKS UP THE PHONE AND CALLS SOMEBODY CALLED DENISE.
---
SCENE TWO: A SHORT TIME LATER, HAWK IS SITTING ALONE ON THE SOFA WHEN HE HEARS JACK PUT HIS KEY IN THE LOCK. HAWK JUMPS UP AND PICKS UP THE PHONE AND STARTS A FAKE CONVERSATION.

HAWK: Yeah I don't care what that will said Chauncey. I want an advance on my inheritance.

JACK ENTERS AND LISTENS TO HAWK.

HAWK: Because I've got an incredibly hot tip on some hot stocks here and I've got to meet my broker in one half hour at Wings and I just need the money now. (Beat) NO? What do you mean no? No discussion, no.... just no, huh! (Beat) Oh that is it then. Listen, listen, listen to this Mr. Powell. When I get my hands on that estate, you're finished!

HAWK PUTS THE PHONE DOWN AND JACK SHUTS THE DOOR.

HAWK: Oh Jack, how are you doing?

JACK: Heheheh. Hi! I wasn't.... I wasn't.... I wasn't eavesdropping. I really wasn't. But then again, maybe I was. So tell me, what's going on?

HAWK: Oh, it's nothing really.

JACK: Really? Nothing at all. You were on the phone to your attorney for nothing at all.

HAWK: Yeah, that's right. Look you know I'm really not in a sociable mood right now Jack and I know you want me out of your way.

JACK: Out of my way?

HAWK: Well yeah. I got the word about you asking me to try to make myself scarce this evening so, I mean I didn't know if you meant the whole evening or just right now or....

JACK: Oh no, no, no, no, no. You're already here so really what's the bother. I'm not going to throw out my house guest. So please come over here. Sit down, take a load off, put your mind at ease, tell me what's on your mind. Every little detail.

HAWK: No really, really. I just would rather....

JACK: Oh really. You're sure there isn't something I could help you with.

HAWK: No, I'm sure, I'm sure.

JACK: I mean, I hope if there is something bothering you, you could tell me soon because I hate the thought of you going around carrying this burden all by yourself.

HAWK: Well, thank you Jack.

ACK: Don't mention it.

HAWK WANDERS AWAY FROM JACK.

JACK: Don't men....

JACK NOTICES THE NEWSPAPER STOCK PAGES ON THE COFFEE TABLE AND PICKS THEM UP.

JACK: (Whisphering to himself) Today's stocks up a dollar.

HE CALLS OUT TO HAWK.

JACK: Ah, Howie, Howie. Um, I just remembered there's something I need to go out and do. If Jennifer comes back, please tell her that I'll be home soon. Just running a business errand.

HAWK: I'll let her know Jack.

JACK: Thanks a lot.

HAWK: Bye.

JACK RUNS OUT THE DOOR AND HAWK SMILES TO HIMSELF. JENNIFER HAS HEARD VOICES AND COMES OUT OF THE BEDROOM.

JENNIFER: Is Jack home? Oh I thought I heard the door.

HAWK: No, it was just me. Jennifer I just checked to see if the paper had came.

JENNIFER: Oh, well I picked up the paper before. Here you go.

HAWK: Oh thanks.

JENNIFER: That's so strange that Jack's not home yet. I mean he said he was going to go by the office and make an appearance but just to make sure everything is okay.

HAWK: Oh I don't know. Maybe it wasn't.... I mean okay that is.

JENNIFER: Yeah. He's going to be so tired when he gets home and hungry too.

HAWK: Well he usually is.

JENNIFER: Yeah, I'm pretty starving. Is there anything to eat in there?

HAWK: Well there's just those under 300 calorie frozen dinners left.

JENNIFER: I don't want that.

HAWK: Well I guess there's nothing to eat then.

JENNIFER: You know what, you know what? Why don't we go out?

HAWK: Well that's great but what about Jack?

JENNIFER: Well Jack's fine. I mean I can get him something to go and he won't mind as long as he has a decent meal.

HAWK: Well great. I've really been looking forward to trying the food at Wings.

JENNIFER: Oh great, alright, Wings it is. Come on Hawk.

HAWK: Right behind you.

HAWK IS SMUG BECAUSE HE THINKS THAT JENNIFER WILL CATCH JACK DOING SOMETHING HE SHOULD NOT.
---
SCENE THREE: AT WINGS, JACK HAS JUST LEFT THE BAR WITH A TALL BLONDE AND IS WALKING TOWARDS HIS TABLE. THE BLONDE IS DENISE, WHOM HAWK SPOKE TO EARLIER ON THE PHONE. IT IS OBVIOUS THAT HE IS USING HER TO MAKE JACK LOOK BAD AND TO GET HIM FURTHER INSNARED IN HIS TRAP.

DENISE: And I'm sure you're aware that we're the only firm in town that didn't take a beating in the 87 crash.

JACK: I am now.

DENISE: As brokerages go, we're a small outfit but our clients benefit from that.

THEY BOTH SIT DOWN FOR DINNER.

DENISE: They deal with our top people, not trainees and we make sure that our traders are taking care of the clients, not themselves. We'll give you value for your dollar Mr. Deveraux and with any luck at all we'll make you rich.

JACK: Heheheh, I already am rich.

DENISE: Well would you like to be richer?

JACK: Well, you know you've heard of the man with the golden touch.

DENISE: You mean Midas?

JACK: Yes, everything he touched turned to gold.

DENISE: Even people as I recall.

JACK: Yes, yes, there was a lesson in there somewhere but I never really got it.

DENISE: Neither do I.

JACK: Ms. Murphy, I think you and I can do business.

DENISE: Mr. Deveraux, I think you're right.

JACK: Good, I just have a little something I'd like your input on.

JACK HANDS HER A PIECE OF PAPER.

JACK: Some stocks.

DENISE: Oh, hmmm, Allied Chemical, Gator Petroleum, Smithson Industries. Hmmm. So what would you like to know?

JACK: Are these solid? Will they make me money if I put money into them?

DENISE: Oh definitely. But if you want my help you'd better tell me how you came up with these particular stocks.

JACK: I figured you'd ask that. You see, I'm a close personal friend of Baby Howie.... Baby.... Baby Hawk.... Hawk, Hawk.

DENISE: Hawk? (Beat) Oh you mean Mr. Hawkins?

JACK: Yes Mr. Hawkins. I overheard your conversation with him where you set up this meeting and I just came in his place.

DENISE: So where is Mr. Hawkins?

JACK: Um.... well, like I said, he seemed to have a little bit of a cash crunch so I.... came in his place.

DENISE: Oh, to make a little buy of your own?

JACK: Yes, well faint of heart never crossed unplayed.

DENISE: Oh Mr. Hawkins would be a wealthy man if he had the money to back up his hunches. He has an uncanny instinct about the market.

JACK: So do I.

DENISE: I'm sure your instincts are good in any number of areas.

THEY SMILE AT EACH OTHER AND RAISE THEIR DRINKS JUST AS JENNIFER AND HAWK ARRIVE FOR DINNER.

JENNIFER: Oh hi Dave.

DAVE: Hi Jennifer. Look it's pretty slow right now. Go ahead and take any table that you like.

JENNIFER: Oh great thanks.

DAVE: I'll be right with you.

JENNIFER: Hawk, did you hear that? Dave says that it's slow so we can have any table we want.

HAWK HAS SEEN JACK WITH THE BLONDE AND HE TRIES TO MAKE A PRETENSE OF GETTING JENNIFER TO LEAVE. IT IS ALL DESIGNED SO SHE WILL WANT TO KNOW WHY AND SEE JACK TOO.

HAWK: You know Jennifer, I've changed my mind. Let's go home and order pizza, come on.

JENNIFER: You know what, they have pizza here. I mean it's a little designerish but it's good.

HAWK: Ah, Chinese food?

JENNIFER: What?

HAWK: I think I'm in a mood for Chinese food. So come on.

JENNIFER: No Hawk, wait a minute. You wanted to come here in the first place remember?

HAWK: Yeah well I know but....

JENNIFER: No, no, no buts. Come on, we're here and we're starving and we can have any table we want. Come on.

HAWK: Okay, Jennifer.

JENNIFER STARTS TO WALK TO A TABLE AND SHE SEES JACK.

JENNIFER: Can you believe it, there's Jack. Talk about luck.

HAWK IS VERY SURPRISED AT HOW COOL SHE IS.

HAWK: Luck?

JENNIFER: Yeah, now we can all eat together.

SHE WALKS STRAIGHT OVER TO JACK AND LEAVES HAWK WITH HIS MOUTH OPEN. HAWK HAS UNDERESTIMATED JENNIFER AND JACK'S LOVE FOR EACH OTHER.
---
SCENE FOUR: THEY ALL ORDER DINNER AND JENNIFER AND DENISE, THE BLONDE, GET ON IMMEDIATELY WHILE THE MEN JUST LISTEN.

JENNIFER: Okay and what about your shoes?

DENISE: Oh, Harrisons.

JENNIFER: Oh I love Harrisons. Have you seen their new resort stuff that they've put out?

DENISE: No, not yet but I hear it's to die for.

JENNIFER: It is, definitely. It's beautiful.

JACK: (To Hawk) Looks like the girls are really hitting it off, huh?

HAWK: Oh they sure are.

JACK: I guess we have to sit here like Ricky and Fred.

JACK SEEMS TO KNOW THAT HAWK WAS TRYING TO MAKE JENNIFER THINK THE WORST ABOUT HIM AND DENISE. HOWEVER, HE OBSESSION FOR THE STOCKS AND MONEY MAKE HIM OBLIVIOUS TO HAWK'S MANEUVERINGS.

HAWK: What?

JACK: Just kind of a cultural reference.

HAWK: Oh, well it's wasted on me. All I know is cows and money and right now money is not my favorite subject these days.

JACK: Yeah, never is, when you're out of it.

HAWK: Yeah, how would you know?

JACK: Oh look, all I did was take your appointment.

HAWK: That was slick.

JACK: Oh please, maybe I should have let you know. But it wasn't like I ripped you off or anything. It was a business move. Purely legitimate.

CHAUNCEY WALKS INTO WINGS AND HAWK SEES HIM.

HAWK: Yeah sure Jack.

HAWK GETS UP. JACK RETURNS TO HIS DINNER.

JACK: Killer salad.
---
SCENE FIVE: HAWK HAS WALKED OVER TO SEE CHAUNCEY.

HAWK: What are you doing here?

CHAUNCEY: Denise told me what you were up to. I made it my business to get here with all deliberate speed. What do you think you're doing Hawk?

HAWK: Now what's that supposed to mean. I'm working, setting Jack up for the fall. CHAUNCEY: We have male brokers on the team.

HAWK: Denise is the best.

CHAUNCEY: Don't insult my intelligence. You wanted her because she's a pretty face. You're trying to make Jennifer jealous.

HAWK: Well that's bull and you know it.

CHAUNCEY: The old timer was right. He said you were going to get emotionally involved this time and that's exactly what you did.

HAWK: And once again you're wrong and you can relay that to pops and the whole damn bunch. Jack and Jennifer mean nothing to me. They're easy marks and that's it.

CHAUNCEY: Then why do I get the distinct impression that you're out to break up their marriage?

HAWK: Because you're a crazy suspicious old fool and I already told you. I'm using Jennifer to get to Jack. Period. If I happen to damage their little relationship along the way, so what. I mean that is plan, isn't it? To destroy Jack Deveraux anyway we can.
[Transcribed by Carol Vaughan
added material by Sally A. Wilson]
---
---