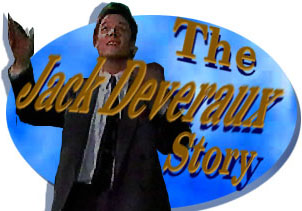 oldEpisode Three-hundred-forty-two:
Lawrence Is Released from Prison.
Jack Sets up a Romantic Evening
for Jennifer; However, He Cannot
Keep His Mind off the Stock Market.
---
[Air date late September 1991]
SCENE ONE: A COUPLE OF DAYS LATER AND JACK AND JENNIFER ARE DOWN AT ALICE'S. JENNIFER IS READING THE PAPER ABOUT LAWRENCE BEING RELEASED FOR GOOD BEHAVIOR. SHE PUTS IT DOWN IN DISGUST.

JENNIFER: That's so amazing.

JACK: I know this isn't cantina but it is happy hour. I suppose even a person drinking milk could use a little smile.

JENNIFER: I don't feel like smiling right now.

SHE POINTS TO THE PAPER.

JENNIFER: How could that happen Jack? I mean after everything that he did to me, they put him away for three months.Three months! I mean he might as well be away on vacation. What kind of system do we have when a man like that can commit a terrible crime? A man like that has no right to be out of prison.

JACK: I'm sorry you had to read about it there but it is news. I had a responsibility to print it. I'm sorry.

JENNIFER: I know.

THEY LOCK FINGERS ACROSS THE TABLE THEN SHE TAKES HIS HAND IN HERS AND HOLDS IT AGAINST HIS FACE.
---
SCENE TWO: MEANWHILE, MARCHAND, LAWRENCE'S LAWYER, IS PICKING LAWRENCE UP OUTSIDE THE PRISON.
---
SCENE THREE: BACK AT ALICE'S.

JACK: Not that I don't enjoy people reading my paper but I'm glad to see finally you put that article down.

JENNIFER: Well I can't stand to look at his face anymore.

MAGGIE AND ALICE COME OVER.

MAGGIE: Well no one can blame you for feeling that way.

JENNIFER: Thank you Aunt Maggie.

ALICE: Hi Jennifer.

JENNIFER: Hi Grandma.

MAGGIE: Jennifer look if there is anything that you need, anything we can do?

ALICE: We're here. You know that.

JENNIFER: I know, I know. You know what, why don't we talk about something else right now, okay?

MAGGIE: Alright.

JACK: Agreed. Talk about my not going back to work.

JENNIFER: You're not going to go back to the office?

JACK: No, I think I'm going to call Vern and have him give me the rest of the day off.

JENNIFER: Jack, if it's because of me, don't be silly.

JACK: No, no, it's up to me to decide whether it's silly or not. I am the boss. That's one of the perks that comes with the job. And I've decided I'm going to give myself the rest of the day off. Whether Vern likes it or not. Excuse me, I have to call him.

JENNIFER: Thanks.

JACK GOES TO THE PHONE.
---
SCENE FOUR: ALICE AND MAGGIE SIT DOWN AND TRY TO KEEP JENNIFER'S HER MIND OFF LAWRENCE BY TALKING ABOUT ALL SORTS OF DIFFERENT THINGS. MICKEY AND TOM ARRIVE ALSO AND THEY STAY TO HELP AND SUPPORT JENNIFER. JACK COMES BACK TO A CROWDED BOOTH AND A FEW MINUTES LATER, SHANE AND KAYLA ARRIVE TOO. THEY ALL ORDER EXCEPT JACK AND JENNIFER.

MICKEY: Jennifer, what about you? Do you need a little sustenance?

JENNIFER: You mean a little TLC don't you Uncle Mickey?

MICKEY: I beg your pardon.

JENNIFER: I know why you're all here. You're not here for an early supper. You're here because you knew that I would need you especially with Lawrence getting out of prison today.

MAGGIE: Sweetheart, you can't blame us for caring about you.

ALICE: No, you can't darling. We're your family.

JENNIFER: I don't blame you.

JACK PUTS HIS ARM AROUND HER.

JENNIFER: I appreciate you, all of you, very much.
---
SCENE FIVE: LATER ON THAT EVENING WHILE EVERYBODY IS STILL THERE, LAWRENCE WALKS IN. HE STARES ACROSS AT JENNIFER AND JACK STANDS UP NEXT TO HER.

JACK: Alright Jennifer, I think it's time we left.

JENNIFER: No, I'm not going to let him scare me away.

JACK MOVES TOWARDS LAWRENCE.

JACK: Look....

SHANE: It's alright Jack, let me handle this.

ALICE: No Shane. I'll handle it.

LAWRENCE: Mrs. Horton, good evening.

ALICE: Mr. Alamain.

LAWRENCE: It's amazing the changes that have taken place in the short while that I've been gone. Congratulations, I understand you're in charge here now.

ALICE: Yes I am and that gives me the right to deny service to anyone I please, as long as I see fit.

LAWRENCE: Are you asking me to leave?

ALICE: That is exactly what I'm doing and the quicker the better.

LAWRENCE GLARES AT EVERYBODY IN THE ROOM.

ALICE: Well Mr. Alamain.

LAWRENCE: I didn't come here to cause trouble Mrs. Horton. I simply stopped by for a bite to eat.

ALICE: There are plenty of other restaurants in town. Why don't you try one of them?

LAWRENCE: I see so many of my old friends gathered here tonight. (Beat) What a shame I won't be around for the camaraderie.

ALICE: Well we'll try to get along without you.

LAWRENCE: As you wish. I'm not interested in causing anyone distress, especially a gracious lady like yourself.

LAWRENCE LOOKS ACROSS AT THE WALL GRAPH SHOWING THE DONATIONS TO THE TRAUMA CENTER.

LAWRENCE: Well I see you haven't reached your goal yet for the Trauma Center. What amount will put your total over the top?

TOM: Well now Mr. Alamain, that's is none of your business.

LAWRENCE: Even if I wish to make a donation, doctor?

TOM: Will you please

GET OUT OF HERE?

LAWRENCE: I believe I'll send a check along anyway. You might just reconsider once you see the amount. I can be a very generous man once the spirit moves me doctor. Well, goodnight all.

HE WALKS OUT AND JENNIFER IS VISIBLY UPSET.

JENNIFER: Thank you. Thank you for standing up to him grandma. Thank you so much.

ALICE: I enjoyed it. I couldn't bear to think of him ruining your evening. It's bad enough him walking the streets.

TOM: Are you alright Jennifer?

JACK IS STANDING BEHIND HER WITH REASSURING HANDS ON HER SHOULDERS.

JENNIFER: Yeah, I'm alright. It didn't bother me as much as I thought it was going to.

MICKEY: You must be angry as hell. I know I would be.

JENNIFER: Yeah, I'm angry and I'm very frustrated. But I'm alright because I have all of you here with me.

ALICE: Alright. Come out to the kitchen with me your grandma and I'll get you some dessert.
---
SCENE SIX: A WHILE LATER JENNIFER COMES BACK OUT WITH ALICE. ALICE GIVES HER AN EXTRA HUG AND THEN GETS BACK TO WORK.

ALICE: Goodbye Jack.

JACK: Goodbye.

JACK: Well you're trying to make a good show of it but I can still see that you are not up to par.

JENNIFER: He scares me Jack. He still scares me.

JACK: Well I suppose that's understandable.

JENNIFER: It means a lot to me that you're here with me right now.

JACK: I'll try not to let your faith go unfounded. So in my own inimitable style I will try to find a way to keep an eye on you.

JENNIFER: I know that.

JACK: Well I think we've wasted enough time here. I say we continue this conversation at home.

JENNIFER: I think you're right. Let's go home. And Lawrence Alamain's name will not come up tonight.

JACK: Sounds like a deal and I know the perfect way to start.

HE PICKS UP THE PAPER AND PUTS IT IN WITH THE DIRTY DISHES.

JACK: Let's get rid of this and get out of here.
---
[Air late September 1991]
SCENE ONE: LATER THAT NIGHT AT THE PENTHOUSE AND JACK HAS SET A ROMANTIC TABLE FOR TWO WITH ROSES AND CANDLES. AS HE'S LIGHTING THEM, HE BURNS HIS FINGER.

JACK: OUCH.... OUCH!

JENNIFER: Jack, can I come in now?

JACK: No, no, not yet, wait a minute, wait a minute. Just.... wait a minute.

HE TIPTOES OVER TO THE BEDROOM DOOR CARRYING TWO CHAMPAGNE GLASSES.

JACK: Okay.... and wait and ah.... alright, come in.

SHE WALKS OUT.

JACK: Well good evening Mrs. Deveraux. An evening of romance perhaps.

SHE TAKES A GLASS FROM HIM.

JENNIFER: Thank you Jack. I don't mind if I do.

JACK: Yeah, I was assuming you'd like to drink to that and for that reason I chose the perfect bottle of champagne which I.... forgot to set in the perfect bucket. (Beat) Well the best laid plans of mice and men.

JENNIFER: That's alright Jack, it's the thought that counts.

JACK: Yeah.

JENNIFER: You're trying to help me forget about Lawrence being paroled, aren't you?

JACK: Uh.... uh, no, I thought we weren't going to talk about that. Right? Not a word?

JENNIFER: Right.

JACK: Just sit right down here and begin again. We're just going to concentrate on ourselves. Forget about everyone else and just pretend we're the only people in the world.

JENNIFER: Okay. You know what, I'll run to the refrigerator and I'll get the champagne you forgot.

JACK: That's good. That's even better.

JENNIFER: And we'll let the rest of the night just.... we'll play it by ear.

JACK: Oh, alright.

SHE HANDS HIM HER GLASS AND GOES TO THE KITCHEN.
---
SCENE TWO: WITH JENNIFER OUT OF THE ROOM, JACK CHECKS THE TIME AND RUNS TO THE PHONE.

JACK: Oh my gosh, oh my gosh. It's almost time. (Beat) Vern, Vern, it's me. Yes look this has to be quick. Look I need to know what's doing with the stocks that I've got on the Japanese market. (Beat) Yes, the Tokyo Exchange. (Beat) Look I don't have time. Just tell me whatever you get. Give me the quotes. (Beat) When you get them, yes. Make it fast.

JACK HANGS UP AND LOOKS VERY TENSE. JENNIFER RETURNS WITH THE CHAMPAGNE

AND THEY BOTH TAKE A SIP AND LOOK VERY MUCH IN LOVE. JACK LEANS TO KISS JENNIFER JUST AS THE PHONE RINGS.

JACK: Just a minute.

HE STANDS UP BUT SHE DOES TOO AND KEEPS HER LIPS ON HIS.

JACK: Wait a minute. Wait, wait, wait, hold it.... hold it right there. Hold it, don't move a muscle, alright.... or a lip.

HE PICKS UP THE PHONE.

JACK: Hello, Jack Deveraux¡ house, romance in progress. (Beat) Oh Vern! Vern what are you doing calling here? I never expected to hear from you. Ah.... my lovely wife and I are in the midst of a.... NO! You don't say.... you don't say.

JENNIFER: What is it?

JACK: He didn't say! (Beat) No Vern come on give it to me straight. You give me the information and I'll tell you if it's good or not. (Beat) Right.... oh no.... OH NO!

JENNIFER: What is it Jack, what happened?

JACK: Vern you stay right there. You give me the information as it comes in. Thank you.

THANK YOU VERY MUCH.

JENNIFER: What is it, what's going on?

JACK HANGS UP AND BEGINS TO SING AND DANCE. HE PICKS JENNIFER UP AND SPINS HER AROUND.

JACK: We're in the money.

JENNIFER: Oh Jack!

JACK: (Singing) "We're in the money, we're in the money honey," dah, dah, dah, dah, dah.

HE IS OVER EXCITED AS HE PUTS HER DOWN.

JENNIFER: Wait a minute, you're not making any sense. What are you talking about?

JACK: Dollars and cents. That's the whole thing. We're rich. Don't you understand? We're making.... we're.... we're.... we're loaded. I mean you thought I was rich before. I thought I was rich before. We all know the Rockefellers were rich but now we're richer than they are.

JENNIFER: How do we know we're rich?

JACK: Exactly, how.... Howie, Baby Howie. He's the one that did it. THE PAIN IN MY PENTHOUSE FINALLY PAID OFF.

JENNIFER: Fine but what did Hawk do?

JACK: It's the stock tip he gave me. It's the name of that company. It's going through the roof and we are rich. WE ARE FILTHY STINKING BURNING RICH. LIKE FORGET ABOUT THE HUMANITY AND EVERYBODY ELSE IN THE WORLD. WE ARE FILTHY STINKING UNJUSTIFIABLY RICH! HAHAHAHAH. WHOA!

JACK GETS COMPLETELY OUT OF HAND AND STARTS TO DO SILLY THINGS. HE GETS A HUNDRED DOLLAR BILL AND TRIES TO LIGHT IT.

JACK: Burn, come on.

JENNIFER: That's a hundred dollar bill.

JACK: I know what it is. I'm just trying to see if a hundred burns the same way as a fifty.

JENNIFER: That's sick, that is so sick. You're not going to burn this.

JACK: Oh.... okay you're right. You're absolutely right. Why burn a perfectly hundred dollar bill when we can go buy wonderful toys with it?

JENNIFER: Wait a minute Jack. You know you stole that tip from Hawk.

JACK: I did.... I did not steal it. He wrote in my newspaper, in a copy of my newspaper and just circled it right there. Just wrote right in the margin for everyone to see.

JENNIFER: And you went ahead and....

JACK: Yes I went ahead, I put a roof over his head, I put clothes on his back, I fed the man, I ran little errands for him for weeks on end. I think we're even. Now, if you're interested in celebrating with me, I'll celebrate all on my own, if you don't mind. They don't call me Man Who Dances with Franklin for nothing.

HE STARTS TO LIGHT THE HUNDRED DOLLAR BILL AGAIN.

JACK: Yessss, it burns wonderfully don't you think? Yes, it's going to be a very cheery autumn. Ah.... yes. HEHEHEHEH.

JENNIFER IS REALLY SCARED AT SEEING JACK LIKE THIS. NOT LONG AFTER JACK IS RUNNING AROUND THE PENTHOUSE PUTTING ALARM CLOCKS ALL OVER THE PLACE.

JACK: Wait a minute, this one goes right here.

JENNIFER: What are you doing?

JACK: Alright, I figure if I spread enough of these around, I can't sleep through all of them.

JENNIFER: And what would happen if you did sleep through all of these?

JACK: Oh perish the thought. Someone has to look after our investments. From now on everything is going to be different. I wake up and stay awake until after the Tokyo Exchange closes then I wake up again in time for things to start again in New York. It's not going to be easy but someone has to stay on top of things.

JENNIFER: Well how long can this go on? I mean sooner or later you're going to have to catch up on your rest. You can't do this.

JACK: You know something, you're absolutely right. The problem is things can change on a dime. We just won't.... it can't be on our dime. So I have decided, I've made an official decision. We are going to have a ticker-tape machine here and in the office.

JENNIFER: No, we're not. In our house? No we're not.

JACK PICKS UP THE PHONE AS HAWK COMES IN THE DOOR.

HAWK: Well good evening folks.

JACK: Oh, Baby Howie. Heheheh. Welcome home, welcome home.

JACK DROPS THE PHONE AND IT HITS HAWK.

HAWK: Oh!

JACK: Oh I'm sorry, I'm sorry.

HAWK: Well what's happening here? A celebration.

JACK: As a matter of fact, yes, there is a celebration. Thanks to you. Come on down, have some champagne.

JACK GETS BUSY ON THE PHONE.

JACK: Hello.

HAWK: Is something burning?

JENNIFER: Oh no, just a little money Hawk. And some brain cells.

JACK: Damn! I can't seem to get onto the broker. I'm going to call from that other phone that has that redial gizmo in there. I'll be right back.WHOA!

JACK RUNS INTO THE BEDROOM.
---
SCENE THREE: JENNIFER AND HAWK ARE LEFT IN THE LIVINGROOM. HAWK'S PLAN TO MANIPULATE JACK'S GREED IS WORKING PERFECTLY. HE CONTINUES TO MANIPULATE JENNIFER BY PRETENDING TO BE HER FRIEND AND CARING.

HAWK: He's kind of high spirited tonight, isn't he?

JENNIFER: Yes, he is and I don't like it Hawk. I mean I can't blame you. You couldn't know that he'd react like this.

HAWK: To what?

JENNIFER: To the stock market, those tips that you gave him.

HAWK: Well hey they paid off. That's great isn't it?

JENNIFER: No Hawk that's not great. We were supposed to have this nice romantic evening and the next thing I know Jack is burning up hundred dollar bills. I'm going to have to paint myself green if I want to get anymore attention from him.

HAWK: Well Jennifer, that man loves you. He isn't going to do anything to ruffle up what you two got going.

JENNIFER: I know that. But when it comes to being greedy, Jack turns into a completely different person. I've seen him get in trouble before. And I want to help him but he's too far gone already.

HAWK: Well I tell you what, you just leave everything to me. I know just the cure for a case of greenback fever.

JENNIFER: Wait a minute. Hawk, what are you going to do to him?

HAWK: No, you gotta trust me on this one Jennifer. It's okay.

HAWK WALKS OUT THE DOOR LEAVING JENNIFER WORRIED.
---
SCENE FOUR: A BIT LATER, CARLY ARRIVES TO SEE JENNIFER. SHE SAYS THAT SHE WISHES THAT SHE AND BO COULD BE AS HAPPY AS SHE AND JACK. JENNIFER TELLS HER THAT SHE SHOULD NOT WISH FOR TOO MUCH BECAUSE NOW JACK IS OBSESSED WITH THE STOCK MARKET AND WILL NOT PAY ANY ATTENTION TO HER.
---
SCENE FIVE: AFTER CARLY HAS GONE JACK EMERGES FROM THE BEDROOM WHERE WE CAN HEAR HAMMERING AND BANGING.

JENNIFER: Jack, how much longer are those men going to be in our bedroom hooking up the ticker-tape machine? I'm tired.

JACK: I know. Not too much longer. Come on you guys, hurry it up in there. We've got to get some sleep before the market opens up in the apple. (Beat) I don't know what I'm saying? I'm much too excited to get some sleep.

JENNIFER: Jack, no, wait a minute. Look just sit down please. Just sit down for one minute.

JACK: I'm sorry. I can't. I wish I could but I can't. There's so much to do. You know I never realized that making a killing was so much work. And that is exactly what we're going to get. We're going to make a killing Jennifer. I know it. I can feel it in my bones. Of course the big question is, should we sell it off now and get a lot of cash or just let the stocks ride for a little while? What do you think?

JENNIFER: How should I know Jack? I don't have any idea.

JACK: You're right. Maybe it's better to study the option options. Ah where's that journal? What did I do with it? Oh there it is, the journal. Okay I'm just going to set up in the bedroom, okay.

JENNIFER: OH NO! NOOOOOOO!

JENNIFER LEAPS OVER THE SOFA TO CATCH UP WITH JACK.

JENNIFER: You are not bringing The Wall Street Journal into our bedroom, alright.

JACK: Yeah, but....

JENNIFER: NO! No, yeah buts. Alright you have done enough empire building for one day. I don't want to hear anything financial. I don't want to talk about anything financial for the next eight hours.

JACK: Yeah, but I was going....

JENNIFER: We were supposed to have a nice romantic evening. Now we have men in our bedroom hooking us up to the New York Stock Exchange, Jack. IT'S ENOUGH!

JACK: But....

JENNIFER: It's enough.

JACK STARTS TO THINK TWICE ABOUT WHAT HE IS DOING.

JACK: You know something, you are right. You are absolutely right. I just got kind of carried away by the fiscal excitement of it all.

JENNIFER: It's okay.

JACK: Yeah. I tell you something. I'm just going to forget about all this, okay.

HE RAPS HIS ARMS AROUND HER.

JACK: We're going to forget all about buy-outs and buy-ins and everything like that. At least until tomorrow morning.

JENNIFER: Okay.

JACK: So for the rest of the night, I'm all yours....

HE STILL HAS HIS ARMS AROUND HER AND HE BEGINS TO MARK THE STOCK PRICES ON THE NEWSPAPER IN HIS HAND BEHIND HER BACK.

JACK: .... ab.... absolutely.
[Transcribed by Carol Vaughan
added material by Sally A. Wilson]
---