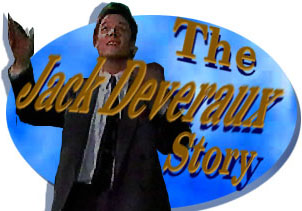 oldEpisode Three-hundred-forty-three: Hawk
Says He Is Leaving, Jack Is not Happy
after His Success Playing the Market.
Hawk's Plan to Destroy Jack Is Working.
---
[Air date early October 1991]
SCENE ONE: THE NEXT NIGHT AND HAWK IS ON THE PHONE AT THE PENTHOUSE.

HAWK: Everything's in place for the last move of the con. Hey relax man. Even if it does blow up in our faces, Jack Deveraux will be in no position to press any charges.

HE HEARS SOMEBODY COMING IN THE DOOR.

HAWK: Listen I got to go.

JENNIFER ENTERS.

HAWK: Oh Jennifer, I thought you were working late?

JENNIFER: It's eight o'clock. I did work late. Is Jack home yet?

HAWK: No, not yet.

JENNIFER: Oh boy, we've both have been so busy lately. We've really got to....

SHE NOTICES A SUITCASE ON THE SOFA.

JENNIFER: Ah, what's your suitcase doing here?

HAWK: Ah, I just pulled it out of the closet. I thought I'd get a little headstart on my packing.

JENNIFER: Packing?

HAWK: Yeah, I'm afraid so. I'm going to be leaving.

JENNIFER: What?

HAWK: Yeah, I don't want you to think I'm not grateful for all your hospitality here but I certainly know when I've been around too much.

JENNIFER: Oh, ah, I see, well why know?

HAWK: Well Jennifer, I know that you weren't too happy about Jack getting involved in the stock market.

JENNIFER: Hawk, I already told you that I don't blame you for that.

HAWK: Yeah, well, you know it was me who got him interested in the first place. I really am a bad influence for him.

JENNIFER: Jack is a grown man. He is responsible for his own actions Hawk.

HAWK: Yeah well I'm responsible for my own too and I'd just as soon not be anymore trouble, especially to you.

JENNIFER: Well what about your back?

HAWK: Ah, my back's actually a lot better.

JENNIFER: Well you're going to have to pay for treatment and how are you going to afford it when you have to pay rent?

HAWK: I've still got my allowance from Mr. Powell.

JENNIFER: Oh come on, that's barely enough to buy any food with.

HAWK: Well I certainly don't mind living it rough.

JENNIFER: Well I do mind. You deserve better.

HAWK: Yeah well please just don't worry about me Jennifer. As long as your life is back to normal, I'm going to be just fine.

THE PHONE RINGS.

JENNIFER: Ah, hold on, just a minute. Hello. (Beat) Yeah, hi Dan. (Beat) Oh alright, I'll get there as soon as I can. Goodbye. (Beat) There's been an accident at the Salem Inn. I don't know the details but it's very serious.

HAWK: Well I hope nobody was hurt.

JENNIFER: Well I'm going to find out right now. But look, don't leave yet, alright. Let us talk a little bit about it.

HAWK: Jen, I'll just call a tax.

JENNIFER: No, please. Just stay so we can discuss it alright. Don't leave.

JENNIFER RUNS OUT THE DOOR.
---
SCENE TWO: DOWN AT THE SALEM INN, AN ELEVATOR HAS FALLEN TO THE BASEMENT. IT SEEMS THAT CARLY WAS GOING TO MEET BO AT THE PENTHOUSE AND VICTOR FOUND OUT. HE HAD SOMEBODY PARTLY SEVER THE CABLE THINKING THAT IT WOULD KILL BO. HOWEVER, BO WAS ALREADY THERE AND IT WAS CARLY WHO WAS INJURED.
---
SCENE THREE: THERE IS BEDLAM DOWN THERE WITH REPORTERS AND POLICE TRYING TO GET HER OUT. JENNIFER ARRIVES IN THE MIDDLE OF IT ALL AND SHE DOES NOT KNOW THAT IT IS CARLY WHO IS HURT. JACK IS THERE TOO AND CALLS HER OVER.

JACK: Hey down here in front, Jennifer, down here.

JENNIFER: Jack, I was wondering if you'd be here.

JACK: Well I wonder if you'd be here too. I figured you'd be relegated to the fluff detail after your report on Howie.

JENNIFER: Yeah, I thought so too but Dan called me and he probably couldn't find anybody else so late at night.

JACK: Well that's television for you, slimy as snails.

JENNIFER: You know Hawk was there when I got home.

JACK: So was the furniture.

JENNIFER: He was talking about leaving.

JACK: You're kidding.

JENNIFER: No. I don't think he's ready to leave Jack.

JACK: Well he's not ready to leave.

JENNIFER: What? I thought you couldn't wait to get rid of him.

JACK: When did I ever say that?

JENNIFER: Frequently, usually at the top of your lungs.

JACK: Well I.... I've changed. I'm more compassionate, more caring.

JENNIFER: More interested in the stock market and how Hawk can make you money, you mean.

JACK: I can't believe you said that.

JENNIFER: It's true isn't it? The only reason you want Hawk to stay in our house is so he can give you more tips on the stock market.

JACK: When did you get so suspicious?

SHE RAISES ONE EYEBROW AT HIM.

JENNIFER: About thirty seconds after I said I do.

JACK: Oh, well anyway, we've got a lot of work to do here. Let's not....

JENNIFER: Alright, that's going on? Have you talked to anybody yet?

JACK: I've tried to talk to a lot of people but no one's saying anything. I mean apparently there's been a little malfunction in the elevator and it's somehow crashed to the bottom.

JENNIFER: Well was anybody in the elevator?

JACK SHRUGS HIS SHOULDERS.

JACK: Maybe, but if they are we don't know who the victim is.
---
SCENE FOUR: JACK GETS FED UP WAITING AND TRIES TO JUMP THE POLICE LINE BUT ABE STOPS HIM.

JACK: Excuse me.

THEY PUSH HIM BACK.

JENNIFER: Jack what's going on?

JACK: I don't know. This whole thing's more bogus than the Iran Contra scandal.

JENNIFER: Something must be going on and someone must be hurt or they wouldn't have sent paramedics.

JACK: I tell you what, I want you to tell me everything that happened here when we get home, okay.

JENNIFER: Are you kidding? Are you leaving?

JACK: Yes I have something very important I need to do.

JENNIFER: Since when is anything more important than a story?

JACK: Perhaps you've forgotten something but I am the owner of a newspaper. I have a lot of onsight responsibilities. I've got to answer the phone, I've got meetings to attend, I've got....

JENNIFER: As I was saying, what about the story Jack?

JACK: I'll have Finelli cover the story. He's a pretty good writer.

JENNIFER: I want to know what's going on?

JACK: What do you mean, what's going on?

JENNIFER: You never acknowledge the writing talents of other reporters, only with extreme reluctance. When Finelli won the Ferraro Award you called him an egotistical hack.

JACK: Well that's because he was an egotistical hack but he's changed and so am I. I'm kinder and.... and....

JENNIFER: Gentler too?

JACK: And gentler too. Yes, thank you very much. Let me tell you something, I don't want to get in the way of your work and I respect that. So I'll see you at home.

HE GIVES HER A BIG SMOOCHY KISS AND RUNS OUT.

JENNIFER: Jack, what....

JACK: Do a good job.

JENNIFER: Jack....

JACK LEAVES AND JUST AFTER THAT JENNIFER HEARS THAT IT IS CARLY WHO ISINJURED IN THE ELEVATOR.
---
SCENE FIVE: MEANWHILE JACK GOES BACK TO THE PENTHOUSE WHERE HAWK HAS JUST FINISHED PACKING.

JACK: Well hello. I heard you might be leaving us.

HAWK: That's right.

JACK: That's a surprise. I rather thought you like this place. You've got your own room, run of the apartment, as much food as you can eat and then some. What else could anyone want?

HAWK: Now wait a minute, let me get this straight Jack. Now you don't want me to leave, right?

JACK: No I didn't say that. I.... well I was just kind of curious. After all this, where are you planning to go?

HAWK: Wherever, I'm not picky.

JACK: Hmmm. I always kind of thought you liked this place, at least this town. You talked about it enough, on enough occasions.

HAWK: I like a lot of places.

JACK: Yes, yes, well, if you do have any interest in staying in this town, perhaps I can help you find an apartment? I do have friends who are in real estate.

HAWK: I bet you do.

JACK: And of course you'd be welcome to.... to drop by here from time to time.

HAWK: Is that so?

JACK: And if you're really minding your p's and q's I might actually go ahead and be the executor of your grandfather's estate so you could finally get your hands on.... the inheritance.

HAWK WALKS OVER TO HIS SUITCASE AND OPENS THE LID. INSIDE ARE STACKS AND STACK OF HUNDRED DOLLAR BILLS. JACK'S FACIAL EXPRESSION CHANGES INSTANTLY.

HAWK: Well I got to get going here Jack. I gotta go meet my attorney.

JACK: You know something, I haven't seen that much money in one place since Harper tried to bribe the New Jersey delegation of the convention.

HAWK: I really don't want to talk about it Jack.

JACK: Heheh. Another hot little tip from Denise, huh?

HAWK: Like I said, I don't want to talk about it.

JACK: Oh come on now, that's Wall Street money. I can smell it from here. You know it, I know it, just go on and admit it.

HAWK: Okay, alright, you're right Jack. It's.... money from the market.

JACK: I knew it.

HAWK: But Denise had nothing to do with it.

JACK: Oh really. I thought you said she was your broker.

HAWK: Yeah, well, I've got another broker. He's a friend. He's a little more.... well how would you say it.... he's a little more original than Denise. You know what I mean. It's like I don't know exactly how he does it but he's got this scheme whereas...you know.... well anyway, you certainly don't want to know about that.

JACK: I most certainly do. Go ahead, spit it out.

HAWK: Yeah well it's like he.... he has me buy the stocks in Japan on the Japanese market in the morning and then you sell and when the computer.... then you take the computer and it doesn't record the transaction till later and then you take the stock and you sell it in the New York market. And then before you can say rich, you are.

JACK: Well my friend, that has nothing to do with hot tips. That's illegal.

HAWK: It is?

JACK: Huh, huh. That's the kind of thing that could land you and your broker in jail.

HAWK: Well Jack, he's not in jail yet and he certainly is a millionaire. And as a matter of fact I was able to come up with this little amount here on the pittance that I'm making. So you can imagine just how much money you're making if you had some real cash.

JACK: Yes, imagine.

HAWK: Yeah. So hey I tell you what, if you like I can get you in touch with my broker here in New York.

HAWK TAKES OUT A BUSINESS CARD AND PUTS IT ON THE DESK.

JACK: I beg your pardon. I'm not Ivan Bosky. I'm just a little CEO of a little newspaper. Just a somewhat respectable man in this society.

HAWK: Yeah.... yeah well that's fine with me Jack. I was just trying to make you a little offer. See if I could possibly repay you for everything that you've done for me.

JACK: Thanks but no thanks.

HAWK: Yeah, well I think I'll go air out my suitcase, okay.

HAWK LEAVES AND JACK PICKS UP THE BUSINESS CARD OF THE ILLEGAL BROKER THEN PUTS IT BACK DOWN AGAIN AND SHAKES HIS HEAD. HE SITS DOWN AND TRIES TO READ A MAGAZINE BUT CANNOT GET HIS MIND OFF THE POSSIBILITY OF MORE MONEY. HE GOES OVER AND TAKES THE BUSINESS CARD. IN THE BACKGROUND HAWK IS LAUGHING TO HIMSELF.
---
SCENE SIX: DOWN AT THE HOSPITAL, CARLY HAS BEEN BROUGHT IN AND JENNIFER HAS FOLLOWED TO SEE HOW SHE IS. SHE REASSURES BO THAT MARCUS AND THE DOCTORS ARE DOING THEIR BEST. A CAMERA MAN FROM THE STUDIO ARRIVES AND SAYS THAT DAN WANTS HER TO DO A STORY ABOUT CARLY LIVE TO AIR. EVEN THOUGH SHE IS UPSET, SHE AGREES.
---
SCENE SEVEN: WHILE SHE IS IN WITH CARLY, JACK ARRIVES WITH KAYLA AND ISABELLA. KAYLA ASKS TO SEE CARLY AND MARCUS TELLS HER WHERE TO GO. HE TELLS JACK THAT JENNIFER IS IN THERE TOO. JACK IS WAITING OUTSIDE AND WHEN JENNIFER SEES HIM, SHE RUNS OVER AND HOLDS HIM.

JENNIFER: Oh Jack.

JACK: Oh there you are.

JENNIFER: Oh Jack. I am so glad you're here.

JACK: Yeah.

THEY WAIT UNTIL CARLY IS TAKEN TO THE O.R.

JENNIFER: Jack I want to go. I want to be with Bo upstairs while they're operating on Carly, okay.

JACK: Sure, sure, let's go.

JENNIFER: Alright. I just want to thank you again for being here for me.

JACK: Where else would I be? Come on.

JENNIFER: Come on.

THEY HANG AROUND OUTSIDE WAITING.

JACK: Look all they had down there was coffee so if you want anything else?

JENNIFER: No, no, this is fine.

JACK: No I can go to a place outside that's got a....

JENNIFER: Just stay with me okay. Please don't leave me.

JACK: No, I'm sure I can do that.

JENNIFER: You are really are being very wonderful Jack. I'm sure you have a lot more important things that you could be doing right now.

JACK: Well I don't know. What could be more important than being here with you?

HE RUNS HIS HAND OVER HER HAIR.

JENNIFER: I just remember standing in the Salem Inn and hearing about the elevator and hearing about the crash. And I never imagined that anyone could live through something like that. And then I never imagined that it could be my best friend.

SHE HUGS JACK AND HE HOLDS HER TIGHT.
[Transcribed by Carol Vaughan
added material by Sally A. Wilson]
---