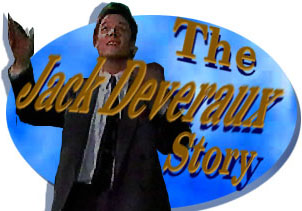 oldEpisode Three-hundred-forty-eight: The FBI
Interrupt Jack's Stock Dealings. Paul Wedder
Kills
the Agents; Then He Is
Killed
.
Jack
Runs Away, Leaving Behind His Bonds.
---
[Air date mid-October 1991]
SCENE ONE: JACK AND HAWK ARE IN WEDDER'S OFFICE, THE FBI HAVE JUST COME IN TO ARREST THEM ALL. THEY READ THEM THEIR RIGHTS.

FBI: Do you understand you're rights as they've been read?

JACK: Wait a minute, I don't understand anything. What the hell's going on here?

THE SECOND AGENT IS HOLDING THEM AT GUN POINT.

FBI: HEY! Haven't you been paying attention? This is an arrest.

JACK: You can't arrest me. I'm innocent.

FBI: Yes, isn't everyone?

JACK: Wait a minute, this is a big mistake. You obviously have no idea who I....

WHILE THE AGENT WAS TALKING TO JACK, WEDDER REACHES INTO HIS DESK DRAWER AND PULL OUT A GUN AND SHOOTS THE AGENT. JACK REALIZES THAT THINGS HAVE GOT COMPLETELY OUT OF HAND.

JACK: .... AM!

JACK STARES AT THE BODY ON THE FLOOR.

JACK: Ah.... you.... you shot him! You shot him. You're crazy. You shot a Federal Agent. He shot him.

THE THIRD AGENT WHO WAS WAITING OUTSIDE COMES IN AND PULLS OUT HIS GUN. HE POINTS IT AT WEDDER AND FIRES. JACK AND HAWK FALL TO THE FLOOR. JACK GOES INTO ABSOLUTE PANIC AND STARTS SCREAMING AND SHOUTING. HAWK PULLS HIM TO HIS FEET AND DRAGS HIM OUT OF THE OFFICE TO ESCAPE.

JACK: HE'S GOING TO SHOOT.... HE IS GOING TO SHOOT HIM.
---
SCENE TWO: AS SOON AS THEY ARE GONE THE AGENT ON THE FLOOR STANDS UP AND THEY ALL START SMILING AND LAUGHING WITH WEDDER. THE DOOR TO THE BACK ROOM OPENS AND IN COMES HOWARD AND CHAUNCEY. THEY ALL CONGRATULATE EACH OTHER AND HOWARD COLLECTS ALL THE STOCK CERTIFICATES THAT JACK LEFT ON THE DESK AS WELL AS THE STACK OF CASH. HOWARD HANDS WEDDER AND THE FAKE AGENTS THEIR SHARE AND THEY LEAVE.
---
SCENE THREE: MEANWHILE, JACK AND HAWK HAVE BEEN RUNNING AS FAR AWAY AS THEY CAN. THEY END UP IN A BACK ALLEY IN MANHATTAN, FULL OF GARBAGE, TRASH CANS AND A DUMPSTER.

HAWK: I think we made it. Listen you didn't see anybody follow us back there did you?

JACK: All I saw was my life flashing in front of my eyes. I mean what if we're implicated in that shooting? I mean it's bad enough they want to charge us with stock fraud. You think they're going to charge us with murder one too.

HAWK: Now listen, they can't pin anything on us if they can't find us, alright.

JACK: They would have had me if you hadn't pulled me out of there. You saved my neck.

HAWK: I didn't do it for you Jack. I did it for me.

JACK: How does helping me, help you?

HAWK: 'Cause if I'd left you back there you'd be singing like a canary and they have an APB on my tail faster than you can say round up a posse.

JACK: Well so much for altruism. I should have known.

HAWK: Listen buddy, it was your idea to get in this in the first place. We're in a mess of trouble because of your love affair with the almighty dollar.

JACK: ALRIGHT, ALRIGHT, BLAME ME! IT'S ALL MY FAULT. It's my fault.

HAWK: Oh he admits that he messed up.

JACK: Jennifer said I would mess up if I got too attached to my bank balance. (Beat) I gotta.... I gotta call her. She better hear this from me.

THEY HEAR A SIREN ON THE STREET.

HAWK: No, no, ah not right now buddy. We gotta get ourselves out of sight.

JACK: You hear that.

HAWK: Where are we going to go? Where are we going to hide?

HAWK: That's obvious. Get in there, get in there.

JACK: Wait a minute, this is a.... this is a dumpster.

HAWK: You can't afford to be too particular Jack. Get in there. You don't want to be the last one down out of sight.

THEY CLIMB IN AND PULL DOWN THE LIDS ON TOP OF THEM.
---
SCENE FOUR:AS THE SIRENS FADE, THEY LIFT THE LID AND PEEP OUT. JACK HAS THE LID OF A PAPER CUP AND STRAW STUCK ON HIS EAR.

JACK: Sounds all quiet. What do you think?

HAWK: I think you look ridiculous.

JACK PULLS THE THING OFF HIS EAR.

JACK: Wha.... ACH, I've sunk to an all new low.

HAWK: Well Jack, don't be so hard on yourself here, huh. It's kind of hard to hang onto your dignity when you're knee deep in trash.

THEY BOTH HOP OUT OF THE DUMPSTER.

JACK: Alright, forget about that. Where the hell do we go from here?

HAWK: We're going to go far and we're going to go far and fast.

JACK: Not till I talk to Jennifer. I have to talk to Jennifer first.

HAWK IS DETERMINED TO STOP JACK CALLING JENNIFER HE CANNOT AFFORD FOR JACK TO CALL JENNIFER, FOR IF HE DOES THE SCAM WILL BE DISCOVERED. HAWK COMES UP WITH THE IDEAL REASON.

HAWK: Well, hey, listen if you want to do that, that's fine. You're going to set yourself up to get nabbed.

JACK: But it'll just take a minute, alright. I just have to talk to her.

HAWK: Well Jack, if you want to do that, you go right ahead, if you just want to kiss away your freedom. I'm high tailing it out of town, boy.

JACK: Ah, wait a minute.... er.... I.... doggone it.

HAWK: Well I guess that means you're coming with me.

JACK: I'll call her later. We got in this together, we're going to stay together.

HAWK: Oh why Jack, I'm touched.

JACK: And I'm broke. (Beat) I'm broke.... I've lost everything. I left the stocks, the bonds, the money, everything on Paul's desk. I left it.

HAWK: Yeah, well it's nice to know I'm needed Jack because luckily I keep a little stash for emergencies.

JACK: I think this time qualifies. How much have you got?

HAWK: Enough for a couple of bus tickets to parts unknown.

JACK: I've got a sick feeling that's exactly where we're headed.

HAWK: That's right, let's get going.
---
SCENE FIVE: BACK IN SALEM IT IS VERY LATE, JENNIFER IS AT THE AIRPORT, WAITING FOR JACK TO RETURN.

JENNIFER: Excuse me, my husband was supposed to arrive on an evening flight from New York and he hasn't come home yet and I was wondering if I could locate him?

CLERK: Well if you can tell me his flight number then I can tell you whether he's landed or not.

JENNIFER: I don't know his flight number and he didn't book it through his regular travel agent. I don't know who booked it.

CLERK: Well in that case, I'm sorry, there is really nothing I can do.

JENNIFER: Well I guess I'm just going to have to wait for the very last flight from New York to come in.

CLERK: You must be really anxious to see your husband.

JENNIFER: Yes, yes I really am.
---
SCENE SIX: MEANWHILE JACK AND HAWK ARE OFF THEIR BUS AND THEY FIND A BARN WITH GOATS AND HENS.

JACK: Alright, you tell me, what is big idea of pulling me off the bus in the middle of nowhere?

HAWK: Hey listen, I got a little nervous alright. I heard those two ladies behind us talking.

JACK: Yeah, well, it made me nervous too but that doesn't mean we had to get off the bus before we got to wherever the hell we were going.

HAWK: Well I guess you didn't hear those two old biddies back there talkin' did you? Yeah I heard them say something about an FBI agent who got shot in cold blood.

JACK: They know? They know already? They know?

HAWK: Well they must have seen it on the news report or something.

JACK: Well that means they're probably broadcasting our descriptions all over the place.

HAWK: Bingo! I mean that's the reason we got to be careful around here. If those two old ladies had recognized us....

JACK: But they didn't. They didn't recognize us.

HAWK: Yeah, thanks to me. Thanks to me and my quick thinking.

THE HENS START TO SCREECH.

HAWK: You know I think we ought to just lay low for a while.

JACK: What do you mean, lay low? You mean like hide out?

HAWK: Yeah, yeah, hide out. Like stay here. As a matter of fact I think it's a great idea to stay here tonight and get some shut eye.

JACK: What do you mean, here? In a barn?

HAWK: Yeah.

JACK: Well we can't stay in a barn. It's.... it's cold and smelly and full of.... animals.

HAWK: Well I guess a barn's where animals usually live.

JACK: Yeah, but come now you don't really.... you don't....

THE COW MOOS AT JACK.

JACK: .... you don't really expect me to sleep here.... with them.

HAWK HAS SETTLED HIMSELF INTO A HAY STACK.

HAWK: Oh Jack.... Jack, Jack, don't worry about it. Just try to keep your snoring under control. I'm sure they won't mind.

JACK: Oh, I should have called Jennifer.

HAWK: Yeah.

JACK: She's going to worry.

HAWK: Well you know Jack, she doesn't even know the half of it. I hate to tell you this good buddy but you are in a whole lot of trouble. We both are.

THE ANIMALS ALL START MAKING NOISES.

JACK: SHUT UP!

JACK FINDS A BLANKET AND ROLLS UP ON THE FLOOR WITH THE HENS.

HAWK: All the comforts of home, huh Jack?

JACK: Yeah, a regular night at the Ritz. I tell you I had some very different getaway plans for tonight.

HAWK: Oh you and Jennifer had some plans, huh?

JACK: Yeah you could say that. Just the two of us. A nice little getaway at a nice little bed and breakfast. Instead I'm camping out with you at Old McDonald's farm.

HAWK: Heh, well stuff happens.

JACK: Yeah I wonder what's going to happen to me when Jennifer finds out that I've ruined everything. I lost the stocks, I lost the money, I lost the collateral for.... I lost the collateral so I lost the paper.

JACK'S VOICE BREAKS AT THINKING ABOUT LOSING HIS BELOVED PAPER.

JACK: She's going to hate me.

HAWK: Ah shoot Jack, that little lady loves you. I think the picture just looks a little bleak now.

JACK: Yeah, you can say that again.

HAWK: But I'm sure in the end that everything's going to work out for the best. Trust me.

JACK RAISES HIS EYEBROWS AT THE THOUGHT OF TRUSTING HAWK ANYMORE.
---
SCENE SEVEN: BACK IN SALEM, JENNIFER IS STILL AT THE AIRPORT WHEN THE LAST FLIGHT COMES IN. SHE IS SURE SHE DID NOT MISS HIM AND SHE GETS REALLY WORRIED.
[Transcribed by Carol Vaughan
added material by Sally A. Wilson]
---
---