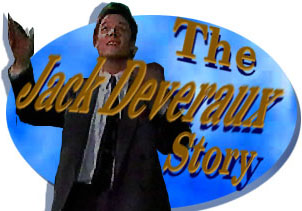 oldEpisode Three-hundred-fifty:
The
Executioner's Song
: Hiding out in the
Barn, Jack Dreams of His and Jennifer's
Execution, His Two Dads Show up too.
Hawk Creates a Fake Newspaper Article.
---
[Air date mid-October 1991]
SCENE ONE: AT THE SPECTATOR, JENNIFER AND VERN ARE STILL TRYING TO FIND JACK.

JENNIFER: Alright, the SEC will get back to us.

VERN: Yes, so will the New York police.

JENNIFER: Alright, what now?

VERN: Well, we've got the State and Federal agencies working on the case. You know I'm just thinking about what Jack's going to say when he finds out we've wasted the taxpayer's money.

JENNIFER: Well he'll be sure it was his taxpaying money. (Beat) I just wish he was home right now to complain about it.
---
SCENE TWO: BACK AT THE FARM, HAWK IS NOW IN TOWN. FIRST HE HAS ORGANIZED FOR A FAKE HEADLINE ON A NEWSPAPER SO THAT HE CAN SCARE JACK. HE GETS ON THE PHONE TO HOWARD TO FIND OUT HOW THINGS ARE GOING. HAWK SAYS HE COULD NOT JUST DUMP JACK BECAUSE HE IS TOO FLAKEY AND COULD DO ANYTHING. HOWARD SAYS THAT JACK IS NOW EXCESS BAGGAGE AND IT IS TIME THEY LEFT THE COUNTRY. HAWK REFUSES AND HOWARD THINKS IT IS BECAUSE HAWK CARES ABOUT JENNIFER. HOWARD GIVES HIM TWENTY-FOUR HOURS TO GET BACK OR THEY LEAVE WITHOUT HIM. HAWK SAYS THAT IS FINE BECAUSE HE WANTS TO SHUT JACK UP PERMANENTLY.
---
SCENE THREE: HAWK ARRIVES BACK AT THE BARN WITH THE NEWSPAPER.

HAWK: How you doing, Jackie Boy?

JACK: Oh well look what the cat dragged in. Nice to see you showed up again.

HAWK: I'm a man of my word.

JACK: Somehow I wonder about that. You know I was just thinking....

HAWK: I told you not to do that.

JACK: I said I was just thinking. I got myself into this mess, it's up to me to get myself out of it.

HAWK: Why I don't follow you Jack. What are you trying to say?

JACK: In the words of that old spiritual, I'm going home. Not the eternal one but the one in Salem.

HAWK: Yeah, you know you might want to reconsider that Jack.

JACK: Oh really, why?

HAWK HANDS JACK THE FAKE NEWSPAPER.

JACK: "FBI agent slain. Fugitives sought." (Beat) Well it can't get much better than this. Alright, what do we do now?

HAWK: Nothin' tonight.

JACK: What do you mean, nothing tonight? We're not going to sit around here on our hands and do nothing.

HAWK: Hey hang on a minute, my excitable friend. I just turned myself inside out making sure Miss Misty didn't find out about that newspaper. How do you think she's going to feel when she finds out she's harboring two hardened fugitives out here?

JACK: Yeah, right, you get her all hot and bothered and she comes in here tomorrow and we're both gone, so....

HAWK: Yeah, she's going to be on the horn to the Sheriff's office too with a very accurate description and also a very fresh sighting.

JACK: You made your point.

HAWK: Hallelujah.

JACK: We'll stay here and.... I'll do some thinking.

HAWK: Think quietly while I get some sleep.

JACK KEEPS LOOKING AT THE NEWSPAPER AND HAWK IS VERY HAPPY THAT HE HAS JACK SO WORRIED AND ALONE.
---
SCENE FOUR: BACK AT THE SPECTATOR, JENNIFER IS ON THE PHONE.

JENNIFER: Alright, thank you, I appreciate that. Goodbye.

SHE HANGS UP.

JENNIFER: Well the New York police still have no word on Jack.

VERN: Ah, they'll get back to you if anything happens, so will the SEC. And Jenny girl I hate to bring this up but I think the two of us ought to put this aside, at least until tomorrow. It's getting late, you must exhausted. Why don't you go home and rest?

JENNIFER: Vern, I know that you mean well but don't even think about trying to get me to go home. Because until I know what happened to my husband I won't be able to rest. I just hope it's nothing terrible.
---
SCENE FIVE: BACK IN THE BARN, JACK IS ASLEEP



AND HE STARTS TO DREAM ABOUT HIM AND JENNIFER GETTING ARRESTED FOR MURDER. THEY ARE BOTH DRESSED IN PRISON STRIPES AND THERE ARE TWO NOOSES HANGING THERE WAITING FOR THEM.

THEY ARE HOLDING HANDS AS THEY APPROACH THE HANGMEN WHO TIE THEIR HANDS BEHIND THEIR BACKS.

JENNIFER: Jack, what's happening?

THEY BOTH LOOK TO A JUDGES' BENCH. TWO JUDGES ARE SITTING IN JUDGMENT, THEY HAVE THEIR FACES COVERED BUT THEIR VOICES SOUND LIKE HARPER AND DUKE'S VOICES.

HARPER: What do you think is happening?

DUKE: You're about to have a real swinging time. HEHEHEHEHEH

JACK: Wait a minute, wait a minute, what did we do?

HARPER: Jack Deveraux is guilty of greed. Unquenchable, insatiable greed. You coveted money Jack. You connived for it, you thirsted for it, you even married for it. hang him.

DUKE: BY THE NECK, PREFERABLY. HAHAHAHAHAH.

JACK AND JENNIFER LOOK AT EACH OTHER IN PANIC.

JACK: Wait a minute, what about her? She didn't do anything.

DUKE: She loved you Jackie Boy.

JACK: And that's a crime?

DUKE: She supported you in everything you did. HAHAHAHAHAH.

JENNIFER: It's alright Jack, I'll take my punishment.

JACK: No.... no, kill me twice, okay. Kill me twice and let her go.

HARPER: EXECUTIONERS! THE EXECUTIONERS COME FORWARD AND REMOVE THEIR HOODS TO REVEAL HARPER AND DUKE.

HARPER: YES SIR!

DUKE: YES SIR!

JACK AND JENNIFER ARE CONFUSED, AND THEY LOOK BACK AT THE JUDGES WHO LAUGH AT THEM.

JACK: Oh great, now I'm seeing double.

DUKE: I'm going to love this. Alright folks, follow me, no shoving. People are dying to get in this line. Okay, who's on first?

HARPER: Or what's on first? HAHAHAH.

THEY PUT THE NOOSES AROUND JACK AND JENNIFER'S NECKS AND PULL THEM TIGHT.

DUKE: Right, say goodbye kiddies. HAHAHAH.

HARPER: LET HER RIP! DUKE: GERONIMO!

JACK AND JENNIFER LOOK AT EACH OTHER WITH LOVE AS THE TRAP DOOR OPENS.
---
SCENE SIX: INSTANTLY JACK WAKES UP WITH HIS TIE TIGHT AROUND HIS NECK. HE STRUGGLES TO LOOSEN IT.

JACK: No.... no.... oh it was just a dream. It was just a dream. It wasn't real at all.

JACK SEES HARPER AND DUKE IN HIS SUBCONSCIOUS.

HARPER: About as real as the rest of his life, wouldn't you say Duke?

THEY ARE BOTH DRESSED IN TAILS.

DUKE: I don't know Senator. This whole thing is very confusing to me.

JACK: Well, Astaire and Kelly. Aren't we a bit overdressed for a barn dance?

DUKE: Do you believe this kid? He never gets any smarter. Listen sonny boy, how are we supposed to show up at a casino in the Bahamas? In overalls?

JACK: You hold it right there okay. Just hold it right there. You know everytime you show up it's to harrass me or laugh at me or something like that. Well let me tell you something, I've realized you're always putting me down. For one thing or another you're telling me I'm low down, no good, never deserving of any kind of happiness at all and that always includes Jennifer doesn't it? Always includes Jennifer. Well I'll tell you something, I realized you're right, you're absolutely right. I don't deserve to be happy, at least I didn't. And you know why, you know why? Because I never put my trust in those three little words. I love you.

HARPER: I love you too son.

DUKE: Take it easy pal, speak for yourself.

JACK: Hey wait a minute, we're talking about Jennifer here. Jennifer, my feelings for her and her feelings for me. You see I never.... I never trusted.... I was never able to appreciate those feelings and accept them for what they were without expecting there to be some.... some little hidden clause with some underlying meaning. You know. So I always had to look at it, I had to judge it, I had to criticize it, I had to put a price on it. I had to put a price on something that you don't put a price on. I've realized that now and you know what, that's over. Because I realize that, it's all over. I realize I don't need the money. You can keep the money. I'm a rich man already. I'm a rich man because I've always got.... I've got the thing you can't put a price on. I've got Jennifer. (Beat) If only I can just get back to her. And that's where you guys come in, you understand that? That's where you come in. If for once you could show up and just give me a little bit of help I'd appreciate it. Just help me get back to her.

DUKE: I don't know. What do you think Harpy?

HARPER: Tempting, very tempting. But they might not like it down there.

JACK: Wait a minute, what they don't know won't hurt them. Eh, come on just give me a hand.

HARPER: Hand? Oh my gosh, I forgot, I left a hot hand at the poker table.

DUKE: That's right. I had a hot roulette wheel that was singing at me.

HARPER: That's right.

DUKE: Listen we'll get back to you on this later kid. Hang loose.

JACK: Oh come on.

HARPER: Wish us luck, wish us luck.

JACK: Come on, come on, you're my.... you're my dads.

DUKE: Goodbye.

JACK: Wish you luck, wish me luck. Hey wait a minute, come on back here. I never asked you for anything. Hey!

HARPER AND DUKE DISAPPEAR AS HAWK WAKES UP.

HAWK: Hey.

JACK: Oh.

HAWK: Who are you yelling at?

JACK: Oh Howie.

HAWK: You just had a nightmare.

JACK: Yeah, the worst kind, like bad bratwurst that keeps coming back on you.

HAWK: You just go back to sleep and don't wake me up again.

JACK WANDERS OVER TO THE BARN DOOR AND LOOKS UP AT THE MOON.

JACK: [This is another reference to classic TV, Jimmy Durante ended his show by saying "Goodnight Mrs. Kalabash, wherever you are."] Goodnight Mrs. Deveraux, wherever you are. I do love you.
[Transcribed by Carol Vaughan
added material by Sally A. Wilson]
---
---