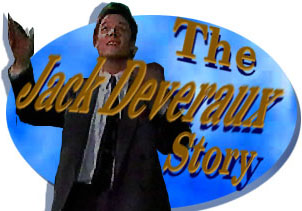 oldEpisode Three-hundred-fifty-one:
Harper and Duke Convince Jack to
Go Back to Salem and Talk to Jennifer.
---
[Air date mid-October 1991]
SCENE ONE: THE NEXT DAY, JENNIFER ASKS MARCUS TO CHECK ALL THE HOSPITALS IN NEW YORK TO SEE IF JACK IS THERE. MARCUS IS SURE THAT JACK WILL TURN UP HALFWAY THROUGH HIS INVESTIGATION.
---
SCENE TWO: AT THE BARN, JACK AND HAWK ARE WAKENED BY THE SOUND OF GUNSHOT.

JACK: Whoa, whoa, what the hell is that, what the hell is that?

HAWK: What do you mean? You know what the hell that is Jack. It's gunshot.

JACK: No, no, don't tell me. I want to die believing that it's thunder.

HAWK: Well you just stay right here. I'm going to check everything out. I'll be right back.

JACK: You're going to check and you're going to bring back the posse. I know that's what you're going to do. It's over, it's over. We're caught, we're caught, we're trapped, we're trapped like rats, like rats.... I know, I know, it's the slaughter house for us.

THE PIG GRUNTS AT JACK.

JACK: Great, I'm going to die with a sensitive pig.
---
SCENE THREE: JACK IS STILL IN THE BARN, WHILE HAWK IS OUTSIDE; THE ANIMALS KEEP HARASSING JACK.

JACK: OUCH.... ouch, whoa. Doggone it, you too.

HAWK COMES BACK INTO THE BARN.

HAWK: Jack.

JACK: Oh there you are. What happened, what's our chances?

HAWK: Well I think we're going to be okay here for a while. Those shots came from a couple of the trigger happy locals. Sheriff deputized them. The whole county's up in arms.

JACK: Oh great, farmer ]A reference to the 60s TV show, Green Acres and Mr. Ziffle the owner/parent of Arnold the Pig.] Ziffle and his merry villagers.

HAWK: Well this Mr. Ziffle here, he happens to be a crack shot Jack and they're looking for us too.

JACK: Well did they see, did they recognize you?

HAWK: No, no, I found myself a real nice little hiding place and I watched them.

JACK: Well I'm so happy for you. What did you see?

HAWK: Well just a couple of the local boys here talking with Misty.

JACK: Misty? What, did she talk to them and what did she say when she gave them our description?

HAWK: No, no, no, no, no That's the beauty point about it Jack. You see these temporary deputies, they aren't too bright you know and it seems they like they got the descriptions all wrong. I mean unless you really are bald and stupid. Of course I think they were right about those ears though.

JACK INSTINCTIVELY COVERS HIS EARS.

JACK: Yeah well that's really fine you know. I'm glad they got those mixed up descriptions but that's not going to do a hell of a lot for our basic problem.

HAWK: Not for long.

JACK: You know the FBI is going to have the basic description, I'll tell you that.

HAWK: More than likely Jack. J

ACK: You're a real comfort you know that Howie.

HAWK: Well hey, facts are facts. I mean you can't change what you can't change.

JACK: And the FBI¡s going to change it, I can tell you that. They're going to change it and we're going to be dead meat.

ALL THE ANIMALS START MAKING NOISES.

JACK: Oh there you go again.

HAWK: Well you got that right Jack. By the way, you're friend here is saying, welcome to the club.
---
SCENE FOUR: BACK IN SALEM, JENNIFER GOES TO SEE CARLY. SHE TELLS CARLY THAT JACK HAS DISAPPEARED. CARLY TELLS HER THAT JACK LOVES HER TOO MUCH TO STAY AWAY AND THAT HE WILL BE BACK. JENNIFER IS STARTING TO DOUBT THAT VERY MUCH BECAUSE SHE IS NOT SURE IF HE IS HURT OR EVEN WORSE.
---
SCENE FIVE: JENNIFER GOES DOWN TO ALICE'S AGAIN. BRIAN COMES OVER AND TELLS JENNIFER THAT HE HAS NO REPORTS EVEN THOUGH NYPD HAS EVERY MAN OUT LOOKING FOR JACK.
---
SCENE SIX: BACK AT THE BARN, HAWK COMES IN WITH MISTY. AFTER THEY SEE JACK IS GONE, HAWK THANKS MISTY FOR THE GUNSHOT THAT SHE SET UP. JACK COMES IN AT THAT MOMENT.

JACK: Excuse me, what are we all whispering about here?

HAWK: Ssssh, we never know when one of those fans are going to be lurking around here.

JACK: Fans? (Beat) Oh yeah.... yeah, the fans!

JACK THINKS THAT HAWK IS STILL TRYING TO FOOL MISTY.

JACK: Yes, yes, we have to keep that low profile.

HAWK: Yeah.

JACK: Yeah.

HAWK: Misty it's okay cause I understand what you're saying and anyway I'll take care of it for you.

MISTY: But....

HAWK: You just run along. It's okay.... it's totally under control here. You can just go right on ahead.

MISTY: Well alright, you two boys take care of yourself now.

SHE LEAVES.

HAWK: Okay Jack.

JACK: Okay Howie. So what is it you're going to take care of?

HAWK: Oh, it's Misty. She's throwing us out of here.

JACK: She's what?

HAWK: You can't blame her Jack with those deputies being around here.

JACK: Wait a minute, so she knows that we're not who we said we were.

HAWK: No, she still believes that we're legit. She just doesn't want any trouble from anyone so we're getting the old heave ho.

JACK: Oh that's.... that is just great. You know we're hunted down like animals, now we can't even stay in a barn with the animals.

HAWK: Oh Jack, just get a grip. Come on.

JACK: Disguises. That's it, disguises. You see, you see, they're looking for two guys who look just like us so....

HAWK: Exactly, exactly. We split up. That's exactly what I was thinking.

JACK: But.... wait a minute.

HAWK: No, you see because we'll both be going our own separate ways, right? That way it's going to be impossible for them to try to find us. That's a great idea. But the description was for two people, right?

JACK IS PUZZLED BY ALL THIS. HE STILL DOES NOT TRUST HAWK COMPLETELY.

HAWK: I mean that's right, two?

JACK: (Beat) Right.... and I guess they usually do split up in the movies.

HAWK: There you go.

JACK: So, what do we do.... I mean what are you going to do?

HAWK: Oh Jack, don't worry about me. I'm a Hawkins. I mean we've got family connections and friends who owe us a favor or two all over the place.

JACK: Well that makes one of us.

HAWK: Oh now come on Jack. Everybody's got a friend somewhere who can help them out.

JACK: You got any references?

HAWK: What about your wife?

JACK: Jennifer? Well she was my first hope but I know that if I give her a call she's going to be implicated in this whole mess.

HAWK: Oh Jack, I'm sorry. I tell you I just wasn't thinking.

HAWK MAKES SURE THAT JACK DOES NOT CONTACT JENNIFER.

JACK: Well I tell you something, the sooner that you go, the sooner I'll be able to think for myself.

HAWK: Well, there you go. That's right. So, I won't take your last nickel with me Jack.

JACK: Why not, I mean if that's all I've got.

HAWK: Good luck.

THEY SHAKE HANDS.

JACK: Howie, same to you.

HAWK LEAVES.
---
SCENE SEVEN: JACK IS ALL ALONE IN THE BARN, HE DOES NOT KNOW WHAT TO DO OR TO WHOM TO TURN.

JACK: Okay, all you've got is yourself. You're going to need a little help. Help from where, help from where. Where, where? Somebody, somewhere. Somewhere I've got to get a idea. An idea, that's it. I've got an idea. The question is an idea from.... from where. Where can I get a good idea? Where?

HE LOOKS DOWN AT THE PIG. HE IS DESPERATE AND DOES NOT KNOW WHAT TO DO.


JACK: Well, anybody.

HARPER AND DUKE REAPPEAR IN JACK'S SUBCONSCIOUS. THIS TIME THEY ARE DRESSED IN ENGLISH FOX HUNTING GEAR.

HARPER: Well now that sounds just like our cue, don't you think?

JACK: Please, please, please, please.

DUKE: We're back. Your momma always told you be careful what you wish for.

HARPER: Come on Duke, don't tease him. That's not what we're here for. Look at the him, look at him.

DUKE: I know, I know. He's the spitting image ain't he?

JACK: I know I'm going to be sorry I asked this but the spitting image of who?

DUKE: What!

HARPER: Why the fox of course. Jack you pulled us away right in the middle of the final hunt of the season.

DUKE: We had to leave the good old [Another reference to 60s TV, Bewitched, Dr. Bombay was literarily a witchdoctor, and when called he would always pop up wearing some crazy get-up, since he was always in the middle of something when summoned.] Dr. Bombay all by himself.

HARPER: After we cornered the beastie for him too.

DUKE: That's right. And that's exactly when you came to our minds, Jackie baby.

HARPER: That's right. We took one look at that poor pathetic little creature and you came right into our heads.

JACK: Right, right, and you came right over, right. Just to watch and lead the hounds right to me and then laugh as they carted me away in a little cage.

HARPER: Jack, we didn't come by here just to make you more miserable than you already are.

JACK: No?

HARPER: No.

JACK: Well gentlemen if you didn't come here to haunt me, tease me or laugh at me, exactly why are you here?

HARPER: Why to help you Jack.

JACK: To help me, right.

DUKE: Yes of course, Jackie baby. Now what else should a father do?

THEY EACH PICK UP A SCYTHE AND A HOE.

JACK: Well.... whoa down.

HE SEES THE FARM TOOLS AND DUCKS OUT OF THE WAY.

DUKE: Easy, easy, easy Jack. It's just a nasty habit. We haven't scared anybody in a long time.

HARPER: A long time.

JACK: Oh, right, I really believe that especially after the way you two flew out of here last night like bats out of hell. Faster than bats out of hell.

DUKE: Faster. He has obviously never seen Le Gossie flap his wings.

JACK: You two have to be out of your fantasmagorical minds if you think I'm going to believe for one minute that you've had a change of heart. Well what do I look like here?

DUKE: A guy who doesn't have a whole lot of choices.

HARPER: Take us along with you Jack. We can look out for the police.

DUKE: You see.

JACK: Wait, take me along where? Where exactly are we going?

HARPER: Oh, Jack where is the one place in this whole miserable world.... the only place left that you can turn to?

DUKE: Other than your dad.

HARPER: Dadssss.

DUKE: Why are you lisping Harp?

JACK: I give up, I give up, I give up.

HARPER: Listen, don't give up right away. You've got one more chance, come on.

DUKE: Isn't that sweet little blonde thing.... you know your little blonde thing.... doesn't she still live in Salem? Huh? Come on Jack, you know who I'm talking about. The one you were pining for last night, come on, come on.

JACK: Jennifer?

DUKE: Yeah.

JACK: I mean what does she have to.... oh no!

DUKE: Bingo! You got it now Jackie baby.

HARPER: That's where we're going.

JACK: No, no, we got to....

DUKE: Come Jack, we got to go. Tally ho.

JACK: We can't go back to Salem. That is dangerous.

DUKE: Tally ho!

THEY PUSH JACK OUT THE DOOR OF THE BARN.
[Transcribed by Carol Vaughan
added material by Sally A. Wilson]
---
---