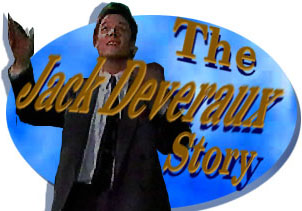 oldEpisode Three-hundred-fifty-two:
Jack
Has Returned to Salem, and Tries to
Talk with Jennifer. Jennifer Is Desperately
Worried about Jack but after Talking to
People She Wonders If He Has Left Her
for Good. Meanwhile, Hawk Is In Salem too.
---
[Air date mid-October 1991]
SCENE ONE: LATER THAT NIGHT AND BRIAN MEETS JENNIFER ON THE PIER BUT HE STILL HAS NO NEWS AT ALL ABOUT JACK. HE ASKS HER IF SHE HAS A PLAN B AND SHE THINKS OF AN IDEA AND RUNS OFF.
---
SCENE TWO: MEANWHILE, HARPER AND DUKE HAVE BROUGHT JACK BACK TO SALEM.

DUKE: Hold it a minute, hold it a minute. What do you think Harp?

HARPER: Well it looks okay to me.

DUKE: Right, come on in. The coast is clear.

HARPER: Wait, wait, wait.

JACK: What do you mean wait?

HARPER: On second thought maybe your showing up here like this isn't such a good idea.

DUKE: That's exactly what I was thinking. I was just testing him. What's the matter with you, you got no smarts? You're on the lam, you stay out of sight.

JACK: You're the ones that dragged me all the way down here.

HARPER: We have nothing to lose. You on the other hand....

DUKE: You on the other hand have your fugitive tail to lose and all because of a broad.

JACK: I tell you what I'm going to do. You've already gotten me here so we're going to find my wife, alright. Whatever I have to do, I'm going to find Jennifer.

JACK RUNS OFF TO FIND HER.
---
SCENE THREE: MEANWHILE JENNIFER HAS GONE TO SEE CARLY AND BO IN THE HOSPITAL TO ASK A FAVOR. SHE WANTS BO TO HELP HER FIND JACK. BO DOES NOT WANT TO LEAVE CARLY BUT SHE IS HAPPY TO LET BO HELP JENNIFER.
---
SCENE FOUR: MEANWHILE JACK GOES TO THE PHONE ON THE PIER.

DUKE: This kid's dragged us all over town and where do we end up, at a pay phone.

HARPER: You're not dialing your place are you Jack?

JACK: I.... I was, yes I was before I was so rudely interrupted.

DUKE: Hey kid, hey kid, use your noggin. Have you ever heard of a little thing called a bug?

HARPER: That's right, your phone's sure to be tapped.

JACK: Well there goes my final quarter. Listen that's not something I would forget. I know.

HARPER: Of course you can't go home in person. The FBI will probably have people staked out all over the place.

JACK: I tell you what I'm going to do. I'm going to the station. Jennifer is probably at work.

DUKE: Oh that's great, that's great and while you're there ask them if you can make an appearance on America's Most Wanted. Get it over with. I'm losing faith in this kid.

JACK: What do you want me to do? Look I'm not used to thinking like a criminal, alright.

HARPER: What a shame when you had the opportunity to learn from a couple of experts.

SUDDENLY JACK HEARS MAGGIE AND MICKEY COMING DOWN TO THE PIER AND HE HIDES.

MAGGIE: It was sweet of you to walk me over Mickey.

MICKEY: It's certainly no chore with the scenery and the exercise and a beautiful companion. Who could turn that down?

MAGGIE: Well I appreciate the gesture and the compliment.

MICKEY: Well I just wish my beautiful companion would tell me what's bothering her.

MAGGIE: It's Jennifer. I just spoke to her earlier.

MICKEY: Any word on Jack?

MAGGIE: Nothing. She's practically beside herself. I wish I knew what I could do to console her.

JACK IS LISTENING INTENTLY TO ALL THIS.

MICKEY: It bugs me that you have to.

MAGGIE: You think Jack is staying away because he wants to?

MICKEY: I wouldn't put it past him. Maggie, Jack is no good. He's just like those maniacs he had for fathers.

HARPER: What did he call us?

DUKE: He called us a couple of nuts. I'm going to give him....

HARPER: No, that doesn't work anymore remember. They can't even see us.

MAGGIE: Mickey, Jack isn't like that. Jennifer loves him.

MICKEY: Yeah and as we all know, love is blind or dangerously near sighted. In my best opinion, Jennifer is better off without Jack.

MAGGIE: I don't think she would agree with you.

MICKEY: I know that and that's why I'd never say that to her. But Jack's disappearance is the best thing that could have happened to Jennifer.

MICKEY AND MAGGIE WALK OFF. JACK IS HURT BY THIS, BUT DEEP DOWN HE FEELS IT TO BE TRUE, HE HAS ALWAYS FEARED THAT HE WAS NOT GOOD ENOUGH FOR JENNIFER, AND THAT IN THE END HE WOULD HURT HER.



HE CANNOT HELP BUT BELIEVE WHAT MICKEY SAID IS TRUE, SHE *IS* BETTER OFF IF HE NEVER RETURNED TO HER.

DUKE: Did you get a load of them two hoity toities? Who do they think they are, Chuck and Di?

HARPER: Imagine putting down our son/protØgØ that way. Obviously they suffer from a serious lack of taste.

DUKE: Yeah. Hey, hey kid, you're not going to let a couple of snobolers like them get to you are you?

JACK: Who me?

DUKE: Come on, come on.

HARPER: Come Jack don't let those local yokels stop you. Let's go track down that pretty wife of yours. Come on.
---
SCENE FIVE: JENNIFER HAS GONE BACK TO THE SPECTATOR WITH BO AND VERN. BO IS ON THE PHONE WHEN JENNIFER AND VERN COME IN JACK'S OFFICE.

JENNIFER: We searched this entire building and we didn't come up with anything.

BO: Can you hold on a second? (To Vern) I got to ask you a couple of questions, do you have time?

VERN: Sure.

JENNIFER: Who are you talking to?

BO: Just a minute. Listen can I get back to you on this. Thanks for your help.

HE HANGS UP.

BO: Vern do you have a list of the stocks Jack took with him?

VERN: Oh yeah, they're right in the desk.

BO: Fine.

VERN HANDS BO THE LIST.

JENNIFER: Why do you need that Bo?

BO: That was the FBI. Apparently I beat them to the punch. They were about ready to call you.

JENNIFER: What? Did they find Jack?

BO: No, no, I'm sorry but apparently a block of his stocks was cashed.

JENNIFER: Bo that's impossible. We filed a report. Whoever cashed them should have been stopped.

BO: Well that's the thing. They were cashed before the report was filed. Close to a million bucks worth.

VERN: Is that all?

JENNIFER: Is that all?

VERN: Well that's less than half of what Jack had with him.

JENNIFER: Well no wonder. Someone found out what Jack was carrying in his briefcase and they probably robbed him because if that were true, Jack would have reported it, knowing how he feels about money.

JENNIFER: Well Bo that's what scares me. What if he couldn't report it?

BO: I don't think so. Think of this from a thief's point of view. Why would he steal something and only cash half of it?

JENNIFER: Bo, what are you saying?

BO: Is there some reason Jack would want that much money?

JENNIFER: I can't imagine why Jack would need a million dollars, can you Vern?

VERN HESITATES A BIT.

VERN: Ah.... who knows how Jack's mind works.

JENNIFER: You do Vern.

VERN: Sometimes.

JENNIFER: Vern do you know something that you're not telling me?

BO: If you have some information Vern you should spill it.

VERN: Listen I didn't want to mention this Jenny girl. You know I wouldn't hurt you for the world.

JENNIFER: Vern this is my husband that we're talking about. If you know something, tell me what it is. Whatever it is, just say it.

VERN: Last time I talked to Jack was when he was packing up all those stock certificates. I asked him what he was doing.

BO: Yeah and what did he say?

VERN: He told me to mind my own damn business but since I'm not in the habit of doing that I asked him what Jennifer thought of him carrying around all this negotiable stuff. He said that he wasn't going to tell Jennifer. So, I wound up giving him a little unsolicited advice.

BO: What kind of advice?

VERN: I told him the best marriages are built on honesty and trust not secrets.

BO: How did he react to that?

VERN: Ah.... well he gave me that funny little look of his and then he said something like, what makes you think Jennifer and I know what's best in a marriage? (Beat) That's the last conversation I had with him before he disappeared.

JENNIFER IS HURT AND DEPRESSED.

JENNIFER: Oh god. I didn't want to let myself believe that but somewhere in the back of my mind....

BO: Jennifer, Jennifer, take it easy. That didn't happen.

JENNIFER: If he was unhappy enough to say that, and then run off and cash a million dollars of our money, what else am I supposed to think? (Beat) Except that Jack deserted me.
---
SCENE SIX: OUTSIDE THE OFFICE, JACK HAS CREPT UP TO THE DOOR.

HARPER: What are you nuts? Get away from that door.

JACK: We have been through this before. We came out here to see my wife. We came a great distance to do that. I'm not going to stop until I do.

HARPER: At least wait for the right time.

JACK: Look, I can hear her in there talking.

HARPER: Can you also hear the dulcet tones of one Bo Brady? Remember him, private investigator, brother to the police commander Roman Brady, need I say more?

DUKE: You go waltzing in there and you've got a one way ticket to the hoosegow.

JACK: Alright, I'm going to wait, not long but I'm going to wait.

DUKE: Alright but get out of sight, come on.

JACK: Hoosegow?

JACK HIDES, HE LISTENS TO JENNIFER, VERN, AND BO'S CONVERSATION

JENNIFER: Do you really believe that Jack left me on purpose Vern?

VERN: No, I don't believe that at all.

JENNIFER: Yeah but if what you said is true then....

VERN: Oh come on. You know Jack. He froths at the mouth. I doubt if he means half the things he says.

BO: Jen, why don't we get out of here? This probably isn't the best place for you to hang out.

JENNIFER: Yeah, I think you're probably right. I think I need to see my grandmother right now.

BO: Hey, that's a good idea. She's good when you have problems you need to talk about. I'll take you over to the restaurant.

JENNIFER: Thanks Bo. Vern call me if you hear anything.

VERN: Absolutely, you do the same. Listen Jennifer, don't give up hope.

JENNIFER: Oh I won't. I can't.

BO AND JENNIFER LEAVE , JACK WATCHES FROM HIS HIDING PLACE.

DUKE: Come on Billy, that's enough hiding.

JACK: Alright, alright.

[MATTHEW LAUGHS AT THIS POINT.]
---
SCENE SEVEN: JENNIFER GOES DOWN TO THE RESTAURANT WHERE JULIE IS TAKING ALICE'S PLACE FOR A WHILE. THEY ARE ALL BUSY BUT JENNIFER SEES HAWK SITTING AT A TABLE.

JENNIFER: Hawk, hi.

HAWK: Why Jennifer, hi.

JENNIFER: Do you mind if I join you?

HAWK: Please do.

JENNIFER: Thanks. I thought maybe you'd left town. I haven't seen you in a long time. HAWK: No, no, I'm still here. So how's Jack?

JENNIFER: Well I wish I knew. He went to New York on a business trip for a few days and he never came back.

HAWK CONTINUES TO MANIPULATE JENNIFER, BY PRETENDING TO BE SINCERE ABOUT JACK.

HAWK: You gotta be kidding.

JENNIFER: No, nobody knows where he is and the worst part of it is, that I think he did it to get away from me.

HAWK: What? Oh now Jennifer I don't buy that, not for a minute and you shouldn't either.

HE PUTS HIS HAND OVER HERS TO COMFORT HER.

HAWK: Jack Deveraux may be a little impulsive but he's not fool. Besides which I know that he loves you.

JENNIFER: Yeah, I used to think that too but now I'm not so sure.
---
SCENE EIGHT: OUT SIDE THE RESTAURANT, JACK IS HIDING BEHIND THE DUMPSTER IN THE ALLEY. HE IS ABOUT TO SNEAK UP TO SEE JENNIFER WHEN BRIAN AND GINGER COME OUT.

JACK: Whoa.

BRIAN IS COMPLAINING THAT HE'S SPENT ALL DAY TRYING TO TRACK DOWN JACK DEVERAUX. HE TELLS GINGER THAT THE SEC, THE NYPD AND THE FBI ARE ALL ON THE TRACK OF THE ONE DUDE. JACK ASSUMES THAT HE'S IN BIG BIG TROUBLE.

DUKE: Did you get a load of that Harp, the whole country's looking for our boy.

HARPER: I heard, I heard. Jack this is one rotten time to be staying in one place especially a place like Salem.

DUKE: Yes, that's right. This alley is worse than Grand Central Station.

JACK: I know that, I know that. I just.... I'll just take my chances.

HARPER: But didn't you hear that cop? You're a wanted man.

DUKE: Your mug is plastered all over the post office walls.

HARPER: A bounty on your head.

DUKE: I say we get out of here and fast.

JACK: Well you two can run away if you want. I know that my wife is in Alice's Restaurant and I'm not going anywhere until I see her.

HARPER: Alright, alright, don't say we didn't warn you?

DUKE: I can see the noose hanging around your neck right now.

HARPER: Definitely not a pretty sight. I don't think we should wait around for him.

DUKE: Me neither. Back at the hunt, what was that thing you called....

HARPER: Pathetic little fox.

DUKE: That's right, do you think it's still running?

HARPER: If not, well we'll just change our clothes and find another hot roulette table.

DUKE: That's the plan. That is the plan. We'll see you later Billy Boy.

HARPER: Try not to miss us too much Jack.

THEY LEAVE AND JACK SITS DOWN TO WAIT FOR JENNIFER.
---
SCENE NINE: A BIT LATER, HE HEARS HER COMING OUT WITH MICKEY AND MAGGIE.

MAGGIE: Jennifer I know how upset you are about Jack.

MAGGIE: Jennifer why don't you spend the evening with us? It's a lot easier waiting when you're with people who love you.

JENNIFER: No, thank you, really. I think where I belong is home. I mean if Jack calls I want to be there, you know.

MAGGIE: Yeah, we understand. If there's anything you need, just call okay.

MAGGIE HUGS HER.

JENNIFER: I will, thanks Aunt Maggie.

MAGGIE: Bye Sweetie.

THEY LEAVE AND JENNIFER STOPS TO GET HER KEYS OUT OF HER BAG. THEN JACK WATCHES AS SHE PULLS OUT THE LOCKET HE GAVE HER. SHE KISSES IT. JACK FEELS UPSET.

HAWK, MEANWHILE, IS WATCHING BOTH OF THEM FROM THE CORNER OF THE ALLEY. HE IS NOT AT ALL HAPPY THAT JACK HAS RETURNED TO SALEM. HE KNOWS THAT IF JACK TALKS TO JENNIFER THEIR SCAM WILL BE REVEALED, AND ALSO HE WANTS JENNIFER FOR HIS OWN SLIMEY REASONS.
[Transcribed by Carol Vaughan
added material by Sally A. Wilson]
---
---