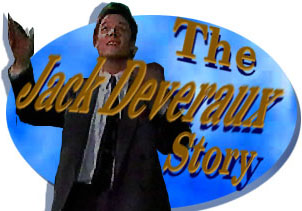 oldEpisode Three-hundred-fifty-three:
"
It's a Wonderful Life
, Without Jack":
Jack, with the Help of Harper and
Duke, Sees What the Future Holds
for Jennifer Without Him in her Life.
---
[Air date mid-October 1991]
SCENE ONE: JACK IS HIDING OUT IN THE ALLEY BEHIND ALICE'S RESTAURANT. JENNIFER IS THERE, LOOKING AT THE LOCKET THAT JACK GAVE HER BEFORE HE DISAPPEARED.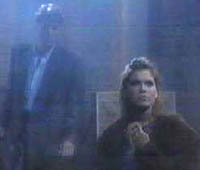 HOWEVER HAWK IS ALSO THERE IN HIDING.
---
SCENE TWO: JACK IS SLOWLY APPROACHING HER FROM BEHIND WHEN SUDDENLY IN HIS SUBCONSCIOUS, HARPER AND DUKE APPEAR AGAIN.

DUKE: JACK.... Jackie. What the hell are waiting for?

HARPER: You're the one that was so gung -ho to get to her so go on, go on.

JACK TURNS TOWARDS HER AGAIN JUST AS MADELINE, FROM THE TV STATIONS, CALLS HER. JACK HIDES AGAIN. JACK LISTENS TO THEIR CONVERSATION.

MADELINE: Jennifer, Jennifer, thank God I found you.

JENNIFER: Madeline, what in the world are you doing out here?

MADELINE: Did you forget about the network people coming to town today?

JENNIFER: Oh my gosh, I did.

MADELINE: Dan has practically called out the army looking for you. Come on, let's get over to the station before he has a cow.

JENNIFER: No, I can't go over right now because I have something more important that I need to deal with.

MADELINE: Jennifer, listen to me. I know your problems are bad now but are they going to be any better if you're out on the street without a job or a roof over your head.

JENNIFER: Well no Madeline.

MADELINE: That's going to be worse. The last thing you need with everything going on in your life right now is to lose your job too. It might be the only thing you have left. Think about it.

JENNIFER: I guess you're right.

MADELINE: Aren't I always? Now come on, I'll drive you over. Come on.

JENNIFER GOES OFF WITH MADELINE.

JACK: DAMN IT, DAMN IT, DAMN MADELINE.


JACK (CONT.): I was right there. I was right there in front of her. She was right in front of me. I could have talked to her. We could have talked this whole thing out, worked it out but for that Madeline's timing. I mean she is a major pain in the posterior.

HAWK IS WATCHING JACK SAY ALL THIS BUT IT APPEARS THAT JACK IS TALKING TO HIMSELF. HAWK DOES NOT REALIZE THAT JACK CAN ACTUALLY VISUALIZE HARPER AND DUKE IN HIS MIND.

HARPER: Well don't just stand there. Do something about it.

JACK: Of course I'm going to do something about it. I'm going to go after them. You wouldn't happen to know where I could get a magic carpet or possibly a broom stick, you know?

DUKE: How about a cab, will that do?

JACK: Oh that would be just fine if I had a nickel to my name.

HARPER: Look in your pocket.

JACK: Wha.... I haven't got any money.

HARPER: Look again.

JACK: I.... I'll lose the cab.

JACK TRIES TO WHISTLE THE CAB BUT NOTHING COMES OUT SO DUKE WHISTLES FOR HIM.

JACK: Thanks.

DUKE: Hey, watch the meter and get a receipt.

JACK RUNS OFF TO THE CAB.

DUKE: I think we did it? How did you do that money trick?

HARPER LAUGHS AND HE AND DUKE SHAKE HANDS. AFTER JACK HAS LEFT, HAWK COMES OUT OF HIDING.

HAWK: Talkin' to himself! The boy's worse off than I thought.

HE CHECKS HIS WATCH.

HAWK: Damn! Looks like I'm going to have to hoof it all the way over to that lousy TV station.

HAWK SETS OFF AFTER JACK.
---
SCENE THREE: AT THE STATION JENNIFER WALKS IN WITH MADELINE.

DAN: You found her. I love you babe. You almost gave me an ulcer you know that?

MADELINE: I thought you already had one.

JENNIFER: I'm sorry Dan.

DAN: Look just get on the set. The network people are already here and they can't wait to see you.

JENNIFER: I really don't think that I'll be able to do a good job tonight.

MADELINE: But Jennifer, I thought you said that your career meant....

JENNIFER: No, that's what you said Madeline that my career might be the only thing that I have left. But that's why I came here. I wanted to talk to Dan about it in person, alright. If I go on in the shape that I'm in tonight I'm not going to do my career one bit of good.

DAN: Jennifer, I understand you're problems but you've had tough times before and you always went on.

JENNIFER: I never had a husband walk out on me before, Dan. I need a little time maybe to figure this out, okay.

DAN: There isn't any time. These people are leaving right after the news.

JENNIFER: Alright, well they're going to have to leave without seeing me.

DAN: Oh great, so they wasted a trip. I thought you were more professional than that.

JENNIFER: I am a professional but I'm also human.

MADELINE: Jennifer, look if you won't do this for yourself think of your public. I mean you owe it to them to do a good job. They love you, the adore you, the count on you. You don't want to let them down you. (Beat) Absolutely not. So repeat after me. I am my own person.

JENNIFER: Oh don't make me do this.

MADELINE: Come on, come on say it.

JENNIFER: (Beat) I am my own person.

MADELINE: And I will not let someone else control my life.

JENNIFER IS RELUCTANT TO SAY THIS.

JENNIFER: And I will not someone else control my life.

MADELINE: I am perfectly fine on my own and I will get through this.

JENNIFER: I am perfectly fine on my own and I will get through this.

DAN: Of course you will. Now come on let's get you over to make-up and ready for the newscast.

JENNIFER: A call to arms Madeline?

SHE WALKS OFF WITH DAN.
---
SCENE FOUR: JENNIFER COMES BACK WITH FRESH MAKE-UP AND CHANGE OF CLOTHES. DAN INTRODUCES HER TO THE NETWORK PEOPLE AND THEY TELL HER HOW POPULAR SHE IS. THEY SAY THAT HAVE ALSO NOTICED THAT SHE HAS SOME PERSONAL PROBLEMS AT THE MOMENT. HOWEVER JENNIFER TELLS THEM THAT SHE IS A PROFESSIONAL AND SHE PUTS ON A BIG SMILE AND LAUGHS.

IT IS RIGHT AT THIS TIME THAT JACK ARRIVES AND ALL HE SEES ON THE STUDIO MONITOR HOW HAPPY SHE SEEMS TO BE AND HOW CONFIDENT, THIS CRUSHES HIM.

JACK: I don't believe it?

DUKE: Don't believe what Jack? Believe what, what don't you believe Jack?

JACK: How happy she looks.

HARPER: That's a lot of bunk. She's just putting on her best face.

JACK: Well how would you know that.

HARPER: I am a politician.

DUKE: Come on Jack, she's just doing a fast shuffle, a quick tap dance for the suits, that's all.

JACK: Well she's doing a pretty good job of it, I tell you that. It's either that or she's.... she really is happy without me.

JACK IS VISIBLY UPSET. AND IN HIS MIND HE STARTS TO SEE HER LIFE WITHOUT HIM. ON THE MONITOR COMES THE TITLE: "IT'S A WONDERFUL LIFE WITHOUT JACK" STARRING JENNIFER HORTON.

JACK: What's this?

HE HEARS DUKE WHISTLE AND HE TURNS AROUND TO SEE BOTH OF THEM IN ANGEL OUTFITS COMPLETE WITH HALOS.

JACK: What the hell is going on here?

HARPER: Hey, hey, don't say that word.

DUKE: Not around us pal, not around us.

HARPER: Please.

JACK: Well, what are you two supposed to be?

DUKE: Well we ain't Batman and Robin. Go on take a shot.

JACK: Alright, let me a guess. I have been run down by a runaway camera. I'm dead and I've risen and gone to heaven....

DUKE: Hey, hey, hey.

JACK: Oh no of course, what am I thinking? I couldn't be in heaven if the two of you are here, right?

HARPER: We're in a kind of halfway house but you can help us earn our wings.

JACK: Oh really! And how can I do that?

HARPER: Well, let us show you what a rotten life it would be for Jennifer without you being there.

JACK: Yeah, but the title says....

DUKE: No, no don't worry about that. That's just a working title. These things are always being rewritten. Just keep lookin'. Don't worry about that.

JACK IS CONFUSED BUT DECIDES TO DO WHAT THEY SAY. DUKE HANDS HIM A BAG OF POPCORN.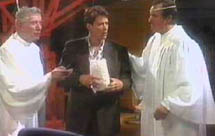 DUKE: Here's some goodies for you Billy Boy. Enjoy the show.

HARPER: Yeah, we'll fast forward to good parts. Just watch this Jack, watch it.

HARPER PRESSES THE REMOTE CONTROL.
---
SCENE FIVE: JACK, THANKS TO HARPER AND DUKE AND HIS RATHER IMAGINATIVE SUBCONSCIOUS, IS SEEING ON THE WATB TV MONITOR HOW LIFE WILL BE LIKE FOR JENNIFER WITHOUT HIM. JENNIFER IS SITTING AT JACK'S DESK AT THE SPECTATOR BUT THE SIGN ON THE DESK SAYS: "JENNIFER HORTON, PUBLISHER." SHE IS WEARING A SUIT AND GLASSES.

JACK: What is Jennifer doing in my office? And WHAT'S HER NAME DOING ON MY DESK?

DUKE: Whoa, whoa, whoa. Take it easy kid, take it easy.

HARPER: Just keep watching, just keep watching. You might miss something.

ON THE TV SCREEN, VERN COMES IN TO SEE JENNIFER.

VERN: Jennifer, I just checked the latest circulation report. We did it. We're the number one newspaper in the country.

SHE CHEERS.

JENNIFER: Vern and you know why? It's all because of our wonderful staff. I could never have done it without them. So you what, I want every single one of our employees to receive a thousand dollar bonus in their checks today.

JACK IS FURIOUS.

JACK: A thousand dollars! She's out of her mind. She's going to run the whole paper into the ground doing that.

ON THE SCREEN JENNIFER POURS SOME CHAMPAGNE.

VERN: That is so typically generous of you Jennifer. And it's that generosity that got us where we are today. You know, working for you is just.... it's just pure pleasure. You know you can take all the credit. You know, you, you single handily turned this loser of a newspaper into a winner in record time.

JENNIFER: And it couldn't make me happier Vern.

THEY TOAST EACH OTHER.

JENNIFER: Here you go. To The Spectator, WHOOOO!

JACK: She doesn't look very miserable so far.

HARPER: Oh it's bound to get worse, it's bound to get worse.

DUKE: Just stay tuned, stay tuned. It will be fine.

BACK ON THE SCREEN, SHE IS NOW RECEIVING AN AWARD.

MAN: So it gives me great pleasure to welcome to The Journalism Hall of Fame, Jennifer Horton.

OUT SHE COMES ON STAGE.

JENNIFER: Thank you, thank you so much. This is something that I will never forget and I have to thank all the people that made this possible. I would have to thank my parents and then my grandparents.

JACK IS WATCHING AND HE MOUTHS OUT THE NEXT WORDS FOR HER.

JACK: And JAAAAACK!


BACK ON SCREEN.

JENNIFER: And then my brother and then my aunts and uncles and all of my cousins and all of my friends.

THE AUDIENCE APPLAUDS AND JACK IS EVEN MORE UPSET.

JACK: And what about me? What the hell's going on here? What about me? I thought this was supposed to be getting worse.

DUKE: It already has.

JACK: Yeah, for me. You know, that's what I get for trusting the two of you.

HARPER: I don't know, I thought she looked a little sad up there all by herself with nobody to share all that glory with. What do you think Duke?

DUKE: Oh.... yeah. This broad's on a downer, a real downer. Anybody can see that.

HARPER: Let's move on shall we? We'll kind of scan the highlight the of the years to come and you'll see the total disintegration of Jennifer. You'll see that.

DUKE: Watch.

THE SCREEN FAST FORWARDS TO HER POSING FOR THE COVER OF MAGAZINES CALLED HIGH FINANCE, INDEPENDENT WOMAN, CITY STYLE AND THEN SHE MAKES HEADLINES IN ALL THE NEWSPAPERS. THE CHRONICLE READS: "JENNIFER HORTON FEES THIRD WORD" THE SPECTATOR READS: "JENNIFER BRINGS PEACE TO MIDEAST."

JACK CANNOT UNDERSTAND WHAT IS SO BAD ABOUT THAT.

JACK: She's doing better than ever!

HARPER: But not for long.

DUKE: She's still very young here.

JACK: Oh, and that's supposed to make me feel better? I mean after everything else she's already done, who knows what's in store for her.

HARPER: A lot of long lonely years, believe me. I tell you what, let's skip ahead ten years or so, alright.

JACK: No, no, why even bother? She's.... by then she'll probably be the first female President of the United States.

DUKE: No way. She's making a ton of money doing this. What does she want with a civil service job?

HARPER: That's right. I mean how long can she keep this thing up. I mean the girl's peaked. I mean from now, here on out, for Jennifer it's all downhill.

JACK: That's it, forget it. I've seen enough. Just turn it off. TURN IT OFF!

THEY TURN THE MONITOR OFF.

JACK: Jennifer's obviously a very happy and successful woman.... which is exactly what I wanted her to be. (Beat) Now far be it for me to step back in and ruin that for her. (Beat) So it is a wonderful life. It's going to be a wonderful life for Jennifer.... without me.

[Transcribed by Carol Vaughan
added material by Sally A. Wilson]
---
---