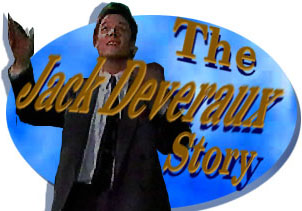 oldEpisode Three-hundred-fifty-four:
The Long
Way Home
: Jack Decides That for the Time
Being Jennifer Is Better off Without Him; so
He Leaves Town. Sperately, Jack and
Jennifer Remember the Good Times Together.
---
[Air date mid-October 1991]
SCENE ONE: JACK IS STILL AT THE THE STUDIO, ABOUT TO LEAVE THE STUDIO AND JENNIFER FOR GOOD.

HARPER: Jack where are you going?

DUKE: Where are you going?

JACK: I tell you where I'm going. I'm getting out of here. You saw Jennifer. She's doing better without me. She's thriving in fact. You know if I come back into her life now, it's not going to be It's a Wonderful Life, it's going to be I Was a Refugee from a Chain Gang or Jailhouse Rock or Bonny and Clyde and we all know how that one ended.

DUKE: Yeah but you don't know how this picture ends.

HARPER: That's right Jack. This is bound to be a three hanky tear jerker.

JACK: Yeah but whose tears are being jerked? That's what I want to know.

DUKE: Billy you listen. It ain't over till it's over!
---
SCENE TWO: STILL AT THE STUDIO, HE TURNS ON THE MONITOR AGAIN TO SEE HOW JENNIFER'S LIFE WILL TURN OUT.

NOW JENNIFER IS SITTING WITH A SPORTS COMMENTATOR AT A BASEBALL GAME.

ANNOUNCER: We're here for the World Series between the Chicago Cubs and the Cleveland Indians.

JACK: Wait a minute. A World Series between the Cubs and the Indians? Oh that is a fantasy.

BACK ON SCREEN, THE ANNOUNCER JENNIFER AS THE BASEBALL COMMISSIONER.

JACK: Wait a minute, Jennifer's the Baseball Commissioner! Wait a minute, come on, that's the best job in the world. I mean.... well next to Ed McMann but....

ON SCREEN.

JENNIFER: I would just like to say one thing. We all get our chance at bat in our life and when you do you've got to go for the home run. Don't let anyone hold you back. Be your own person. And remember, you're never a failure if you have yourself.

JACK IS MAD.

JACK: Now, wait a minute, wait a minute. That's not the way it goes. It's supposed to be you're never a failure as long as you have.... friends.

DUKE: Wait Billy Boy remember what I told you.

HARPER AND DUKE: It ain't over till it's over!

JACK: Yeah well it's over now! Come on, you've seen for yourself. TURN IT OFF, TURN IT OFF!

THEY TURN OFF THE MONITOR.

JACK: Jennifer obviously deserves more than I can give and the only way she's going to get it is if I leave.
---
SCENE THREE: HAWK HAS ARRIVED AT THE STUDIO AND ONCE AGAIN HE SEES JACK TALKING TO HIMSELF.

JACK: I'm really sorry about this fellows but you're obviously going to have to look somewhere else for your wings.

SUDDENLY THEY HEAR SIRENS.

DUKE: Holy smoke, that's all we need. It's the cops.

HARPER: Let's make tracks.

THEY BOTH RUN OUT AND JACK FOLLOWS. THE POLICE COME IN AND SAY THEY GOT WORD OF A BRAWL GOING ON. DAN SAYS THAT IS ONLY DURING CONTRACT NEGOTIATIONS AND THE POLICE LEAVE.

HAWK THEN TAKES THE OPPORTUNITY TO TALK TO JENNIFER.

HAWK: Hey Jennifer, nice going.

JENNIFER: Hawk, what are you doing here?

HAWK: You know I never saw you on your job quite like this before. Really a good piece of work you did there.

JENNIFER: Really a good piece of acting I did there cause all I was thinking about was Jack. I miss him so much.

HAWK: Yeah well I'm sure that he misses you too.... wherever he is.

JENNIFER: I just wish he'd come home.

HAWK: Yeah well how about I escort you back to the penthouse, huh?

JENNIFER: Thanks but no thanks. I think I'll be okay by myself.

SHE LEAVES ON HER OWN.
---
SCENE FOUR: MEANWHILE JACK GOES DOWN TO THE PIER WHERE THE MIST IS COMING IN. HE CONTEMPLATES HIS LIFE WITH JENNIFER AND THINKS OVER THE GOOD TIMES. THE SONG THE LONG WAY HOME BY BOB SEGER PLAYS IN THE BACKGROUND.

Winners, losers, and small time miss-users
Do what they must on their own.

HE REMEMBERS THEIR FIRST KISS AT STEVE'S HOUSE.


Lovers, dreamers, and beautiful schemers
All take the long way home.

HE REMEMBERS THE DAY HE KIDNAPPED HER FROM THE WEDDING TO EMILIO.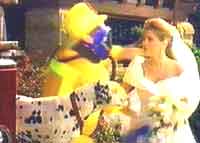 Some have their reasons, some lose their way
They all want so much to succeed.

HE REMEMBERS THE FIRE TRUCK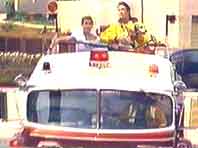 AND THEN FALLING ONTO THE LEDGE WITH HER.

How do you tell them apart?
The best of them lead with their heart.

HE REMEMBERS THE TIME HE FELL IN THE BUBBLE BATH WITH HER.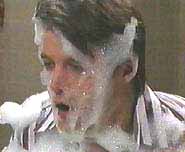 I met her in summer, we went to the river,
The water was never too cold.

HE REMEMBERS THE TIME ON THE CRUISE WHEN SHE DRESSED AS A CABIN BOY.


Always together through all kinds of weather,
We took the long way home.

HE REMEMBERS THEM JUMPING OFF THE CRUISE SHIP.

She was the best, I ever knew,
Somehow she drifted away.

HE REMEMBERS THE FIRST TIME THEY MADE LOVE IN THE CAVE

AND THEM WASHING IN THE POND AFTERWARDS.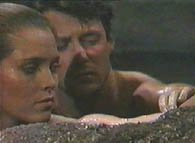 Now that I'm older, the night's seem much colder,
And I spend too much time alone.

HE REMEMBERS PROPOSING TO HER IN THE RAIN.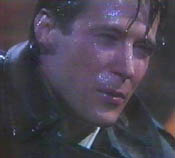 But sometimes in summer,
I get thinking of her
And I'll take the long way home. HE REMEMBERS THEIR WEDDING DAY.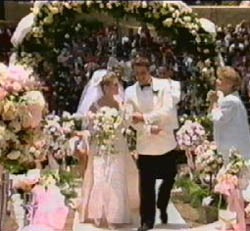 I'll still take the long way home. AND LASTLY HE REMEMBERS THE WILD WEST SET FALLING AROUND THEM.

THE SCENE FADES TO JENNIFER WHO HAS BEEN STANDING ON THE BALCONY AT THE PENTHOUSE, THINKING OVER THE EXACT SAME THINGS, AS SHE HOLDS THE LOCKET HE GAVE HER. HER EYES FILL WITH TEARS AND SHE FEELS SO ALONE WITHOUT HIM.
---
SCENE FIVE: NEXT THING HAWK WALKS UP BEHIND HER AND TOUCHES HER SHOULDER. SHE SPINS AROUND OVERJOYED, THINKING THAT IT IS JACK.

JENNIFER: JACK!

HER FACE DROPS.

HAWK: Ah no, I'm sorry. It's just me. I knocked and when you didn't answer I got kind of worried so I still have my key and I let myself in. I hope you don't mind.

JENNIFER: No, no, I don't care.

HAWK: I sure hate seeing you like this.

SHE IS CRYING.

JENNIFER: I'll be okay.

HAWK: Yeah, well I'll leave. I understand.

JENNIFER: No, you don't have to leave. It.... it actually would be nice to have someone to talk to.

HAWK: Ah I'm no replacement for Jack.

JENNIFER: I can never love anybody the way that I love Jack. (Beat) Never.
---
SCENE SIX: JACK IS STILL DOWN AT THE PIER, HARPER AND DUKE HAVE COME BACK.

JACK: So, how are things going in the nether world? Sorry I couldn't help you with those wings fellows, but you didn't really deserve them anyway.

HARPER: Oh Jack, we've been thinking.

DUKE: And we've been doing a lot of talking.

HARPER: And we've decided that maybe we've steered you kind of wrong these past few years.

JACK: Yeah, pretty much off a cliff but hey, who's bitter?

DUKE: Jackie, Jackie, we're here to try to make it up to you now.

HARPER: We knew we blew any chance for happiness that we could have had and we don't want to do the same thing for you. We don't want you to follow in our footsteps. Jennifer's a wonderful girl and she loves you very much.

DUKE: That's right. Don't blow it. Don't blow it, you understand. Don't let her go. You don't want to end up like him.... I mean like us. Do you?

JACK: You're absolutely right. I'm not going to give up on her.

HARPER: You're going to go back to her?

DUKE: We may still get a chance to pluck those heavenly strings, won't we?

JACK: No, no, wait a minute, not so fast. (Beat) Jennifer's doing really well right now without me.... at least for the present. So what I've decided to do is I'm going to clean up this mess with the FBI and then, I'm going to come back after her and I'm going to give her the kind of life that she deserves.

HARPER: You really think you can?

JACK: I absolutely think I can because I lo....

HE PAUSES AND ONCE AGAIN FINDS IT HARD TO SAY.

DUKE: Come on.

THEY BOTH ENCOURAGE HIM TO SAY THE WORDS OUT LOUD.

JACK: Sorry that's just a force of habit. (Beat) Because I.... because I do love her. (Beat) I do.

HARPER: We'll always be there for you Jack, anytime.

DUKE: Count on us kid.

JACK WANDERS ACROSS THE PIER AND LOOKS AT THE WATER [MATTHEW LOOKS AT THE CAMERA FOR A SECOND].


JACK: I love you , Jennifer.... and I will be back. (Beat) I will.

HE WALKS UP THE STEPS AND OUT INTO THE MIST.
---
SCENE SEVEN: ON THE BALCONY OF THE PENTHOUSE, JENNIFER IS STILL HOLDING THE LOCKET AND THINKING OF JACK.

HAWK WATCHES HER, HE IS NOT AT ALL PLEASED BY JENNIFER'S DEVOTION TO JACK; HOWEVER, HE IS SMUG ENOUGH TO BELIEVE THAT HE WILL BE ABLE TO GET HER TO FORGET JACK, AND THAT JACK WILL NEVER RETURN.

THE LONG WAY HOME STARTS UP AGAIN.

Now that I'm older, the night's seem much colder,
And I spend too much time alone.
Sometimes in summer, I get thinking of her
And I'll take the long way home.
I'll still take the long way home.

JENNIFER CRIES AS SHE LOOKS AT THE PICTURE OF THE TWO OF THEM.

[NOTE: IT SEEMED ALL BUT CERTAIN THAT TPTB AT DAYS WOULD *NOT* RENEW MATTHEW'S CONTRACT. THE INITIAL PLAN SEEMS TO BE THAT JACK WAS TO JUST LEAVE TOWN; AND THAT TPTB WERE GOING TO GO WITH A ROMANCE BETWEEN JENNIFER AND HAWK. THERE WAS A VERY EXTENSIVE VIEWER PROTEST TO KEEP MATTHEW AT DAYS, AND IT WORKED. I AM NOT EXACTLY SURE WHEN, BUT SOMETIME AROUND MATTHEW'S LAST OFFICIAL SHOOTING DAYS, ALMOST LITERALLY THE *ELEVENTH HOUR*, NBC STEPPED IN AND *FORCED* DAYS TO RENEW HIS CONTRACT. HOWEVER, SINCE THE SHOW HAD HAD OTHER PLANS, THERE WAS NO STORYLINE WRITTEN UP FOR JACK. THEY DID NOT SEEM TO HAVE CONTINGENCY PLAN IN CASE MATTHEW DID RENEW; THEREFORE, JACK WAS OFF SCREEN FOR FOR SIX WEEKS.]
[Transcribed by Carol Vaughan
added material by Sally A. Wilson]
---
---