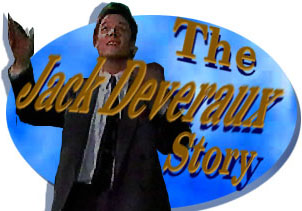 oldEpisode Three-hundred-fifty-five:
Jack Is
Back, Working in a Meat Packing Plant; He
Believes That He Is Still Wanted by the Feds.
He Tries to Get in Touch with Jennifer; Hawk
Makes Sure She Does not Know Jack is Back.
---
WHILE MATTHEW (JACK) WAS ABSENT THE STORY WENT AS FOLLOWS:

JENNIFER STOP LOOKING FOR JACK BELIEVING THAT HE DID TAKE OFF WITH THEIR MONEY, AND THAT HE WANTED OUT OF HER MARRIAGE; THOUGH SHE WAVERED BACK AND FORTH WORRYING THAT SOMETHING MAY HAVE HAPPENED TO HIM.

JENNIFER DISCOVERED THAT JACK HAD BOOKED THEIR NIGHT AWAY AT THE BED AND BREAKFAST AND SHE WAS LEFT HAVING TO PAY FOR IT [ALTHOUGH THIS SHOULD HAVE INDICATED THAT JACK HAD PLANNED ON RETURNING TO HER].

SHE ALSO FOUND OUT THAT HE HAD ORDERED A LARGE AMOUNT OF NEW PRINTING EQUIPMENT FOR THE SPECTATOR WHICH ALSO HAD TO BE PAID FOR. SHE USED HER TRUST FUND TO PAY FOR THE EQUIPMENT AND TO MAKE THE LOAN REPAYMENTS ON THE SPECTATOR.

HER GRANDPARENTS OFFERED TO LOAN HER MORE MONEY BUT SHE REFUSED AND SAID THAT SHE WOULD MANAGE. SHE WORKED WITH VERN TO TRY TO KEEP THE PAPER GOING WHILE STILL WORKING AT THE STUDIO.

DURING THIS TIME, HAWK KEPT INGRATIATING HIMSELF TO JENNIFER. HOWARD WAS FURIOUS WITH HIM BECAUSE HE WAS JEOPARDIZING THE WHOLE CON. HOWEVER HAWK WAS DETERMINED TO HAVE JENNIFER. JENNIFER BEGAN TO RELY MORE AND MORE ON HAWK, BECAUSE THAT WAS PART OF HIS PLAN TO WIN HER, WITH JACK AWAY AND NEVER ONCE DID SHE THINK TO QUESTION HIS MOTIVES. IT IS OBVIOUS THAT HIS FEELINGS FOR HER ARE NOT THAT OF LOVE, BUT SELFISHNESS.

JENNIFER BEGINS AN INVESTIGATION INTO GINGER'S MISSING DAUGHTER AND DECIDES TO TAPE THE POSSIBLE REUNION OF THEM ON THE PIER. HOWARD IS AFRAID THAT GINGER WILL TELL JENNIFER JUST EXACTLY WHAT HE AND HAWK HAVE BEEN UP TO AND HE GOES TO THE PIER TOO. JENNIFER MAKES THE TAPE AND WHILE SHE IS PLAYING IT, HAWK NOTICES THAT IF YOU LOOK CAREFULLY, THE VERY MUCH *ALIVE* HOWARD CAN BE SEEN HIDING IN THE BACKGROUND.

HOWARD THEN TELLS HAWK THAT HE MUST STEAL THE TAPE AND DESTROY IT.

THOUGH IN THE END, DESPITE EVERYTHING JENNIFER'S HEART WAS ALWAYS WITH JACK AND THOUGH SHE HAD NO WORD ON HIM, SHE CONTINUED TO HOPE THAT HE MIGHT COME BACK.

[THOUGH BY THIS TIME , WITH MATTHEW REMAINING ON WITH THE SHOW, THEY HAD TO SWITCH THEIR PLANS, NO LONGER WAS HAWK AND JENNIFER TO BE A COUPLE ].
---
[Air date late November 1991]
SCENE ONE: JENNIFER HAS GONE WITH HAWK TO MOLLY'S BIRTHDAY PARTY AT JULIE'S PENTHOUSE.
---
SCENE TWO: MEANWHILE, SOMEONE IS TRYING TO BREAK INTO THE PENTHOUSE, USING A CREDIT CARD. THE "INTRUDER" IS WEARING COVERALLS AND A SKI MASK TO CONCEAL HIS FACE.
---
SCENE THREE: BACK AT THE PENTHOUSE: HAWK GETS ON THE PHONE AT THE PARTY.

HAWK: Yeah, yeah it's me.

HOWARD: I hope you're calling to tell me you've got that video tape Jennifer took on the pier.

HAWK: Ah no, not exactly.

HOWARD: Well why aren't you getting it? I mean if anybody sees me on it our whole scam is blown.

HAWK: Yeah well something's come up here. I'm not going to be able to get it tonight.

HOWARD: This better not be one of your stalls. I mean it. You get me the tape or I'm getting it myself. Do you understand me Hawk?

HAWK: Yeah, yeah, you'll have it in your hands tomorrow. I gotta go.

HE HANGS UP.
---
SCENE FOUR: AT THE PENTHOUSE, THE INTRUDER WANDERS AROUND THE LIVING ROOM AND FINDS THE WEDDING PICTURE THAT JENNIFER HAS. HE PICKS IT UP AND PUTS IT ON THE DESK. THEN GET CAREFULLY GETS OUT SOME NOTE PAPER AND WRITES HER A NOTE.

HE HAS JUST FINISHED IT WHEN HE HEARS VOICES OUTSIDE THE DOOR. HE RUNS AND STUMBLES TO GET OUT ON THE BALCONY BEFORE THEY COME IN, BREAKING A VASE ON THE WAY OUT.

HAWK: Hey I quite enjoyed it.

JENNIFER: Yeah I did too. Thank you. Goodnight.

HAWK: Goodnight, bye.

SHE SHUTS THE DOOR AND WALKS IN ALONE. SHE LOOKS DOWN AND SEES THE BROKEN VASE ON THE CARPET. SHE RUNS BACK AND OPENS THE DOOR.

JENNIFER: HAWK, can you come back?

HAWK: What, what is it?

HAWK ENTERS.

JENNIFER: Look, look, somebody's been in here.

HAWK: Well hang on a minute, don't jump to conclusions. Maybe one of the cleaning people knocked this vase over and....

JENNIFER: No, I'm telling you, somebody has been in here. The door is open, the vase is broken, and there was a picture on this table and....there it is, there it is right there.

HAWK: Wait a minute, you don't think that somebody has....

JENNIFER: Yes I do, yes I do. I'm going to go see if they took anything. I'll be right back.

SHE RUNS INTO THE BEDROOM AND HAWK GOES OVER TO THE DESK. HE PICKS UP THE PICTURE AND FINDS THE NOTE.

HAWK: (Reading) "Jennifer, I may not be able to return to you now but I'm always with you. I love you and if still love me after everything that's happened put an personal ad in The Spectator and let me know if I.... let me know. I hope to hear from you. Jack."

HE SCREWS UP THE NOTE AS JENNIFER COMES BACK OUT.

HAWK: Ah, are you going to be alright?

JENNIFER: Ah, yes. It's so strange for somebody to be in your house and going through your things. I'm not going to stay here alone. I'm going to go to my grandmother's house and stay.

HAWK: Yeah, well, you know, how about I just stay here and I keep you company then?

JENNIFER: Oh no I couldn't ask you to do that Hawk.

HAWK: Yeah well it's not like I've got some place better to go back to. I mean if it's alright with you, I mean, I don't mind staying back in my old room.

JENNIFER: Well it's not right.

HAWK: Well it's a done deal okay. You just go back there and get some sleep. Go back there and go to bed and we can just straighten out this mess in the morning.

JENNIFER GIVES HIM A BIG HUG.

JENNIFER: Oh thank you Hawk, thank you so much. I just feel like....I feel like that's all I've been telling you lately.

HAWK: Yes, well say it all you want. I certainly don't mind one bit. Now run along here. Get some sleep.

JENNIFER: Okay. (Beat) I just wonder who's been in here, that's all.

SHE GOES TO THE BEDROOM AND HAWK READS THE NOTE AGAIN.

HAWK: But you're never going to know.
---
[Air date late November 1991]
SCENE ONE: THE SCENE OPENS AT A MEAT PACKING PLANT WHERE A MAN WEARING A FULL FACE SKI MASK, OVERALLS AND GLOVES IS LIFTING A HEAVY CONTAINER OF MEAT. HE IS THE SAME MAN THAT BROKE INTO THE PENTHOUSE, IT IS JACK. THE FOREMAN ENTERS.

FOREMAN: Which of you guys got beef fry tips?

PACKER 1: Not me, I've got sirloins.

PACKER 2: These are fillets. Better ask buck over there.

FOREMAN: Hey buck?

THE MAN IN THE MASK DROPS THE BOX. IT IS OBVIOUS THAT IT IS JACK.

FOREMAN: Man can't you do anything right? You've done nothing but screw up since your first day.

PACKER 1: Oh lay off the guy Riley, he's still new here.

PACKER 2: Yeah he maybe a little klutzy but he gets the job done eventually.

FOREMAN: I don't know how he can get anything done wearing that stupid ski mask.

THE FOREMAN LEAVES AND JACK PICKS UP THE MEAT HE DROPPED.


PACKER 1: You know, why do you wear that thing? It's not that cold in here.
---
SCENE TWO: MEANWHILE, HAWK HAS COOKED BREAKFAST FOR JENNIFER AT THE PENTHOUSE AND THEY ARE JUST FINISHING.

JENNIFER: That's it. I can't eat another bite Hawk. That was probably the best meal I've had in a long time.

HAWK: Well that's good. I tell you what, how about I just clear off the table here and I'll drop you off at the studio.

JENNIFER: Oh you don't have to do that Hawk.

HAWK: No, no, I insist here. Besides, it's right on the way and I can tell you're still a little bit upset and I don't think you ought to be driving while you're all stressed out.

JENNIFER: Well I won't be driving because I'm not going to work today.

HAWK: You're not?

JENNIFER: No, I called Dan earlier and I told him what happened and he said it would be okay if I stayed home and cleaned up and everything. He's going to send some work here for me to do at home.

HAWK: Oh yeah, so what kind of work is he sending?

JENNIFER: Well he wants me to go over that mother/daughter reunion tape. You know, the one from the pier. I mean he's convinced that if I look hard enough there's got to be a story in there that I can use. So I guess in the meantime I'm going to start cleaning up the mess here.

HAWK: Yeah. Oh Jennifer, you think maybe you could use some help here?

JENNIFER: I couldn't ask you to do that. You've done so much already Hawk.

HAWK: Oh now I wouldn't have volunteered here if I wasn't up for the job.

JENNIFER: Well alright, alright. I would like that. I'd also enjoy the company.

HAWK: Great, because I'd also enjoy being the company.
---
SCENE THREE: A SHORT TIME LATER, A MESSENGER COMES WITH A TAPE FOR JENNIFER. HAWK TAKES THE TAPE AT THE DOOR.

HAWK: Ah Jennifer, this is that tape you were expecting here. What would you like me to do with it?

JENNIFER: Oh you know what, can you just put it on the desk there with those other tapes?

HAWK: You got it.

JENNIFER: Thank you.

HAWK PUTS THE TAPE DOWN AND THEN CAREFULLY PICKS IT UP AGAIN. HE HIDES IT AND THEN WALKS OVER AND PUTS IT IN HIS BAG.
---
SCENE FOUR: JENNIFER IS CLEANING UP THE CARPET FROM THE BROKEN VASE AND HAWK PICKS UP THE JADE PLANT THAT JACK GAVE JENNIFER ON THE TRAIN AS A SYMBOL OF THEIR LOVE. IT IS LOOKING VERY WILTED.

HAWK: Ah is this what you're using for the trash?

JENNIFER: Ah yeah.

HAWK OPENS THE BAG AND IS ABOUT TO PUT THE JADE PLANT IN THE TRASH.

JENNIFER: Whoa!

WAIT, what are you doing?

HAWK: Well tossing out this old dead plant.

JENNIFER TAKES IT FROM HIM.

JENNIFER: Ah no, give me that.

HAWK: Well I guess you'd rather keep it.
---
SCENE FIVE: BACK AT THE MEAT PLANT, JACK COMES OUT OF THE FREEZER CARRYING A COUPLE OF SALAMIS AND A LEG OF HAM.

FOREMAN: Okay guys, lunchtime.

PACKER 1: Hey Buck, you want anything from the garbage truck?

JACK HOLDS UP THE LEG OF HAM.

PACKER 2: He's not so dumb. Think of the indigestion he's missing out on.

THEY LEAVE AND JACK PULLS OFF THE SKI MASK.
---
SCENE SIX: BACK AT THE PENTHOUSE, JENNIFER IS TENDING TO THE JADE PLANT.

HAWK: Jennifer did I miss something here? I mean with this particular plant biting the dust and all, I mean, you can always go out and get another one.

JENNIFER: No I can't because it won't be the same Hawk.

HAWK: It wouldn't?

JENNIFER: No, because this plant is special. It's really special.

HAWK: Well I guess that's a good reason why then.

JENNIFER: Yeah, a reason that I don't think you would really understand.

HE TAKES THE PLANT FROM HER AND TAKES HER HANDS.

HAWK: Why don't you try me?

JENNIFER: Okay. (Beat) Jack gave me this plant at a time when....when we weren't communicating very well. And it became symbolic of our relationship. And it was tiny and it was in real bad shape when he gave it to me and we didn't think that it was going to survive. But it did. And as it grew, so did our love.

HAWK: Yeah well I guess that explains the reason that it means so much to you. But Jennifer, this plant is dead. I mean you can see, it's gone, it's....I mean you can't bring things back that are never going to come back.

JENNIFER DOES NOT HEAR HIM AS SHE LOOKS AT THE PLANT AND THINKS OF JACK. HAWK WALKS TO THE OTHER SIDE OF THE ROOM AND READS JACK'S NOTE AGAIN. HE HAS NO INTENTION OF EVER TELLING HER THAT JACK WANTS TO BE WITH HER AGAIN.
---
SCENE SEVEN: BACK AT THE MEAT PLANT, JACK PUTS HIS MASK BACK ON AND GOES OUTSIDE TO THE PHONE. HE GETS OUT A QUARTER AND DIALS JENNIFER'S NUMBER.

AT THE PENTHOUSE JENNIFER PUTS THE JADE PLANT DOWN NEXT TO THE PHONE AND PICKS IT UP.

JENNIFER: Hello.

JACK PANICS AND HANGS UP THE PHONE. HE REACHES UP AND WIPES TEARS FROM HIS EYE.
---
SCENE EIGHT: BACK AT THE PENTHOUSE, JENNIFER HAS DECIDED TO START LOOKING AFTER THE JADE PLANT AGAIN AND SHE WATERS IT WITH THE SAME BOTTLED WATER THAT JACK ONCE GAVE HER FOR IT. HAWK CANNOT STAND HAVING THIS REMINDER OF JACK'S LOVE IN FRONT OF HER ALL THE TIME. ESPECIALLY SINCE HE KNOWS THAT HIS PLANS ARE NOT WORKING JACK HAS NOT GIVEN UP; AND THAT JENNIFER STILL LOVES HIM TOO.

HAWK: Ah Jennifer, maybe you'd like me to bury that for you? That might make it a little easier on you.

JENNIFER: No, no thank you. I've decided that I'm not going to give it up.

HAWK CHANGES HIS TATICS AND PRETENDS TO BE SUPPORTIVE.

HAWK: Well, you know what I mean. Who am I to say what's what here, eh? I mean maybe you're right not to throw in the towel there. A little fertilizer, a little TLC and that little thing just might come back to life.

JENNIFER: You must think I'm pretty silly, huh?

HAWK: No, no, I could never think that.

JENNIFER: It's just that I've been trying to put Jack behind me but now I realize that deep in my heart I don't want the love that I shared with Jack to ever be over.

THIS DOES NOT PLEASE HAWK AT ALL.
---
SCENE NINE: LATER JENNIFER GETS A SPRAY BOTTLE FOR THE PLANT AND DEVOTES ALL HER ATTENTION TO IT. LINDA RONSTAD'S VERSION OF BUT NOT FOR ME PLAYS IN THE BACKGROUND AS SHE GOES OUT TO THE BALCONY AND LOOKS AT HER WEDDING RING.

I was a fool to fall and get that way,
Hi ho, alas and all so lack-a-day,
Although I can't dismiss the memory of his kiss,
I guess he's not for me.

BACK AT THE MEAT PACKING PLANT, JACK IS SETTLING DOWN FOR THE NIGHT IN THE PACKING PLANT. HE LAYS OUT A BLANKET AND TAKES OFF MASK AND TURNS OFF THE LIGHT. HE PUNCHES OUT HIS TIME SHEET AND LIES DOWN ON THE BLANKET ON THE FLOOR, VERY ALONE AND LONELY. HE LOOKS AT HIS WEDDING RING.

I was a fool to fall and get that way,
Hi ho, alas and all so lack-a-day,
Although I can't dismiss the memory of his kiss,
I guess he's not for me.

JACK PULLS OUT A SET OF FOUR PHOTOS OF HIM AND JENNIFER THAT THEY TOOK IN A BOOTH ON THEIR HONEYMOON. HE SIGHS AS HE THINKS OF HER.
[Transcribed by Carol Vaughan
added material by Sally A. Wilson]
---
---