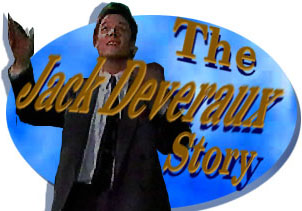 oldEpisode Three-hundred-fifty-six: Jack
Continues Hide out at the Meat Packing
Plant, Waiting for Jennifer to Get in Touch
with Him. Hawk, Knowing He Is Back,
Wants Desirée to Tell Jennifer to Forget Jack.
---
[Air date late November 1991]

SCENE ONE: A COUPLE OF DAYS LATER AND JACK IS READING 10 MOST WANTED CRIMINALS TO SEE IF HE IS ON THE LIST.

PACKER 2: Why are you always reading that garbage for?

JACK: Whoa!

JACK GETS A FRIGHT.

PACKER 2: Wait a minute, you're not....

JACK: One of the unsavory characters listed here? No of course not. And if I was do you think I'd be so blatant as to wear a ski mask? I think not. You know something, if I was going to do something like that I would probably just.... [This seems to be a reference to the movie The Greatest Show on Earth where Jimmy Stewart°s character plays a clown who has been on the run for years; he is never seen without his clown make-up worried that he will be caught] just run off to the circus and pull a Jimmy Stewart.

THE GUY LOOKS BLANKLY AT JACK.

JACK: You know, (Stuttering, imitating Stewart) J.... J.... J.... Jimmy Stewart? Oh I don't know, maybe it was Dumbo and The Greatest Show on Earth. I get those big top movies mixed up.

THE GUY POINTS TO HIS HEAD.

PACKER 2: Touched, that's what you are. Nuttier than a candy bar.

THE GUY WALKS AWAY AND JACK GOES BACK OUT TO THE PHONE. HE REMOVES HIS SKI MASK AND DIALS JENNIFER'S NUMBER AGAIN.

JENNIFER: Hello. (Beat) Will you please answer? Who is this calling?

JACK OPENS HIS MOUTH BUT LIKE JUST BEFORE HIS WEDDING, NOTHING COMES OUT. HE TRIES AND TRIES BUT CANNOT BRING HIMSELF TO TALK TO HER.

JENNIFER: WHO IS THIS? HELLO? HE HANGS UP AND PULLS THE SKI MASK BACK ON.
---
SCENE TWO: AT THE PENTHOUSE.

HAWK: Hey, what's going on?

JENNIFER: Somebody just keeps calling and hanging up and they're not saying anything and it's happened about ten times and I'm sick of it.

HAWK: Well maybe it's a bad connection.

JENNIFER: No, because I can hear someone breathing on the other end.

HAWK: Do you have any idea who it is?

JENNIFER: No, I don't have any idea.... unless....

HAWK KNOWS WHO IT IS, HE KNOWS IT IS JACK. HE PUTS IT INTO HER MIND THAT SOMEONE IS AFTER HER, SO THAT SHE WILL NOT THINK OF JACK, AND SO THAT HE WILL HAVE ANOTHER EXCUSE TO BE WITH HER, AND FURTHER MANIPUATE HER.

HAWK: Unless what?

JENNIFER: What if it's the same person who broke in here?

HAWK: Oh now, I don't think there'd be any reason for them to be calling here.

JENNIFER: Well I don't know but it can happen you know, especially to people in the public eye. You get in some weird person's realm of thought and they start harassing you.

HAWK: I don't think that's what it is. I don't. I think maybe your imagination is running away with you a little bit.

JENNIFER: Yeah maybe. I just wish Jack were here.

HAWK: Well, if you really think he'd help. I mean no offense Jennifer but, I don't know, I never did see Jack much as the hero type.

JENNIFER: I know, I know, but he could always muddle his way out of messes.

HAWK: Well I certainly don't call myself a hero or a muddler but if you are scared of being here alone, the least I can do is stick around until this whole thing's over.

JENNIFER: Thank you Hawk, but no. I have to learn to start taking care of myself without Jack or anyone else.

HAWK: Alright, well in that case I think the first thing you ought to do is change that phone number so that crank caller can't call you back anymore.

JENNIFER: No, I'm not going to do that.

HAWK: Well why not?

JENNIFER: Because if I did that and if Jack did try to call, he wouldn't be able to reach me.

HAWK: Well, I mean he could always get a hold of your family or the TV station or something.

JENNIFER: No, because he would try to call here first and I wouldn't want him to think that anything was wrong or that I didn't want him to call.

HAWK: Well so much for you taking care of yourself.

JENNIFER: I know. I know I make it sound like one minute I don't want anything to do with Jack anymore and I want him out of my life.... (Beat) but there's a part of me that still believes that he's going to show up one day.

HAWK: I guess it does take a while for these kind of things to disappear.

JENNIFER: I realize that everything points to Jack deserting me. But I can't help feeling that there's more to it than that.

HAWK: Well like what?

JENNIFER: I don't know. With Jack it could be anything. I mean he hasn't lead the most normal life.

HAWK: Yeah, I know, he was adopted or something by a Senator, right?

JENNIFER: Harper Deveraux.

HAWK: Harper Deveraux! Not the guy who killed all those women?

JENNIFER: Yes. It was big news everywhere. Can you imagine living with something like that? And I mean, Jack's natural father Duke, he wasn't any better. He ended up attacking Jack's sister Adrienne and then Adrienne ended up killing him.

HAWK: Gee whiz and I thought I had it weird with my family.

JENNIFER: Well you know now you wonder why Jack acts the way he does sometimes. You know he even told me that he conjures up these pictures of Harper and Duke in his head and talks to them.

HAWK: Oh boy, so that's what that was about.

JENNIFER: Why, you saw him do that?

HAWK: Well just once but I really didn't know what to think of it.

JENNIFER: Well where was he, what was he saying?

HAWK: Well, Jennifer I really don't remember it that well. All I know is that he was.... he was talking about catching or calling a cab or something like that. It was a long time ago.

JENNIFER: Well that's great. I thought he talked to Harper and Duke about maybe important things but if he's talking to them about calling a cab.... I mean who knows what could have happened to Jack. Maybe he went on a drinking binge or something. Maybe he's out of his mind and he's walking around on a street somewhere and he doesn't even know who he is.

HAWK: Well don't forget, that the police have been on the lookout for him.

JENNIFER: Hawk, it's a big country. He could be anywhere.

HAWK: Gosh you know what Jennifer, wouldn't it be great just to know someone who could see everywhere, round every corner?

JENNIFER IMMEDIATELY FALLS FOR HIS SUGGESTION.

JENNIFER: I do. (Beat) Desirōe.

HAWK: You mean that so-called psychic lady?

JENNIFER: Yes, I don't know why I didn't think of her in the first place. I'm going to call Desirōe.

HAWK: Well do you really think she could help?

JENNIFER: Well, all the other things she told me came true.

HAWK: Yeah but I don't know about these people Jennifer. You know, it's like I warned you before. They could make up just about anything.

JENNIFER: I know. Jack said the same thing but I don't think he meant it. I would always catch him listening to Desirōe's tape. So I think he believed in her. And you know what, I think you do too.

HAWK: Me?

JENNIFER: When Carly was in the hospital you told me that you believed in things like ESP.

HAWK: Yeah well I guess I supposed that it could work then. I mean, if those feelings are strong enough.

JENNIFER: Mine are for Jack. (Beat) And I know, I know that Desirōe can help me figure out a way to find him. So I'm going to call her and I'm going to set up a reading.

HAWK: Well I sure wish I could stick around to find out because I'd certainly like the hear what she has to say but you know I've got some things I need to take care of here.

JENNIFER: Oh, I'm sorry Hawk. I've kept you long enough. Go ahead. I'll let you know what happens okay?

SHE PICKS UP THE PHONE.

HAWK: Hey, good luck on this.

JENNIFER: Thanks.

HAWK LEAVES WITH A BIG SMILE ON HIS FACE. JENNIFER HAS FALLEN RIGHT INTO HIS TRAP AGAIN.
---
SCENE THREE: HAWK IS WAITING OUTSIDE THE PENTHOUSE WAITING FOR DESIRŁE TO ARRIVE. HE WANTS TO TALK TO HER BEFORE SHE SEES JENNIFER.

HAWK: Hey come here. You got everything straight?

DESIRŁE: Why can't I just make things up like I usually do?

HAWK: Because that doesn't work on Jennifer.

DESIRŁE: It did in LA honey. She bought the whole line about the strange creature crossing her path, everything.

HAWK: No, cause it's different this time.

DESIRŁE: Why, because you got the hots for miss girl?

HAWK: You just do as I say. Look you need to act like you're talking to these two characters.

HE HOLDS UP PRESS CLIPPINGS OF HARPER AND DUKE. ONE HAS A PICTURE OF JACK AND HARPER AND IS AN ANNOUNCEMENT OF HARPER NAMING JACK AS HIS CAMPAIGN MANAGER. ANOTHER ONE IS ABOUT DUKE BEING KILLED.

DESIRŁE: Man, these are some scary looking thugs.

HAWK: These scary looking thugs happen to Jack's daddies. You got to remember that. Dessie, don't screw me up on this. All you got to do is say that these guys are sending you a message that Jack is dead, okay. And that's going to get her to forget about old Jack and this whole thing is going to be over with.

DESIRŁE: Not so fast Hawk, now. You may fancy yourself King of the Kong but don't go horning in on my specialty. We got to take this thing slowly. Now if we tell Jennifer that her hubbie is dead right off the bat, it's just too obvious man. I mean we got to like tease her along a little bit like they do on my stories, you know. Leave her at the cliff hanger and then boom. Make her come back for more.

DESIRŁE IS AN AVID WATCHER OF SOAP OPERAS WHICH SHE CALLS HER STORIES.

HAWK: You better not drag.... hey don't drag this along like your stories, do you understand. You going to get her to forget about Jack and I mean soon. You got it?

SHE NODS.

DESIRŁE: Yeah, right.

HAWK: Alright, don't let me down on this, okay. I'm counting on you.

DESIRŁE: I got it.

HAWK: Right.
---
SCENE THREE: SHE GOES TO THE PENTHOUSE DOOR AND HAWK HIDES AGAIN. JENNIFER LETS DESIRŁE IN.

JENNIFER: Desirōe, hi, come on in. I know I called you at the last minute. I hope it wasn't too much trouble for you.

DESIRŁE: Not at all. Something told me you were going to call so I planned on it.

JENNIFER: You really are psychic, aren't you Desirōe?

DESIRŁE: Huh, huh.

JENNIFER: Here, why don't you have a seat, over here.

DESIRŁE: Oh yeah. It's a good day for a reading Jennifer, huh, huh. Oh and the vibes are good too. Yeah, real good.

JENNIFER: So do you think you might be able to help me find out where Jack is?

DESIRŁE: Well, my crystal ball told me so.

JENNIFER: Well I really hope it's right because I've tried everything. I've talked to the police and the government. I've even tried a private investigator. So you're my last hope.

DESIRŁE: I'll do what I can to help you. Let me just get the R.P.M.'s up here

SHE EXTENDS HER HANDS AND STARTS TO CHANT. DESPITE HOW REDICULOUS AND FAKE SHE IS, JENNIFER FALLS FOR IT.

DESIRŁE: Aaaaaaarrrrr.... Jack.... be nimble, Jack be quick, Jack jump over that candlestick. Little Jack Horner sat in a corner eatin' his.... humble pie. The Jack of Hearts, he took some tarts and swiped them clean away. Hey, Jack, Jack, bovak, bananarama povak.

SHE STARTS TO SING A VARIETY OF SONGS WITH THE NAME JACK IN THEM. SUDDENLY SHE SCREAMS. ACROSS NEAR THE FIREPLACE, DUKE AND HARPER ARE STANDING ALL DRESSED IN LEATHER AND ROCK GEAR AND HOLDING A LARGE GHETTO BLASTER. [I BELIEVE AT THIS POINT TBTB WANTED HARPER AND DUKE TO BE ACTUAL GHOSTS AND NOT JUST FIGMENTS OF JACK'S SUBCONSIOUS.]

DESIRŁE: How did you get here?

JENNIFER HAS NO IDEA WHAT DESIRŁE IS TALKING ABOUT.

JENNIFER: Ah, I live her Desirōe. You just came in the door.

DESIRŁE: Not you, them.

JENNIFER LOOKS WHERE SHE IS POINTING BUT ONLY SEES THE FIREPLACE.

JENNIFER: Who?

HARPER: Who are you?

DUKE: That's right, who are you? And what do you do, come on? What do you do, come on?

DESIRŁE IS SCARED OUT OF HER WITS.

DESIRŁE: I.... I.... I.... I'm trying to get in touch with.... um.... with.... with Jack Deveraux.

DUKE: No, no more Jack, just give it some slack. And stand right on back. Stand back.

HARPER: Yeah, we're Jack's ghosts. I mean we're haunting him, not you. We don't appreciate you fringing on our privacy.

DUKE: That's right. No more confessing, will you just stop messing, with us. How am I doing?

HARPER: Duke, you're a poet and you know it.

DESIRŁE: No, no, no. This is not happening to me. When I open my eyes you two will be gone. OUT OF HERE.

HARPER AND DUKE FADE AWAY.

JENNIFER: Desirōe, who are you talking to?

DESIRŁE: Nobody.... now.

JENNIFER: What, what was happening?

DESIRŁE: Jennifer, you.... you didn't see those two guys standing over there?

JENNIFER: Uh, uh. No, I didn't see anybody.

DESIRŁE: You know I must have called a wrong number or something.

JENNIFER: Well did you find out anything about Jack?

DESIRŁE: Who?

JENNIFER: My husband, Jack.

DESIRŁE: Oh right, right, Jack, Jack, Jack. (Beat) No, you know what, he.... he had to find a new life.

JENNIFER: What are you talking about a new life, where?

DESIRŁE: I don't know. Somewhere, far far away. Yeah.

JENNIFER: Far far from where? I mean is he in the country?

DESIRŁE: No.

JENNIFER: Okay, is he in Europe?

DESIRŁE: No, he's not there either. Listen Jennifer, he's just gone, okay. He's out of here.

JENNIFER: What are you saying he's gone? Are you telling me that my husband is dead? Desirōe, what?

DESIRŁE: Look, I'm sorry, I'm not.... I'm not sure about what to say here. I'm not sure but.... it's all very cloudy, you know. It's all very cloudy to me and I think we're just going to have to do this again sometime. I'm sorry. I'll see you next time.

JENNIFER: Wait a minute Desirōe. Do you want me to pay you or what?

DESIRŁE: No, forget about it, forget about it. This one's on the house Jennifer.

SHE LEAVES AND JENNIFER IS REALLY UPSET.

OUTSIDE HAWK STOPS DESIRŁE TO ASK HER HOW IT WENT. SHE IS NERVOUS AND TELLS HIM THE SAME AS USUAL. SHE WALKS OFF AND HAWK IS PUZZLED.
---
SCENE FOUR: BACK AT THE MEAT PLANT, JACK IS PACKING MEAT WHEN HARPER AND DUKE APPEAR IN HIS MIND.

DUKE: Well look at that here. Who is that masked man?

HARPER: Well it certainly isn't the Lone Ranger.

DUKE: Hey, hey, hey, maybe it's that guy Jason, you know the wacko from Friday the 13th.

HARPER: No, he wears a hockey mask, you moron.

DUKE: I knew that.

JACK: Will you two stop fighting for once? Just stop!

DUKE: We ain't fighting. We ain't fighting. We're just wondering how long it's going to take for you to stop snubbing us.

JACK: Consider yourselves unsnubbed, alright. Now just run along.

HARPER: We can't do that Jack.

JACK: Why not? What do you want? What can I do for you? What....

THE FOREMAN WALKS UP BEHIND JACK AND THINKS HE IS TALKING TO HIMSELF.

JACK: (Tapping is forehead) Touched.... touched, remember, touched. Stewart.... Stewart.

THE FOREMAN WALKS AWAY SHAKING HIS HEAD.

JACK: Alright, tell me what you want right now. Just tell me before....

HE SHUTS THE DOOR TO THE MEAT LOCKER AND PULLS OFF HIS MASK.

JACK: ....before he chases me around with a butterfly net.

DUKE: Why listen to us Billy Boy. We got this strange thing happening to us. I mean we ain't getting any sleep at night because we're worrying about you and Jennifer.

JACK: You're dead. How can you have insomnia?

HARPER: That's how serious it is. So we thought we better talk to you again and somehow try and convince you to go back to Jennifer.

JACK: Let me tell you something. Everytime I try to pick up the phone and call her I get a recurrence of hysterical laryngitis.

HARPER: Look she's a very impressionable girl Jack.

DUKE: That's right, that's right. A real babe in the woods.

JACK: Hey, now watch who you're calling a babe in the woods.

HARPER: Alright.

DUKE: I'm not talking about things like that.

HARPER: There's no telling what other people will tell her, what other people will fill her head with. She's vulnerable, she's alone.

DUKE: That's right.

HARPER: It would be easy for some unscrupulous type to take advantage of her.

JACK: Yeah well we're not going to let that happen alright.

HARPER: Absolutely.

DUKE: Right, so let's go.

HARPER: Yeah, come on.

JACK: No, wait a minute. I can't do that. You know if I go right over there, they're going to throw me in jail or worse. She's going to get some lame brained idea that we can just go on the lam together and we'll wear matching ski masks and someday maybe even our offspring won't recognize us. I can't do that.

HARPER: So you'd rather go round like this for the rest of your life.

JACK: No, I don't want to go round like this for the rest of my life but I.... I can't do that and I won't. (Beat) I won't.
[Transcribed by Carol Vaughan
added material by Sally A. Wilson]
---
---