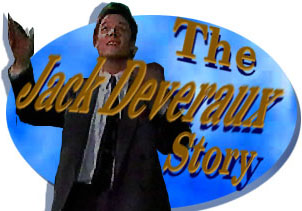 oldEpisode Three-hundred-fifty-eight:
Thanksgiving 1991: Jack Makes a
Turkey Delivery to the Hortons'.
---
SCENE ONE: THANKSGIVING DAY AND JENNIFER IS HELPING ALICE IN THE KITCHEN. IT SEEMS THAT THE 24LB TURKEY ALICE ORDERED HAS NOT BEEN DELIVERED. ALICE DECIDES THAT SHE WILL HAVE TO USE SOMETHING OUT OF THE FREEZER FOR DINNER. THE BUTCHER HAS SAID THAT HE WOULD SEND ANOTHER ONE OVER BUT ALICE SAID THERE IS NO TIME TO COOK IT ANYWAY.

ALICE: Can you imagine Thanksgiving without a turkey?

ALICE WALKS OUT TO SEE THE OTHERS AND SHE IS VERY UPSET.

JENNIFER: Can you imagine Thanksgiving without Jack.
---
SCENE TWO: BACK AT THE MEAT PLANT.

FOREMAN: Listen, I've got an emergency call. Somebody's got to make a turkey run to Salem or some family by the name of Horton is going to have a meatless Thanksgiving. Who's going to ride to the rescue?

JACK IS THINKING HARD ABOUT THAT.

FOREMAN: What, no volunteers? Where's your holiday spirit?

PACKER: I don't know about Buck here but I left mine at home.

FOREMAN: Well whatever. Just decide between you two who is going. I'll be right back.

PACKER: Oh okay it looks like I'll do it. It sure beats hanging around here.

JACK: Yeah, like the boss said, you know, whatever.

HARPER AND DUKE REAPPEAR EVERYTIME JACK HAS TO MAKE A DECISION. THEY ARE LISTENING TO THE BIG GAME.

JACK: Hey, hey, what the hell's going on?

DUKE: Hey, hold it kid. There's a very important play coming up here.

HARPER: Sssssh.

JACK: Would you.... would you just turn that thing off and tell me what the hell you're doing here?

DUKE: Alright, alright, take it easy kid. Nothing's changed. We still think your best shot is to go back to Jenny and talk this thing over.

JACK: Listen, we have been through this thing before. Why don't you get a life?

HARPER: That's rather difficult to do in our condition.

JACK: I can't get anywhere near Jennifer and you both know why.

HARPER: But you've just been handed the ideal excuse.

JACK: Yeah right, the old turkey run. I heard that.

HARPER: Well of course. I mean Jennifer's bound to be at the Horton's. I mean you can see her without anyone being the wiser.

DUKE: That's right kid, it's the perfect setup. Look you deliver the turkey and you get the chick alone for a few minutes and you get to talk this whole thing over. Don't pass it up Billy.

HARPER: Speaking of passing.... .

HARPER AND DUKE START ARGUING ABOUT THE GAME AND THEY BEGIN TO FADE AWAY.

DUKE: And do us a favor will you? Wise up.

HARPER: Yeah so long son.

THEY DISAPPEAR FROM HIS MIND JUST AS THE MEN COME BACK IN WITH THE TURKEY FOR THE HORTON'S.

JACK: Ah.... .ah, you know, if it doesn't make any difference to you, I've changed my mind. I think I'd like to make that turkey run tonight.
---
SCENE THREE: THANKSGIVING IS WELL UNDERWAY AT THE HORTON'S, INCLUDING DESIRÉE AND MARCUS. HAWK MAKES A TOAST TO JENNIFER.

HAWK: Well I tell you what, since we're making toasts over here, I have one of my own. This one's to Jennifer. Thank you for making me feel like I'm a part of your family today.

JENNIFER: Well Hawk it is the least that I could do. I mean after everything that you've done for me. You've made a lonely time seem not quite so bad. Thank you.

HAWK: Thank you.

THEY CLINK GLASSES AND SIP THE CHAMPAGNE. JENNIFER ASKS DESIRDÉE FOR ANOTHER READING AND SHE AGREES BECAUSE HAWK IS THERE. SHE STARTS HER TRANCE AND SAYS IT IS COMING TO HER LIKE BELLS. SUDDENLY THE DOOR BELL RINGS.
---
SCENE FOUR: IT IS JACK AT THE DOOR WITH THE TURKEY. HE IS WELL DISGUISED IN HIS SKI MASK, COAT AND GLOVES. JENNIFER GOES TO ANSWER IT.

JENNIFER: Yes?

JACK TURNS TO FACE HER BUT SHE DOES NOT RECOGNIZE HIM. HE IS VERY AFFECTED BEING SO CLOSER TO HER AFTER BEING APART FOR SUCH A LONG TIME.


JENNIFER: Yeah, can I help you?

HE HANDS HER THE TURKEY WITHOUT SAYING A WORD.

JENNIFER: Oh, oh, I'm sorry. You're the turkey man. You know what my grandmother already paid the butcher for this but I want to give you a tip for making the delivery on the holiday. I'm going to get my purse. I'll be right back. Just stay right there. Oh let me take the turkey. Thanks.

SHE TURNS BACK INSIDE AS HAWK COMES DOWN THE STEPS. HE CANNOT SEE JACK AND JACK CANNOT SEE OR HEAR HIM.

HAWK: Hey what's going on.... .the turkey.

JENNIFER: Yes, I want to give him a tip for delivering it so I'm.....

HAWK: What are you talking about? Let me take care of that for you.

JENNIFER: Okay, well let me take the turkey.

THEY BOTH GO TO THE DOOR.

JENNIFER: Oh, it's too late. He's gone. Oh well, his loss.

HAWK: Yes.

JACK IS HIDING IN THE BUSHES. AS HE STANDS UP, HARPER AND DUKE RETURN AND GIVE HIM A BIG FRIGHT.

JACK: AAAARRRRGGGHHH. What are you trying to do? Give me a heart attack. It's the wrong holiday. I thought I told you guys to get out of here and leave me alone.

DUKE: Yeah well, we decided to come back and see the end of this charade.

HARPER: Yeah, this was too good to pass up even for a tied game in the last quarter.

DUKE: That's right, how often do you get to see a big man hiding from his tiny little wifey?

JACK: I just didn't want to be too hasty, you know.

DUKE: Hasty? Come on, face it Billy Boy. The turkey was delivered by a large chicken.

HARPER: HAHAHAHAH.

DUKE: Come on let's get out of here. Leave him alone for a while. Maybe the wizard will give him some courage.

THEY DISAPPEAR AGAIN.
---
SCENE FIVE: JACK IS ABOUT TO RING THE BELL AGAIN WHEN DESIRŁE AND JENNIFER COME OUTSIDE. SO JACK HIDES IN THE BUSHES AGAIN.

JENNIFER: I need to know if you can just read my future for me, right now.

DESIRŁE: Jennifer, no. That is not possible. Now I have told you I've already overextended myself.

JENNIFER: Couldn't you just try? I mean it doesn't have to be anything elaborate. Just.... .read this, read my palm.

DESIRŁE: Alright, alright but I'm going to give you the condensed version now. We call it the Reader's Digest, okay.

JENNIFER: Okay, go on.

DESIRŁE: Okay.... .

JENNIFER: What? Can you see Jack in my future?

JACK LISTENS CAREFULLY. DESIRŁE LOOKS UP AND SEES HARPER AND DUKE AGAIN. SHE IS SCARED OUT OF HER WITS.

DESIRŁE: I see.... .something but it ain't Jack. Look Jennifer, Jennifer this is not going to work, you know, because.... it's.... .my mind is all a jumble right now because you see you've got to be careful when it gets like this because it could get.... ugly, very very ugly. You know what I'm going to do now. I am going to take myself out of this metaphysical mode and I am going to in here and I am going to do some serious partying.

SHE RUNS INSIDE AND JENNIFER CHASES IN AFTER HER.

JACK: Well you two sure know how to clear a doorstep, don't you?

DUKE: What are you blaming us for? Can't you see that that fortune telling cookie has got some kind of hold on Jenny.

HARPER: Duke's right. I mean Jack, Jennifer is obviously so grief stricken over your disappearance that she's gone.... whew.... over the edge. Yeah. You've got to talk to her son. You've got to straighten her out.

JACK: No, no. I think it's better to have a few loose marbles than to lose your freedom which would happen if she hung around with me.

DUKE: Where are you going?

JACK: I'm getting out of here, that's what I'm doing. Don't you understand, I care more about her than you two do. I care more about her.... I care more about her than to get her into anymore trouble.

JACK WALKS AWAY.

HARPER: That kid can sure throw a wet blanket on a Thanksgiving party, can't he.
---
SCENE SIX: A MONTAGE ENDING: LATER AT THE HORTON'S THEY ALL GIVE THANKS FOR THE YEAR. JENNIFER WALKS OVER TO THE WINDOW AND LOOKS OUT THINKING OF JACK. THEN SHE JOINS HANDS WITH HER FAMILY WHILE TOM SAYS A PRAYER.

BACK AT THE MEAT MARKET. JACK IS ALL ALONE, AND VERY LONELY, JACK CLOCKS OFF AND PULLS OFF HIS MASK, THINKING OF JENNIFER.

BACK AT THE HORTONS, TOM IS FINISHING HIS THANKSGIVING BLESSING.

TOM: And may our joy be boundless and those who are separated from us, finally return.

JENNIFER: (Wistfully thinking of Jack) Amen.

[Transcribed by Carol Vaughan

added material by Sally A. Wilson]

---

---