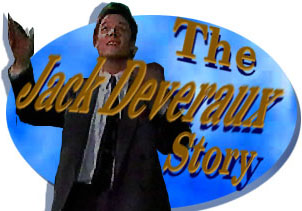 oldEpisode Three-hundred-fifty-nine:
Jack
Makes a Delievery to Bayview, and Visits
Jo. Hawk and Jennifer Dance and Then....
---
SCENE ONE: JENNIFER AND HAWK ARE OUT CHRISTMAS SHOPPING. JENNIFER GETS OUT HER LIST.

HAWK: Everybody who counts in your life is on that list, right?

JENNIFER: Hawk.

HAWK: I mean absolutely everybody.

JENNIFER: I know what you're saying. And no, Jack is not on my list.

HAWK: So is that purposely?

JENNIFER: You know after what he's done, I don't think Jack deserves anything.
---
SCENE TWO: DOWN AT THE MEAT PLANT, JACK IS SEARCHING THE LATEST EDITION OF THE SPECTATOR FOR JENNIFER'S AD. JACK IS HURT, THINKING THAT THIS MEANS JENNIFER WANTS NOTHING TO DO WITH HIM.

JACK: Nothing.... nothing again. Come on Jennifer, I know you miss me out there somewhere. You just got to pick up the phone and make a call, write it in there and you can....

HE HEARS ONE OF THE WORKERS COME IN AND PULLS DOWN HIS SKI MASK.

FOREMAN: You at it again?

JACK: Just.... ah, on my break boss. Just on my break.

FOREMAN: You're always reading. Hell don't you have a life, nobody at home that wants to talk to you?

JACK: Ah.... no, I suppose I don't. (Beat) Not anymore.
---
SCENE THREE: MEANWHILE, JENNIFER AND HAWK ARE LOADED DOWN WITH GIFTS.

HAWK: There's room for another package or two if you thought of somebody else you might want to try to buy a gift for.

JENNIFER: Hawk.

HAWK: Well just in case. I mean, have you thought about this Jennifer? I mean.... I mean Jack could show up Christmas morning with a heck of a present for you and I think he'd really be hurt if you didn't try picking up something for him.

JENNIFER: Well I don't care Hawk. I am so tired of worrying whether Jack is going to be hurt or not. What about me? What about the way Jack hurt me?

HAWK: Yeah I know.

JENNIFER: Look, I just want to enjoy the holidays as much as I can and it's time I started getting over Jack.

HAWK: It is?

JENNIFER: Yeah it is. (Beat) Because after all this time I really don't think he's going to be coming home.

HAWK IS PLEASED BECAUSE IT APPEARS THAT JENNIFER WANTS NOTHING TO DO WITH JACK, AND BELIEVES HE NEVER WILL RETURN.
---
SCENE FOUR: BACK AT THE MEAT PLANT.

FOREMAN: Okay, I need Route 7 covered. Anyone?

PACKER: What happened to Lonnie?

FOREMAN: Fired.

JACK: Fired.

FOREMAN: We got three stops. Wings, Alice's Restaurant and the Sanitarium. Any volunteers?

JACK: Ah, the Sanitarium? Ah, that wouldn't happen to be the Bayview Sanitarium by any chance, would it?

PACKER: Will you look at this guy? It figures that he'd be the one interested in making deliveries to the Bayview Sanitarium.

FOREMAN: The job's yours.

JACK: Hey, wait a minute. I didn't say that I was.... I just.... wait a minute I.... I....

THE FOREMAN JUST WALKS OUT.

JACK: Alright, I'll make you proud if.... Bayview Sanitarium.

HE CHECKS THE CALL SHEET.

JACK: Day after tomorrow. The delivery's the day after tomorrow.
---
[Air early date December 1991]
SCENE ONE: JENNIFER AND HAWK HAVE GONE TO ALICE'S RESTAURANT FOR LUNCH. WHILE HAWK PAYS THE CHECK, ALICE COMES OVER TO TALK TO JENNIFER.

ALICE: Oh darling, sorry I couldn't say hello to you when you first came in but have you got a few minutes now?

JENNIFER: Barely. My schedule has been so busy these days. You know it's really good to have Hawk. He's been there to keep my spirits up.

ALICE HAS NEVER FALLEN FOR HAWK'S GAMES.

ALICE: Ah yeah. (Beat) You've been seeing a lot of him these days, haven't you?

JENNIFER: Well yeah, he's my friend.

ALICE: Is he?

JENNIFER: Grandma, I want to know why you keep saying things like that?

ALICE: Because I have been watching Hawk and believe me, that young man seems to be hiding something. So be careful.

ALICE LEAVES JENNIFER ALONE TO THINK.
---
SCENE TWO: OUT AT BAYVIEW, IT IS THE DAY FOR JACK TO MAKE THE DELIVERY. HE SNEAKING AROUND THE HALLS LOOKING FOR JO'S ROOM. HE IS WEARING BLACK HEAVY RIMMED GLASSES, WHITE OVERALLS, BLACK COAT AND SKI MASK PULLED BACK ON HIS HEAD.

NURSE: What do you think you're doing?

JACK: I'm just here delivering my meat and I thought I'd drop by and....

NURSE: Deliveries go to the first floor. Come on I'll show you where the kitchen is.

JACK: Ah, thanks.

JACK GETS RID OF THE MEAT AT THE KITCHEN AND THEN SNEAKS BACK TO JO'S ROOM WHERE HE QUIETLY GOES INSIDE. JO GETS A FRIGHT.

JACK: Ah, hello.

JO: OH!

JACK: No, hi. It's me.... it's me. Don't tell anyone, it's me, Jack.

HE PULLS OFF THE GLASSES AND THE SKI MASK.

JO: Oh Jack!

SHE GIVES HIM ONE OF HER BIG HUGS.

JO: Oh Jack, I've been so worried about you. Everyone has.

JACK: (Hopefully) Everyone.... has?

JO: Well Jennifer. I mean she tried to get in touch with me a little while back.

JACK: What do you mean, a little while back?

JO: Well she's been trying to track you down, you see. Have you seen her, have you heard from her?

JACK: Well no.... not exactly, no.

JO STARTS TO STRAIGHTEN HIS CLOTHES AS HE TALKS.

JO: What do you mean no? Why not?

JACK: Well.... ah.... that's kind of a long story.

JO: Well I've got plenty of time.

JACK: Ah, well I don't. You see I just came in to drop off my meat and.... and see how you're doing. You're obviously fine so I'll be seeing you later.

JO: Jack! You are not going to leave this room until I find out what's wrong.

JACK: There's nothing wrong, really. There's nothing at all.

JO: Jack!

JACK: I.... I got involved in something rather stupid, that's all.

SHE PUTS HER HAND ON HIS SHOULDER FOR COMFORT.

JO: Can you tell me about it?

JACK: Nothing.... it's.... well listen there is no reason to get into the details. Just.... the important thing is that I'm.... I'm alone in this and for the first time in my life being alone is something.... it means being....

JO: Lonely.

JACK: Yes.... yes that's what it means. And being lonely is.... I never really experienced it before. (Beat) I mean, to this depth, before I met Jennifer. I guess what I'm trying to say Jo is that I think I have really.... I think I've really lost her this time. (In pain) I've lost her for good.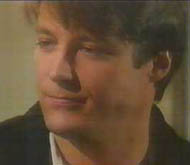 ---
SCENE THREE: JENNIFER HAS RETURNED TO THE PENTHOUSE, WHERE SHE FLOPS ON THE SOFA AND CLOSES HER EYES. SUDDENLY SHE SMELLS SOMETHING AND LOOKS ACROSS TO SEE THE DINING ROOM TABLE SET FOR A ROMANTIC DINNER FOR TWO. FOR A SECOND SHE THINKS IT MIGHT BE JACK BUT AS SHE GETS UP, HAWK COMES OUT OF THE KITCHEN.

JENNIFER: OH!

HAWK: Hey, I thought I heard that door.

JENNIFER: Hawk, what is this? What's going on?

HAWK: I already told you.

JENNIFER: You already told me what?

HAWK: At lunch, when you were being so pessimistic about the rest of the day.

JENNIFER: Right, and you said it would get better.

HAWK: Ifa you likea lasagne.

JENNIFER: Well I love it.

HAWK: Well then take a seat right here and relax. You been getting after since 6 o'clock in the morning and I'm here to make sure that you give yourself a minimum of two hours.... whether you like it or not.

HE POURS HER A GLASS OF WINE AND GOES TO THE KITCHEN. SHE LOOKS A LITTLE PUZZLED AND ALSO A BIT PLEASED.
---
SCENE FOUR: BACK AT BAYVIEW.

JACK: Between the FBI and the SCC, I don't know.... it's.... it's impossible, that's what it is.

JO: Jack! You know what to do. Jennifer loves you. You go and you talk to her and you tell her what you told me.

JACK: I can't do that.

JO: Why not?

JACK: I.... because I already did do that.

JO: What?

JACK: I.... I wrote her a note and I told her how to get a hold of me.

JO: And?

JACK: And nothing. I haven't heard word one.

JO: Jack, you can't talk about things that you and Jennifer should talk about and put them in a note. You've got to see her, face to face.

JACK: I CAN'T DO THAT, alright. I.... I can't get her anymore involved in this. Not when I'm still in this kind of danger.

JO: When are you going to have her stop wondering what happened to you? And you know someday she is going to stop wondering.

JACK: Well I'll just have to run that risk for the time being.

JO: Son, you can save this marriage. But you've got to do something and you've got to do something now or you're not going to have a marriage to save.
---
SCENE FIVE: BACK AT THE PENTHOUSE.

JENNIFER: Well Hawk, I'm really glad that you made me relax and have dinner because you were right. It's exactly what I needed.

HAWK: Well as long as we're still here, may I have this dance?

JENNIFER: Oh that's very funny.

HAWK: No, I'm serious, I'm serious. I really feel like dancing.

JENNIFER: Oh well, okay, if you really want to.

HAWK: I do.

HE TAKES HER HAND AND LEADS HER TO THE LIVING ROOM.

JENNIFER: Okay.

THEY BEGIN TO DANCE TO A SLOW GUITAR TUNE THEN HAWK PAUSES AND LOOKS AT HER.

JENNIFER: What? Hawk, what is it? (Beat) What is it? Why are you looking at me like that?

HE BRUSHES HIS HAND ON HER CHEEK AND LEANS DOWN TO KISS HER. SHE DOES NOT LIKE IT ONE BIT.

JENNIFER: Don't! Don't do that.

SHE WALKS AWAY FROM HIM.

HAWK: Jennifer?

JENNIFER: No.

HAWK: I'm sorry, I didn't....

JENNIFER: It's alright, you don't have to explain.

HAWK: Look, I know how vulnerable you are right now and I'd never try to take advantage of that. I just.... I just got all caught up in....

JENNIFER: I understand, I understand. You don't have to say anything else okay. Will you just please go? (Beat) Please GO!

HAWK: I'm sorry.

HE PICKS UP HIS COAT AND LEAVES. JENNIFER IS PRETTY SHAKEN BY IT ALL.
---
SCENE SIX: MONTAGE MUSIC ENDINGING.

In this life, I've chased my share of dreams that go away.
In this life, I've taken more wrong roads than I can say.
Everytime it seemed to me,
That I found my silver lining, It never came up shining,
In the cold clear light of day.
In this life, I've tried so many to feel my soul,
In this life, I looked for someone else to make me whole.

JENNIFER HAS TRIED TO WRITE IN HER DIARY BUT CANNOT GET JACK OFF HER MIND. SHE PICKS UP THEIR WEDDING PICTURE AND SHE STROKES HIS FACE.

Everytime I reached out for love,
And I thought my star was rising,
I wound up realizing, I couldn't get it right. In this life.

JACK LEAVES JO'S ROOM; HE STOPS, AND PULLS OUT THE SERIES OF BOOTH PICTURES OF HIM AND JENNIFER. HE LOOKS IN SADNESS AT HER PICTURE.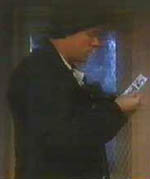 Then you came to me,
And gave your kind of giving,
And you held me for a moment.
You opened up your heart,
And showed me how to live by loving me.
Oh you made me see,
That's it's going to be alright,
It's going to be alright,
A bit of human kindness will lead me to the light.
Oh it's going to be alright, It's going to be alright,
Cause when we come together,
You can feel the light,
Feel it shining down on you forever.
[Transcribed by Carol Vaughan
added material by Sally A. Wilson]
---
---