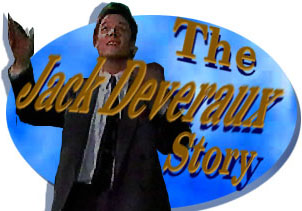 oldEpisode Three-hundred-sixty:
Taking
Jo's Advice, Jack Goes to Talk to
Jennifer; Hearing Her Talk to Alice
about Moving on, Jack Is Heartbroken.
---
[Air date early December 1991]
SCENE ONE: IT IS THE NEXT DAY AND JENNIFER IS AT ALICE'S RESTAURANT, SHOWING HER A POSTCARD FROM BO AND CARLY IN MEXICO.

ALICE: Oh, that's from Bo and Carly.

JENNIFER: Yeah, in Mex

ALICE: Oh, can I read it?

JENNIFER: Yeah, go ahead.

ALICE: Alright. (Beat) We're having a symbolic Mayan wedding ceremony.

JENNIFER: Well they probably already had it by now, I would think.

ALICE: Oh, isn't that romantic?

JENNIFER: Yes and they said they had it at the very top of this pyramid, right up there.

ALICE: It must have been so beautiful and they must be so happy by now.

JENNIFER: Well there's a little note on the back meant just for you, right there.

ALICE: Oh yes. "Tell Mrs. H that Juanita and Frederick are getting along swimmingly."

JENNIFER: Whatever that's supposed to mean.

ALICE: It means that there's always hope, when two people love each other.

JENNIFER: I think that's a not so subtle hint about Jack and me.

ALICE: Oh you do? (Beat) No one ever accused your grandmother of being subtle. I just have a feeling that you and Jack will be back together again.

JENNIFER: Well I hate to disappoint you but I don't share that feeling.

ALICE: And your good friend Hawk, does he share that feeling too?

JENNIFER: I'm not so sure about that.

ALICE: Are you saying that he's encouraging you to wait for Jack?

JENNIFER: No.... no I'm talking about the friendship part. I'm not sure if Hawk and I have any friendship left. I think I may have lost it, the same way I lost Jack.
---
SCENE TWO: OUTSIDE, JACK HAS DECIDED TO SEE IF HE CAN TALK TO JENNIFER AGAIN, HE HAS COME TO THE BACK ALLEY AT ALICE'S RESTAURANT. HE IS VERY UNSURE OF HIMSELF BUT IS DETERMINED THAT IT IS NOW OR NEVER. INSIDE, ALICE IS GIVING JENNIFER SOME ADVICE.

ALICE: I was afraid something like this might happen.

JENNIFER: Now grandma, I know that you have your suspicions about Hawk but I think that you're wrong.

ALICE: Darling you just said....

JENNIFER: I know what I said. I said that he tried to kiss me. But it was nothing more than that. Maybe it was my fault. Maybe I've been giving him mixed signals without even realizing it.

ALICE: Well have you told him that? Have you tried to get it straight with him?

JENNIFER: Well no, because after it happened I asked him to leave and he did. Maybe for good.

JACK WALKS IN THE BACK DOOR OF THE RESTAURANT AND SEES JENNIFER AND ALICE. HE IMMEDIATELY RETREATS. HE IS REALLY SHAKEN BUT STAYS TO LISTEN TO WHAT THEY ARE SAYING.

ALICE: Well I think maybe you should just get him to stay away.

JENNIFER: I can't do that because I care too much about him.

JACK THINKS THEY ARE TALKING ABOUT HIM AND JENNIFER'S COMMENT MAKES HIM SMILE.

ALICE: I know that Jack left an empty place in your life....

JACK SHRUGS.

ALICE: ....but you can't fill it that easily with another man.

JACK IS SURPRISED.

JENNIFER: Grandma I realize that. But it isn't like that.

ALICE: Isn't it? You've been spending an awful lot of time with him.

NOW JACK IS REALLY WORRIED.

ALICE: Now you tell me that you were dancing together and that he tried to kiss you.

JACK IS GETTING MORE AND MORE WORRIED.


JENNIFER: Grandma, don't worry. He is not going to hurt me. He is nothing like Jack and I'm glad.

JACK FEELS TERRIBLE.

ALICE: Oh now come on Jennifer, you don't mean that.

JACK RUNS OUT. IT IS TOO PAINFUL TO LISTEN TO ANYMORE.

JENNIFER: Yes I do mean that. One Deveraux in my life was enough and if I never see him again, it'll be too soon.

ALICE: Never?

JENNIFER: Maybe some day. (Beat) Maybe.
---
SCENE THREE: LATER WHEN SHE COMES BACK, HAWK IS IN THE RESTAURANT. SHE HESITATES BUT DECIDES THEY NEED TO TALK.

JENNIFER: Hi.

HAWK: Jennifer, hi.

JENNIFER: Do you mind if I sit down?

HAWK: No, I'd love it if you would. Can I order something for you here?

JENNIFER: You know I think that we need to talk.

HAWK: Yeah, well I guess we do. Look, about the other night Jennifer, I'm really sorry. I didn't meant for anything like that to ever happen and I just wasn't thinking. I don't know what I was thinking but you had every right in the world to be just as mad as you could possibly be at me and I don't want you to worry. I would never ever do anything like that ever again because our friendship, it means far too much to me.

JENNIFER: Well Hawk, your friendship means a lot to me too. That's why it bothers me so much. I mean if you were some guy I didn't care about, I wouldn't think twice about it. But your friendship is important to me and I don't want to lose that.

HAWK: Well you're not going to lose that cause I'm not going to go anywhere.

JENNIFER: Yeah but I also don't want you to get the wrong idea.

HAWK: Look Jennifer, I.... listen I'm not going to get the wrong idea. I just don't want you to get the wrong idea because I think that you're a very fine looking woman but we're friends and I really do look at you as more of a sister.

HAWK IS ABLE TO TWIST AND MANIPULATE JENNIFER TO MAKE HER FEEL BAD, AS IF SHE WAS THE ONE THAT WAS WRONG.

JENNIFER: Just don't call me Squirt.

HAWK: Squirt?

JENNIFER: Oh it's just a name that my brother still calls me.

HAWK: Well, you can bet that I would never ever call you Squirt or anything like that. So are we friends again?

JENNIFER: Yeah, yeah, we're friends again.

THEY SHAKE HANDS. HAWK IS PLEASED BECAUSE HE AGAIN WAS ABLE TO GET JENNIFER TO TRUST HIM.
---
SCENE FOUR: MEANWHILE, JACK HAS GONE BACK TO SEE JO AND TELL HER WHAT HAPPENED. JO IS THE ONE PERSON THAT HE HAS ALWAYS BEEN ABLE TO TALK TO ABOUT JO. HE IS BROKENHEARTED, BELIEVING THAT JENNIFER HAS MOVED ON, AND HAS FOUND SOMEONE ELSE.

JO: So, you went to see Jennifer.

JACK: Yes I saw Jennifer.

JO: How did it go?

JACK: Well it wasn't exactly a golden moment if that's what you're implying. As a matter of fact, she's found someone else.

JO: What ? Oh I don't believe that.

JACK: It's true.

JO: Did Jennifer say that?

JACK: She didn't exactly say that, no. I never saw her face to face but I overheard her talking to her grandmother.

JO: What did Jennifer say?

JACK: She said she was moving on with her life. She was very happy about that. She was glad. If I may quote her correctly.

JO: Hmm, alright who is this new man anyway?

JACK: I have no idea who this new man is. For all I know it could be Vern, she spends enough time with him.

JO: (Laughing) It's not Vern.

JACK: Oh yeah, why is it not Vern?

JO: Because Vern has a crush on me. He has for some time. He sends me flowers, didn't you know that?

JACK IS VERY SURPRISED AND NOT TOO HAPPY.

JACK: No I didn't. (Beat) I mean it doesn't matter if it's Vern or not anyway. It could be Dan the worm moving in as soon as I'm gone or.... or Francoise out of Africa, sans Eve, or maybe even Dave from Wings for all I know. I mean she gives him....

JO: Jack, stop it. It doesn't matter who it is. The main thing is you've got to go find Jennifer and let her know you're back before it's too late.

JACK: It's already too late.

JO: Are you in love with Jennifer?

JACK: What do you mean, am I in.... what kind of a.... (Beat) Well what.... of course.

JO: Look son, you've just got to go and find her. And you've got to fight for her just like she fought to win you. Or you're going to lose her.

[Transcribed by Carol Vaughan
added material by Sally A. Wilson]

---

---