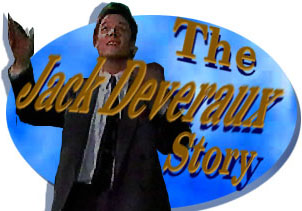 oldEpisode Three-hundred-sixty-one:
Jack and Jennifer Each Visit Jo. Jack
Goes to the Penthouse, Hearing
Her with Hawk, He Is Certain
She Has Someone New in Her Life.
---
[Air date mid-December 1991]
SCENE ONE: IT IS THE NEXT DAY AND HAWK ARRIVES TO SEE JENNIFER AT THE PENTHOUSE.

JENNIFER: Oh I wasn't expecting you.

HAWK: Oh is this a bad time?

JENNIFER: Oh no, no, no. Come on in.

HAWK: Oh, thank you. Oh wait a minute, it looks like you're in the middle of something here.

JENNIFER: Yes, an avalanche of paperwork and I don't know how I'm going to get through it all.

HAWK: Well maybe you could use a little break.

JENNIFER: You mean as in quit now when I finally have momentum going? No.

HAWK: Well, you know, as in take a little break from the grind and get out and have some good old fashioned fun for a few hours.

JENNIFER: Hawk I really can't. I have so much work I need to do.

HAWK: Well I guarantee you as soon as you get back. The only difference is that you'll be in much better shape to deal with it.

JENNIFER: You make it sound very tempting.

HAWK: Well that's because I have an ulterior motive.

JENNIFER: Which is?

HAWK: Which is I just want to show you that you and I can still be friends even after, you know what I mean.

JENNIFER: Yeah, I know what you mean. Well what did you have in mind?

HAWK: Well actually I was going to suggest that maybe we go horse back riding.

JENNIFER: Are you serious Hawk? It's snowing outside. We can't go horse back riding.

HAWK: Winter horse back riding. I do it all the time.

JENNIFER: We'll freeze.

HAWK: I'm sure if the horse can take it, we can.

JENNIFER: Alright, alright, you talked me into it.

HAWK: That's great, that's great. Well all you have to do is go back there and put on some warm clothes and we can head out of here.

JENNIFER: Well it's not as simple as that. I had one other thing that I was planning on doing today, actually.

HAWK: Oh, well what's that?

JENNIFER: Well I was going to go visit Jack's mother.

HAWK DOES NOT LIKE THAT IDEA.

HAWK: Well that's not really a problem because you can just meet me down at the stables there just a little later one and, you know, those ones out there on the edge of town.

JENNIFER: Yeah, yeah, I'll do that and I'll be there as soon as I can.

HAWK: That's great. Okay, I'll be waiting for you.

JENNIFER: Thanks Hawk.

HAWK: Thank you. Oh Jennifer, listen in the meantime, you better get ready to have the time of your life. See you there.

HE LEAVES.
---
JACK HAS GONE TO VISIT JO AGAIN.

JO: Well, did you take my advice to heart?

JACK: What, do you mean about getting my Christmas shopping done early before the rush? I'm afraid it's too late for that.

JO: No, I'm talking about fighting for Jennifer and fighting to keep your marriage together.

JACK: I'm afraid it's too late for that too.

JO: Oh what are you saying? I though we'd already talked this thing through.

JACK: Obviously I wasn't quite convinced.

JO: Well you don't have to be convinced. I mean, there are.... there are no guarantees in life son so sometimes you just have to have a lot of faith. And right now, put your faith in Jennifer.

JACK: Why should I put my faith in a woman who's just run off with another man. Just picked off and.... just moved on, on her own.

JO: She did not move on her own. She loves you.

JACK: No, she just.... she just took up with another man just to pass the time.

JO: (Sigh) Maybe.

JACK: I don't know why we're even talking about this. This is the past. This is.... this is once upon a time.

JO: I think that you are being very foolish.

JACK: It wouldn't be the first time would it? (Beat) Well you're obviously not going to let me out of here until I say something. So tell me, go ahead and tell me, what should I do now?

JO: Exactly what I've always told you to do. You sit down with Jennifer and you talk to her face to face.

JACK: What do you think I was trying to do before?

JO: Well try harder! I mean overhearing a conversation from Jennifer to her grandmother is not exactly communicating. Haven't you learned anything from your past?

JACK: Obviously not.

JO: Jack, just sit down with Jennifer. Be patient, be honest and I know that you're going to work.... well you're going to straighten all this out. I know you will.

JACK: Just give it the old college try?

JO: Well.... couldn't hurt.

JACK: No.... it couldn't hurt my ego, esteem and already destroyed sense of self worth, no.

JO: Try it. (Beat) Try it.

JACK: Yes, I'll try it.

JACK LEAVES.
---
SCENE THREE: A SHORT TIME LATER, JENNIFER ARRIVES TO SEE JO.

JENNIFER: How could he do this to me Jo? After everything that we have been through together, how could he just walk out on me?

JO: I.... I know, I know that it seems like that's what he has done but I know there's a perfectly logical explanation.

JENNIFER: Well no matter how hard I try I can't think of anything except the obvious. Jack wanted out. So he took the easiest way possible. He made a clean break.

JO: NO! (Beat) No, now I know my son and he loves you.... oh, loves you more than anything. And he wouldn't do anything to jeopardize what you two have built together.

JENNIFER: Then where is he Jo? Tell me that.

JO: I wish in my heart I could.

JENNIFER: So do I.

JO: Well one good thing that's happened, I mean you've got a lot of family and good friends standing by you.

JENNIFER: Yeah I do. My family's been really wonderful.

JO: Yes.

JENNIFER: And I do have one friend in particular that I've been spending a lot of time with.

JO IS VERY INTERESTED.

JO: Oh? Anyone I know.

JENNIFER: Ah I don't think so. He's only been here since last summer but he's become a really good friend and he's been really been there for me.

JO: I see.

JENNIFER: Jo, he's a friend and I'm telling you right now, that's all he is.

JO: Heh, well I'm.... I'm glad he's there for you. Oh Jennifer, don't.... don't let anybody talk you out of loving Jack. Because see I know that when he has a little time, if you'll give him a little time, that he's going to come through. He will.

JENNIFER NODS IN HOPE. SHE LEAVES.
---
SCENE FOUR: JENNIFER ARRIVES AT THE STABLE TO GO HORSE RIDING WITH HAWK. SHE HAS A GOOD TIME. THEY HEAD BACK TO THE PENTHOUSE WHERE HE SAYS THAT HE WILL WHIP UP A BATCH OF HIS FAMOUS CHILI.
---
SCENE FIVE: MEANWHILE, JACK HAS COME TO THE PENTHOUSE AND BROKEN IN WITH A CREDIT CARD. HE CREEPS INSIDE AND REMOVES HIS SKI MASK. LOOKING AROUND THEIR HOME MAKES HIM SAD AND LONELY. HE NOTICES THE JADE PLANT WHICH IS THRIVING. HE FEELS THE SOIL.

JACK: I can't believe she's still watering this thing.

HE GLANCES AROUND THEN DECIDES TO SIMPLY WAIT.

JACK: Alright, I'll just wait for you.

HE SITS DOWN ON THE SOFA.

JACK: I'll make myself at home.

HE PUTS HIS FEET UP ON THE COFFEE TABLE, KEEPING HIS EYE ON THE DOOR. THE DAY MOVES INTO EVENING AND HE IS STILL THERE WHEN HE HEARS HER VOICE OUTSIDE THE DOOR. HE JUMPS UP AND TRIES TO LISTEN AS SHE PUTS HER KEY IN THE DOOR.
---
[Air date mid-December 1991]
SCENE ONE: JACK IS POISED IN THE LIVING ROOM WAITING FOR JENNIFER TO OPEN THE DOOR.

OUTSIDE, JENNIFER AND HAWK ARE ABOUT TO COME IN, AS SOON AS JENNIFER'S KEY IS IN THE LOCK, A NEIGHBOR COMES BY ASKING FOR ASSISTANCE WITH HER OWN DOOR WHICH IS STUCK.

JACK HEARS JENNIFER TELL THE NEIGHBOR SHE WILL COME HELP AND ALSO FOR HER COMPANION TO GO IN AND RELAX AND WAIT FOR HER. JACK PANICS.
---
SCENE TWO: HAWK ENTERS THE PENTHOUSE; HE GETS A FEELING THAT SOMEBODY IS THERE.

HAWK: Somebody has been in here.

OUT ON THE BALCONY.

JACK: Damn, I can't see who the hell's in there. Who is that?

INSIDE, HAWK WANDERS AROUND TO SEE IF HE CAN FIND THE INTRUDER. JACK OPENS THE BALCONY DOOR.

JACK (CONT.): Did he leave already?

HE HEARS A NOISE AND GOES BACK OUTSIDE.

JACK (CONT.): Shoot.

HAWK IS STILL WANDERING IN THE DARK.

HAWK: It must have been my imagination, unless....

HE IS ABOUT TO GO OUT ON THE BALCONY WHEN JENNIFER RETURNS.

JENNIFER: Hi, we're in trouble. Mrs. Smith's door won't budge. We need some muscle power. Come on and then we can finally come back and relax and eat.

OUTSIDE.

JACK: Relax?

JACK HEARS THEM GO AND COMES INSIDE.

JACK: Want to relax, huh? Well it looks like you finally have found someone Jennifer. (Beat) So it looks like this is goodbye. (Beat) Goodbye.

SADLY, HE PUTS THE SKI MASK BACK ON AND SNEAKS OUTSIDE AND INTO THE ELEVATOR.
---
SCENE THREE: A SHORT TIME LATER, HAWK AND JENNIFER COME BACK INTO THE PENTHOUSE AND JENNIFER GOES TO THE KITCHEN TO TIDY UP BEFORE HE COMES INTO COOK. SHE TELLS HIM SHE IS STIFF FROM THE HORSE BACK RIDING. WHILE SHE IS GONE HE GOES OUT ONTO THE BALCONY AND SEES FOOTPRINTS IN THE SNOW.

HAWK: Footprints. Dammit, you were here, weren't you Jackie Boy.

JENNIFER COMES BACK AND HAWK GOES INSIDE. HE TELLS HER THAT HE WAS LOOKING AT THE CHRISTMAS LIGHTS. SHE ASKS HIM IF HE HAS PUT UP HIS TREE BUT HE SAID THAT HE HAS NOBODY TO SHARE IT WITH. HAWK THEN MAKES A LAME EXCUSE TO GET OUT OF THERE AND LEAVES.
---
SCENE FOUR: AT BAYVIEW, JO IS JUST GETTING BACK FROM THE SHOWER WHEN SHE FINDS JACK HIDING IN HER ROOM.

JO: Ah.... oh.

JACK: It's me. It's alright, it's just me, okay.

JO: Oooooh, Jack, what are you doing here, scaring the life out of me?

JACK: Just keep voice down alright. I just came to say goodbye.

JO: Oh, what? (Beat) Goodbye, well what about Jennifer?

JACK: Well that's why I'm saying goodbye, because of Jennifer. (Beat) It's all over Jo. It's all over.
---
SCENE FIVE: MEANWHILE JENNIFER GETS AN IDEA AND GOES TO ALICE'S TO SEE IF SHE HAS ANY LEFTOVER DECORATIONS. SHE SEES DESIRÉE, WHO IS SETTING UP TO DO PSYCHIC READINGS THERE ONE NIGHT A WEEK. JENNIFER WANTS A READING ABOUT JACK BUT DESIRÉE REFUSES. SHE IS TOO SCARED TO EVEN MENTION HIS NAME.
---
SCENE SIX: SHE TAKES THE DECORATIONS TO HAWK'S SMALL APARTMENT; WHILE HE IS AWAY SHE PUTS UP A CHRISTMAS TREE FOR HIM.
---
SCENE SEVEN: BACK AT BAYVIEW, JACK IS SITTING ON THE BED AND JO IS PACING.

JO: Okay, now just tell me what happened. I mean did you see Jennifer, did you talk to Jennifer?

JACK: No I didn't talk to her, nor did I see her.

JO: Well why not? I thought that was your purpose for going over to the penthouse.

JACK: She was otherwise engaged, probably otherwise married if she hadn't already been.

JO: What are you talking about?

JACK: I'm talking about the boyfriend! She was there with her boyfriend.

JO: Jennifer doesn't have a boyfriend.

JACK: Well it certainly looked differently to me. I mean they were there getting ready to relax of all things. To relax!

JO: You're jumping to conclusions again Jack.

JACK: They were jumping into bed together! (Beat) Well they were.

JO: That's not what Jennifer says.

JACK: How would you know what Jennifer said? Did you talk to her? When did you talk to her?

JO: Yes I did, I talked to her. She came by this afternoon and we had a very nice conversation.

JACK: Why?

JO: Well I am her mother-in-law and she happens to love you very much.

JACK: Well did she say that?

JO: No, but it was very obvious.

JACK: Then what is she doing with the man in the Penthouse?

JO: They are just friends son.

JACK: I've heard that before.

JO: Then why don't you get up some gumption and go ask her straight out and then maybe you'll believe her.

JACK: Is this where you also try to convince me there's a Santa Claus?

JO: Oh Jack.

JACK: I'm telling you, it's better this way. Just put an end to the whole thing. Put an end to the pain and the heartache for all parties involved.

JO: Do you really think Jennifer would be happy without you?

JACK: I believe she already is.

JO: Did you hear what you just said? Now you know you don't believe that. If you walk away from Jennifer, you're going to be missing a lot of things in life.

JACK: You want to be a politician? Is that what you want? Please don't.

HE WALKS TO THE DOOR.

JACK: Look, you can take it from me. You can't fool all the people all of the time.

HE LEAVES.
---
SCENE EIGHT: BACK IN SALEM, HAWK COMES HOME TO FIND THE CHRISTMAS TREE THAT JENNIFER DECORATED FOR HIM. HE READS MORE INTO IT THAN IS THE CASE.
---
SCENE NINE: BACK AT THE PENTHOUSE, JENNIFER IS MAKING AN ENTRY IN HER DIARY.

I wonder what Hawk's going to think when he sees what I did to his apartment? In fact I wonder if he'll know I'm the one who did it.

JENNIFER: Sure he will. Hawk will appreciate it because he appreciates me. He shows me that all the time, unlike Jack.

JENNIFER: And Hawk's here. (Beat) Jack's not.
---
SCENE TEN: OUTSIDE IN TOWN, JACK IS THINKING ABOUT JENNIFER. THE SNOW IS LIGHTLY FALLING AND HE SITS DOWN AND THINKS BACK OVER THE POEM SHE READ TO HIM AT THE WEDDING.

Now we will feel no rain.
For each of us will be shelter to each other.
And now we will feel no cold,
For each of us will be warmth to each other.
Now there is no loneliness.
We are two bodies but there is one life before us.
And one home.
When evening falls,
I'll look to you and there you'll be.
And I'll take your hand and you'll take mine,
And we'll turn together and we'll look to the road we traveled to reach this,
The hour of our happiness. It stretches far behind us,
And our future lies ahead.
A long and winding road,
Where every turning means discovery,
Old hopes, new laughter, shared tears.
The adventure has just begun.

JACK: Just begun.

JACK SLOWLY STANDS UP.

JACK: Oh yeah, we've only just begun Jennifer. (Beat) You'll see. It's time to get busy.
---
---