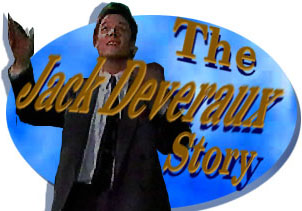 oldEpisode Three-hundred-sixty-two:
Saturday
Night Fever
: Jack Buys a Powder
Blue Polyester Suit; He Is Determined
to Get in Touch with Jennifer.
---
[Air date mid-December 1991]
SCENE ONE: IT IS THE NEXT MORNING, DESIRŁE COMES TO SEE HAWK AT HIS APARTMENT.

HAWK: Well did you do what I told you?

DESIRŁE: Well can I come in first? Man, whatever happened to good morning Dessy, how about some coffee Dessy?

HAWK: Hi Dessy, well you're in the apartment now, so did you do it or not?

DESIRŁE: Well get a grip boy, man. Your nerves are completely ragged here.

HAWK: Listen, listen, you put your ad in the paper right?

DESIRŁE: Yeah.

HAWK: I want to know word for word.

DESIRŁE: I said just what you told me to say. (Beat) You have been waiting for weeks for an answer. All is forgiven. Come home, your loving wife. (Beat) You're sure you didn't want me to sign Jennifer's name to it?

HAWK: Dessy, of course not. What if Jennifer saw the ad in the paper?

DESIRŁE: Please, she would probably think it was from some other Jennifer from the way she feels about her hubby these days.

HAWK: Alright the ads meant for Jack. It's not going to mean anything to anybody else, okay. Because when he sees the ad in the paper he's going to think for sure it came from Jennifer.

DESIRŁE: Huh, uh. Yeah but I thought that you wanted to keep the two of them apart.

HAWK: The best way to do that is to know exactly where Jack is all the time, right?

DESIRÉE: Huh, uh. Well I guess you know what you're doing.

HAWK: Of course I do. I just got to take care of old Jack before I can move into the next faze of my plan.... Jennifer.
---
SCENE TWO: OUTSIDE IN SALEM, JENNIFER AND MAGGIE ARE CHRISTMAS SHOPPING. THEY ARE DISCUSSING WHO WILL BE THERE FOR CHRISTMAS.

JENNIFER: I just wish that....

MAGGIE: Jennifer, I know you're still hoping that Jack's going to show up for Christmas.

JENNIFER: Yeah. I don't, one minute I think if I ever see him again I will ring his neck.... and the next minute I think this would have been our first Christmas together as husband and wife and I was really looking forward to that.

MAGGIE: I know, I know Sweetie but it's still a week until Christmas and who knows? He may show up.

JENNIFER: Yeah, who knows?

MAGGIE: Yeah, come on, cheer up. We've got lots more shopping to do.
---
SCENE THREE: JUST AS THEY WALK OFF, JACK APPEARS, WALKING FAST WITH HIS HEAD DOWN AND HIS SKI MASK PULLED OVER HIS FACE. HE GOES OVER TO THE CHARITY THRIFT SHOP AND IS ABOUT TO GO IN WHEN HE SEES THE CLOSED SIGN ON THE DOOR.

JACK: (Reading the sign, frustrated) "Closed!"

HE BANGS ON THE DOOR.

JACK: Hey, you can't be closed. It's Christmas time. HEY, THERE'S MONEY TO BE MADE.

HE WALKS OVER TO THE WINDOW AND PEERS INSIDE.

JACK: HELLO! HELLOOOOOO! HELLOOOOOO!(Beat)

HE GOES BACK TO THE DOOR.

JACK: Come on, open up, it's Christmas time. I can't believe this.

THE DOOR OPENS.

JACK: It's about time.

MAN: Can I help you?

THE GUY SEES JACK'S MASK AND TRIES TO SHUT THE DOOR AGAIN.

JACK: No, no, no. Wait, wait, wait, wait, wait.

MAN: You wouldn't want to rob us. We sell only hand-me-downs. We don't make any money.

JACK: No, no, I don't want to rob anybody. I want to buy something.

MAN: Are you sure? Just go away will you?

JACK HOLDS UP SOME MONEY.

MAN: Look there's a cop who walks this beat. He's due by any minute.

JACK PULLS OF THE MASK.

JACK: I'm telling you I am not armed. I don't want to rob anybody, okay. I just want to buy a suit.

MAN: What do you need a suit for?

JACK: To make me feel like myself again. (Beat) Look the point is I have been down on my luck lately and I got a.... I got a job interview coming up and.... ah.... well just.... getting back in a suit would make all the difference.

MAN: Yeah well I guess a lot of people are down on their luck these days.

JACK: Yeah.

MAN: We don't have many suits though.

JACK: Well I'll.... I'll take whatever I can get.

MAN: Okay, I'll see what we got.

JACK COMES INSIDE.

JACK: Alright, and I tell you, if you give me a little deal on it, a little discount, Santa will be good to you too.

AS JACK GOES INSIDE AND SHUTS THE DOOR, JENNIFER AND MAGGIE WALK UP TO THE STORE. JENNIFER LOOKS THROUGH THE WINDOW BUT DOES NOT RECOGNIZE THE BACK OF JACK. SHE ASKS MAGGIE IF SHE THINKS THEY HAVE ANY RIDING CLOTHES IN THERE BECAUSE SHE WANTS A VINTAGE ONE FOR HAWK. MAGGIE DOES NOT THINK THEY WOULD HAVE ANYTHING THAT FANCY IN THERE. JENNIFER TELLS MAGGIE SHE HAS TO GO MEET HAWK AT THE PENTHOUSE NOW. INSIDE THE STORE, JACK IS LOOKING AT THE RANGE OF VERY UGLY TIES.

JACK: Oh no, no, no, no. The other side. There's got to be something better than that! (Beat) Oh this side's even worse. Please, turn it around again, please. Argh!

JACK GOES TO THE WINDOW TO LOOK AT A BAD SUIT BUT JENNIFER HAS HER BACK TO HIM.
---
SCENE FOUR: MEANWHILE, HAWK AND DESIRŁE ARE IN TOWN ALSO. DESIRŁE IS DRESSED AS A SALVATION ARMY OFFICER AND HAWK TELLS THE GUY COLLECTING FOR THEM THAT SHE IS HERE TO RELIEVE HIM. HAWK WANTS HER TO BE THERE TO CHECK IF JACK IS HANGING AROUND TOWN.
---
SCENE FIVE: BY NOW JACK HAS FOUND THE SUIT HE WANTS AND HAS GONE TO WINGS TO CHANGE. IT IS TOO EARLY FOR PATRONS SO HE'S ABLE TO SNEAK IN THE MAIN DOOR AND OVER TO THE MEN'S ROOM. THE DOOR IS STUCK SO HE HIDES IN THE WOMEN'S ROOM. JULIE AND MOLLY COME IN TALKING AND MOLLY GOES TO USE THE BATHROOM.

MOLLY: This door's stuck.

JULIE: It is? Let me try.

JACK IS INSIDE HOLDING IT SHUT SO JULIE CAN'T OPEN IT EITHER. WHILE THEY ARE OUTSIDE THE DOOR, THEY CONTINUE THEIR CONVERSATION ABOUT DATING AND MEN AND JACK IS ALL EARS.

JULIE: Darling, dating connotes that there is going to be commitment and I don't want to be committed to any man. (Beat) You know I could have sworn Dave unlocked these doors earlier. I've got talk to him about getting the key.

MOLLY: Julie, why don't you want to be committed to a man?

JULIE: Because I had a very great love in my life once, Molly. And I doubt that I'll ever have another one.

MOLLY: What happened to your great love?

JULIE: Oh darling, it's ancient history now. It's a long story and it happened a long time ago.

MOLLY: Well I would still like to hear it.

JULIE: It ended! (Beat) What's over is over.

MOLLY: Even when it's a great love like that?

JULIE: Yes, my darling, even when it's a great love. (Beat) Finished is finished.

INSIDE JACK IS THINKING DEEPLY ABOUT THIS.

MOLLY: I wish you wouldn't say that. I mean there's always hope isn't there? You should never give up on love.

JULIE: Oh Molly, this is very difficult for me to talk about, even with you. (Beat) I've got to find Dave and get this door fixed.

JULIE WALKS AWAY.

INSIDE JACK IS VERY CONTEMPLATIVE.
---
SCENE SIX: AT THE PENTHOUSE, JENNIFER IS SPRAYING THE JADE PLANT WHEN THE DOORBELL RINGS.

JENNIFER: Hi, come on in.

HAWK: Jennifer are you okay?

JENNIFER: Yeah, I'm alright.

HAWK DOES NOT LIKE THE IDEA OF JENNIFER CARING FOR THE PLANT, BECAUSE IT MEANS SHE STILL CARES FOR JACK, ESPECIALLY NOW WITH JACK BACK IN TOWN.

HAWK: You were thinking about Jack, now weren't you?

JENNIFER: Well I still can't believe that he just walked out on me, just like that.

HAWK: Yeah I know.

JENNIFER: And it still hurts too, you know. No matter how much I try to deny it.

HAWK: Well don't you worry about it, because Jack's never going to hurt you again.

JENNIFER: Ah what do you mean by that?

HAWK: Ah nothing, I just keep reminding you of what you've been saying, you know, about wanting to get on with your life.

JENNIFER: Oh, right.

HAWK: You know, Jennifer that I think that maybe if you could just get Jack out of your mind, then he wouldn't be able to come back and hurt you, right.

JENNIFER: Right, yeah.

HAWK: I mean don't you think maybe the best thing you can do is just try to get on with your life. I mean I think you deserve somebody who...who will give the way that you do and someone who really cares the way that you care.

JENNIFER: Thank you Hawk.

HAWK: No, what I want to do is thank you. That's why I'm here. For putting all that hard work into those Christmas decorations in my apartment.

JENNIFER: Well how did you know that I was the one who did it?

HAWK: Because there is nobody else in this town who would think of doing something like that.

AS USUAL, JENNIFER FALLS FOR HIS OBVIOUSLY PHONY LINES.

JENNIFER: Good, I'm glad. I hope you liked it.

HAWK: I think it looks just wonderful. Nobody's ever done anything like that for me before.

JENNIFER: Really?

HAWK: No, no. My family, we really weren't too big on togetherness and my memories of Christmas aren't really that good.

JENNIFER: Oh well I'm sorry to hear that. I guess I'm kind of surprised, I mean knowing your grandfather.

HAWK: Yeah well you saw the way he thought of me in his will. That kind of gives you an idea of how much togetherness my family had.

JENNIFER: That's so strange to me. I mean my family's just the opposite. My grandpa and grandma's house is so full of love and warmth. It's got to be the best place to be at Christmas.

HAWK: Yeah I bet it is. But you know, Jennifer this place here, it's got to be.... it's big and lonesome, isn't it?

JENNIFER: Um, yeah I guess so. Maybe right now.

HAWK: Yeah, you know, maybe you ought to consider going to your grandparent's house for the holidays.

JENNIFER: Well I haven't really thought about that.

HAWK: Well it beats rattling round in this place here you know, thinking about Jack and wishing he were here.

ENNIFER: It does sound sort of pitiful doesn't it?

HAWK: Well you know what, it doesn't have to be that way.

JENNIFER: You're right. There's absolutely no reason why I should spend Christmas here all alone moping around. I mean I should be with the people who love me and away from all of these reminders.

HAWK: You know what Jennifer, you're absolutely right and if you're worried about this place, heck I've still got my key. I could come back here and I can water your plants and collect your mail and just come by and check everything every day.

JENNIFER: Well Hawk that's really sweet of you.

HAWK: Well you know, heh, it's the least I can do for somebody who's decorated my apartment and gone to all this trouble for my Christmas.

JENNIFER: Well it's nice to be appreciated.

HAWK: Well I'm not doing anything any different than any other friend would do.

JENNIFER: Well you know what, I'm going to call my grandmother. In fact I'm going to go see her right now and I'm going to see if I can bunk with them for a little while. I'll be right back. I'm just going to grab my coat.

HAWK: Okay. I'm sure that she won't mind.

HAWK IS VERY HAPPY ABOUT THIS, BECAUSE NOW HE HAS GOT THE PLACE TO HIMSELF AND HE CAN WAIT FOR JACK TO TURN UP; THEN HE CAN GET HIM OUT OF JENNIFER'S LIFE, THIS TIME PERMANENTLY.
---
SCENE SEVEN: MEANWHILE AT WINGS, JULIE CALLS TANNER TO SEE IF HE CAN OPEN THE DOOR. HE JUST TURNS THE KNOB AND IT OPENS.
---
SCENE EIGHT: JACK MEANWHILE, HAS GOTTEN OUT OF THE BATHROOM, AND IS SNEAKING OUT OF WINGS. HE STOPS IN FRONT OF A MIRROR TO CHECK HIMSELF OUT. HE IS WEARING A SKY BLUE POLYESTER LEISURE SUIT OVER A DARK BLUE FLORAL SHIRT. THE PANTS ARE FLARED, TIGHT AND TOO SHORT. THE OUTFIT LOOKS GHASTLY.

JACK: Oooooh, talk about Night Fever. I thought the 70s were dead and buried.

HE PULLS THE SKI MASK DOWN OVER HIS FACE AND LEAVES.
[Transcribed by Carol Vaughan
added material by Sally A. Wilson]
---
---