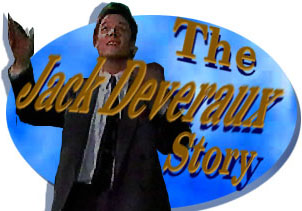 oldEpisode Three-hundred-sixty-three:
The
Christmas Bandit: Jack Delievers Himself
to the Penthouse; Meanwhile, Hawk Waits
There, Knowing Jack Will Show up; He Is
Determined to Get Rid of Jack
Permanently
.
---
[Air date late December 1991]
SCENE ONE: OWN AT ALICE'S RESTAURANT, JENNIFER HAS ARRIVED TO TALK TO ALICE. HAWK HAS COME WITH HER AND ALICE IS NOT HAPPY ABOUT THAT.

JENNIFER: Hi grandma.

ALICE: Jennifer! Hello darling. So, how are you?

JENNIFER: I'm okay, I'm okay.

HAWK: And how are you Mrs. Horton?

ALICE IS VERY WARY OF HAWK. SHE HAS NEVER TRUSTED HIM.

ALICE: Ah.... I'm fine thank you. (To Jennifer) Would you like some lunch, I'll get you a menu.

JENNIFER: Oh no grandma, I came by because I wanted to ask you a favor.

ALICE: Of course, what is it?

JENNIFER: I was wondering if maybe I could stay with you and grandpa for a while, just to get through the holidays.

ALICE: Of course, you don't have to ask. You know we're delighted to have you.

JENNIFER: Thank you. It's just that I feel a little lost and I feel a little lonely being in the apartment by myself right now.

ALICE: I understand perfectly.

HAWK: Well I sure am glad that Jennifer asked if she could stay with you Mrs. Horton because I think it would be really lonely staying in that big old place by herself.

ALICE: Yeah. I quite agree.

JENNIFER: And Hawk said he would keep an eye on things, he would check the mail and water the plants. You know all that stuff.

ALICE IS SURE HE HAS AN ULTERIOR MOTIVE AND WATCHES HIM CAREFULLY.

HAWK: I'm happy to do it.

JENNIFER: So if you don't mind, I would love to go home and pack my things and come to your house right now.

ALICE: Of course. Just go on over there. You know where everything is.

JENNIFER: Yeah I do. Thank you. Thank you so much grandma. I'll see you later okay.

JENNIFER GIVES ALICE A BIG HUG.
---
SCENE TWO: OUT ON THE STREET, DESIRŁE IS RINGING HER BELL AND CALLING FOR DONATIONS WHEN JACK COMES BY. HE STOPS AT A PUBLIC PHONE AND AFTER CHECKING FOR ANY REJECT COINS, HE PUTS IN HIS LAST QUARTER AND CALLS JENNIFER.

SHE IS BACK AT THE PENTHOUSE PACKING HER BAG.

JENNIFER: Hello? (Beat) Hello.... hello.

JACK STILL CANNOT SPEAK AND HE HANGS UP.

JENNIFER IS A BIT SPOOKED AND ANGRY AT THE SAME TIME. SHE GETS A CALL FROM CARLY WHO ASKS HER TO THE BRADY'S THAT NIGHT.
---
SCENE THREE: MEANWHILE JACK IS DECIDING WHAT TO DO NOW.

JACK: Alright, alright, what's the worst thing that can happen? I could walk in on them, they'll be together and I'll just.... no, no, that would make it worse, no. (Beat) No, Jo is right. We got married for better or worse so if I'm going to let her have it and she's going to let me have it, it's best if we do it face to face. So for better or worse, now is the moment!

HE STARTS TO LEAVE WHEN TWO KIDS WALK BY AND ONE DROPS A TOY GUN OUT OF A BAG. JACK SEES IT AND PICKS IT UP.

JACK: HEY! Hey kid, kid, you dropped it. KID!

PEOPLE IN THE STREET SEE HIM WEARING THE SKI MASK AND HOLDING THE GUN AND THEY START SCREAMING.

JACK: Hey, hold it, hold it. No.

HE REALIZES WHAT IS HAPPENING AND TRIES TO RUN AWAY. HIS MASK MAKES IT HARD TO SEE WHERE HE IS GOING AND HE STUMBLES OVER DESIRŁE AND HER COLLECTION KETTLE.

JACK: Oh no, where am I going?

HE PULLS THE MASK BACK AND DESIRŁE RECOGNIZES HIM.

JACK: No, no, no.

BRIAN IS IN PURSUIT NOW AS JACK HOT FOOTS IT AWAY. HE RUNS DOWN TO THE PIER AND HIDES BEHIND THE FISH NET.
---
SCENE FOUR: JENNIFER HEARS ALL THE COMMOTION AND RUNS DOWN TOO.

JENNIFER: Brian, wait a minute, tell me right now, what's going on, what's going on?

BRIAN: No, you're not supposed to be here. This is a very dangerous situation okay. There is this guy, he's a masked bandit. He's armed, he's very very dangerous.

JENNIFER: Alright, this sounds like a good story. Tell me some more.

BRIAN: No this is not a good story. This is not a good time for you to be here, okay. So I think you should just go. He's attacking Christmas shoppers, okay.

JENNIFER: The Christmas Bandit, is that what you said?

BRIAN: The Christmas Bandit, that sounds very catchy. The Christmas Bandit. Listen I have to get to work. It's very dangerous for you to be here so why don't you just remove your gorgeous self and so I can get to work. Okay.

JENNIFER: Alright, I'll go but if anything comes up I'll be at the Brady's. Contact me there okay. You promise. BRIAN: Ah, yes, be careful.

SHE LEAVES.

JACK COMES OUT OF HIDING. OUT ON THE STREET.
---
SCENE FIVE: HAWK HAS JUST ARRIVED TO SEE DESIRŁE AND SHE TELLS HIM THAT JACK IS IN TOWN AND RUNNING FROM THE COPS.

DESIRŁE: What, the man was packing a pistol.

HAWK: Jack!

DESIRŁE: You doubt the word of a woman doing the Lord's work. I'm telling you, he was waving this gun in the air, he was running from the cops, man, he had on some blue polyester high water pants and a ski mask over his head.

HAWK: Well how did you even know it was Jack then?

DESIRŁE: Well he almost knocked me down and then ski mask came up off his head and that's when I recognized those beady eyes of his.

HAWK: Yeah, well I'll be. That boy really is on the run from the law isn't he?

DESIRŁE: Hawk this thing is getting way out of control.

HAWK: No, no, Dessy, you got it wrong. I got a lock on this situation here. Now all I got to do is get to Deveraux before the cops do and before he can get to Jennifer.

DESIRŁE: How are you going to do that?

HAWK: Don't worry about it. You just keep an eye on these streets here for me, okay. Keep the heat off Deveraux' tail. If you need me, I'll be back at the penthouse. Knowin' old Jack that's probably where he's headed right now.

DESIRŁE: Yeah.
---
SCENE SIX: MEANWHILE JACK HAS RUN INTO A WAREHOUSE TO HIDE. HE IS STILL HOLDING THE GUN.

JACK: Okay. What the hell. (Beat) This is so stupid. I was just trying to return the stupid gun to the stupid kid. Somebody should have made me a Good Samaritan.

HE THROWS THE GUN AWAY.

JACK: I just got to try to find a way to get back to Jennifer, alright.

HE HEARS SOME MEN COMING AND HIDES BETWEEN SOME BIG WOODEN CRATES.

JACK: Oooooh.

THEY ARE DELIVERY MEN AND THEY DECIDE THAT THE CRATE IS TOO LARGE FOR THEM TO LIFT SO THEY GO GET THE DELIVERY TRUCK AND HAVE A COFFEE BREAK AT THE SAME TIME. WHEN THEY LEAVE, JACK READS THE ADDRESS ON THE CRATE.

JACK: Well I'll be! Wait a minute, this monster's going to my building. Apartment No 17. Yeah that could be very easily remedied into Penthouse 6. Yeah! I'll get delivered right to the door.

HE USES A MARKER PEN TO CHANGE THE ADDRESS TO THE PENTHOUSE.

JACK: Heheheheh.

HE THROWS OUT THE CONTENTS OF THE CRATE AND CRAWLS INSIDE.

JACK: What's the problem with a little bit of.... claustrophobia!

HE SLOWLY PULLS THE LID SHUT.
---
SCENE SEVEN: MEANWHILE, HAWK HAS GONE BACK TO THE PENTHOUSE TO WAIT FOR JACK. HE HEARS A DOOR SHUT AND HIDES BUT OUT OF THE BEDROOM WALKS HOWARD.

HOWARD: Might as well come out Hawk, I know you're in here.

HAWK: What the hell are you doing here old timer?

HOWARD: I might ask you the same question if I didn't already know the answer.

HAWK: Well how did you even get in here?

HOWARD: When has a door ever stopped me from getting into any place I wanted to get into. How could you do this after everything I've taught you?

HAWK: Well I don't know what you're talking about.

HOWARD: Don't try to con me. You've thrown away the biggest con of our life and on what? Some little blonde.

HAWK: Oh shoot that's not it at all.

HOWARD: Then would you mind telling me what this is all about?

HAWK: What's that?

HOWARD: It's the ad you put in the paper. The one supposedly from Jennifer to lure Jack back. I taught you that trick myself. I taught you everything or I thought I did. Apparently the lessons didn't stick.

HAWK: Well you also told me to keep my eye out for a good opportunity and that's exactly what I'm doing here.

HOWARD: The game's over Hawk.

HAWK: No it's not pops. This is just the beginning. See once we get our hands on all that money from Jennifer's newspaper we're going to be set for life.

HOWARD: You're talking blue sky. We got our money from Jack and Jennifer. It's time to cut and run.

HAWK: Oh why don't you just give my idea a chance?

HOWARD: I'm afraid I can't do that.

HAWK: Why not?

HOWARD: No, I have already been too lenient with you. Because you're my grandson I broke my own golden rule. I let myself become too involved because of that. But that's over now.

HAWK: What are you talking about?

HOWARD: You either give this thing up or I'm cutting all ties with you.

HAWK: You can't do that.

HOWARD: Oh would you like to see me.

HAWK: Oh Gramps just wait.

HOWARD: DON'T CALL ME THAT! (Beat) I'm not your grandfather anymore. I don't mean anything to you or vice versa.

HAWK: Alright, are you just going to walk out on this, you're going to walk right out when you can have it all, right? When you can just guarantee your future.

HOWARD: Oh your concern is touching. But don't worry about me. I've got the rest of Jack's stocks to cash in.

HAWK: And how are you going to do that? You're going to have these boys from the FBI on your tail in a second.

HOWARD: I have my ways.

HAWK: You've lost your mind.

HOWARD: No but you seem to have lost yours.

HAWK: No, look you're not going to walk out on me like this cause I'm not going to let you. Half that money is mine and you know it.

HOWARD: Well just try and stop me.

HOWARD PULLS OUT A GUN.

HAWK: What do you plan on doing with that?

HOWARD: Let me leave you with final bit of grandfatherly advice. I'm taking that money and I'm not letting you or Jennifer or Jack Deveraux keep it from me. And if anyone of you tries, if anyone gets in my way, well I'll.... I'll just have to eliminate you.
---
SCENE EIGHT: IN THE WAREHOUSE, JACK IS STILL WAITING IN THE CRATE. HE OPENS THE LID FOR SOME AIR.


JACK: Oh what's going on? How long is this coffee break going to be?

HE HEARS THEM COMING AND PULLS THE LID SHUT AGAIN. THE DELIVERY MEN GET A TROLLEY TO WHEEL IT OUT TO THE TRUCK BUT FIRST THEY PUT A NAIL IN THE LID TO KEEP IT SHUT. JACK IS FRIGHTENED AND GETS TIPPED ABOUT AS THEY WHEEL IT OUT.
---
SCENE NINE: HOWARD AND HAWK ARE STILL AT THE PENTHOUSE WHEN THEY HEAR A KEY IN THE LOCK. HOWARD RUNS TO HIDE. IT IS JENNIFER AND SHE TURNS ON THE LIGHTS.

JENNIFER: Oh Hawk, what are you doing here?

HAWK: I just came to check on your things for you. I thought you'd left by now.

JENNIFER: Ah, no, I couldn't. Carly came home and I really wanted to see her and then I've been trying to get a scoop on this story. It seems there's a Christmas Bandit on the loose in Salem.

HAWK: Oh did they find him yet?

JENNIFER: No, not yet.

HAWK: Well then I think in that case you should head on over to your grandmother's house because you don't want to be staying here alone with some dangerous criminal out on the prowl.

HE PICKS UP HER SUITCASE.

JENNIFER: No, you know what, it's okay. I talked to Brian Scofield and someone spotted the guy getting on a bus leaving town so I'm going to go to my grandpa and grandma's tomorrow I think.

HAWK: Well I don't think that's a very good idea.

JENNIFER: Oh Hawk there's no reason to worry really. I'll be okay and besides I am tired and I want to lie down so if you wouldn't mind seeing yourself out I would really appreciate it.

HAWK: Wait, wait, don't go in there.

JENNIFER: Why not?

HAWK: Well because you won't to go to sleep too early because that way you'll wake up in the middle of the night and that's going to make things worse, so why don't you let me take you out somewhere.
---
SCENE TEN: OUTSIDE, THE DELIVERY MEN HAVE JUST ARRIVED WITH THE CRATE.

JENNIFER: Hawk I really don't want to go out. I mean right now all I want to do is go to bed so maybe we can do it another time.

THERE IS A BIG CRASH OUTSIDE THE FRONT DOOR.

JENNIFER: What's going on out there?

OUTSIDE THE CRATE CRASHES TO THE FLOOR AND THE LID FLIES OPEN REVEALING JACK.

INSIDE JENNIFER HEARS THE CRASH.

JENNIFER: I'm going to find out what's happening. Excuse me Hawk.

JACK CLIMBS OUT AND THE MEN STARE AT HIM.

JACK: Ah, this isn't exactly what you think.

MAN: I'm calling the cops.

JACK: No, no, let me.

JACK STARTLES THEM WITH THAT COMMENT AND RUNS OFF WITH THEM IN CHASE.

JENNIFER COMES OUT AND FINDS THE EMPTY CRATE.

WHILE THEY ARE OUT LOOKING AT IT, HOWARD SNEAKS OUT.

JENNIFER GOES BACK INSIDE AND LEAVES HAWK TO LEAVE ON HIS OWN.
[Transcribed by Carol Vaughan
added material by Sally A. Wilson]
---
---