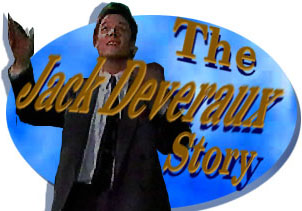 oldEpisode Three-hundred-sixty-four:
Jack
Disguises Himself as Santa, He Tries to
Hide from the Police, and to Reach Jennifer
for Christmas; Hawk Tries to Stop Him.
---
[Air date December 24, 1991]
SCENE ONE: JENNIFER IS OUT SHOPPING WITH ALICE. WHILE THEY ARE OUT THEY HEAR AN ANNOUNCEMENT THAT THE CHRISTMAS BANDIT IS STILL IN SALEM DESPITE REPORTS THAT HE LEFT TOWN. HE IS WEARING A SKI MASK AND IS ARMED AND DANGEROUS.

JACK IS OUT TOO AND HEARS THE ANNOUNCEMENT.

JACK: Tonight Jennifer, somehow, I don't know how, but tonight we will be seeing each other.

ALICE IS OUTRAGED BY NEWS OF THE BANDIT AND WHILE THEY ARE TALKING ABOUT IT, HAWK WALKS UP. ALICE IS NOT TOO HAPPY AND REFUSES HIS OFFER TO ACCOMPANY THEM FOR PROTECTION.

ALICE: Well speaking of crowds, I think we better go or there won't be anything left in the stores for us to buy.

JENNIFER: Oooh you're right. Hawk maybe we'll see you later, bye bye.

HAWK: Yeah maybe.

ALICE AND JENNIFER WALK OFF.

HAWK: But not if I can help it.
---
SCENE TWO: MEANWHILE JACK SEES A SANTA RINGING A BELL AND TRYING TO GET DONATIONS AND HE GETS AN IDEA. HE PULLS BACK THE SKI MASK AND PUTS ON A PAIR OF BLACK THICK RIMMED GLASSES AND APPROACHES SANTA.

JACK: Hey there, you. Bob Humbug, Quality Control.

HE FLASHES SOME FORM OF FAKE ID SO FAST THAT NOBODY COULD READ IT.

SANTA: What?

JACK: Bob Humbug, Quality Control. We're checking all our Santas to make sure everybody is up to snuff. And you my good man get a "Q rating of an A."

SANTA: An A?

JACK: Yes, A for awful. Look at you, look at....

JACK STARTS BRUSHING OFF THE SANTA.

JACK: Mrs. Claus let you go out like that. I mean you're not supposed to have soot all over you until you come down the chimney.

SANTA: Well what do you want me to do?

JACK: I tell you what I want you to do. I want you to go back to the office right now and change and don't let anybody see you looking like that.

SANTA: Well how am I supposed to pull that off.

JACK: I'll tell you. Let me pull this off.

JACK TAKES OFF THE BAD TASTE PALE CREAM COAT HE'S WEARING OVER THE LEISURE SUIT.

JACK: Here, let's switch. You give me that, I'll give you this.
---
SCENE THREE: JENNIFER HAS ALICE ON THE RUN TO FINISH HER SHOPPING.
---
SCENE FOUR: MEANWHILE HAWK IS WANDERING AROUND TOWN LOOKING FOR JACK SO THAT HE CAN MAKE SURE THAT HE AND JENNIFER NEVER MEET. HE IS WORRIED THAT JACK MIGHT SEE HIM AND HE DECIDES HE NEEDS A GOOD DISGUISE.
---
SCENE FIVE: JACK HAS NOW GOT THE FULL SANTA SUIT ON OVER THE LEISURE SUIT.

JACK: Alright, damn soot. Well, easily done.

HE IS ABOUT TO WALK AWAY WHEN THE REAL GUY IN CHARGE OF THE SANTA'S ARRIVES.

MAN: Where are you off to fella?

JACK: Well who the hell are you for asking?

MAN: I'm the guy that hired you.

JACK: Oh.... oh, well actually I was going to go over there and have a little pizza break.

MAN: Wrong! You can take this corner.

JACK: Wait a minute, I.... I....

MAN: Okay, don't leave your post until I tell you.

JACK: I.... I.... wait a minute.

HE STARTS SLOWLY RINGING THE BELL.


JACK: HO.... HO.... last but not least.... ho.

PEOPLE START GIVING HIM DONATIONS.

JACK: Thank you, bless you. Thank you, thank you. Thank you, I'll be able to get my dinger fixed.

THE BELL IS SOUNDING VERY FLAT.

BY NOW JENNIFER AND ALICE ARE LOADED DOWN WITH PRESENTS AND JACK SEES THEM STRUGGLING AND DECIDES IT IS TIME TO SPEAK TO JENNIFER.

JACK: HELLO, hey little girl over there! Hey, hey, you want to come sit on Santa's.... ah, knee.

THEY ARE TOO BUSY WITH THEIR PARCELS TO HEAR HIM.

JACK: Hello!

HE STARTS TO WALK TOWARDS THEM WHEN A FRIENDLY POLICEMAN SEES THEM AND OFFERS TO HELP CARRY ALL THE PARCELS. JACK MAKES A HASTY RETREAT BACK TO HIS CORNER. JACK WATCHES JENNIFER AND IS VERY SAD. JACK CANNOT STAND IT ANYMORE SO HE GRABS SOME CHANGE OUT OF THE CONTRIBUTION BUCKET AND LEAVES IT ON THE GROUND AND RUNS AFTER JENNIFER.

JACK: Ah, bah humbug.
---
SCENE SIX: MEANWHILE HAWK HAS GOT HIS DISGUISE. HE IS ALSO DRESSED AS SANTA. THE GUY IN CHARGE SEES HIM AND THINKS IT IS JACK. HE TELLS HAWK TO GO BACK TO HIS CORNER AND STAY THERE.

NOW BOTH HAWK AND JACK ARE WALKING AROUND RINGING THEIR BELLS WHEN THEY COME FACE TO FACE. THEY BOTH BEGIN A POWER BELL RINGING CONTEST UNTIL A KID ASKS WHY THERE ARE TWO SANTAS. THE KIDS DECIDES ONE IS FAKE AND PULLS DOWN JACK'S BEARD.

JACK: (This seems to be a reference to W. B. Fields) Hey kid, get out of here. You bother me, you bother me, go on.

HE PUTS HIS HAND IN JACK'S POCKET AND PULLS OUT THE SKI MASK.

JACK: Hey, hey give me that back.

HEY, GIVE ME THAT, HEY. HIS MOTHER SEES THE MASK GASPS BRINGING ATTENTION TO JACK. SHE SCREAMS THAT HE MUST BE THE CHRISTMAS BANDIT AND JACK HAS TO MAKE A QUICK GETAWAY.

HAWK HAS RECOGNIZED JACK TOO AND CHASES AFTER HIM.

JACK: Hey, hey, it's the Christmas Bandit, run.... run!

HE CONTINUES TO RUN AWAY.

JACK: Hey, Santa crossing, coming through, Santa crossing.

HAWK IS RIGHT BEHIND HIM.

JACK: Hey, there's only room in this town for one Claus.
---
SCENE SEVEN: AFTER ALL THE SHOPPING JENNIFER ASKS ALICE IF HAWK CAN COME OVER FOR CHRISTMAS TOO. ALICE IS VERY RELUCTANT BUT SAYS THAT IF IT MAKES JENNIFER HAPPY THEN IT IS OKAY.
---
SCENE EIGHT: MEANWHILE HAWK HAS FOLLOWED SANTA INTO AN ALLEY WHERE HE TACKLES HIM.

HAWK: Got you Jackie Boy!

HE PULLS THE SANTA TO HIS FEET AND FINDS IT IS NOT JACK AT ALL. JACK HAS GOT AWAY.
---
SCENE NINE: JACK MEANWHILE IS HIDING AND LOOKING AT THOSE STRIP OF PICTURES OF HE AND JENNIFER.

JACK: Not to worry Jennifer. We'll be seeing each other this Christmas.

[Transcribed by Carol Vaughan

added material by Sally A. Wilson]

---

---