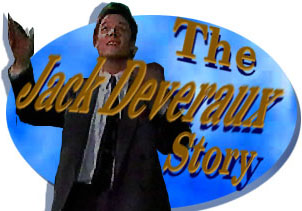 oldEpisode Three-hundred-sixty-five:
Christmas Day 1991: Jack Literally
Crashes the Hortons' Christmas.
---
[Air date Christmas Day, 1991]
SCENE: ONE, IT IS CHRISTMAS DAY, JENNIFER SPENDS THE MORNING AT THE HOSPITAL GIVING THE KIDS THEIR USUAL PARTY. CHIP, ONE OF THE YOUNG DOCTORS AT THE HOSPITAL, HAS A CRUSH ON JULIE AND TELLS JENNIFER THAT HE IS OFF TO ARRANGE A SLEIGH RIDE FOR HER.

ALICE: We're going to have a full house at our house tonight.

JENNIFER: Well not as full as you expected grandma.

ALICE: Oh?

JENNIFER: Hawk won't be able to make it. He made some other plans.

ALICE IS PLEASED THAT HE IS NOT COMING. SHE HAS NEVER TRUSTED HIM. AND SHE IS SHREWD ENOUGH TO KNOW THAT IT IS JACK THAT JENNIFER WANTS TO BE THERE; EVEN THOUGH SHE WILL NOT ADMIT IT.

ALICE: Really. (Beat) Other plans? With whom? You told me he was all alone in this town.

JENNIFER: Well as far as I knew but it's okay, it's one less person to worry about.

ALICE: Are you disappointed?

JENNIFER: Not because of Hawk.

ALICE: Ah, it's Jack. Darling, don't let that ruin your holiday.
---
SCENE TWO: JACK HAS SPENT THE NIGHT IN A BARN SLEEPING ON THE FLOOR. AS HE BEGINS TO WAKE UP HE DREAMS OF BEING WITH JENNIFER.

JACK: Jennifer, it's Christmas Jennifer.... Jennifer.

HE SLOWLY WAKES UP ALL STIFF AND SORE.

JACK: Where the hell am I? Ooooh, oh, oh, oh.

AT THAT MOMENT, CHIP THE DOCTOR ENTERS.

CHIP: Hey, hey, just where do you think you're going?

JACK: Look out, incoming, incoming.

CHIP: No, no, no, no, no, no you don't. No you don¡t. What do you want, more money?

THAT GETS JACK'S ATTENTION.

JACK: Money?

CHIP: Look I realize that nobody likes to work on Christmas but this is really important so will this cover it?

JACK: Ah, well it depends on what you want me to do.

CHIP: I want you to get one of your horses hooked up to a sleigh, pronto.

JACK: My.... my horses?

CHIP: Yes, horses. Now the first thing we're going to do is pick up the lady I'm taking out. She is going to be over on Sycamore Street at the Horton house.

JACK: Horton House?

CHIP: Yeah. Do you know the Horton's?

STILL BELIEVING HE IS A WANTED MAN, HE DOES NOT WANT TO GIVE HIMSELF AWAY, SO HE FEIGNS IGNORANCE.

JACK: No, no, never heard of them. (Beat) Never.

CHIP: So what's the problem?

JACK: Ah, there's no problem. No problem at all. (Beat) Ah, one sleigh ride coming right up.
---
SCENE THREE: MEANWHILE, HAWK HAS GONE TO THE PENTHOUSE. HE IS POSITIVE THAT JACK WILL TURN UP THERE SOMETIME TODAY. HE HAS BROUGHT ROLAND WITH HIM, HE IS THE GUY THAT HELPED STEAL THE ORIGINAL RELEASE AGREEMENT THAT JACK HAD DRAWN UP -- HE WORKS FOR HAWK.

ROLAND: What are we doing here Hawk?

HAWK: Waiting for Jack. Listen, by the way, it's nice having you back on the job.

ROLAND: Yeah sure, now you think Deveraux¡ going to show?

HAWK: Oh yeah, oh yeah. Where else is he going to go man, it's Christmas. He's going to come here today to see Jennifer for sure and when he gets here, we're going to be ready for him.

ROLAND: You want me to take care of him?

HAWK: Well you ought to know by now that's not my style, Roland. We're going to use our heads not our hands. That's the best way to get rid of Jack Deveraux. And we will because after today, old Jack's going to be gone for good.
---
SCENE FOUR: BACK AT THE STABLE, JACK IS HAVING REAL TROUBLE WITH THE HARNESS AND BIT FOR THE HORSE.

JACK: (Talking to himself) Oh no, I'm a goner, I am a goner. I'm a....

CHIP: Are you sure you know what you're doing?

JACK: Ah what, what do you mean? Of course I know what I'm doing. You're talking to the premier slave.... ah sleigh driver of all Salem.

CHIP: Ah, I didn't know there were that many.

JACK: Well that shows what you know.

CHIP: Anyway, look this is the route that I want to take.

JACK: Wait a minute, why that's right through town.

CHIP: It's the quickest route between here and there.

JACK: Yeah but this is a sleigh ride. You want to take the scenic route. You know.... over the river and through the woods.... ta da ta da tada.

CHIP: I don't have time for that.

JACK: The horse's away to carry the sleigh.... ta da ta da tada.

CHIP: Look I've got to be there in one hour. Now if you can't do it, I'm going to get somebody else.

JACK: NO, NO, NO, NO. I'll do it. I'll do it.

JACK PULLS ON THE SKI MASK.

CHIP: What is that?

JACK: Union rules. When it's cold out, you wear a mask.

CHIP: Well it was colder than this last week when I rented the other sleigh and that guy didn't wear one.

JACK: Are you calling me a girlie man? I tell you something, those hockey players, they're manly men and they all wear masks when they play hockey. It's cold there.

CHIP: Listen, listen, I don't care what you wear just as long as we get there on time. I am trying to make a good impression on a certain lady.

JACK IS NOW WORRIED THAT THIS IS JENNIFER'S MYSTERY MAN.

JACK: Jennifer!

CHIP: I thought you said you didn't know the Hortons?

JACK: I.... I don't.... but everybody knows, you know, Jennifer Horton from that so-called news show that she does. Everybody does.

CHIP: Well, it's not Jennifer. Though I hope she does find someone soon after what that louse of a husband did to her just running out like he did.

JACK: That's Mr. Louse and I'm sure he had plenty of excuses. At least....

CHIP: How do you know?

JACK: No, I just think that he must have had a good reason to do it for running out on a lovely young lady like her.

CHIP: Yeah, well I don't think she's ever going to find out.

JACK: I don't know about that. A lot stranger things have happened on Christmas.
---
SCENE FIVE: THE HOSPITAL PARTY IS OVER, ALL THE HORTONS ARE ALL GATHERED AT THE HORTON'S WHEN THEY HEAR SLEIGH BELLS. JULIE GOES TO THE DOOR AND CHIP IS THERE WITH HIS SURPRISE. JULIE TAKES HIM INSIDE AND SHUTS THE DOOR JUST BEFORE JACK GETS THERE. HE GOES TO THE WINDOW WHERE HE SEES JENNIFER INSIDE. A POLICE CAR PULLS UP.

POLICE: Freeze, hands up or we'll shoot.

EVERYBODY INSIDE HEARS THE COMMOTION. JACK PANICS AND IN HIS EFFORT TO GET AWAY, HE CRASHES THROUGH THE FRENCH DOORS, KNOCKING OVER THE HORTON'S CHRISTMAS TREE AND LANDING ON THE FLOOR IN FRONT OF EVERYBODY.

ALICE: Oh my lord.

JENNIFER: It's the Christmas Bandit, Grandma! That's who it is. Somebody go get the police.
---
SCENE SIX: JACK HAS JUST CRASHED THROUGH THE WINDOW INTO THE HORTON LIVINGROOM, THEY THINK HE IS THE CHRISTMAS BANDIT AND SHOUT FOR THE POLICE. JACK HEARS THEM SCREAMING AND PULLS OFF THE SKI MASK.


JACK: DON'T.... don't. It's.... it's me!

JENNIFER: What?

JACK: It's Jack!

JENNIFER: Jack!

MICKEY: Jack.

JENNIFER: Oh my gosh, Jack.

EVERYONE IS SHOCKED TO SEE HIM. JENNIFER IS OVERJOYED, AND SHE RUNS OVER TO HIM AND PULLS HIM TO HIS FEET.

JENNIFER: Jack is that really you? You're really here.

JACK: It's me.

JENNIFER: I can't believe you're here. Oh I can't believe you're back.

SHE JUMPS UP AND GIVES HIM A HUGE HUG AND THEN THEY KISS LONG AND PASSIONATELY.

THEY BREAK APART AND STAND BACK HOLDING HANDS AND LOOKING IN EACH OTHER'S EYES. THEN SUDDENLY SHE YELLS OUT.

JENNIFER: YOU JERK!

SHE LETS FLY WITH A HARD RIGHT PUNCH TO THE JAW. HE SWINGS AROUND AND SINKS TO THE FLOOR.

JACK: What the hell was that for?

JENNIFER: You know what the hell that was for! WHERE HAVE YOU BEEN JACK? Where have you been?

JACK: Enough of the questions.

JENNIFER: Can you explain that?

JACK: I can explain a lot of things if you can explain.... WHOA.... WHOA, DON'T SHOOT.

THE POLICE BURST IN WITH GUNS AIMED AT JACK.
---
SCENE SEVEN: BECAUSE THEY THINK HE IS THE CHRISTMAS BANDIT, BRIAN AND THE POLICE HAVE RUSHED IN AND ARE POINTING THEIR GUNS TOWARDS JACK. FOR PROTECTION HE HIDES BEHIND ALICE.

ALICE: Brian, Brian, thank heaven you're here.

JACK: Yes, yes.

ALICE: There's been a terrible mistake.

JACK: Yeah.

BRIAN: Yeah well your Christmas tree should be secure on its stand here. What's going on?

ALICE: Brian, I'm not talking about a Christmas tree? I'm talking about Jack. Get those things down.

BRIAN: It's Jack, please you guys.

JULIE: Yes, Salem's finest seems to think this is the Christmas Bandit.

BRIAN: JACK!

JACK: No, not Jack. Jack wouldn't hurt a flea.

JENNIFER: That's what you think Jack.

JACK: That's what I know.... that's not what I mean.

BRIAN: Okay, okay, just relax here guys. This is not our man, this is Jack. You guys are free to go, okay. Jack you look ridiculous in that ski mask. We thought you were the....

JACK: Me, the bandit, right? That's ridiculous isn't it?

JENNIFER: Wait a minute, I have a lot I want to say to you!

JACK: Just talk to your grandmother.

JENNIFER: NO!

HE WALKS OVER TO BRIAN.

JACK: Listen pal, we've got to talk.

BRIAN: Not so fast, not so fast. Wait a second.

JACK: Why, what's this?

BRIAN: Pal? You called me pal? When are we old pals Jack? We're not old pals.

JACK: Since the train, you know, the snow, the weenies, Fluffy, remember?

BRIAN: Okay, listen, just relax here. Where have you been? Everyone's been looking all over for you. What's going on here?

JACK: Ah, sssshhhh just....

HE TURNS BACK TO THE OTHERS.

JACK: If you could excuse us for just one minute.

JENNIFER: As far as I'm concerned you can take a lifetime, Jack!

JACK: It's colder in there than it is out here. (Beat) Look, I just want you to cut me a little deal, alright.

BRIAN: A deal? What do you want a deal for?

JACK: Look just give me a couple of minutes alone with my wife.

BRIAN: Jack, why would I not give you a couple of minutes alone with your wife? What's the matter with you? Is the ski mask cutting the oxygen? Do you have no more brain cells left?

JACK: Listen, listen to me. All I'm saying is even a dying man gets a final request.

BRIAN: Jack, try to have a nice Christmas, okay. I'm going to.

JACK: Wait, wait a minute, you're not going to arrest me?

BRIAN: Sorry, not this time.

BRIAN WALKS AWAY AND JACK IS CONFUSED, HE THINKS BECAUSE THE FBI AGENTS WERE MURDERED THAT HE IS A WANTED MAN.

JACK: Alright, fine. Time for some answers.

HE TURNS TO JENNIFER.

JACK: WHO IS HE?

JENNIFER: WHAT?

JACK: WHO IS HE, WHAT'S HIS NAME? The guy, the guy that you're seeing?

JENNIFER: WHO'S WHO?

JACK: THE GUY THAT YOU'RE SEEING.

JENNIFER: OH NO! Don't you turn this around on me Jack Deveraux, alright. That is the oldest trick in the book. Don't you....

JACK: Oh wait a minute, you think that you.... you think.... wait a minute. Wait a minute, you're right about one thing. I mean I do not understand everything that's going on here but just by the look on your face I can see that you wouldn't cheat on me. I understand now.

JENNIFER: CHEAT ON YOU! I THOUGHT YOU WERE DEAD SOMEWHERE! Are you kidding me?

JACK: Now wait a minute, I'm not saying that. I'm saying that I wouldn't think you'd cheat on me.

ALICE IS SICK OF THEM SCREAMING AT EACH OTHER AND BREAKS IT UP.


ALICE: THAT'S ENOUGH, BOTH OF YOU.There is not going to be any fighting here. Back into your corners!

JACK: Ah....

ALICE: We've had enough for one day.

THEY BOTH MOVE TO OPPOSITE SIDES OF THE ROOM AND GLARE AT ONE ANOTHER. MICKEY GOES TO GET SOME TOOLS TO BOARD UP THE DOORS.

ALICE: And you two, you stay right where you are until you learn to speak to each other like civilized people.
---
SCENE EIGHT: JACK AND JENNIFER ARE STILL AT OPPOSITE ENDS OF THE LIVINGROOM, GLARING AT EACH OTHER, CHIP BRINGS JACK AN ICE PACK. MICKEY TRIES TO BOARD UP THE DOORS.

CHIP: Here you go pal.

JACK: Yeah.... ouch.

CHIP: Why didn't you just tell me who you were?

JACK: What, and give you a chance to turn me over to the Feds? No way.

MICKEY: What is all this Fed business anyway?

JACK: As if you don't know.

JENNIFER: You're just using that as an excuse Jack.

JACK: And a damn good excuse it is too.

JENNIFER: There is no excuse at all for what you did. No excuse .

JACK: There most certainly is. If you would stop.

JULIE: You two, don't make me sorry I'm related to you.

JENNIFER: It's hard to remain civilized....

JULIE: Try to remember what Grandma said.

JENNIFER: .... when that cretin's in the room.

JACK: CRETIN! WHO ARE YOU CALLING A CRETIN? NOW THAT IS LOW!

JENNIFER: THAT IS BECAUSE YOU ARE THE LOWEST OF THE LOW JACK.

ALICE IS GETTING MAD.

ALICE: That's JUST IT!

ALICE HAS A HAMMER IN HER HAND AS SHE APPROACHES JACK.

JACK: Whoa!

ALICE: If you two can't talk without breaking through windows and knocking down trees and giving each other black eyes then we will have no talking at all.

THEY BOTH START TO TALK.

JENNIFER: I only have one thing that I want to....

JACK: But if she would forgive me....

ALICE: I want none! Now do you hear me? This is supposed to be a time of peace and joy and giving....

SHE IS STILL HOLDING THE HAMMER AS SHE TALKS AND IT IS AWFULLY CLOSE TO JACK'S HEAD. JACK IS NOT GOING TO TAKE ANY CHANCES WITH ALICE.

ALICE: .... and that is exactly what we are going to have here, right? And if you don't want to do it, you can leave.

JACK: Heh.

TOM: Well now that we have a semblance of order and the window is covered, I'd suggest it's a good time to hang the ornaments.

MAGGIE GOES TO GET THEM WHILE TOM EXPLAINS TO CHIP THE HORTON TRADITION OF CHRISTMAS ORNAMENTS.

THE WHOLE TIME HE IS TALKING, JENNIFER IS GLARING AT JACK TRYING NOT TO THINK OF THE GOOD TIMES THEY HAVE HAD. JACK IS AFFECTED BY IT ALL TOO.

MAGGIE AND MICKEY START BY HANGING THEIR FAMILY ORNAMENTS, THEN JULIE HANGS HERS AND DOUG'S.

ALICE: Jennifer.

ALICE HANDS JENNIFER HER ORNAMENT AS WELL AS HER PARENT'S AND MIKE'S. SHE WALKS TO THE TREE AND HANGS THEM CAREFULLY.

TOM: And for the newest member of our family.

JACK REALIZES THEY MEAN HIM AND HE WALKS OVER AND GETS HIS ORNAMENT.

HE HANGS IT ON THE TREE RIGHT NEXT TO JENNIFER'S BUT SHE IMMEDIATELY MOVES HERS TO ANOTHER PLACE. HE SIGHS BUT IN A FUNNY WAY ADMIRES HER SPUNK.

JULIE: Grandpa, Grandma, why don't you two put up the last ornaments?

TOGETHER, TOM AND ALICE HANG THE REMAINING FAMILY ORNAMENTS INCLUDING THEIR OWN.

TOM: Well we did it. One more year together. One more year with the most wonderful woman in the world.

ALICE: I'm just so grateful for every year that we've had together. All the wonderful moments like this that we've shared.

JENNIFER AND JACK BOTH THINK OVER THEIR WONDERFUL MOMENTS AND WONDER IF THEY WILL HAVE MANY MORE.
---
SCENE NINE: A BIT LATER, JENNIFER LEAVES THE LIVING ROOM AND JACK FOLLOWS HER, WANTING TO TALK PRIVATELY.

JACK: Look I am sorry about those allegations I made earlier. It didn't help the situation any and I know that you¡re already mad at me.

JENNIFER: Oh really? How did you figure that out Jack?

JACK SIGHS.

JENNIFER: Was it the black eye or the scratch marks that I'd like to put around your throat?

JACK: Look just.... just stop long enough to listen to me alright.

JENNIFER: What? What are you going to tell me? What, that you were kidnapped by aliens from another planet? That you were hit on the head and you forgot who you were? Or that you were on the lam from the FBI and....

JACK: Actually that's not far from the truth.

JENNIFER: Oh Jack, I don't want to hear it.

JACK: Listen, you have to hear it, alright, because I did all of this for you. I did.

JENNIFER: For me You did this for me Jack?

JACK: Yes, I....

JENNIFER: Do you have any idea how miserable I was? I thought that you were dead somewhere. I was scared out of my mind.

JACK FEELS TERRIBLE ABOUT ALL THIS.

JENNIFER: And then when I realized that you abandoned me on purpose, I was never so hurt in my life. And it's a good thing that I had my family and friends around me. It's a good thing I had my grandmother and Julie and Hawk.

JACK: Hawk?

JENNIFER: Yeah Hawk. Hawk was there for me when you weren't.

JACK: I don't believe it.

JENNIFER: I know you don't believe anything good about Hawk but you were wrong.

JACK: I was wrong. I totally.... I totally underestimated the man and I....

JENNIFER: Don't do this, don't try to go off on another subject.

JACK: No, no....

JENNIFER: This is not about Hawk. It's about you. It's all about you.

JACK: .... this is about Hawk. You don't understand, it's all about....

ALICE: Now, now, you two just knock it off. If you want to fight go to your own home.

JENNIFER: You're right, you're right, grandma. It's time I got Jack alone.

JACK: No, it's time I did a little thinking of my own. If you'll excuse me.

JACK RUNS INTO THE LIVING ROOM.

JACK: Ah, excuse me, ah, excuse me, could anyone give me a ride home please?

CHIP: Hey don't look at me. I came on the sleigh.

JULIE: And I'm going home with him.

JACK: Ah Mickey, you're a fair and honest man. You'll.... I mean you'll weigh the situation clearly. Please, I need a ride back to the penthouse.

MICKEY LOOKS ACROSS AT JENNIFER.

JACK: The fact is, I'm not ready to be alone with her in a car.

MICKEY: Heheh, Jack it's not like you don't deserve everything you get. (Beat) Okay, I'll take you back.

JACK: Ah....

JACK LOOKS ACROSS AT JENNIFER WHO IS GETTING ANGRIER.
---
SCENE TEN: BACK AT THE PENTHOUSE, HAWK IS STILL WAITING WITH ROLAND FOR JACK TO ARRIVE.

HAWK: I wonder what's taking Jack so long?

ROLAND: Maybe he's not coming.

HAWK: Oh yeah, oh yeah, he's coming alright. It's just a matter of time. (Beat) You know Roland you may as well get going.

ROLAND: You sure you don't want me to stay.

HAWK: Yeah, yeah, don't worry. I've got everything exactly the way I want it.
---
SCENE ELEVEN: JACK AND JENNIFER GET READY TO LEAVE AS THE CHRISTMAS CAROL, HAVE YOURSELF A MERRY LITTLE CHRISTMAS, BEGINS. HE GETS TO THE FRONT DOOR FIRST BUT SHE PUSHES PAST HIM GIVING HIM A LOOK THAT HE SHOULD LET HER GO FIRST.

Faithful friends that are dear to us,
Gather near to us once more.

THEY BOTH LOOK UP TO SEE MISTLETOE OVER THE DOORWAY.

SHE SIGHS AND WALKS OUT. HE SIGHS AND PUTS THE ICE PACK TO HIS EYE.

Through the years we all will be together, if the fates allow.
Hang a shining star upon the highest bough,
And have yourself a merry little Christmas now.

BACK INSIDE.

ALICE: Merry Christmas darling.

TOM: Merry Christmas to you too.

[Transcribed by Carol Vaughan
added material by Sally A. Wilson]

---

---