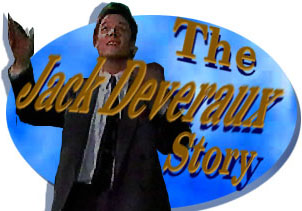 oldEpisode Three-hundred-seventy-one:
Jack Plots to Prove That Hawk
Has Been Trying to Scam Them
out of Their Money Since LA.
---
[Air date late December 1991]
SCENE ONE: IT IS THE NEXT DAY, JENNIFER HAS RETURNED TO SALEM. INSTEAD OF SEEING JACK, SHE HAS GONE STRAIGHT TO A RECEPTION BEING HELD IN HONOR OF SOME MAYAN ARTIFACTS THAT HAVE BEEN PRESENTED TO THE MUSEUM. JENNIFER IS DOING THE COMMENTARY FOR THE TV STATION. EVERYBODY IS INVITED INCLUDING THE REAL ROMAN.

IT SEEMS THAT THE ROMAN WE KNEW FOR YEARS WAS ACTUALLY JOHN BLACK AND NOW MARLENA IS BACK WITH HER REAL HUSBAND.

THE GANG ALL HAD SOME ADVENTURE IN MEXICO. WHILE THERE STEFANO DI MERA POPPED UP, HE WAS BEHIND REAL ROMAN AND MARLENA'S IMPRISIONMENT. STEFANO WAS KILLED WHILE TRYING TO GET THE CODICES.

CARLY, BO AND LAWRENCE ARE THERE TOO WITH ALL OF THE HORTONS.
---
SCENE TWO: MEANWHILE JACK IS DOWN AT ALICE'S RESTAURANT. HE WANTS ALICE TO LOOK AT THE HONEYMOON TAPES TO PROVE THAT HIS THEORIES ABOUT HAWK ARE CORRECT.

JACK: If you look.... if you look at those tapes you will see.... you will see that Howie was there at Universal Studios with us the whole time. He was....

ALICE: I just can't believe it.

JACK: Well just see for yourself. That's why I made the copies. So you could see, so everybody could see. Also to cover myself in case something happened to the original. But just keep it quiet for the time being, right.

ALICE: Well Jennifer? When are you going to tell Jennifer?

JACK: Well, that's part of the problem. This is only part of what I need to prove my point. But Howie did take my five million dollars. I'm sure of it.

ALICE: Why would Howie want to steal from you? He has plenty of money of his own. At least he will when he gets his inheritance.

JACK: Well that's if there is anything to inherit.

ALICE: You don't think there is?

JACK: I think this whole thing was a scam from Universal Studios on.

ALICE: Jack, can you prove any of us?

JACK: You see that's the thing. I have agreed to become the executor of old Howard's estate. That's given me the power to sign over all that money to Baby Howie. Now if he takes off for the Riviera, I'm sunk. I'm wrong. But if he stays here in that junky little apartment of his, come on, I know he can't be that odd.

ALICE: Well he may have other reasons for staying here.

JACK: Heh, what other reason are you talking about?

ALICE: Jennifer. And.... there's no other way to tell it, except he tried to kiss her.

JACK: I figured that. I overheard the two of you talking one day.

ALICE: What day?

JACK: One day I showed up here. I was trying to make contact with Jennifer and you were here. I was going to contact her too and talk to her but the two of you were talking about her being involved with another man.

ALICE: Darling, she's not involved with anyone.

JACK: Well that's the way it sounded at the time.

ALICE: Well then you didn't hear the whole conversation. She was never interested in Hawk. It was just that.... well he was a good friend.

JACK: Well perhaps it's good she's in Washington DC right now. I'd rather she stayed about five states away from friends like that.

JULIE BURSTS IN AND IS ALL DRESSED UP FOR THE MAYAN RECEPTION. SHE TELLS ALICE THAT SHE JUST SAW JENNIFER ON TELEVISION IN HER LIMOUSINE.

JACK: Wai.... wait a minute, Jennifer is still in Washington DC.

JULIE: No, no, she's back.

JACK: She didn't tell me.

JULIE: Oh Jack, you know the old expression. The husband? He's always the last one to know. Shall we grandma?

ALICE: Yes. Goodbye dear, we'll talk later.

JULIE: Goodnight, goodnight.

THEY BOTH WALK OUT, LEAVING JACK ALONE.

JACK: I....

HE RUNS OVER AND TURNS ON THE TV IN THE RESTAURANT. THERE IS JENNIFER DOING INTERVIEWS FOR WATB.

JACK: She came back and didn't tell me. Of all the nerve!

HE PUTS DOWN THE REMOTE AND RUNS OUT.
---
SCENE THREE: JENNIFER CONTINUES TO DO INTERVIEWS WITH THE DIFFERENT GUESTS. WHILE SHE IS INTERVIEWING THE REAL ROMAN, JACK COMES RUNNING IN THE MAIN DOOR. HE IS CARRYING A BROWN PAPER BAG AND THE GUARDS TRY TO STOP HIM.

JACK: Excuse me.

GUARDS: WHOA.... WHOA.... WHOA.

JACK: Wait a minute, wait a minute.

GUARD: Have you got an invitation to be here?

JACK: I don't have one but I got to get in there anyway.

GUARD: You can't go in there. Invited guests only.

JACK: What am I, a terrorist? I mean.... okay I'm not dressed for the occasion. But I tell you something, I am with the press and I know the press is in there because Jennifer Horton's making a....

GUARD: You got a press pass you can show me?

JACK: Well.... yeah, as a matter of fact.... ah.... ah.... I left it in the office.

ONE GUARD SIGNALS HIM TO LEAVE.

GUARD: Get out of here, you're out of here.

JACK: You know I just remembered something. I do have it. I do have it. It's right here, it's right here. Catch! Think fast.... OOOOOOH!

HE THROWS THE BAG AT ONE OF THE GUARDS AND TAKES OFF VERY FAST INTO THE MAIN RECEPTION ROOM.

GUARD: STOP THAT MAN.... STOP!

HE RUNS IN WHERE THE GUESTS ARE ALL MINGLING. THE GUARDS COME AFTER HIM WITH THEIR GUNS DRAWN. THE POSSIBILITY OF JACK GETTING SHOT IS TOO MUCH FOR JENNIFER AND SHE MOMENTARILY FORGETS SHE IS ANGRY WITH HIM.

JENNIFER: NO, DON'T SHOOT HIM. DON'T SHOOT!
---
SCENE FOUR: HE IS WRESTLED TO THE GROUND AS THE ALARM SOUNDS.

JACK: DON'T SHOOT! Turn that thing off, STOP! (Beat) That's it, turn that thing off. JENNIFER, JENNIFER, TELL THEM WHO I AM. JENNIFER!

SHE PICKS UP HER MICROPHONE AND CONTINUES TO DO HER COMMENTARY ABOUT HIS BREAK IN AS IF HE DOES NOT EXIST.

JACK: JENNIFER!

JENNIFER: I'm sure the police will be escorting him out the building....

JACK: Wait a minute, what are you saying? I'm her husband. I am her husband . I am Jack Deveraux.

THE ALARM GETS TURNED OFF.

JACK: Stop listening to her. I have some rights here. JENNIFER, JENNIFER! Say something. Tell these gentlemen.

GUARD: Is this man who he says he is?

JACK: Of course I am.... he is.... I am. Tell them who I am.

JENNIFER: As far as this man is concerned, I've never seen him before in my life.

JACK IS REALLY MAD AT HER.

JACK: Jennifer! What are you....

THEY START TO DRAG HIM OUT OF THE MUSEUM.

JACK: JENNIFER, YOU CAN'T DO THIS. I'M TAKING.... WAIT A MINUTE.

HE IS DRAGGED OUT KICKING AND SCREAMING. ALICE AND JULIE WATCH IT ALL AND ALICE IS VERY ANNOYED WITH JENNIFER.

JULIE: So, you still think there's hope for those two?

ALICE: I think I better go and straighten this out.
---
SCENE FIVE: LATER ON THAT EVENING, JENNIFER IS AT HOME WHEN JACK ARRIVES. SHE COMPLETELY IGNORES HIM.

JACK: Well.... you know I really think it's time for a new suit.

JENNIFER: Well, there's always prison uniforms.

JACK: Thanks to someone's grandmother, I won't be sporting prison blues this season.

JENNIFER: My grandmother bailed you out?

JACK: No, she didn't have to bail me out. The telling of the simple truth was sufficient.

JENNIFER: I can't believe that she is taking your side Jack.

JACK: Yes, it is rather hard to believe, considering what there is of my side.

JENNIFER: I know that you crossed the line while I was gone. Things weren't where I left them.

JACK HAS HAD ENOUGH OF THE LINE.

JACK: Will you just stop talking about the damn line for just a....

JENNIFER: DON'T CROSS THAT LINE!

HE SITS DOWN ON HIS SIDE OF THE COUCH.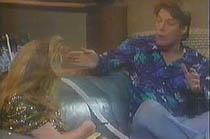 JACK: What if I can't help myself?

JENNIFER: What do you mean, if you can't help yourself?

JACK: What if it's involuntary?

JENNIFER: What are you talking about?

JACK: What if I miss you?

JENNIFER: (Beat) Don't tell me that.

JACK: Why, why? Afraid you might be missing me too?

JENNIFER: No, I didn't have time to miss you.

JACK: Oh, did you time to think about what I might be doing while you were away?

JENNIFER: No. I had time to think about how the newspaper is doing.

JACK: The newspaper's doing the same. It's going down. Sinking fast.

JENNIFER: And you haven't done one thing to try to save it, right Jack?

JACK: I couldn't. I....

JENNIFER: Oh you couldn't! Why, you had some get rich quick scheme, once in a lifetime opportunity that you just couldn't pass up, right Jack?

JACK: No, I didn't because of you. Because of you, because I.... because I've been working day and night trying to win you back and I think I've found a way to do it.

JENNIFER: So you found something out?

JACK: I.... I found a way to prove that I was duped by Howie.

JENNIFER: And what is it?

JACK: I can't tell you quite yet.... I....

JENNIFER: Oh that is it!

JACK: No that is not it. Jennifer, you....

JENNIFER: No, I don't want to hear anymore lies. I don't want to hear anymore excuses.

JACK: I don't tell lies.

JENNIFER: Oh come on Jack. I know you, alright. I know you better than anybody. I know you probably better than you know yourself. And I know that when you're put on the spot how you weasel your way out of it.

JACK: Weasel?

JENNIFER: Alright. And for some reason which escapes me now I used to find that very charming. But not anymore. If you want to know the truth I find it kind of wormy now Jack. I don't know what I ever saw in you in the first place. Now I'm going to call Dan and see what he needs from me.

JACK: You're going to call him, uh? I guess that means.... ah, you didn't take the job in Washington.

JENNIFER: What makes you think that?

JACK: Well you're still here aren't you?

JENNIFER: For you information it was just an interview and it went very well if I do say so myself. And they're going to let me know in a week if they want me.

JACK: You're not going to accept it of course.

JENNIFER: Give me one good reason why I shouldn't.

JACK: I will if you just give me a little more time.

JENNIFER: A week. That's what they said.

SHE WALKS AWAY AND HE MOVES THE TAPE AND PICKS UP THE PHONE ON HER SIDE.

JACK: Hello Chauncey Pow.... what's this with a machine at this time of the night? What's he doing? (Beat) Ah, Chauncey Powell. This is Jack Deveraux calling. I believe Howie may have told you. We have some very important business to conclude so please call me back ASAP. Tonight!
[Transcribed by Carol Vaughan
added material by Sally A. Wilson]
---
---