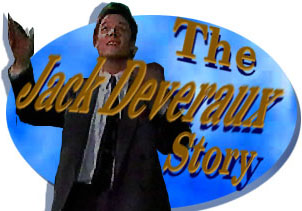 oldEpisode Three-hundred-seventy-two:
Jack Signs
Over Howard's Inheritance to Hawk, Believing
That There is no Money, and This Would
Force Hawk's Hand and Thus Prove to Jennifer
that Hawk Had Been Scamming Them Since LA.
---
[Air date January 11, 1991]
SCENE TWO: JACK IS STILL SITTING ON THE SOFA THINKING ABOUT JENNIFER AND WALKING HIS FINGERS ACROSS THE LINE. JENNIFER COMES OUT OF THE BEDROOM DRESSED ONLY IN THE TOP OF HIS RED SILK PAJAMAS. HIS EYES FOLLOW HER IN ADMIRATION AS SHE WALKS ACROSS THE ROOM.

JENNIFER: I didn't realize you were still out here.

HE TURNS TO ADMIRE THE VIEW. HE KNOWS THAT SINCE SHE IS WEARING HIS PAJAMA TOP THAT SHE STILL CARES FOR HIM, DESPITE HOW MUCH SHE PROTESTS.

JACK: I didn't realize that not all my clothes ended up in cold storage.

JENNIFER: I just came down to get some notes.

HE DOES NOT BELIEVE HER.


JACK: Some notes, huh?

JENNIFER: Yes, from the ceremony at the museum. I figured I'd do a little work before I turn in.

JACK: Why don't we just admit this is ridiculous? Why don't you let me back into the bedroom?

JENNIFER: Jack you have access to a perfectly good bedroom.

JACK: I'm talking about our bedroom.

JENNIFER: Dream on.

JACK: Jennifer, I think....

HE STANDS UP TO BLOCK HER WAY.

JENNIFER: No Jack, I mean it. Alright, not until this situation is resolved.

JENNIFER PUSHES HIM OUT OF HER WAY AND GOES BACK TO THE BEDROOM.
---
SCENE TWO: JACK IS PACING AROUND HIS SECTION OF THE ROOM, WAITING FOR CHAUNCEY TO CALL BACK.

JACK: At this rate I'm going to be up all night.

THE PHONE RINGS.

JACK: Hello.

CHAUNCEY: Chauncey Powell, Mr. Deveraux.

JACK: Chauncey Powell. What took you so long to get back to me?

CHAUNCEY: Well I just got your message. What can I do for you?

JACK: Well, you can show up at my penthouse first thing tomorrow morning with your soon to be ex-client Baby Howie.

CHAUNCEY: What for?

JACK: Well I've agreed to become the new executor of old Howard's will. Even signed a copy of it. Now I'm ready to make if official. I'm prepared to sign over the inheritance to Howie.

CHAUNCEY: You must be joking.

JACK: Did you hear a chuckle in my voice?

CHAUNCEY: Um, look Mr. Deveraux, can I ask what prompted this sudden decision?

JACK: It's not really important but the decision has been made.

CHAUNCEY: Yes, well I'm sure that I don't have to remind you how irresponsible that young boy can be. I mean he'll fritter away the fortune in record time.

JACK: That's not really my concern. You just bring the necessary papers. I'll sign them and we'll put this whole ugly mess behind us.

CHAUNCEY: Yes, if you insist. We'll be there in the morning.

JACK: I'm looking forward to it.

JACK HANGS UP.

JACK: More than you know.
---
SCENE FOUR: LATER ON THAT EVENING, JENNIFER COMES OUT TO SEE IF JACK IS STILL UP; SHE IS STILL WEARING HIS PAJAMA TOP. SHE IS ABOUT TO GO BACK TO BED WHEN SHE FINDS HIM GONE BUT THE PHONE RINGS AND SHE RUNS TO GET IT.

JENNIFER: Hello.

JACK HEARS THE PHONE AND COMES OUT OF HIS ROOM TOO, PULLING HIS SUIT JACKET OVER HIS BARE CHEST.

JENNIFER: Dan, what are you doing calling at this hour? (Beat) You're kidding me. What? No, no. (Beat) Ah, okay I'll get there as soon as I can, alright. Okay, goodbye.

SHE HANGS UP.

JACK: What?

JENNIFER: I thought you were asleep.

JACK: No I couldn't sleep with all this noise. What's going on?

JENNIFER: The Mayan Codices have been stolen.

JACK: Stolen?

JENNIFER: That was Dan on the phone. Someone just broke into the museum and they just took them.

JACK: Four thousand years in Mexico and one night in Salem! Ah, what happened? The guy was on a donut break and they just got right past the guards.

JENNIFER: No, he was caught right in the middle and the thief must have hurt him really bad because they don't think he's going to live. I gotta get out of here.

JACK: Wait a minute, where are you going?

JENNIFER: I can't go to the museum dressed like this. I gotta get over there.

JACK: You're going to cover the story for the station?

JENNIFER: This is big news. I will work all night, I will work into the morning if I have to Jack. And you know if you cared at all about The Spectator you'd be doing the same thing.

JACK: Of course I care. I'm going to do the same thing. I was just about to.

JENNIFER: Good.

JACK NODS AND SHE RUNS OFF TO GET DRESSED.

JACK: Right.

SHE DISAPPEARS.

JACK: Oh great, now what am I going to do about Chauncey and Hawk. Okay.

HE DECIDES TO CALL VERN.

JACK: Ah, Vern.... yes, yes I know it's late. That's why I'm calling you now to give you a wake up call. We've got a big story coming and you've got to cover it. Right now.

JENNIFER LEAVES.
---
SCENE FIVE: IN THE MORNING CHAUNCEY AND HAWK ARRIVE.

JACK: You did bring the documents?

CHAUNCEY: Oh yes, yes. Here they are.

JACK: Good, good. Now, where do I sign?

HAWK: Well aren't you even going to read it first Jack?

JACK: Well that's not really necessary. Chauncey says my signature on this will legally turn your grandfather's fortune over to you. As the new executor of the will that's all I really need to see.

HAWK: Hahahah. Well Jack you're not going to get any argument out of me buddy. Just sign away there.

JACK IS SURPRISED AT HOW HAPPY THEY BOTH ARE. HE EXPECTED MUCH MORE RESISTANCE.

CHAUNCEY: Yes, right there on the dotted line.

JACK: Alright.

JACK SIGNS THE PAPERS.

JACK: Dotted and done. (Beat) Now, where's the money?

CHAUNCEY: Mr. Deveraux?

JACK: Oh come now. You remember the original agreement was Howie should get the money the minute I sign it. Now where is the check or do you have a pot of gold?

CHAUNCEY: Mr. Deveraux (Beat) of course I brought the check.

JACK: You did? (Beat) Oh of course you did. That's wonderful, wonderful.

CHAUNCEY: Yes well I know how anxious you are to finalize this. Here you are Hawk, congratulations.

JACK WATCHES CAREFULLY AS CHAUNCEY HANDS HAWK AN ENVELOPE.

HAWK: Oh thank you Chauncey.

HAWK RIPS OPEN THE ENVELOPE.

HAWK: Oooooh weeeee, my, my, my, will you look at all those zeros.

JACK IS LOOKING OVER HAWK'S SHOULDER AND HIS EYES ARE ALMOST POPPING OUT OF HIS HEAD.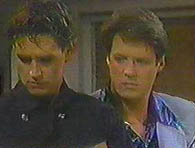 HAWK: Well, gosh I tell you what Jack, I don't know how to thank you buddy. It's just you've been a really good friend to me and I'm never going to forget you Jack and listen, listen, don't hesitate, if you have anything in the world you want from me, anything at all, don't hesitate to call on me.

HAWK SHAKES JACK'S HAND AND HE IS STUNNED BY HOW COOL THEY BOTH ARE. HE CANNOT FIGURE OUT IF THEY ARE FOR REAL OR NOT.

CHAUNCEY: Yes, yes, Mr. Deveraux, that goes for me too. I know how hard this has been.

JACK HAS NOT SAID A WORD AND LOOKS BAFFLED. JACK IS FRUSTRATED, BECAUSE IT SEEMS THAT HIS THEORY THAT THE HAWKINS' FORTUNE HAS DRIED UP IS WRONG. THAT WAS TO BE HIS WAY TO PROVE TO EVERYONE, ESPECIALLY JENNIFER, THAT HAWK HAD PLANNED TO SCAM THEM OUT OF THEIR MONEY FROM DAY ONE.

CHAUNCEY: Well it's obviously been more traumatic for you than I thought. Yes, well, don't bother, we'll see ourselves out.

HAWK: Okay. So long Jack.

JACK RAISES ONE FINGER IN ACKNOWLEDGMENT AS THEY LEAVE. HE HEARS HAWK HOLLER WITH DELIGHT WHEN HE GETS OUTSIDE.

JACK: Yeeehawww!
---
SCENE SIX: DOWN AT THE HOSPITAL, JENNIFER TALKS TO CARLY ABOUT HOW THE MUSEUM GUARD IS DOING. LAWRENCE COMES BY AS THEY ARE TALKING AND JENNIFER ASKS HIM TO LEAVE THEM ALONE. CARLY DOES NOT SEEM TOO SURE -- COULD SHE STILL BE FEELING SOMETHING FOR HIM.

AT THIS TIME, THERE IS A MAJOR STORM BREWING AND THE HOSPITAL IS GETTING BUSY WITH ACCIDENTS.
---
SCENE SEVEN: AT THE PENTHOUSE, GINGER ARRIVES A SHORT TIME AFTER HAWK AND CHAUNCEY LEAVE.

GINGER: Well? Don't leave me hanging here. Tell me how it went with Hawk.

JACK: You're not going to believe it.

GINGER: Well you gave him the okay to get the old man's fortune, right?

JACK: Yes I did, yes.

GINGER: And Chauncey turned the money over?

JACK: Faster than you can say inheritance tax.

GINGER: What do you mean? You mean there really was money there?

JACK: There was check there with more zeros than the national debt.

GINGER: Damn! God that makes me mad, you know. I thought we had something on him.

JACK: How do you think I feel? Now he's not only got my money, he's got his grandfather's money as well.

INGER: The whole thing just doesn't make any sense. I thought we could just blow him out of the water with this thing you dreamed up but.... I guess we should just be looking at the bright side. I mean he may have gotten your net worth Jack but he didn't get your wife.

JACK: What a coincidence? Neither did I. (Beat) But I tell you something, I'm going to remedy that situation. And then.... I shall exact my revenge. Oh yes, I shall exact my revenge.

JACK IS VERY SURE THAT HE WILL GET BACK AT HAWK.
---
SCENE EIGHT: CHAUNCEY AND HAWK GO DOWN TO THE PIER AND CHAUNCEY TELLS HAWK THAT HE HAS TO LEAVE NOW BECAUSE JACK THINKS HE IS GOT ALL THE MONEY. HAWK SAYS THAT HE HAS NO MONEY TO LEAVE ANYWAY SO CHAUNCEY GIVES HIM A COUPLE OF HUNDRED TO GET TO LA. HAWK TELLS CHAUNCEY THAT HE WILL LEAVE.
---
SCENE NINE: JENNIFER DROPS BY TO SEE ISABELLA WHO IS PREGNANT BY JOHN BLACK, FORMERLY KNOW AS ROMAN. SHE HAS BEEN ILL AND HAS TO STAY A COUPLE OF DAYS IN HOSPITAL.
JENNIFER: I just want to tell you that I really admire you for fighting so hard for John.

ISABELLA: Well it's worth it, don't you think? I mean if there's anything worth fighting for, it's love.

JENNIFER: Yeah, but I don't know. I don't know about that sometimes. I mean what happens when you get to the point where you feel like you can't do it anymore or you feel like you don't have any strength left?

ISABELLA: You can't give up. Even if there is the tiniest spark, you can't let it die.

JENNIFER: I know.... I just needed to hear that.

JENNIFER LEAVES THEN BECAUSE THE STORM IS GETTING SO BAD.
---
SCENE TEN: DOWN ON THE PIER, HAWK HAS A DAYDREAM ABOUT TELLING JENNIFER THE TRUTH ABOUT HIS SCAM AND THAT HE LOVES HER. HE IMAGINES THAT SHE FORGIVES HIM AND WANTS TO BE WITH HIM. AFTER THINKING IT OVER, HE DECIDES TO STAY IN TOWN.
---
SCENE ELEVEN: JENNIFER GETS HOME VERY LATE AND JACK IS WAITING FOR HER.

JACK: Oh good morning!

HE JUMPS UP TO GREET HER.

JENNIFER: Good morning.

JACK: You look exhausted.

HE HELPS HER OFF WITH HER COAT.

JACK: I guess it was a (A reference to Betty Davis' line from All About Eve) bumby night.

JENNIFER: It wasn't exactly a picnic.

JACK: I tell you what, let me get you a cup of tea and while that's heating up I'll draw you a nice hot bubble bath.

SHE REALLY LOOKS STIFF AND SORE.

JACK: Hey look here, you're all wet.

HE RUNS HIS HAND OVER HER SHOULDER.

JACK: Probably could.... ooooh, I think it was a bumpy night. Feel those knots, huh.

HE BEGINS TO SLOWLY MASSAGE HER SHOULDERS.

JACK: I'm sure I can work a little magic here and ease some of them out.

DESPITE HER RELUCTANCE SHE IS ENJOYING HIS MASSAGE.

JACK (CONT.): Perhaps.

JENNIFER: Oh boy.... that's enough, that's enough.

JACK: What do you mean, I just got started.

JENNIFER: No, Jack. That's enough alright. I can take care of myself. I have been taking care of myself since the day you deserted me.

JACK: Yes. (Beat) Well, how's your story going?

JENNIFER: It was fine. I got some good stuff. Dan seemed pleased with it. So what about you, are you going to be scooping The Chronicle?

JACK: Oh absolutely. I'm going to do it just like I said I would.

JENNIFER: Good. I'm glad to hear it. Because The Spectator needs all the attention it can get if it's going to survive you know.

JACK NODS.

JENNIFER: Well I'm feeling really tired. I'm going to go to bed.

JACK: Ah wait a minute. What about the.... about the bubble bath and the hot tea.

JENNIFER: I'm too sleepy for that.

JACK: Well perhaps.... perhaps I could just...tuck you in.

JENNIFER: (Beat) I can tuck myself in. I'm a big girl now.

SHE WALKS INTO THE BEDROOM.
[Transcribed by Carol Vaughan
added material by Sally A. Wilson]
---
---