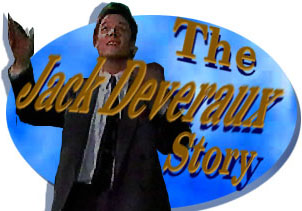 oldEpisode Three-hundred-seventy-four:
Jack
and Jennifer's Reconciliation Is Short
Lived; After the Bank Takes Control
of
The
Spectator
, Jennifer Leaves Jack.
---
[Air date mid-January 1992]
SCENE ONE: JENNIFER HAS JUST LET JACK WIN THE ASK DR. LOVE GAME AND HAS DECIDED THAT SHE LOVES HIM AND WANTS HIM BACK. HIS PRIZE IS A LARGE BED WHICH THEY ARE NOW IN, CUDDLED UP TOGETHER AFTER MAKING LOVE. THEY KISS FOR A FEW SECONDS AND THEN HE KISSES HER HAND AND RUNS HER FINGERS OVER HIS LIPS. THEN HE LIES BACK AND GIVES A VERY HEAVY SIGH.


JENNIFER: Don't you dare gloat.

JACK: What are you talking about? I was.... I was just going to.... I was just going to say how much.... how much I missed you.

JENNIFER: Oh.

JACK: Oh? What did you think I was going to say?

JENNIFER: I don't know. I thought you were going to say something like how all of our problems are solved now because we made love.

JACK: No.... no, I don't...I don't think I could dare say that. I know this does not solve our problems.

JENNIFER: No it doesn't. I mean they're still there.

JACK: Yes they are. But I tell you something, I'm thinking that it would be a lot easier to work our problems.... if we work them out together.

JENNIFER: Yeah, I think so. Tell me again.

JACK: Again?

JENNIFER: Yeah because I have to hear it a lot. I mean I have to be sure that.... that you have grown up a little bit.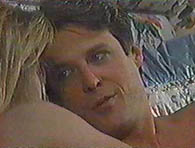 JACK: I love you, Jennifer. I never want to be apart from you, not even for a day.

JENNIFER: It feels so good to be in your arms again Jack. I missed you so much.

JACK: I missed you too. (Beat) I tell you something, I promise you I am never going to risk losing you again, never. (Beat) Ever.

HE KISSES HER AND SHE PULLS THE COVERS UP OVER THEM.

JACK: HEY, wait a minute.

JENNIFER SCREAMS WITH DELIGHT.

JACK: Who turned out the lights?

JENNIFER: Jennifer.

SHE IS LAUGHING MADLY.

JACK: OH, PUT THAT DOWN!

SHE LAUGHS AGAIN AS THEY PLAY UNDER THE COVERS.

JACK: Wait a minute, Oh... Oh my.... oh it's the Jennifermeister, yeah.... WHOA!

SHE IS GIGGLING LIKE A SCHOOL GIRL.
---
SCENE TWO: THEY EVENTUALLY GET OUT OF THE STUDIO AND ARRIVE AT ALICE'S RESTAURANT FOR BREAKFAST. JACK IS STILL WEARING THE RENTED TUX. THEY ARE IN THE AFTERGLOW OF THEIR NIGHT TOGETHER.

JACK: Oh I'm hungry. Are you hungry? We worked up one hell of an appetite, didn't we?

JENNIFER: Jack, sssssh! People might hear you.

JACK: So what? So people should hear. We're one husband and wife team that love each other, right? Am I right?

JENNIFER: Yes, you're right.

JACK: So I'm right. So, right.

JENNIFER: I really missed you.

JACK: We seem to be saying that a lot to each other lately.

ENNIFER: Well it feels nice for us to be together again.

JACK: Yeah, I am feeling rather pleased myself. I'm also very pleased with the fact that we're able to put this whole mess behind us.

JENNIFER: Hmmm, speaking of messes, how are things going at the paper?

JACK: Oh.... oh there is nothing to worry about. I.... I mean I've been working there day and night to turn everything around.

JENNIFER: Yeah I know but the recession is still hurting business, right?

JACK: No, Jennifer, I told you, there is nothing to worry about. I have handled everything. There is no need to worry. Ah, okay, just order for me. I just have to.... run. I'll be right back.

JACK RUNS TO THE BATHROOM AND JENNIFER ORDERS.

JENNIFER: Okay, we'll have two orange juices, poached eggs and dry toast. Oh, is my grandmother here?

WAITRESS: No, no, Mrs. Horton hasn't come in yet.

JENNIFER: Okay, thanks.

THE WAITRESS GOES TO ANSWER THE PHONE.

WAITRESS: Alice's Restaurant. (Beat) Jack Deveraux.... ah no. Well he's here but.... actually, wait, hold on a second, here's his wife. Hold on a second.

JENNIFER: Thank you. (Beat) This is Jennifer Deveraux, can I help you?
---
SCENE THREE: IT IS VERN AND HE IS AT THE SPECTATOR WITH TWO GUYS IN UNIFORMS AND ONE IN A SUIT.

VERN: Ah Jennifer, hi it's Vern. Listen I have to talk to Jack.

JENNIFER: Oh well he'll be right back. What's going on, you sound upset Vern.

VERN: Upset? No, no, no. Listen I have to talk to Jack.

VERN IS VERY UNCOMFORTABLE AND WORRIED.

JENNIFER: What's going on? Is there a problem at The Spectator?

VERN: Well, I wouldn't call it a problem.

JENNIFER: Well don't worry alright. We'll head over right now.

JACK COMES OUT OF THE BATHROOM AND SHE IS FROWNING AT HIM. HE STARTS TO GET WORRIED HIMSELF.

VERN HANGS UP AND THE GUY IN THE SUIT STANDS NEXT TO HIM HOLDING SOME SORT OF OFFICIAL DOCUMENT.

BACK AT THE RESTAURANT.

JACK: Wait, wait a minute, head over where? Was that Vern?

JENNIFER: To the newspaper. That was Vern, there is something wrong.

JACK: What?

JENNIFER: I don't know but I could tell by his voice that there's something going on.

JACK: Wait a minute, listen you don't have to worry about a thing. You just stay here and let me handle it, okay.

JENNIFER: No Jack, don't give me a hard time. I'm going with you, alright. (To the waitress) Maisie, you're going to have to hold our breakfast because we have to go. Come on, let's go.

JACK IS REALLY WORRIED ABOUT HER GOING DOWN TO THE SPECTATOR.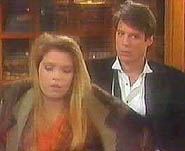 JACK: Let's go.
---
SCENE FOUR: AT THE SPECTATOR, TWO OF THE MEN ARE US MARSHALS AND ONE IS A BANK OFFICIAL, MR. PETERSON. JACK SEES THEM AS SOON AS HE ENTERS.

JACK: Oh no, oh no!

JENNIFER: Look Jack what is this? What's going on?

JACK: I don't know but I'm sure it's not good news.

VERN: Oh listen Jennifer I tried to spare you this. You should have listened to me.

JENNIFER: Vern, what is it? Who are these men?

PETERSON: Mr. and Mrs. Deveraux, allow me to introduce myself. I'm Alfred Peterson, President in Charge of Commercial Loans, Midwestern Bank of Salem.

JACK: Ah yes Mr. Peterson, I'm sure we don't need to involve my wife in whatever business that we're conducting.

JENNIFER: It's alright Jack, I want to be involved. Is there a problem Mr. Peterson.

PETERSON: I'm afraid so.

HE TURNS TO THE DOOR OF JACK'S OFFICE WHERE A MARSHAL IS PUTTING ON A SECURE LOCK.

JACK: HEY! Wait a minute, that's my door. What.... you can't put a lock....

VERN: Jack, the bank is calling the loan.

JENNIFER: What?

JACK: You what?

JENNIFER: I paid the late payments. I used my trust fund. They can't....

PETERSON: Yes I know. I'm sorry Mrs. Deveraux. I'm terribly sorry for your loss but the fact is we were made aware of Mr. Deveraux's disappearance and the somewhat, shall we say, questionable business tactics prior to said disappearance. All of which puts The Spectator in a precarious financial position. Therefore a meeting was held and it was decided that we'd take action.

JACK: Action? Well what kind of action are you talking about Peabody, what kind of action?

PETERSON: Ah, Peterson and what we're saying is you no longer own The Spectator.

JENNIFER: Oh no!

JACK: What?

PETERSON: We do!

JACK: Let me tell you something Mr. Pea.... Mr. P.... whatever the hell your name is. YOU CANNOT COME IN HERE AND JUST TELL ME THAT YOU'RE TAKING AWAY MY NEWSPAPER. MY NEWSPAPER! Because you have to do things like give notice because this is America, you hear that. Vern, right, in this country you have to give notice, right?

PETERSON: Mr. Deveraux, we've been trying to reach you for five days by phone and by certified mail. So you see you did have fair warning. Believe me the bank would much prefer you just pay off the loan.

JACK: Look I.... I don't have this kind of money, not at this moment. If you'll give me....

VERN: If you'd listened to me on the telephone, if you'd just come in the office just once I could have shown you....

JACK: Vern.... Vern!

JENNIFER: Wait a minute, you told me that you have been here day and night for hours every day Jack. What is....

JACK: Jennifer, I was.... let me try to explain.

JENNIFER: No, no, don't try to explain this to me. There is no excuse.

JACK: Yes there is an excuse, Jennifer....

JENNIFER: I have had it.

JACK: Jennifer....

JENNIFER: No I don't want to hear it. I have had it Jack.

JACK: Jennifer.... Jennifer , if you will just let me explain....

SHE WALKS OUT OF THE OFFICE.

VERN: Wait a minute, wait a minute. Jack didn't you see the look on her face? You already lost the paper, you want to lose your life?
---
SCENE FIVE: PETERSON, THE OFFICIAL FROM THE BANK PROCEEDS TO TAKE OVER THE PAPER.

JACK: Wait a minute, it's not like I'm asking for the moon. I just need a little more time. That's all.

PETERSON: I'm sorry Mr. Deveraux, there is nothing more to be said. The paper is ours.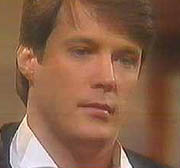 JACK: Alright, it's yours, temporarily, but I run it. I run it. I'll run it and I'll turn it around. I swear to you. I can turn it around.

PETERSON: Sorry I don't think so. (Beat) Mr. Scofield, we're naming you Chief Executive Officer of The Spectator.

JACK: WAIT A MINUTE!

PETERSON: It's up to you if you want this man to work for you. Now, is there some place we can go and talk a deal?

VERN: Ah.... yeah.

THEY WALK AWAY AND JACK IS REALLY SHOCKED.

JACK: Benedict Arnold.

HE PULLS A CREDIT CARD OUT OF HIS WALLET.

JACK: I tell you something, I may not be able to buy anything with these but I can sure as hell get to my desk.

HE GOES TO HIS LOCKED OFFICE DOOR AND TRIES TO BREAK IN WITH THE CARD. INSTEAD THE KNOB FALLS OFF ONTO HIS TOES.

JACK: AAARGH.... AAARGH.... Perfect.
---
[Air date mid-January 1992]
SCENE ONE: JENNIFER LEAVES THE SPECTATOR AND GOES TO THE HOSPITAL. FIRST SHE RUNS INTO BO AND THEY ORGANIZE A SURPRISE BRIDAL SHOWER FOR CARLY.
---
SCENE TWO: THEN CARLY COMES TO TALK TO JENNIFER. CARLY IS WORRIED ABOUT HOW HARD JENNIFER IS WORKING LATELY.

CARLY: I thought everything was alright again with Jack.

JENNIFER: Was.

CARLY: Was, so soon?

JENNIFER: I thought what you thought. I mean I thought clean slate, whole new set of rules. And the first day Jack started lying to me again.

CARLY: What?

JENNIFER: Yeah, I left myself wide open and he took advantage the first chance he could. He is not going to change. He's never going to change and I have to accept that. It's my stupidity, it's my fault. I didn't see it.

CARLY: Fault has nothing to do with it. You trusted someone and you did it because you love him.

JENNIFER: (Beat) loved him.... past tense.

CARLY: Alright, just for the heck of it let's say that's true. You made a mistake, alright. You don't punish yourself for believing in someone. You were honest and open with Jack. You listened to your heart and that's nothing to be ashamed of.

JENNIFER: Sometimes it just hurts, you know. It hurts a lot. And sometimes I feel like I don't know what I'm going to do and I feel I'm going to fall apart.

CARLY: It's not going to happen.

JENNIFER: How do you know that?

CARLY: How do I know that? Because I know you. You're a lot tougher than you think you are Jen. You always have been. I've been leaning on that shoulder for a long time.

JENNIFER: Then you've been making a mistake.

CARLY: I'm not making a mistake. Look whatever happens, in the end you're going to be alright, I know it. I know it with all my heart.

CARLY GIVES JENNIFER A BIG HUG AND JENNIFER LEAVES.
[Transcribed by Carol Vaughan
added material by Sally A. Wilson]
---
---