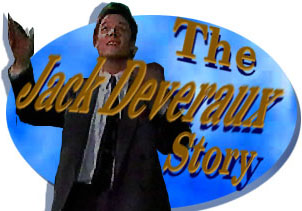 oldEpisode Three-hundred-seventy-five:
"The Irresistible Scent of Hickory Smoke
in Her Hair": Jack Begins His Own
Con to Get Back His Money From Hawk.
---
[Air date mid-January 1992]
SCENE ONE: A COUPLE OF DAYS LATER, JENNIFER GOES TO SEE ALICE AT THE RESTAURANT.

JENNIFER: Is that my grandmother, right there?

ALICE: Jennifer! Oh darling.... have you got time for a visit?

JENNIFER: That's why I'm here.

ALICE: Alright, that's wonderful. Come on, sit down.

JENNIFER: Okay.

ALICE: I haven't talked to you since you got back from Washington.

JENNIFER: I know grandma. I'm sorry. I've been so busy.

ALICE: Well now's the time to catch up. I want to know all about your job interview.

JENNIFER: Oh grandma it went great. I mean the man that I talked to, he seemed pretty impressed and I should be hearing from him any day now. I mean this job could be an incredible career opportunity not to mention the fringe benefits.

ALICE: Jennifer?

JENNIFER: What?

ALICE: Are you really as enthusiastic about this as you're trying to make it sound?

JENNIFER: I don't know what you mean.

ALICE: Well I don't find it easy to think that you'd like to give up all that you have here.... especially Jack.

JENNIFER: Well grandma, I don't really have Jack anymore.

ALICE: Oh dear, well I suppose that there was some final straw.

JENNIFER: Yeah, yeah, you can call it The Spectator. Jack really screwed up this time Grandma. The bank took over the newspaper.

ALICE: Oh darling, I'm sorry, I'm so sorry. And you tried to hard to keep it from going down, not to mention the fact that you subsidized it with your trust fund.

JENNIFER: Yeah, and Jack came back and he let it slip right through his fingers. Grandma I am so mad at him I don't care if I never see his face again.

ALICE: Jennifer, I know this won't solve your problems but your grandfather and I would be glad to lend you the money to buy the paper back from the bank.

JENNIFER: No I'm not going to do that. I appreciate it but I am not going to spend one more penny trying to save Jack's neck. I mean he got himself into this mess and he's going to have to get himself out of it.
---
SCENE TWO: DOWN AT THE SPECTATOR, VERN IS NOW IN CHARGE. JACK IS STILL WEARING THE TUX HE RENTED AND IT ISLOOKING VERY CRUMPLED.

VERN: And another thing Jack, the circulation is way off and I know it's that hard nosed editorial policy of yours that's to blame.

JACK: Vern?

VERN: And look the classified section is a shambles. Now I want it dismantled, I want it reorganized.

JACK: Vern?

VERN: And if I don't get positive results Jack, PDQ, I'm going to crack down on....

JACK: VERN?

VERN: WHAT?

JACK: Let's just drop the boss routine, alright. The bank officials have gone. It's back to business as usual.

VERN: LIKE HELL IT IS, JACK! I AM THE BOSS NOW.

JACK: You're really serious about this, aren't you?

VERN: You're damn right I am. I was given the control of this paper in the hopes of turning it around. Now I've got a job to do Jack and I'm going to do it. So when you hear me tell you to jump you jump and don't come down until I tell you. (Beat) Now this will get you started. Take this copy down to the typesetters.

JACK: Heheheh. You're kidding, right?

VERN GLARES AT HIM.

JACK: Well Vern, we're in the computer age or have you heard. We don't do it that way anymore.

VERN: Oh, really, well it was good enough for me when I started and now that you're starting over, it's good enough for you. From the bottom up Jack, jump, jump, jump.

JACK: Oh I tell you.... I tell you, if I wasn't so determined to save this paper....

VERN: Yes, Jack?

JACK: Alright Vern. We'll do it your way. But you don't have to be such a tyrant about it. I tell you, give the common man a little bit of power and he plays it for all it's worth.

VERN: Hey.... hey.... hey, I learned everything I know about being a boss.... from you. You can't get much more common than that.

VERN STARTS TO WALK AWAY.

JACK: He must be crazy. I was never that bad.

VERN: YOU WERE WORSE! Now your get your skinny tail in gear!

JACK TURNS TO LEAVE WITH THE COPY AND RUNS STRAIGHT INTO GINGER.

JACK: Whoa!

GINGER: Where are you goin'?

JACK: Going to work. Just get out of my way.

GINGER: But wait a minute. You know you could take just a second out of your busy schedule to listen to what I've got to say to you.

JACK: Alright, alright. Everybody's in a bad mood these days.

GINGER: Your friend Hawk is still in Salem.

JACK: I knew that, thank you.

GINGER: Well then maybe you'd like to explain it to me because I thought that he was supposed to get out of town once he got the money.

JACK: I thought so too but obviously he had other ideas.

GINGER: Oh god, well what are we going to do now?

JACK: I tell you, we are going to do nothing. I'm going to do something because when it comes to Baby Howie, I've got a few ideas of my own.

JACK WALKS AWAY AND GINGER LEAVES.
---
SCENE THREE: A BIT LATER IN THE DAY, JACK IS SITTING AT HIS NEW DESK TRYING TO SHARPEN A PENCIL.

JACK: Vern.... Vern.

HAWK ENTERS.

HAWK: Sharpening your skills, Jack?

JACK: Ah just.... just killing time.

HAWK: Yeah, well I got your message, so what's up?

JACK: What's up is.... I need a favor. I need a favor so I was thinking to myself, I was thinking, self if you needed a favor who would you turn to? And imagine the first person to pop into my head?

HAWK: Oh Jack, just let me take a shot in the dark.... me?

JACK: Give the man a cigar. Heheheh.

HAWK: So what kind of favor are we talking about?

JACK: Well a financial one. I figure you're amongst the ranks of the rich and famous. You could float me a little loan.

HAWK: Now what for?

JACK: Well for the newspaper of course.

HAWK: Now Jack why would I go out of my way to help you out? I mean you and I aren't exactly the best of pals.

JACK: Oh, how quickly they forget. Heheheh. Not two days ago you stood there, shook my hand, looked me in the eye and said if there is anything I can do for you, anything at all, just ask. Of course that was right after my signature on a piece of paper made you a very rich man.

HAWK: I smell a rat Jack. Why don't you tell me the real reason that you want the money?

JACK PRETENDS TO BE RELUCTANT TO TELL HAWK THE REAL REASON.

JACK: Alright, alright, you win. The reason I need the money is....

HE MOVES IN CLOSE SO HE CAN WHISPER TO HAWK.

JACK: It's for.... Jennifer.

HAWK: Jennifer?

JACK: Jennifer, yes. It's kind of a long and a sordid story but the crux of the matter is.... ah.... there's another woman.

HAWK: You got to be kidding me.

JACK THEN WEAVES A STORY FOR HAWK, HE LAYS IN ON VERY THICKLY, AND IS VERY DRAMATIC. DESPITE HOW FAR FETCHED IT IS HAWK TAKES THE BAIT.

JACK: No, I am serious. Her name is Cindy. I first saw her stuffing sausages at the meat packing plant. She was in charge of the pork. She saw me, she said.... she said there's the beef. And I said.... Well I don't know what first.... first attracted me to her. Maybe it was that irresistible scent of hickory smoke in her hair. And then we were together, one week, two weeks and all of a sudden the romance just started to sizzle -- so to speak.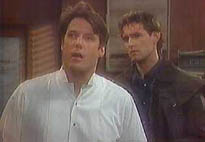 JACK (CONT.): And then we just couldn't stop. What I'm trying to say is it's bigger than the both of us. I mean you understand my dilemma. I.... I love Jennifer.... as a friend, but I cannot walk out on her and leave her with all these financial problems over her head.

HAWK: Yeah.... gee Jack I don't know what to say.

JACK: Just say that you'll.... you'll lend me enough money just to get the paper back on its feet so I can walk out with a clear conscience.

HAWK: I don't know Jack. I'm afraid I'm just going to have to think this one over.

JACK: Just don't think too long. And please.... please just.... just keep it between you and me.

HAWK: Yeah, yeah, of course I will.

JACK: Yeah, thank you. I'll be waiting.

JACK TURNS AWAY FROM HAWK AND SMIRKS. HIS PLAN IS UNDERWAY.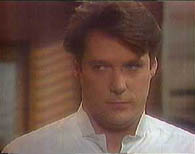 ---
SCENE FOUR: JENNIFER GOES TO SEE JULIE AT WINGS AFTER VISITING ALICE.

JENNIFER: So the paper's in receivership and the bank officials put Vern in charge in order to protect their property.

JULIE: Oh Jennifer darling I am so sorry. Look I want to help you. You know I have all the money in the world. Let me advance you the funds you need.

JENNIFER: No Julie I'm not going to do that. Grandma made me the same offer and I turned her down too. I'm going to let Jack climb out of this hole by himself this time.

JULIE: Ah, alright, your decision.

THEY GO ON TO DISCUSS THE SURPRISE SHOWER FOR CARLY AND MOLLY VOLUNTEERS TO HELP.
---
SCENE FIVE: A LITTLE LATER, CARLY COMES OVER TO WINGS TO TALK TO JENNIFER.

CARLY: So I saw you sitting here and I had to ask. How's it going between you and Jack?

JENNIFER: Well.... it's not going.

CARLY: Oh I'm sorry. I really am. I wish there was something I could do. Talk to him, punch him in nose, anything just to make you feel better.

JENNIFER: Yeah, this is just something that we have to really get together and work out ourselves.

CARLY: Yeah.

JENNIFER: If that's possible, that is.

CARLY: Well you know what, now's as good a time as any to start trying.

JACK HAS WALKED IN AND IS STANDING BEHIND JENNIFER. CARLY LEAVES AND SHE TURNS AROUND TO HIM. HE TAKES THAT AS A SIGNAL TO SIT DOWN.

JENNIFER: Why are you here? I thought I made it very clear that I didn't want to see you.

JACK: Perhaps I want to see you. I just wanted to let you know that I've been working my fingers to the bone for that slave driver Vern.

JENNIFER: If you're looking for sympathy you came to the wrong person.



JACK: No, no, I'm just here to let you know that I can cut it. That I'm rising to the occasion.

JENNIFER: I'm not surprised, all that hot air.

JACK: Look you have no idea what it's like. This little role reversal has just sent Vern on a power trip that would put Napoleon to shame.

JENNIFER: Oh really. Well you know what they say, hardship builds character.

JACK: It also forces people into cataclysmic decisions.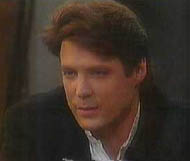 JENNIFER: Jack what are you talking about?

JACK: I'm just letting you know that I have set a plan into motion that will win me back not only you, but the newspaper and my wardrobe.

JENNIFER: Hmmm, well considering your track record Jack, I'll believe it when I see it.

SHE WALKS OUT ON HIM.
---
SCENE FIVE: DOWN ON THE PIER, HAWK TELLS DESIRŁE ABOUT JACK'S OTHER WOMAN. DESIRŁE LAUGHS IN HIS FACE AND THINKS HAWK IS STUPID TO BELIEVE SUCH A STORY.

DESIRŁE: But you know what my instinct is telling me that this cat is on to you. Huh, uh, and he's checking you out just to find out what you are made of.

HAWK: No, no Dessy. He's not going to find out anything from me.

DESIRŁE: Alright, okay, now you're talking. But take my advice Hawk. Forget about the ivory girl, buy yourself a one way ticket out of Dodge otherwise Hawk, you're going to find yourself bumming cigarettes up at the jail house. HAHAHAHAH.

HAWK: You ain't ever going to see me bumming anything.

DESIRŁE LEAVES. HAWK CALLS CHAUNCEY WHO IS MAD THAT HAWK IS STILL IN TOWN. HE ASKS CHAUNCEY TO CONTACT HOWARD, HE NEEDS TO SPEAK TO HIM.
[Transcribed by Carol Vaughan
added material by Sally A. Wilson]
---
---