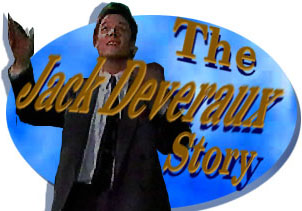 oldEpisode Three-hundred-eighty-four:
Valentine's Day 1992: Jack Finds Them
a New Apartment; Jennifer Has a
Very
Special Valentine's Day Surprise for Jack.
---
[Air date Valentine's Day: February 14, 1992]
SCENE ONE: IT IS EARLY MORNING AND JACK AND JENNIFER ARE STILL IN BED. JACK IS ASLEEP BUT JENNIFER WAKES UP EARLY.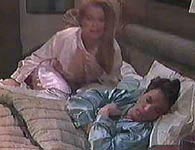 SHE REACHES UNDER HER PILLOW AND TAKES OUT A SMALL BROWN PAPER BAG. SHE TAKES JACK'S WATCH AND GOES TO THE BATHROOM.
For the first time in my life,
I'm not afraid of saying,
How I really feel inside.
We don't have to go on waiting.
Just think about it, Together you and I.

I could never try to write a better story,
For the pages of my life,
Most are written for me,
Cause every night
I waken to my heart.

So we take it one day at a time,
And leave all our worries behind,
No matter which road that we choose,
As long as we've got each other
No way we can lose.

We can make it through life,
Through the kiss of time.

When you look back on the day,
That you tried so hard to reach me,
But I never saw the way,
Till you took the time to teach me.
Yeah I found out what it's all about.

So we take it one day at a time,
And leave all our worries behind,
No matter which road that we choose,
As long as we got each other
No way we can lose.
---
SCENE TWO: JACK WAKES UP WHILE JENNIFER IS STILL IN THE BATHROOM. HE IS SITTING WITH HIS CHECK BOOK TRYING TO WORK OUT HOW MUCH MONEY THEY HAVE LEFT. SHE COMES OUT.
JACK: Early call of nature?

JENNIFER: Ah yes, you could say that.
SHE HAS A BIG GRIN ON HER FACE.

JENNIFER: What are you doing?

JACK: Arithmetic.

JENNIFER: That's our bank book.

JACK: Yes. After making our payments to the bank to cover my debts for the paper, I'm seeing what we can still afford in the way of food, clothing and shelter.

JENNIFER: And?

JACK: We'll be lucky if we make two out of the three.

JENNIFER: Well that's good enough for me. I mean I knew we couldn't afford to stay in this place Jack.

JACK: It does bother you doesn't it?

JENNIFER: No it doesn't bother me. It bothers you.

JACK: Well, there's no point in postponing the inevitable. It's time to get dressed and get out and start pounding that pavement.

JENNIFER: Ah, you know what, you're going to have to pound the pavement alone today.

JACK: You're not coming with?

JENNIFER: No, I have something important I need to take care of.

JACK: More important than this?

JENNIFER: Ah, yeah, sorry.

JACK: Yes you'll be sorry alright when you end up in a roach infested rat trap with who knows what else. I mean that's what you're going to end up with if I'm in charge.

JENNIFER: Come on Jack, don't be so negative.

JACK: I'm just being accurate. I don't know the difference between hearth and home especially your low rent variety.

JENNIFER: Well you know what, why don't you call a real estate agent, one that specializes in rentals and that would save you a lot of time.

JACK: You know they say that time is money, which I could be making a lot more of at the paper if someone else was doing the pavement pounding for me. Oh let me get to that phone. You know the sooner I pay back the bank, the sooner I get my newspaper back and I'll be able to start supporting you in the manner to which you've become accustomed.
SHE PUTS HER FINGER ON THE PHONE TO STOP HIS CONNECTION.
JACK: Why did you do that?

JENNIFER: To get your attention because I have something to say. Number one, I can support myself. Number two, I can get accustomed to anything as long as we're together. And number three, I think it's wonderful that you're trying to get us back on our feet financially Jack, but there are more important things in life than the almighty dollar.
JACK IS SUSPICIOUS OF HER VERY GOOD MOOD.
JENNIFER: Much more.
---
SCENE THREE: A WHILE LATER, JENNIFER HAS JUST GOTTEN DRESS, JUST AS JACK HAS MADE THE FINAL ARRANGEMENTS.
JACK: The deed is done.

JENNIFER: What was that? Did you arrange for the sale?

JACK: Oh yes.... yes. Friday at 5 PM.

JENNIFER: So soon?

JACK: Well they don't believe in wasting time. Actually they're sending someone out to give us the blue book values if you will. So we can set our own prices.

JENNIFER: Well I don't really know anything about all that.

JACK: Well let me give you a little education. It doesn't matter that we're both working at jobs with the bank taking half your pay check and all of mine. We still have to liquidate all of our assets just keep afloat.

JENNIFER: Well you know what Jack, we're going to do this together. For better, for worse, side by side.

JACK: Rung by rung, steadily, surely going down the economic ladder and still you're saying that it doesn't matter.

JENNIFER: It doesn't matter. Not to me anyway.

JACK: Well it matters to me. Let me tell you something, I'm going to pay back every single cent that you've had to put out on my account. I've got.... I've got a little book right here keeping track of everything and someday when I'm solvent again, I'm going to pay you back, your trust fund, with interest. Prime rate, of course.

JENNIFER: Alright, alright, whatever you say. Now can we just drop this? Money is the only thing we ever talk about anymore.

JACK: Fine, fine. Consider it dropped.

JENNIFER: I bet that you don't even know what today is.

JACK: Well you're going to lose that bet. It's....
HE LOOKS IN HIS CHECK BOOK.

JACK: .... its the 14th, Friday.

JENNIFER: Yes that's right. It's Friday the 14th.

JACK: Yes.

JENNIFER: February 14th.
JACK LOOKS AT HER WONDERING.
JENNIFER: It's Valentine's Day. I don't suppose that rings a bell.

JACK: Well I.... I knew that. I knew it was Valentine's Day.
JENNIFER IS NOT SO SURE.
JACK: I did. I was just pretending I didn't know just to throw you off track.

JENNIFER: What track?

JACK: The one where you put two and two together and you figure out I have got something planned for later on.

JENNIFER: OH, OH, the same way you had something planned for me when it was my birthday, right?

JACK: You won't let me live that down will you?

JENNIFER: I'm just kidding, I'm just kidding. You know what, I don't want you to give me anything for Valentine's Day. I don't want a thing.

JACK: And why is that?

JENNIFER: Because there is nothing in the world I want. And besides, if everything works out the way I expect, my surprise for you is going to be a thousand times better than anything you could ever dream up for me.
SHE KISSES HIM.
JENNIFER: Goodbye.
SHE RUNS OUT.
JACK: Just what I need.... pressure!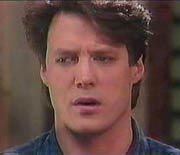 ---
SCENE FOUR: JACK GOES DOWN TO SEE VERN IN THE HOSPITAL. HE TAKES HIM TO THE NURSE'S LOUNGE FOR A COFFEE.
JACK: Old buddy, old pal, it's nice to see semi you up and around.

VERN: Thanks.

JACK: How is the old coconut?
VERN IS STILL IN A WHEELCHAIR WITH A BANDAGED HEAD.
VERN: Well it's still a little tender but they tell me that's normal. At any rate, I was told I could go home today.

JACK: Really! Well that is wonderful. That is absolutely wonderful.

VERN: Gee Jack, I didn't know you cared.

JACK: Well.... heheheh.

VERN: Or does this hail fellow well met routine have a motive behind it?

JACK: Well to be perfectly honest....

VERN: Oh that'll be a first.

JACK: To be honest, I just wanted to come over to thank you. I mean if we hadn't switched places over at The Spectator, I'd be sitting in that chair. I also wanted to thank you to have the common sense not to have your head knocked off so that you could get out of that chair and get back to the paper and get things running again.

VERN: Oh boy, I feel it coming. What kind of a mess do you want me to bail you out of this time?

JACK: No mess, no mess, just wanted to offer a few ideas to stimulate your sagging circulation.

VERN: Such as?

JACK: Such as.... this. It's a little something I picked up in the express line at the local supermarket.
HE HANDS VERN A FRONT PAGE FROM A TABLOID NEWSPAPER. THE HEADLINE READS: "WYOMING WOMAN MARRIES TIME TRAVELER."
VERN: The National Tattler! Now this is stimulating Jack. "Wyoming Woman Marries Time Traveler. Discovers she's her own grandmother."
VERN THROWS THE NEWSPAPER ASIDE IN DISGUST.
VERN: Oh what kind of garbage is that!

JACK: The kind of garbage that sells, Vern. The kind that sells.

VERN: What, for The Spectator? Forget it Jack, forget it.

JACK: I can't afford to forget it Vern. Banks don't care about stories. Banks just want to make money. I'll tell you something, our bank made it perfectly clear that if I can find a better way to move newspapers, they will credit that towards me debts and soon I'll be running The Spectator again. And not you or anybody's going to get in the way of that. I'M GOING TO PULL MYSELF OUT OF THIS FINANCIAL BLACK HOLE OF CALCUTTA IF IT'S THE LAST THING I DO!

VERN: Well that is a very catchy performance Jack.
VERN APPLAUDS.
VERN: But peddling garbage like that is not my idea of the best way to move newspapers and as long as I'm in charge of The Spectator you....
A NURSE BURSTS IN.
NURSE: Mr. Deveraux, there's a call for you on line one.

JACK: Thank you. Hold that thought and try to keep the blood pressure down and try to be a little more broadminded while you're at it. (Beat) Jack Deveraux here. Oh you got one, how much? (Beat) Alright, I'll take it. What's the address? (Beat) "27 Harbor Way, Apartment A." Good I'll check it out.
JACK HANGS UP.
JACK: Alright, it looks like I got a new apartment too.

VERN: What?

JACK: An apartment, a domicile, an abode to abide in. I hope it's not too frighteningly down scale.

VERN: Well you know what they say Jack. Home is where the heart is.

JACK: What a nauseating homily. (Beat) But oddly enough, inspirational too. Vern, read it and weep.
HE HANDS VERN THE NEWSPAPER AS HE LEAVES.
JACK: Read it and weep!
---
SCENE FIVE: JACK GOES DOWN TO FISHERMAN'S WHARF WHERE HE TRIES TO BUY FLOWERS AND CHOCOLATES FOR JENNIFER. HE CHOOSES WHAT HE WANTS BUT THE SHOPKEEPER WANTS TO TAKE THEM BACK.
SHOPKEEPER: Sorry, no sale. Your card's been rejected.

JACK: Wait a .... listen, can you check it one more time. Just check it, please.

SHOPKEEPER: I already did it three times already. Beat it. I've got to take care of the paying customers.

JACK: Let me tell you something. I think the wife forgot to pay the bills. That's all. But come on, it's Valentine's Day. I gotta get her something. I tell you I.... I have some cash, right here.
HE PULLS OUT A FEW NOTES FROM HIS POCKET.
JACK: Right, what will that get me?

SHOPKEEPER: Probably a night on the living room sofa. HEHEHEHEH.

JACK: Hahahah. Very funny. I have a serious cash flow problem here, alright. Give me a break. I got that and I got a little bit of change. Surely there is something here that I can afford.

SHOPKEEPER: How about a piece of advice. Try the dandelion patch around the block. HEHEHEHEH.

JACK: HEHEHEHEH. You know I'd say you should charge for those jokes but I hate to put a price on that wit of yours.

SHOPKEEPER: Happy Valentine's Day.

JACK: Thank you sweetheart! And Chuckles?

SHOPKEEPER: Yeah.

JACK: Don't quit your day job.
JACK WALKS AWAY.

JACK: Alright, alright, alright. I can't give up yet.
---
SCENE SIX: BACK AT THE PENTHOUSE, JENNIFER HAS JUST GOT HOME. SHE IS *VERY* EXCITED AND IS CARRYING A FEW SHOPPING BAGS.
JENNIFER: Jack, Jack, are you here?
SHE GOES OVER AND LISTENS TO THE ANSWERING MACHINE TO LISTEN TO THEIR PHONE MESSAGES.
JACK: Jennifer, it's me. I want you to meet me at 27 Harbor Way, Apartment A, as soon as possible. You may consider this your Valentine's Day surprise.
JENNIFER: Surprise, huh? Oh Jack you ain't seen nothing yet.
SHE HURRIES OUT TO MEET JACK.
---
SCENE SEVEN: SHE ARRIVES AT THE APARTMENT BUILDING. IT IS NOISY AND THE HALLS ARE DARK. THE DOOR TO APARTMENT A IS PAINTED BROWN AND IT IS SLIGHTLY AJAR.
JENNIFER: Well this must be the place.

SHE PUSHES THE DOOR OPEN. JACK IS INSIDE WITH HIS HEAD LYING FLAT ON THE TINY KITCHEN COUNTER; HE LOOKS EXTREMELY DEPRESSED.
JENNIFER: Hi Jack.

JACK: Take your shoes off. Make yourself at home.

JENNIFER: Jack what's wrong?

JACK: Oh nothing, nothing. Before I called you about a surprise I probably should have checked out the surprise myself. Look at the.... squalor that we've been reduced to.
SHE LOOKS AROUND THE TINY DARK LIVING ROOM. IT HAS ONE WINDOW AT THE BACK AND THE TINY KITCHEN IS IN THE CORNER.
JENNIFER: You know what, I think that we should try to be positive about this Jack.

JACK: This is me being positive. Please pull up the floor. Sit down.

HE SITS DOWN AND CROSSES HIS LEGS AND SHE SQUATS OPPOSITE HIM. HE HAS TWO CANDLES AND A MINATURE BOTTLE OF CHEAP WINE WITH OF THOSE SMALL SNACK PACKETS ON THE FLOOR.
JENNIFER: You know what, remember what I said before. I said it doesn't matter where we live as long as we're together. (Beat) What's all this?

JACK: That's your Valentine's house warming present. You've had the rich man, now enjoy the poor man version.

JENNIFER: Wow.
SHE PICKS UP THE SMALL BOTTLE OF WINE AND THE SNACK PACKET THAT HE BOUGHT.
JENNIFER: One good thing. Neither of us will get fat or drunk.

JACK: Pity.... isn't it?

JENNIFER: No, it's very sweet. Just like you.
SHE LEANS OVER AND KISSES HIM.
JACK: Right! And what is this?

JENNIFER: This stuff is my Valentine's Day surprise for you. And I promise you Jack, it's going to knock your socks off.
JACK POURS OUT A GLASS OF THE WINE AND IS ABOUT TO POUR HER ONE WHEN SHE STOPS HIM.
JENNIFER: Oh no, no thanks. I can't.... have any.
HE SNIFFS THE BOTTLE.
JACK: Well I can't really blame you. Bad month.
SHE GETS OUT HER GIFTS FOR HIM. THERE IS A SMALL BABY BOTTLE, A RATTLE AND A PACIFIER AND A FEW OTHER SMALL BABY ITEMS INCLUDING A TEETHING RING.
JACK: And what is this? This is my surprise that I've been waiting all day for. It looks like you raided a discount store.

JENNIFER: Heheheh. Jack don't you recognize clues when you see them? There's a common theme. They all have a connection.

JACK: Huh, huh. Is this your oh so subtle way of telling me I'm dense?

JENNIFER: No. Alright, I guess subtle isn't going to work for you so I'm just going to have to spell it out. (Beat) Okay, this is it. I started to suspect something when I was two weeks late so I went to the grocery store and I got one of those do-it-yourself things.
JACK IS HOLDING HIS WINE GLASS AND LOOKING TOTALLY BORED BY ALL HER CHATTER.
JENNIFER: Well, I did myself this morning and for some reason you have to do it the morning. I have no idea why. But it came out positive and I was so excited but I didn't want to get to excited because sometimes when it comes out positive it can be a false positive. So I made an appointment with the doctor and I went to the hospital and he made me take a test and he told me that I'm absolutely positively without a doubt....

JACK: Jennifer, Jennifer.

JENNIFER: What?

JACK: Would you stop beating around the bush. Just spit it out.
SHE GETS A HUGE SMILE ON HER FACE.
JENNIFER: Okay, this is my surprise for you. (Beat) I'm pregnant!

JACK ALMOST CHOKES ON HIS DRINK. [MATTHEW CANNOT HELP SMILING BEHIND THE GLASS] HE SLOWLY PUTS DOWN THE GLASS AND STARES AT HER IN AMAZEMENT.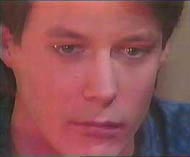 [Transcribed by Carol Vaughan
added material by Sally A. Wilson]
---
---