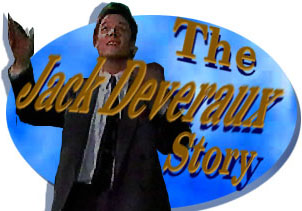 oldEpisode Three-hundred-eighty-six:
Jack Is Still Having Problems
Dealing with the Pregnancy;
Jennifer Tells Her Family the News.
---
[Air date mid-February 1992]
SCENE ONE: AT THE PENTHOUSE , JACK IS PREPARING FOR A MASSIVE "GARAGE" SALE. HE IS RUNNING AROUND THE APARTMENT, ATTACHING PRICE TAGS TO EVERYTHING THEY OWN.
JENNIFER: Jack, do you realize that everything in this house has a price tag on it?

JACK: That's because we have a big sale tomorrow and we have to be ready for it.

JENNIFER: My toothbrush is for sale?

JACK: Look you are a big celebrity in this town. People will pay big bucks for this.

JENNIFER: Right, you know what, let's talk about something happier than this sale and money, alright.

JACK: How could we talk about something happy? I mean.... look.... we are selling off everything lock, stock and barrel. I mean when the baby comes there'll be no place for it to sit, let alone lie down or whatever it is, babies do. (Beat) I'm not saying that.... I'm not saying that I'm not happy about this. That's not what I want you to think.

JENNIFER: Then what is it Jack?

JENNIFER: It's the timing! I mean look at the timing here. We're being booted out of our penthouse.

JENNIFER: It's not like we don't have someplace to go Jack.

JACK: We are bringing a new life into this crazy world and I feel responsible.

JENNIFER: You? we are responsible.

JACK: The key word is responsibility. I'm not going to nickel and dime this kid.

JENNIFER: I'm not asking you to do that.

JACK: That's good because I'm not going to be happy until I get some money back in my pockets and get the paper up and running. Period!
JACK IS NOW READY FOR THE SALE AND HE PUTS A STICKER ON HIS CHEST THAT SAYS "NO OFFER REFUSED."
JACK: Alright ladies and gentlemen, no offer refused. We'll take any offer. Going, going.... gone.
JENNIFER COMES OUT OF THE KITCHEN CARRYING A LARGE TRAY OF TEA CUPS.
JENNIFER: Everything's all set. They'll all be here in a minute.

JACK: Who will be here any minute?

JENNIFER: My grandma and grandpa, Uncle Mickey and Aunt Maggie.

JACK: You invited your family over tonight?

JENNIFER: I have to tell them about the baby sooner or later don't you think?

JACK: I vote for later.

JENNIFER: Look, alright, this is some of the best news of my life and I want to share it with them. I think you can understand that. At least they'll be happy.

JACK: Oh they'll be happy alright. I can see your Uncle Mickey right now just grinning for ear to ear as he witnesses me having to sell.... everything out from under you.... both of you. There will be no family charity, you understand that. There is a way out of this. I'm going to find it, not them.

JENNIFER: Jack, what are you.... where are you going?

JACK: I'm going to work.

JENNIFER: Right now, at this hour?

JACK: You know how much colleges cost? Every year it goes up and up and up. What if the kid wants to go to Med School? What am I going to tell him? Or tell her?

JENNIFER: My family is coming over!
HE WALKS INTO ANOTHER ROOM.
JENNIFER: Oh Jack.
---
SCENE TWO: EVERYBODY ARRIVES TO SEE JENNIFER.
JENNIFER: Ah would anyone like some more tea, Grandma, Grandpa?

ALICE: No thank you dear.

MICKEY: Am I the only one who's getting the impression that there's a stalling tactic in practice here.

TOM: Jennifer you did call us together for some reason, didn't you?

JENNIFER: Well yes....
JACK COMES OUT, ALL READY TO GO TO WORK.
JENNIFER: Jack, there you are. Come here, look who's here. My family.

JACK: Oh, hello Mr. and Mrs. Horton, Mr. and Mrs. Horton.

MICKEY: Jack.

JACK: Well, feel free to browse. Jennifer will give you the best prices. In the meantime I have to go out and make the world safe for journalism.

ALICE: Jack I'm so sorry it's come to this for you.

MAGGIE: We're all sorry Jack.

JACK: That's quite alright, really. Don't worry. We'll get it all back and more. In the meantime, I'm learning to enjoy of well meaning pity. Excuse me.
JACK IS VERY UNCOMFORTABLE, AND HE IS TRYING TO DO ALL HE CAN TO GET OUT OF THERE BEFORE JENNIFER TELLS EVERYONE SHE IS PREGNANT.
JENNIFER: Jack I haven't even told them yet.

JACK: I've got to go.

TOM: Told us what for heaven's sake?

ALICE: Yes, please Jennifer, what's going on?

JENNIFER: I'm pregnant!
IT IS TOO LATE, JACK IS CAUGHT. EVERYONE IS HAPPY FOR JENNIFER.
ALICE: OH!

MAGGIE: What?

JENNIFER: I said I'm pregnant. I'm going to have a baby. Jack and I are going to have a baby.

TOM: Good lord.

ALICE: Jennifer darling, it's wonderful.

MAGGIE: Oh that's fantastic.
MICKEY GRABS JACK'S ARM. JACK IS NOT AT ALL PLEASED, HE ALWAYS FEELS THAT MICKEY THINKS HE IS NOT GOOD ENOUGH FOR JENNIFER.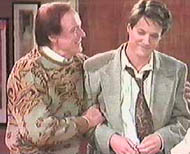 MICKEY: Jack, you son of a gun, that's terrific.

TOM: (To Jennifer) My darling, wonderful, wonderful.

JENNIFER: Thank you Grandpa.
TOM GIVES HER A BIG HUG AND SHE LOOKS ACROSS AT JACK. HE GIVES HER A HALF SMILE. DESPITE HIS FEARS, JACK IS OBVIOUSLY HAPPY FOR JENNIFER; HIS LOVE FOR HER CAN BE SEEN IN HIS EYES.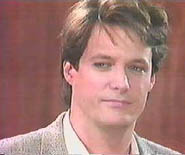 JACK THEN GOES OFF TO WORK.
---
SCENE THREE: A SHORT TIME LATER, AT THE PENTHOUSE EVERYONE IS PREPARING TO LEAVE.
TOM: I'm going to walk you downstairs Mickey. There's a couple of things I want to talk to you about.

MICKEY: Sure, dad. Jennifer, hey great news.

JENNIFER: Thank you Uncle Mickey, thank you.

MICKEY: Ah, yea.

MAGGIE: And remember, next week I'm going to take you baby shopping and buy you some pretty things.

JENNIFER: Well I'll be there. Thank you Aunt Maggie.

MICKEY: Well you know this is just the beginning, just the beginning. Our luck is turning around. I can feel it.
THEY ALL LEAVE EXCEPT ALICE.
JENNIFER: So, happy for me?

ALICE: You know I am. For you and Jack. I just said the magic word didn't I?

JENNIFER: Yeah, I'm worried about him.

ALICE: Well it's this sale, all the debts.

JENNIFER: Yeah he's just concentrating so hard on this because he doesn't want to face the big problem. He's scared of this baby.

ALICE: Jennifer, all expectant fathers are afraid.

JENNIFER: Really?

ALICE: Even your grandfather and your father. Darling, he'll come round, you'll see.

JENNIFER: Yeah.
---
SCENE FOUR: DOWN AT THE SPECTATOR, VERN COMES INTO HIS OFFICE.
VERN: Jack?

JACK: Hello Chief.

VERN: Oh come on, how many times do I have to tell you not to call me that.

JACK: Sorry Chief.

VERN: Heheh. What are you doing here this late anyway?

JACK: I could ask you the same question. You just got out of the hospital.

VERN: Ah well I'm fine and besides I got more work on my desk than.... stacked up so high I don't know what to do with.

JACK: Not anymore you don't. Just look it over, sign it and tell me what to do next. We're going to get this paper out of the mess that it's in. I got to start putting some money in my pocket, fast.

VERN: Why, Jennifer's still got her job. I mean the bank's only taking half her salary. There should be enough coming in after that to get you guys by.

JACK: There's got to be alot more to life than just getting by chief.... I mean Vern. I've got a plan, that's what I've got to say. And Jennifer probably won't be working much longer anyway.

VERN: She's quitting the station? To do what?

JACK: Smell the flowers, have a baby.

VERN: Oh.... WHAT?
VERN TRIES TO TURN AROUND TO TALK TO JACK BUT JACK KEEPS PUSHING HIM BACK TO WORK.
VERN: She's pregnant?

JACK: Yes, keep signing, on the dotted line.

VERN: Jack, that's wonderful. Congratulations.

JACK: Thank you, cash gifts are acceptable

VERN: How come you're not jumping up and down?

JACK: I am, thank you.
JACK GRABS THE SIGNED PAPERS FROM VERN AND KEEPS WORKING.
VERN: Jack, you're going to be a father!

JACK: I know. It puts me in the mind of my two dads, either, or.

VERN: What?

JACK: Ever since I heard the news I've been thinking about Harper. I know what you're going to say. He had his ups and downs but he.... he could be quite a dad sometimes. I'll tell you something, by the age of ten I knew more about the world than most people do in an entire lifetime. That's because of Harper. I would like to give that to my child, one way or another. Something like that.

VERN: Well, not just like that. Let's hope we have a different ending.

JACK: Well obviously there's going to be a different ending. Obviously there is no question of the parentage. Obviously. I mean there will be some mistakes made but they will be my mistakes because I'm the one making the mistakes. And I should make quite a father too.... as long as I don't screw up.

VERN: Ah, you won't.

JACK: That's right, I won't. And you know why, because I know the basis of a family foundation is a financial foundation. If you don't have that you're just a.... an old reprobate like.... like Duke.

VERN: Oh, you're nothing like Duke.

JACK: Wait a....

VERN: You're nothing like Harper either.

JACK: I'm just saying....

VERN: Look I know you Jack. Now right or wrong, I've always.... I've always considered you one of my own. You know what I mean, one of my own sons. You are going to make a very good father.
VERN WRAPS HIS ARMS AROUND JACK.

JACK IS UNCOMFORTABLE WITH ALL VERN'S AFFECTION.
JACK: I'm proud of you Jack.
THEY CONTINUE TO WORK.
JACK: You thought you were proud of me before, you're going to love this. Well not exactly love. You'll just have to get used to it but this is a sure fire way to get the paper out of the banker's hands and back where it belongs. In mine. Now I want you to just give it a chance, just think about it. I'm going to show you the prototype, right.

VERN: Oh good, he's going to show it to me.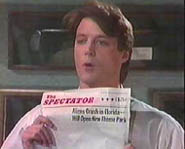 JACK HOLDS UP A SAMPLE FRONT PAGE. IT READS: "ALIENS CRASH IN FLORIDA - WILL OPEN NEW THEME PARK."
JACK: Look at this headline. Won't that sell papers.

VERN: Oh for god's sake.

JACK: No picture this. Everything Thursday, a very special four color Elvis spread. An epic....

VERN: NO, NO, NO.

JACK: But chief, listen....

VERN: We've been through this before. I'm not going to let you take The Spectator and turn it into a trashy tabloid. JACK: But chief....

VERN: No, end of discussion. It's late, go on home. Go to your family. And listen Jack, will you please not call me Chief.
VERN WALKS OUT.
JACK: Sure.... whatever you say.... chief.
---
SCENE FIVE: IT IS LATE THAT NIGHT, JACK IS ALONE ON THE COUCH, LOOKING AT THE OLD SLIDES OF HIS CHILDHOOD WITH HARPER.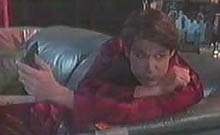 HE CLICKS THROUGH THE DIFFERENT SHOTS AND WALKS UP CLOSE TO THE SCREEN TO TOUCH THE ONE OF A VERY EARLY BIRTHDAY PARTY WITH HARPER HOLDING HIM. JENNIFER HAS COME OUT LOOKING FOR HIM; JACK HAS NOT NOTICED HER.
JENNIFER: Jack, can't you sleep?

JACK: No I was just.... just sitting up here in the half dark just kind of resting my eyes. This is kind of like dreaming anyway.

JENNIFER: Come on.
SHE SITS DOWN WITH HIM AND TURNS OFF THE PROJECTOR.
JENNIFER: Old pictures can do that.

JACK: Huh, huh. (Beat) Once upon a time, long ago, far away.... it kind of seemed like.... like someone else.

JENNIFER: You know there is nothing wrong with the life that you've got Jack.

JACK: Yeah. Especially this part of it.
HE TAKES HER HAND.
JENNIFER: Everybody is really excited for us about the baby.

JACK: I'm looking forward to being excited myself.

JENNIFER: Do you have any idea when that will be?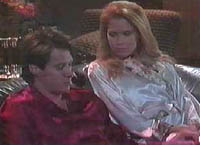 JACK: Ah, I don't know. Maybe when I can finally figure our a way to give you and me and....
HE LOOKS DOWN AT HER STOMACH.
JACK: .... whoever, the kind of life that you should have. But I will.... I will do that. (Beat) I promise.
THEY SIT SIDE BY SIDE, TOGETHER BUT APART. JACK FEELING TERRIBLE THAT HE CAN BE EXCITED AND HAPPY FOR JENNIFER, AND WANTING TO; JENNIFER HURT THAT JACK IS NOT EXCITED ABOUT THE BABY.
[Transcribed by Carol Vaughan
added material by Sally A. Wilson]
---
---