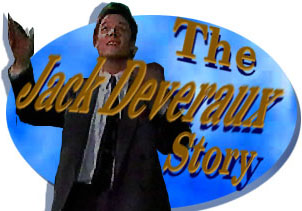 oldEpisode Three-hundred-eighty-eight: Jack
and Jennifer Move into Their Apartment.
---
[Air date late February 1992]
SCENE ONE: JACK AND JENNIFER MOVE INTO THEIR NEW APARTMENT. THEY ARRIVE CARRYING THE JADE PLANT AND A FEW SUITCASES.
JENNIFER: Well it looks like our jade plant made it through the wind and the move Jack. What about you?

JACK: Me, I'm fine. I'm just fine.

JENNIFER: You know what, I probably should have helped you with all of those bags.

JACK: No, no, no, no, you're carrying enough yourself. Especially the plant, especially the plant.

JENNIFER: What do you mean, especially the plant?

JACK: Oh come now, you're a reporter. Use your powers of observance. Can you see it's stopped wilting.

JENNIFER: You're right, it did stop wilting, didn't it?

JACK: Yeah, well I figured you'd like to continue to nurture it especially in this.... cold and lovely environment.

JENNIFER: Jack, you know this plant is going to flourish and grow wherever we are.
JACK GIVES HER A LOOK OF DISBELIEF.

JENNIFER: It is. Now look I'm going to put it in the window up here, okay.

JACK: Huh, huh.

JENNIFER: It's south facing so it should get a lot of sun.

JACK: That's good, that's good. I think we're going to need a lot of solar heating here because we're not going to be able to pay the bills.

JENNIFER: Jack!
THE LANDLORD WALKS IN JUST AT THAT MOMENT AND HEARS JACK'S WORDS.
LANDLORD: What do you mean, you can't pay your bills?
---
SCENE TWO: JACK AND JENNIFER'S NEW LANDLORD JUST HAS WALKED IN, AND HAS HEARD JACK SAY THEY CANNOT PAY THEIR BILLS.

JACK: Oh, it's our slum.... I mean it's our landlord, Hervey.... Harvey. Harvey. Jennifer this is Harvey, the landlord.

JENNIFER: Hi.

JACK: What brings you by

Harvey?

LANDLORD: I just came by to make sure everything is okay. It's just the two of you, right?

JACK: Yes, yes, just the two of us.

JENNIFER: Well for now, until the baby comes.
JACK'S FACE SINKS.
LANDLORD: Oh, nobody said anything about a baby. Look, I just don't like babies in my apartments, okay. It's just that they make too much noise and mess.

JENNIFER: Yeah, well that's too bad because we've already signed the lease.

LANDLORD: Yeah, for two people, not three.

JENNIFER: Look if you're going to try to kick us out because we're having a baby, there are laws against that. You can't do that.
JACK WRAPS HIS ARMS AROUND HER TO TRY TO GET HER TO STOP.

JACK: No, no, no, there's nothing to worry about. Harvey, we will be out of here long before the baby ever shows up. Nothing to worry about. Now thanks for coming by. Really, thank you. We'll roll out the welcome wagon again sometime. Thanks, bye.
JACK PUSHES HIM OUT AND SHUTS THE DOOR.

JENNIFER: What is going on Jack? I want to know right now what you've got up your sleeve.
JACK STARTS TO UNPACK.
JENNIFER: You didn't answer my question. What are you up to?

JACK: I'm up to unpacking, that's what I'm up to.

JENNIFER: That's now what I'm talking about. You just told the landlord that we were not going to be living here when the baby comes.

JACK: I'm just trying to avoid a confrontation and I didn't want him to have to experience your notorious left hook. Now if you'll excuse me I have a lot....

JENNIFER: No, I'm not going to excuse you until you tell me the truth.
THE PHONE STARTS TO RING.
JACK: Well it couldn't be for me. No one dares call me after business hours.

JENNIFER: That's because you don't have any friends, Jack.

JACK: You know it's friends like that who raise your phone bills. Which brings me to a point, make it quick.
HE POINTS TO THE PHONE.
JENNIFER: Hello.

DAN: Hello Jennifer, I'm glad I got you in. Listen I've got a hot interview for you tonight.

JENNIFER: Tonight? Dan, you know what , we just moved into our new place and it's late and I'm tired and....

DAN: Oh, oh, great. You're going to start pulling the pregnancy bit on me, right.

JENNIFER: What, who said anything about pregnancy?

DAN: Come on, I know the routine. Oh it's my first trimester and I'm tired all the time. Okay fine sweetheart, you go ahead and rest and I'll get somebody else to do the interview with Marlena Evans.

JENNIFER: Marlena, wait. What are you talking about, what's going on?

DAN: Well she only broke the biggest unsolved murder in the history of Salem. Of course maybe I could get Hillary to do it.

JENNIFER: Hillary! She's an intern. You can't.... look I'll do it alright.

DAN: You sure? I mean we don't want to overtax the little mother.

JENNIFER: Oh Dan, stop being a chauvinist pig alright. Send a cameraman over to Marlena's house and I'll meet him there, okay. Bye.
SHE HANGS UP.
JENNIFER: JACK!

JACK: What, what?

JENNIFER: I'm leaving.

JACK: Leaving? For where, where are you going, we just got here?

JENNIFER: For Marlena's house. I'm going to do an interview.

JACK: Marlena, what's going on with Marlena?

JENNIFER: Just watch the news, okay.

JACK: What do you mean, watch the news. I....
JENNIFER OPENS THE DOOR AND VERN IS THERE ABOUT TO KNOCK.
JENNIFER: Hello Vern, goodbye Vern.

VERN: Bye Jenny Girl. Hey listen, congratulations on the baby.

JENNIFER: Thanks.

VERN: Vern would make a good boy's name.
JENNIFER HAS LEFT BUT JACK JUST LAUGHS AT THIS SUGGESTION.

JACK: Hahahahah. Well Vern, what brings you by? Brought me a little housewarming gift?

VERN: No I didn't bring you any damn little housewarming gift. I brought you this Jack.
HE HOLDS UP THE LATEST EDITION OF THE SPECTATOR. THE HEADLINE READS: "I HAD ELVIS' BABY."
JACK: And every word is true.

VERN: Elvis died in 1977.

JACK: But not in my heart.

VERN: This is a lie Jack. A total irresponsible....

JACK: But I have sworn statements. Medical affidavits proving that the father of that baby is Elvis.

VERN: Schumaker! Elvis Schumaker, a maintenance man from Sandusky, Ohio.

JACK: I never disputed that. It's written right there in the bottom of the article.

VERN: Sure, sure, in the last paragraph on the last page in print so small you'd need an electron microscope to read it.
VERN THROWS THE NEWSPAPER AT JACK.
VERN: You know if it wasn't for Jennifer, I'd fire you for this.

JACK: You wouldn't dare. You know why? Because this is going to sell more copies ofThe Spectator than ever before. VERN: Oh sure, well I doubt that very much.

JACK: Well, you're wrong.

VERN STORMS OUT AND SLAMS THE DOOR.
JACK (CONT.): (To himself) At least I certainly hope you're wrong.
---
SCENE THREE: JENNIFER RETURNS FROM HER INTERVIEW.
JENNIFER: I'm back. What was Vern here about?

JACK: Oh nothing.... just.... just business.

JENNIFER: Business like this?
JENNIFER HOLDS UP THE ELVIS EDITION OF THE PAPER.
JACK: Why yes. Where did you pick that up?

JENNIFER: On the way home. It jumped out at me on the newsstand.

JACK: Really. It must be selling like hot cakes.

JENNIFER: No, the man told me this is the only one he's sold.

JACK: Well just give it some time. I'm sure it will.

JENNIFER: I can't believe that you stooped this low Jack.

JACK: The stooping part began when I was forced out of my apartment and forced to live in a ghetto like this. JENNIFER: Oh come on. This place is not that bad.

JACK: I'm glad you feel that way because we're not going anywhere anytime soon thanks to the FBI.

JENNIFER: The FBI. What are you talking about?

JACK: I'm talking about this.
HE HANDS HER A LETTER.
JENNIFER: Dear Mr. Deveraux, this letter is in response to your recent inquiry about your missing securities. We regret to inform you that we have been unable to trace the person or persons who defrauded you. And as your assets were converted to cash it seems unlikely that we will be able to do so in the future.

JACK: Love, kisses, your regional branch of the FBI. P.S, don't bother us again or we'll put you on Nixon's enemy list.

JENNIFER: Bush.

JACK: What?

JENNIFER: George Bush, he's our President.

JACK: I don't care who's the President now. The point is our money is gone. Everything is gone and it's not coming back. That old man's lying on a beach somewhere sucking down Margaritas at the expense of the Deveraux millions!

JENNIFER: Did you really think that you were going to get any of that money back?

JACK: Did you really think that I was going to just write it all off?

JENNIFER: Well it doesn't look like you've got much choice now, do you?

JACK: No, no, no, that's where you're wrong. I have plenty of choices. I'm going to throw my lot in with the rest of America. That inquiring America that wants to know.
HE PICKS UP THE NEWSPAPER AND HOLDS IT HIGH.
JACK: You see this is my salvation.

JENNIFER: No, this is junk journalism, that's what it is.

JACK: Yes! And junk journalism sells because just like junk food everybody's got to have it.

JENNIFER: I cannot believe I'm hearing this from you of all people. You were the one who taught me how to be a good reporter. How not to write that fluff, that sleaze.

JACK: Let me tell you something, I will print and write whatever.... whatever I damn well please to secure a future for me and mine. And there's nothing that you or Vern can do to stop me.
JACK STORMS INTO THE BEDROOM.
---
SCENE FOUR: A SHORT TIME LATER, HE COMES BACK OUT TO GET A GLASS OF WATER. HE PUTS THE GLASS UNDER THE FAUCET AND THE WATER THAT COMES OUT IS SLIGHTLY GREEN IN COLOR.

JACK: I can't drink this. I can't even give it to you.
HE PICKS UP THE JADE PLANT AND JENNIFER STARES AT HIM. HE TIPS THE WATER OUT.
JACK: I mean what's the point of all this? I mean you.... no water, no heat, there's no nothing. I mean it's not a fit place for man nor.... plant.

JENNIFER: You know Jack, our plant has been through a lot worse and it's always survived. (Beat) You know.... look. Look at that little sprig right there. I don't even think that was there when we moved in.

JACK: What, where?

JENNIFER: Right there.
HE PICKS IT UP FOR A CLOSE LOOK.
JACK: Really?

JENNIFER: Yeah, really. You're doing great with the plant Jack. Just like you're going to do with the baby.

SHE LEANS UP AND KISSES HIS CHEEK.
[Transcribed by Carol Vaughan
added material by Sally A. Wilson]
---
---