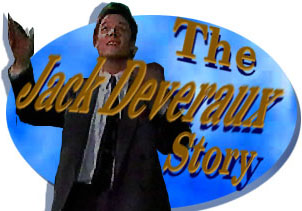 oldEpisode Three-hundred-eighty-nine: Jack
and Jennifer Are Having Difficulty
Economizing; Jennifer's Hormones Kick in.
---
[Air date late February 1992]
SCENE ONE: JENNIFER IS AT HOME PAYING THE BILLS WHEN JACK RETURNS. THEY NOW HAVE A SMALL TABLE WITH TWO CHAIRS AND A WORN OLD YELLOW COUCH.
JACK: End of the month, huh?
HE PICKS UP A FEW OF THE BILLS.
JACK: So, we're going to make it?

JENNIFER: Ah, yeah, just barely.

JACK: Just barely. We're living in squalor, working like field hands and we're just one step ahead of financial disaster.

JENNIFER: Don't start, okay. Don't.

JACK: I'm just continuing. Hand in mouth was never my style, you know that.

JENNIFER: I wish you would give up this obsession with lifestyle. You know there are more important things to life than money.

JACK: You know that's spoken just like somebody who doesn't have any.

JENNIFER: Well at least I'm trying to make the best of it.

JACK: I read you loud and clear. You're suggesting that I get an attitude adjustment. Perhaps one that doesn't put so much emphasis on the "M" word.

JENNIFER: Maybe one day you'll even be able to say that word without salivating.

JACK: Is there really anything wrong with salivating?
JENNIFER TURNS AWAY IS DISGUST JUST AS THE PHONE RINGS.
JENNIFER: Why don't you get the phone and I'll fix us some lunch.

JACK: Really, well you better use your imagination. Last time I looked the cupboard was bare.
HE PICKS UP THE PHONE.
JACK: Hello, poor house. (Beat) You don't say. (Beat) You don't say! (Beat) You don't say!

JENNIFER: Who is it Jack?

JACK: He didn't say. But he did say, we're going back on top again. We're going to be rich again.
---
SCENE TWO: AT THE DEVERAUX' NEW APARTMENT JENNIFER, JACK IS TALKING ON THE PHONE; JENNIFER IS VERY SUSPICIOUS AS JACK FINISHES HIS PHONE CALL.
JACK: Yes, yes, well thank you for the glad tidings. Yes, well, upward and onward.
HE HANGS UP AND STARTS TO LAUGH.
JACK: Heheheheh, well Jack Deveraux may be down but he's not out. Not by a long shot.

JENNIFER: What's that supposed to mean? Who was that and what glad tidings were him thanking him for Jack?

JACK: Walt. Walt in circulation just confirmed what I already knew. You see the headline that I put in yesterday's Spectator sent the sales right through the roof.

JENNIFER: Hmmm.

JACK: No congratulations? Come on now, we have to understand. Every now and then we all have to compromise.

JENNIFER: Speak for yourself Jack.

JACK: I am speaking for myself. But I'm thinking for me, you and you know who.

JENNIFER: Oh really, did you ever wonder what you know who is going to think of you?
SHE THROWS TWO PLATES OF SANDWICHES ONTO THE TABLE AND SITS DOWN.
JACK: What exactly is that supposed to mean?

JENNIFER: Jack, do you know that we are going to be parents soon. That is a huge responsibility.

JACK: You're telling me about responsibility!

JENNIFER: Well part of our responsibility is that we set a very good example for our children.

JACK: Oh excuse me. Are you implying that I'm doing something now that I'm going to be ashamed of?

JENNIFER: I don't know, you tell me. When our children are old enough to understand and they want to know what you do in the newspaper business, are you going to be proud to show them those headlines?

JACK: Yes! Yes I will be proud. I will sit them down and I will tell them that these were the stories that put food in your mouth and a roof over your heads.

JENNIFER: Jack, that is not true and you know it. We were doing fine right before you started all this and we would have continued doing fine before you started....
JACK TAKES A BITE OF THE SANDWICH AND ALMOST GAGS. HE CANNOT SWALLOW WHAT IS IN HIS MOUTH AND USES A NAPKIN TO SPIT IT OUT.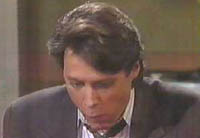 JACK: Ooooooh, what is that? Excuse me. (Beat) What.... what is this? Are you trying to poison me?

JENNIFER: It's bologna. It's generic bologna.
JACK PULLS A FACE.
JACK: It tastes like wet wool.

JENNIFER: Well Jack it's all we have alright and it's not that bad. Once you get used to it, it's fine.
JENNIFER TAKES A BIG BITE AND TRIES TO CHEW IT.
JACK: Right, once you get used to it, it's....
HE TRIES ANOTHER BITE.
JACK (CONT.): it.... oh no, no. Once you get used to it, it's worse. It is worse. I'm sorry. I cannot deal with mystery meat on three day old bread.
HE GRABS HIS COAT.
JENNIFER: Jack where are you going?

JACK: Back to work. I'm getting us out of the gutter and back to name brand cutlets!
HE SLAMS THE DOOR.
---
SCENE THREE: JENNIFER IS CHECKING THE CUPBOARDS FOR FOOD, SHE WRITES OUT HER SHOPPING LIST.

JENNIFER: Well Jack was right. The cupboards are bare.
SHE GOES OVER AND CHECKS HER PURSE TO SEE HOW MUCH MONEY SHE HAS LEFT.
JENNIFER: Thirty dollars.
SHE SIGHS.
JENNIFER: Well that's not going to get us very far. Maybe Jack was right about more things being wrong.
SHE STARTS TO GET UPSET WHEN THERE IS A KNOCK ON THE DOOR.
JENNIFER: Who is it?

JO: It's your mother-in-law.
JENNIFER OPENS THE DOOR.
JENNIFER: Jo, hi.

JO: Hi.

JENNIFER: Come on in. I thought you'd be working today.

JO: Well the agency sent me over for half a day but you know I thought I'd come over for a little visit. JENNIFER: Great, that's great.
JO SENSES THAT SOMETHING IS WRONG.
JO: Jennifer?

JENNIFER: Huh, I'm sorry, what?

JO: Ah, I don't know. You just don't seem like yourself.

JENNIFER: Um, it's just that a lot of things are happening right now that I don't really quite understand.

JO: Well what things? Anything that you can talk about?

JENNIFER: Well I guess I probably should talk about it or I'm going to fall apart.

JO: Oh it can't be all that bad.

JENNIFER: Well that's what I used to think and then I suddenly realized how bad it is. (Beat) Jack and I are broke, Jo. We are flat broke.

JO: I know that The Spectator has not been doing well lately but what about your salary?

JENNIFER: My salary is paying for the debts on the newspaper and all of the household expenses. And there's barely enough money left for food after that.

JO: You mean there's no money at all?

JENNIFER: Well we have thirty dollars to buy food for the week.

JO: You would be amazed, you would be amazed at how far thirty dollars will go if you'll use it wisely.

JENNIFER: Well Jo, that's the problem. I have never been in this position before. I have no idea how to economize.

JO: Well unfortunately I do. And I'll help you if you want me to.

JENNIFER: Well I don't even know what to do. How do we start?

JO: Okay, first thing we do is we pick up the food section from yesterday's paper, then we plan a menu from all the sales. Then we cut out and use all of the double coupons. Piece of cake.... well, from the half price bakery shop of course.

JENNIFER: Well what else.
JENNIFER IS RELIEVED.
JENNIFER: Okay let me get the newspaper, okay.

JO: Jennifer?

JENNIFER: What?

JO: Everything's going to be alright. I promise.
---
SCENE FOUR: DOWN AT THE SPECTATOR, JACK HAS COME UP WITH ANOTHER HEADLINE. "CHER TO WED MACAULAY CULKIN" WITH A BYLINE, "HONEYMOON PLANS, HOME ALONE."
VERN: I told you before, it's out of the question!

JACK: Vern, just look at it. "Cher Weds Macaulay Culkin, Honeymoon Plans, Home Alone." It gives a whole new meaning to I Got You Babe.

VERN: It's garbage. Pure and simple. And this time I'm not letting you get away with it.

JACK: Vern, do you have something against the sales of this newspaper going right through the roof? I mean is that against your religion or something?

VERN: Oh this isn't about sales Jack. It's about taste and responsibility and your gross misuse of one of Salem's most time honored institutions.

JACK: I think the public disagrees with you there Vern. They bought up every edition of this paper as soon as we could print it. And the bankers weren't too disappointed either.

VERN: Heh.

JACK: No, they weren't. Then again they have a vested interest as opposed to you who does not.

VERN: Are you telling me I don't care about The Spectator?
VERN IS ANGRY.
JACK: Oh no, no, no, I would never say that. But Vern if you keep getting in my way I will be forced to report to said bank officials that your position is seriously hindering the financial progress of this paper.

VERN: You'll stoop to anything won't you?

JACK: Well.... when it comes to getting me or the paper back in the black, I only stoop to conquer. Excuse the literary pun.

VERN: You have your little joke Jack but down inside you know I'm right. And evidently something is driving you to abandon all your principles for this journalistic equivalent of horse manure.
JACK GRABS THE PAPER FROM VERN.

JACK: This is not manure! This is survival of the fittest. Of me and mine.

VERN: What, your family?

JACK: Vern this is.... this is....
VERN PUTS HIS HAND ON JACK'S SHOULDER AND JACK FEELS AWKWARD. HE KEEPS GLANCING AT VERN'S HAND.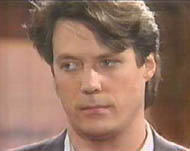 VERN: Jack I understand, I understand. Listen, I've been there myself. I know how the spirit can be crushed for a married couple when the money's tight. God knows, Nancy and I had plenty of arguments about it. But you know something Jack, one of the biggest regrets of my life is that we let that stuff get between us. And I don't want to see you and Jennifer make that mistake. I mean your time together is precious. You shouldn't waste a fraction of a minute of it fighting over money, or anything else for that matter. Learn from my mistakes Jack. Believe me it's just not.... it's just not worth it.
VERN LEAVES . JACK DOES THINK ABOUT WHAT VERN SAID.
---
SCENE FIVE: LATER THAT EVENING JACK RETURNS TO THE SMALL APARTMENT WHERE JENNIFER IS SETTING THE TABLE FOR DINNER. HE CAUTIOUSLY WALKS IN THE DOOR WITHOUT A WORD AND WALKS OVER TO HER.
JACK: Hello.

JENNIFER: Hello. (Beat) How was your afternoon?

JACK: It was fine, fine. Yours?

JENNIFER: It was fine. Actually I went shopping with your mother today.

JACK: Well you don't say.
HE LOOKS AT THE TABLE AND THEN NOTICES THE PLATES. HE PICKS ONE UP.
JACK: Wait a minute, you didn't get these plates down at Alice's did you?

JENNIFER: No, no. Actually Jo and I went shopping at a thrift shop.
JACK PAUSES. THIS IS VERY HARD FOR HIM.
JACK: A what?

JENNIFER: A thrift shop. You know, where they sell recycled merchandise.

JACK: You saying this is.... used?

JENNIFER: Well yeah but Jack it's almost as good as new and it was really cheap. You see this dish was only a quarter and that dish was a quarter and this glass right here, it had a little hairline crack right there but the man, he sold it to me for a dime.

JACK: How sporting of him.
JACK HATES ALL THIS BUT JENNIFER IS REALLY PLEASED THAT SHE HAS MANAGED TO ECONOMIZE.
JENNIFER: And you know what the best part is, at the supermarket today they were having a special on regular ground beef and you get a free recipe of meatloaf with it. So I bought the ground beef so guess what we're having for dinner?

JACK: Fillet mignon. (Beat) Kidding, I'm just.... kidding.
JENNIFER IS A BIT UPSET BY HIS JOKE.
JENNIFER: Well everything's all ready so if you want to sit down.
HE FEELS BAD ABOUT THE JOKE AND PULLS OF HIS COAT WITH ENTHUSIASM.
JACK: No I'm ready, I can't wait, really. You know when I think about American cuisine, I think about meatloaf. I mean it's right up there with.... green tuna noodle casserole.

JENNIFER: Well I thought you hated green tuna noodle casserole.

JACK: Oh no, no, that must have been a misunderstanding.
SHE PUTS THE MEATLOAF ON THE TABLE WITH A PLATE OF PALE LOOKING GREEN BEANS. JACK CANNOT KEEP HIS EYES OFF IT.
JACK: I mean look at this.

THE TOP OF THE MEATLOAF IS COVERED IN KETCHUP AND IT IS SITTING IN A SMALL PUDDLE OF FATTY LIQUID.

JACK: Look at this, this is like.... well, it's.... it's like something out of Bon Appetite.
JENNIFER SMILES.
JACK: Um, will you allow me to have the first slice?

JENNIFER: Yeah.

JACK: There you go.

HE CAREFULLY SLICES OFF A PIECE. IT IS OBVIOUS IT IS VERY TOUGH.
JACK: Ah, yes. Heheheh, oh I just can't to just.... dig in to this tasty morsel.
HE CAREFULLY PUTS A BITE INTO HIS MOUTH AND BEGINS TO CHEW. HE TRIES HARD TO SWALLOW IT BUT IT TAKES A FEW SECONDS.
JENNIFER: How do you like it?

JENNIFER IS REALLY EXCITED. JACK TAKES A LARGE GULP OF WATER BEFORE HE CAN ANSWER.
JACK: I think the.... only word that comes to mind is.... incredible.
HIS THROAT IS DRY AND HOARSE, BUT JENNIFER DOES NOT SEEM TO NOTICE.
JENNIFER: Oh.
SHE SCOOPS OFF A PIECE WITH A SPOON AND BEGINS TO CHEW IT. HER FACE GRADUALLY CHANGES TO DISAPPOINTMENT.
JENNIFER: Yeah it's incredible alright.
SHE TAKES A GULP OF WATER.
JENNIFER: It's incredibly AWFUL!
SHE PICKS UP THE WHOLE PLATE OF MEATLOAF AND HEAVES IT ACROSS THE ROOM.
JACK: WAIT.... I...
THE PLATE SHATTERS AND THE MEATLOAF GOES EVERYWHERE.
JACK: Jennifer, you didn't really have to do that.
SHE STARTS TO CRY.
JENNIFER: Yes I did. (Beat) I'm sorry.

JACK: What, for sending the meatloaf to the wall?

JENNIFER: No I'm sorry because I yelled over lunch.
JACK THEN BEGINS TO FEEL BAD.

JACK: Well, we.... we were getting a little carried away.

JENNIFER: Jack what do you expect? I am.... I am just this complete mass of raging hormones, okay.
JACK JUST KEEPS STARING STRAIGHT AHEAD AS SHE STANDS UP AND STARTS RANTING.

JENNIFER: I realize that you're trying to do your best in a difficult situation right now and so am I. I realize that your life isn't exactly the way you want it to be right now, alright.
HE STANDS UP TO GO TO HER.
JENNIFER: But you try being pregnant on top of everything else.

JACK: You know I kind of thought.... I kind of thought that we were kind of actually in this together.

JENNIFER: Oh come on Jack, you know what I mean, alright. I am getting fatter and fatter by the minute. I am the one who's going to get varicose veins, post partum depression. (Beat) Yes I'm going to get hemorrhoids too Jack, alright. Everything, all you had to do, you have done and believe me it was a lot more fun than this.

JACK: Alright, alright, I'm sorry. You tell me what to do and I will do it. Tell me what to do.
JENNIFER TURNS TO HIM.
JENNIFER: I just want you to be nice to me.

JACK: I can do that. I.... come here. Just come here.
HE TAKES HER IN HIS ARMS AND HOLDS HER GENTLY.
JACK: It's.... it's going to be alright.

JENNIFER: I know.

JACK: Really, it'll be alright.

JENNIFER: I know.
THEY ROCK IN EACH OTHER'S ARMS AS HE GENTLY STROKES HER HAIR.
JENNIFER: I trust you to do the right thing.
THAT SCARES JACK.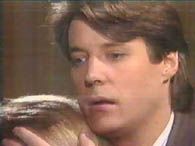 JACK: I tell you what, I think.... I think you should just go in the other room and take a nap. That'll make you feel a lot better, really.

JENNIFER: Yeah, I think I'll do that.
JENNIFER GOES TO THE BEDROOM AND JACK RUSHES TO THE PHONE.
JACK: Hello, Mel, it's me. Yeah look I want to talk you about the head.... yes the headline. Right the one about.... the home alone honeymoon, yes. That headline is going in as writ. Not a change in a single word or a comma, you got that? (Beat) Right.
[Transcribed by Carol Vaughan
added material by Sally A. Wilson]
---
---