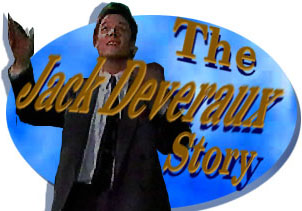 oldEpisode Three-hundred-ninety: Jack Is
Suffering from "Sympathetic" Pregnancy.
Jennifer Is Disgusted with Jack's Tabloid
Articles and Plans to Do Something about It.
---
[Air early March, 1992]
SCENE ONE: IT IS A COUPLE OF DAYS LATER AND JENNIFER IS READING A BOOK ON PREGNANCY WELLNESS.
JENNIFER: Jack did you know that a pregnant woman should increase her caloric intake by 3O%? That's 300 calories a day.
JACK IS IN THE KITCHEN WITH AN APRON ON. HE IS LOOKING IN THE FRIDGE.
JACK: Where's the eggs? How can you make an omelet without eggs.

JENNIFER: Oh, they're in the cupboard.

JACK: They're in.... the cupboard.
HE IS PUZZLED.
JENNIFER: Yeah, they're powdered eggs. You just have to add water or something like that.
JACK FINDS THEM AND IS REALLY TURNED OFF.

JACK: Something like that.... you're telling me people actually.... eat this.
HE IS LOOKING AT THE PACKET AS IF IT IS POISON.
JENNIFER: You know that it says here I should probably gain between 22 and 28 pounds.

JACK: Well what about the cheese? Is the cheese powdered too?

JENNIFER: No, the cheese is in the refrigerator.

JACK: Oh of course, the cheese is right here in the.... oh, not powdered. The other "P" word.... processed.
HE PICKS UP THE BLOCK OF CHEESE AND FLEXES IT.
JACK: This is lovely. You're telling me we don't have any real food now unless you want to count the mushrooms growing under the sink. I mean has it come to that? Worse that we have eat things that are.... that are literally growing from the mold.

JENNIFER: Jack, would you stop? It's not that bad.

JACK: Not that bad. Powdered eggs, processed cheese. I suppose the next thing you're going to tell me this is....
HE PICKS UP A GLASS OF MILK AND STARES CLOSELY AT IT.
JACK: Oh don't tell me. Don't tell me.

JENNIFER: Well no, I mean it's not powdered milk. But.... it's not real milk. It's a milk substitute.

JACK: A what?

JENNIFER: Well it's a milk substitute. It has a lot of vitamins and minerals but they make it with oil and it's only 50 cents a gallon.

JACK: Heh, oh this is great. Listen you can just forget about that 28 pounds, 22 pounds. You're not going to gain anything if you try to eat this, this, this or this.

JENNIFER: Please Jack.

JACK: We need real food and we need real money to get it.

JENNIFER: I wish you would stop being so negative. You know our situation could be a lot worse.

JACK: I know I'm going to be sorry I asked this but.... how?

JENNIFER: I could have morning sickness. Do you know it says here that nausea and vomiting can persist all day and into the evening becoming even more severe at meal times.
JACK STARTS TO LOOK SICK.
JENNIFER: I haven't had that at all. And it says the vomiting center of the brain can be activated by certain odors or flavors.
JACK PICKS UP THE MILK SUBSTITUTE AND SNIFFS IT.
JENNIFER: Sometimes vomiting is brought on my visual stimuli such as unpleasant thoughts or sights.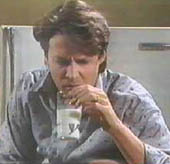 JACK SUDDENLY FEELS LIKE HE IS ABOUT TO VOMIT.
JACK: Oh....

JENNIFER: What's the matter?

JACK: Oh....

JENNIFER: What's wrong?

JACK: Oh.... oh.... excuse me. Excuse me.... I....
HE RUNS INTO THE BATHROOM AND SHUTS THE DOOR. JENNIFER ROLLS HER EYES IN FRUSTRATION.
---
SCENE TWO: A SHORT TIME LATER, JACK COMES BACK OUT. HE IS A BIT SHAKEY AND IS DABBING AT HIS MOUTH WITH THE CORNER OF HIS APRON.
JENNIFER: Jack, what's wrong with you?

JACK: Ah.... noth.... I don't know. It just kind of hit me all of a sudden.

JENNIFER: What?

JACK: I don't know. It was just headaches, nausea, waves of vom.... vom....

JENNIFER: Vomiting? You just vomited?

JACK: Eh.... eh....

JENNIFER: When did this start?

JACK: It started when I first.... when I first saw the poor excuse for a....
HE PICKS UP THE PACKET OF POWDERED EGGS AND DROPS IT IN THE SINK.
JACK (CONT.): .... eggs.

JENNIFER: You know what Jack that is visual stimuli. Unpleasant thoughts or sights, nausea, headaches. You've got all they symptoms.

JACK: Symptoms of what?

JENNIFER: Well according to this book, you have morning sickness.

JACK: Get out of here.

JENNIFER: I'm serious.

JACK: No wait a minute, I'm serious.
HE LIFTS UP HIS APRON.
JACK: Look, nothing up my sleeve. I'm not pregnant. You're pregnant.

JENNIFER: I understand that but it says here that sometimes the husband's body will go through changes to coincide with their wives. It's called sympathetic pregnancy.

JACK: This is ridiculous. That stupid book. Who know what it.... what else does it say?

JENNIFER: Well here read it yourself.

JACK: I can't, can't, sick, sick.... sick.

JENNIFER: You're sick?
JACK NODS.
JACK: Yeah.

JENNIFER: Oh good. Maybe you're too sick to keep writing those tabloid headlines then Jack.

JACK: Oh don't start in on me there. I tell you something. I'll never be too sick to write those things. I'll write them on my death bed if I have to.

JENNIFER: Well, good because you're going to be there soon enough if you keep this up.

JACK: Look, there is nothing wrong with giving the public what they want. And it sells papers.

JENNIFER: And you sold out.

JACK: While trying to make the paper run so that we could eventually have a little more money in our pockets.

JENNIFER: Jack you are going about it the wrong way, alright. And if it is the last thing that I ever do, I am going to prove that to you.
SHE PICKS UP HER COAT AND LEAVES. AS SOON AS SHE LEAVES, JACK STARTS TO FEEL NAUSEOUS AGAIN. HE DECIDES TO READ UP ON THE POSSIBILITY OF SYMPATHETIC PREGNANCY IN JENNIFER'S BOOK.
---
SCENE THREE: JACK IS READING JENNIFER'S PREGANCY BOOK, READING UP ON "SYMPATHETIC PREGNANCY; HOWEVER, IT DOESN'T HELP AND HE HAS TO LIE DOWN ON THE COUCH WHEN SHE RETURNS.
JACK: Oh, you're here. Good, could you.... could you reach that pillow for me. The book here says I need a pillow to give me a little support under my back. It's....
SHE PICKS UP THE PILLOW AND HITS HIM WITH IT.
JENNIFER: Shut up Jack, you are not pregnant. Now sit up.

JACK: Alright.

JENNIFER: I went out and I found some copies of the National Intruder and The Inquisitor.

JACK: Wait a minute, you didn't spend our good money on those rag.... on those.... ah.... radically innovative newspapers did you?

JENNIFER: No, I went downstairs and I got them from Ginger.

JACK: Good, good, because they cost a fortune.

JENNIFER: Good, because I want to show you what you're coming to, alright.
SHE HOLDS UP ONE PAPER.
JENNIFER: "Elvis Reincarnated as Big Foot. Park Ranger finds size 35 blue suede shoes." "Siamese Twins Win Three-Legged Race at Company Picnic. Employees cry foul." (Beat) Jack these are lies. Everything printed here is unsubstantiated and is untruthful and it is sometimes hurtful. Do you know that?

JACK: Yes, yes.
HE DOES NOT MEAN A WORD OF IT.
JENNIFER: And The Spectator isn't much better, "Michael Jackson and Madonna to Wed in Matching Gowns!" What is happening to you? This is no way to run a newspaper Jack.

JACK: It's funny, the people who are supposedly running this newspaper tell me that The Spectator is selling like it never has before.

JENNIFER: I don't care what they say. The Spectator used to be a newspaper to be proud of. You have turned it into a complete joke.

JACK: I have turned it into a money maker.
JACK IS SCANNING THE TWO TABLOIDS FOR MORE IDEAS.
JACK: For the first time in a long time, hopefully we will see some money out of it.

JENNIFER: Is this how you want to be remembered?

SHE HOLDS UP THE SPECTATOR.
JACK: Is this what you want it to say on your tombstone?

JACK: Let me tell you something, these are two of the most popular newspapers in America today because they dared to tell the people what they want to hear.

JENNIFER: Jack, look I am begging you. Please don't do this, alright. Stop. We will figure out a way to make some money and save it up. We will fine, you just have to have a little faith.

JACK: Oooh, I never thought of that.

JENNIFER: You didn't?

JACK: No, Elvis and Big Foot on the same front page. It's magic. Hey magic could be there too.

JENNIFER: What?

JACK: It's magic, this is gold. If only I could find a follow up.... a follow up. I just need an angle. An angle, angle, ankle.... foot.... shoe.... shoe. Shoe, the shoe fits.

JENNIFER: Wait a minute, what are you talking about Jack? What are you up to?

JACK: If the shoe fits. Yes, size. America loves size.
HE STARTS LOOKING THROUGH THE WHITE PAGES.
JACK: Yes, the bigger the better. Yes, the tighter the.... hahahahah.
HE PICKS UP THE PHONE.

JENNIFER: I'm getting out of here. I'm going to the station, Jack, goodbye.
JENNIFER LEAVES. JACK CONTINUES HIS CALL.
JACK: Yes, you sell shoes. Is it true what it says in the ad, no problem with your size of feet no matter small or.... big.... foot.
---
SCENE FOUR: JENNIFER ARRIVES AT THE TV STUDIO AND CANNOT FIND DAN. SHE IS WAITING FOR HIM AND SHE SPOTS HIM OVER IN THE SHADOWS WITH MADELINE. THEY ARE BOTH ADJUSTING THEIR CLOTHING -- OBVIUOUSLY THEY ARE HAVING AN AFFAIR. JENNIFER RAISES HER EYEBROWS IN SURPRISE.
JENNIFER: Ah, excuse me, Dan?

DAN: Jennifer, hi.

JENNIFER: I've been looking for you.

DAN: I was just going to call you.

JENNIFER: Really, I decided to come in early today.

DAN: Good, good. I need you to do the editorial at noon.

JENNIFER: But that's Madeline's spot.

MADELINE: Oh it's okay. Dan's asked me to work on another story.... for the evening news.

DAN: Yeah, it's.... very important.

JENNIFER: Oh, well what was the editorial about?

MADELINE: The pending teacher's strike. The copy's on the news desk.

JENNIFER: Dan would you mind if I did an editorial of my own?

DAN: Ah no, but you haven't got much time.

JENNIFER: That's alright, I already have something on my mind that I'd like to do.

DAN: Okay, alright, but just remember to follow the station's policy.

JENNIFER: Oh I will, I definitely will.
DAN WALKS AWAY.
MADELINE: So how are things with Jack?

JENNIFER: Well you know Jack. Every day's an adventure.

MADELINE: Yeah, excited about the baby?

JENNIFER: Yeah, he's.... speechless.

MADELINE: So how are you feeling anyway?

JENNIFER: I feel great.

MADELINE: No morning sickness?

JENNIFER: Jack's handling that.

MADELINE: What?

JENNIFER: Nothing, nothing, I'm just kidding. Um, really I feel great. This pregnancy so far has been incredibly easy.
---
SCENE FIVE: BACK AT THE APARTMENT, TOM HAS COME TO VISIT JACK AND IS READING JENNIFER'S PREGNANCY BOOK WHEN JACK COMES OUT OF THE BATHROOM. HE HAS OBVIOUSLY BEEN SICK AGAIN.

JACK: Ooooh.

TOM: Oh, not again.

JACK: I.... ah, oh here, let me have this book. I need to see how long this morning sickness lasts.

TOM: Is that what you think this is?

JACK: Well I've got all the symptoms. (Beat) Oh no.... oh no.

TOM: What, what, what?

JACK: It says it's not over until the trimester. That could be weeks. I could be dead by then.

TOM: Don't you think you're taking this a little far?

JACK: Well perhaps I won't be dead but I'm sure I'll be hospitalized.

TOM: Oh come on Jack! Sit down.

JACK: Sure, it says in the book you should take a load off.

TOM: Right. Relax. Look this is going to be tough time, first baby. Fatherhood can be pretty scary.

JACK: You're telling me.

TOM: But it also can be pretty wonderful. I remember when Alice was first pregnant. I didn't know whether I was coming or going. I was scared half out of my mind. Heh.

JACK: Wait a minute, you were?

TOM: Does that surprise you?

JACK: Ah.... I suppose it does. It seems you've always been a.... father.

TOM: Yeah it does seem like that, that I've always been a father. But at one time, I was just as nervous as you are.

JACK: Oh no, I'm not nervous. It's this morning sickness, it's just....

TOM: Jaaack!

JACK: Well, alright, alright, I'm relatively.... terrified.

TOM: Well that's natural. You're going to be the father of a new life. The baby is going to be dependent on you.

JACK: Is this supposed to make me feel better?

TOM: I'm just trying to make you feel less alone. We've all been there. When Alice was first pregnant, well we didn't have much money. We lived in a place like this, only smaller. I was an intern, barely could make ends meet. Then Alice had to quit her job. Things got really tight. It wasn't easy. And at the time I just felt that I wasn't really ready. But then, I saw Addie and Tommy Jr. and I knew. It was the most wonderful moment of my life.

JACK: So, so you're saying you had.... two

TOM: Twins, they run in the family.
TOM LAUGHS AND JACK TRIES HARD TO THINK IT IS FUNNY TOO.
JACK: Oh, heheheheh, that's a good one. I'll just go check that out in the book over there.
JACK WALKS OVER TO THE KITCHEN BENCH AND LOOKS UP TWINS IN THE BOOK.
JACK: Twi....
HE FAINTS AND FALLS FACE UP IN FRONT OF TOM.

TOM: Come on Jack! We haven't lost a father yet.
[Transcribed by Carol Vaughan
added material by Sally A. Wilson]
---
---