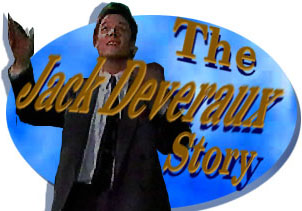 oldEpisode Three-hundred-ninety: Jennifer Does
an Editorial about Jack's Trashy Headlines;
Jack Debates Her on Camera, Which
Jeopardizes her Job. Later, They Agree That
with the Baby, They Need to Act Responsibly.
---
[Air early March, 1992]
SCENE ONE: DOWN AT THE STUDIO, JENNIFER IS DOING HER EDITORIAL, AIMED AT JACK.

JENNIFER: How many times have you been at a grocery store standing in line when you find yourself staring at an outrageous sensationalized headline? A story so ridiculous that it offends your intelligence and your principles. Yes ladies and gentlemen, I'm talking about the tabloids. Those so called newspapers who insult and distort the truth for their own gain.
---
SCENE TWO: BACK AT THE APARTMENT, JACK IS LISTENING IN TO HER EDITORIAL.
JENNIFER: And the so called journalists who write for them. So called because what they're selling isn't journalism at all but damages the credibility and hurts the dignity of the legitimate news profession.
JACK SITS DOWN IN FRONT OF THEIR OLD BLACK AND WHITE TV, MUNCHING ON DRY CRACKERS.
JENNIFER: I'm speaking in particular to those journalists who used to report serious truthful news. People who once understood the responsibility journalists have to the public. They've sold out. Sold their talents to the highest bidder and why? Has money become more important than the truth? Has printing lies become an acceptable way to line your pockets? If you can answer yes to that question, you're not a reporter. You're a salesman and what you're selling is sleaze.
JACK GETS MAD AND HEADS DOWN TO THE STUDIO.
---
SCENE THREE: JACK ARRIVES AT THE STUDIO, LOOKING FOR JENNIFER.

JACK: JENNIFER, JENNIFER! Where are you? Jen.... wait a minute.
JACK FINDS HER.
JACK (CONT.): YOU TALK TO ME.
JENNIFER HEARS HIM, BUT COMPLETELY IGNORES HIM.

JACK: HOW COULD YOU GO.... how could you go on the air and talk about me the way that you did? How could you say....

JENNIFER: You know you wouldn't be this upset if what I said wasn't true, right?

JACK: Wait a minute, this is not about what's true and what's not true.

JENNIFER: Oh, you're telling me now that journalism has nothing to do with what's true and what's not true. JACK: No, that's not....

JENNIFER: The newspaper has no responsibility to tell the truth anymore, is that it?

JACK: No, this is not about the newspaper. This is about you doing TV editorials....

JENNIFER: Editorials about newspapers and newspaper editors. Ex-newspaper editors who sell their professional soul for a buck.

JACK: No, this is not about a buck. This is about a living. There is nothing wrong with making a living.

JENNIFER: That's what I was doing. I was making a living. I was sitting here in front of the camera telling all of Salem that you were turning The Spectator into a sleazy lying tabloid Jack.

JACK: Wait a minute, so you were talking about me.

JENNIFER: I am just like you. I am doing what I have to do. I'm making a living, that's all.
JACK IS FURIOUS WITH HER.
JACK: You used your position as a broadcaster to launch a personal crusade against me.

JENNIFER: No I didn't Jack. I didn't even mention your name or The Spectator so how could anyone think that I was talking about you?

JACK: Well you were, weren't you?

JENNIFER: If the sleaze fits.

JACK: OH!
JACK LOOKS UP AND SEES DAN.
JACK: Oh, the Danster, the Dan, the Danmeister.

DAN: Whatever it is, I don't have time to discuss it.

JACK: Make time for it. I'm here to rebut Jennifer's editorial.

DAN: No you're not. We don't have any airtime today.

JACK: Make airtime or you'll be talking to some people at the FCC.

DAN: Alright, let me see the schedule.

JACK: (To Jennifer) Harper appointed quite a few friends at the FCC.

JENNIFER: Oh really, Harper had friends Jack?

JACK IS SURPRISED AT HOW CUTTING SHE IS TO HIM.
DAN: No I'm sorry Jack. There's only one story on the slate that's even remotely expendable.

JACK: Well expend it!

DAN: It's Madeline's piece.

JACK: Bump Madeline's piece.

DAN: I can't bump Madeline's piece.

JACK: Why not?

DAN: Because (Beat) because, that's why.

JACK: Look, you bump Madeline's piece and you bump it now or you'll be talking to people at the FCC, the station manager, and any number of people who have....
DAN TURNS TO THE STAGE MANAGER.
DAN: Drop it. (Beat) Thanks for dropping by Jack.

JACK: No problem.
DAN WALKS OFF AND JACK CALLS AFTER HIM.
JACK: I love ya Dan, I love ya. (To Jennifer) So?

JENNIFER: I can't believe that he gave into you Jack.

JACK: Believe it. I can see there are still some things you need to learn about the news business Jennifer. The truth will always out.

JENNIFER: Oh, the truth?

JACK: The whole truth and nothing but. You'll see. (Beat) MAKE-UP!
JACK MARCHES OFF TO GET READY FOR HIS BROADCAST.
---
SCENE FOUR: A SHORT WHILE LATER, BOTH JACK AND JENNIFER ARE SEATED AT THE NEWS DESK READY TO BEGIN THEIR DEBATE. [THE NETWORK WAS CHANGED FROM WATB TO WTGB.]
JENNIFER: Jack will you just listen to me, please?
JACK CLEARS HIS THROAT AND IGNORES HER.
STAGE MANAGER: Alright everybody, places. We're counting down in five, four, three, two....
HE POINTS TO THE ANCHOR.
ANCHOR: And now with a reply to Jennifer Deveraux's latest WTGB TV editorial, here's Jack Deveraux.
JACK SITS UP STRAIGHT AND CLASPS HIS HANDS ON THE DESK. HE LOOKS VERY SERIOUS AS HE LOOKS STRAIGHT INTO THE CAMERA.
JACK: Thank you, good afternoon Salem. I'm here today to defend democracy and the American way. On this very station recently, a reporter brutally attacked the prerogative of a well-loved and award winning local newspaper to print the news which it sees fit to print in the way it sees fit to print it.

JENNIFER: (Loud whisper) Will you give me a break?

JACK: I.... it is this reporter's opinion that there is a market and an interest and even more importantly a need, a real need out there, for the kind of reporting that the new Spectator intends to champion. News that truly matters to you, the ordinary man and woman at home. Things....

JENNIFER: John, will you swing that camera over here, please? Ladies and gentlemen....

JACK: John....

JENNIFER: .... please ignore everything that gentlemen has just said for your own good.

JACK: John what are you doing? John, back here.

JENNIFER: He will do or say anything to sell a newspaper.

JACK: An American newspaper.
OVER ON THE SIDE, DAN AND THE STAGE MANAGER ARE DISCUSSING WHAT IS GOING ON.
JACK: An American newspaper printed on American paper.
JACK STARTS TO WAVE A SMALL AMERICAN FLAG AS HE SPEAKS. MEANWHILE, JENNIFER IS TRYING TO TALK OVER THE TOP OF HIM.
JENNIFER: The Spectator used to be a very highly respected newspaper but now he's taken these headlines and....

JACK: With American ink. "This is a grand old flag for a grand old...."

STAGE MANAGER: Okay, we're out. We're out. Sixty seconds everybody.
JENNIFER IS STILL TALKING WHEN JACK REALIZES THEY HAVE BEEN CUT.
JACK: It's out...we're out. That's enough. Why are we out?

DAN: What the hell do you think you're doing?

JACK: What.... me? What....

DAN: No, her.

JENNIFER: Me?

DAN: Yes. If you'd let his rebuttal go you would have had your thirty seconds to reply to him when he was through.

JENNIFER: Well I know Dan but....

DAN: I don't care what kind of nonsense he was babbling, you've just got to sit back and listen.

JACK: That's right, you listen.

DAN: (To Jack) you, shut up. (To Jennifer) That was the most inexcusable display of unprofessional behavior I've seen in my lifetime in broadcasting.

JENNIFER: I know, I apologize. It will never happen again.

DAN: That's right, it won't. You can bet on that.
DAN WALKS AWAY.
JENNIFER: Wait a minute. Dan, what's that supposed to mean?

BOTH JACK AND JENNIFER ARE WORRIED ABOUT WHAT EXACTLY DAN MEANT.
JENNIFER: Are you firing me?

JACK: Again?

JENNIFER: Are you firing me, again?
HE DOES NOT ANSWER.JACK LEANS AGAINST THE DESK WAVING HIS AMERICAN FLAG WHILE JENNIFER CLEARS THE DESK. AS EVERYBODY PACKS UP, JACK SAYS GOODNIGHT.
JACK: Goodnight.

DAN COMES BACK JUST BEFORE THEY LEAVE.
JACK: Oh there he is.

DAN: I said we would talk about this in the morning. In the meantime I want you and.... Patrick Henry to get out of here. Now. Go home.

JACK: Don't forget. Buy American.

JENNIFER: Oh he's going to do it.

JACK: He's going to do what? We were just talking to a man who could barely bump Madeline. He just.... he tried to fire you and he'll just hire you right back.

JENNIFER: No he won't. Not this time Jack, I know it.

JACK: You don't know anything. He's going to go look at his ratings. He's going to find out that people probably like to see us arguing.

JENNIFER: Or maybe they won't like it. Maybe he won't care about the ratings and maybe he'll be mad enough to stick to it this time. I mean I could be fired Jack. As far as I know, I might be fired already. And then what are we going to do? Without my salary, we have nothing Jack, nothing.
JENNIFER LEAVES ALONE.
---
SCENE FIVE: A WHILE LATER, SHE BUMPS INTO ISABELLA AT FISHERMAN'S WHARF. ISABELLA IS ALSO PREGNANT -- A FEW MONTHS MORE ALONG THAN JENNIFER -- BY JOHN BLACK (WHO FOR YEARS THOUGHT HE WAS ROMAN UNTIL THE *REAL* ROMAN RETURNED). SHE AND JOHN ARE NOT MARRIED AND HAVE BEEN HAVING PROBLEMS, SOMEONE FROM HIS PAST HAS RETURNED TO CAUSE TROUBLE.
ISABELLA: Hey Jennifer, what else is going with you, huh?

JENNIFER: Well I guess I might as well tell you because you're going to find out sooner or later. Jack and I had an argument on the air, on the news, so I'll probably be fired first thing in the morning.

ISABELLA: What? Oh I'm so sorry. I know that everything is so rough for you guys right now.

JENNIFER: You know what, I don't even want to talk about it right now, actually. Let's talk about something happy. Let's talk about you and John.

ISABELLA: Okay.... um.

JENNIFER: What.... I guess not, huh.

ISABELLA: No it's not.... it's not bad. We're just working through a lot of stuff right now, so it's just one day at a time. Oooh !

JENNIFER: What's the matter, are you okay?

ISABELLA: No, here give me your hand, give me your hand.

JENNIFER: Why?

ISABELLA: Right there.
ISABELLA PUTS JENNIFER'S HAND ON HER STOMACH.
JENNIFER: Oh! Oh I can't believe that.

ISABELLA: Well, believe it because pretty soon you're going to be feeling that. Oh it's the most amazing feeling, this new life growing inside of you. Oh, Jennifer?

JENNIFER: Huh? (Beat) Isabella, if you had a choice, I mean if you could choose now, knowing what you know, would you do anything different?

ISABELLA: Absolutely not. I mean I'm not going to lie you. When I first found out I was pregnant it was really terrible. And I had second thoughts, and I had third thoughts and fourth thoughts. And I almost did something about it.

JENNIFER: But you changed your mind.

ISABELLA: Yes I did. Having this baby in my life and my love for John has made all the difference, all the difference.
---
SCENE SIX: MEANWHILE JACK GOES TO WINGS WHERE HE FILLS UP ON THE FREE NUTS. JO ARRIVES TO SEE HIM.
JO: Jack.

JACK: Oh, you must have seen our little duet on the news today?
SHE BRUSHES HIS HAIR INTO PLACE WITH HER FINGERS AND THEN SITS DOWN.
JO: Are you alright? Is Jennifer alright?

JACK: We'll survive.... maybe.... later.

JO: Well what exactly does that mean?

JACK: It means that Jennifer's incredibly intelligent boss Dan wasn't particularly entertained by our duet on the news and.... it looks like he might fire her.

JO: Oh Jack.

JACK: And the beat goes on.

JO: Oh I wish that I had money. I would give it all to you right now.

JACK: No, please. I am sorry I ever brought any of that up with you.

JO: Is there anything I can do for you?

JACK: Well actually maybe there is. You could.... you could answer a question for me. That would help.

JO: Anything.

JACK: If you had a chance to do it all over again, would you? I mean I'm not talking about Duke of course.

JO: No, I'm.... I know what you mean. You're talking about you, Adrienne and Steve. (Beat) The answer is no. Not for one second.

JACK: Alright, I don't think you understand why I'm asking. I'm asking because you know how it feels to be broke, to have no money, to have to, you know, give up your family, and give them away and....

JO: Jack, Jack, money has nothing to do with it. I didn't give you and Steve away because we were poor. I...I have you up.... I mean.... well I did manage to keep you kids together for a while at least. (Beat) You see I wanted you to survive. And I was so afraid of Duke and what he would do. Now I'm.... I made the right decision, I made the only decision, because you did survive and we're here and we're together. So I was right. (Beat) I've had some.... dark days Jack but I managed to see them through.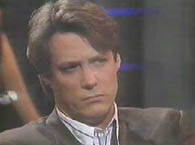 JO (CONT.): And I know why now. It was the love I had for you kids. Steve and Adrienne, you. That gave me strength: Family. And I want you to remember that. I want you to think about that.
---
SCENE SEVEN: LATER, JACK AND JO HAVE LEFT WINGS AND ARE WALKING ALONG FISHERMAN'S WHARF.
JO: Jack.
JO POINTS OUT JENNIFER WHO IS SITTING IN THE BANDSTAND ALONE, LOOKING OUT OVER THE RIVER.
JACK: Perhaps I should go talk to her.

JO: Do you want me to go with you?

JACK: No, no, that won't be necessary. I think it's best I do this alone.

JO: Yes, you should. Jack, please be honest with her.

JACK: Alright.
SHE LEANS UP AND KISSES HIS CHEEK.
JO: Call me.

JACK: Across the hall.
JO WALKS AWAY. JACK STARTS TOWARDS JENNIFER.
JACK: You can see me coming. That's alright.
HE WALKS UP TO HER.
JACK: I take it you have a free seat here.
HE SITS DOWN NEXT TO HER AND THEY BOTH AREN'T QUITE SURE HOW TO START.
JENNIFER: You know you didn't have to send Jo away like that.

JACK: Oh believe me, I did. I thought it best if we talk alone, uninterrupted.

JENNIFER: You know we could really be in big trouble this time.

JACK: I know.

JENNIFER: And it's my fault as much as it is yours. I mean Dan was right. I was being immature and completely unprofessional.

JACK: No, no, no. You were just.... you were doing what you felt was right.

JENNIFER: Right for me. I was being really selfish Jack. But the thing is that we can't afford.... we can't afford to think like that anymore because we have to be responsible for somebody other than ourselves right now.

JACK: You're right.

JENNIFER: We have someone else's future to think about.

JACK: But it's our future too.
JENNIFER TAKES JACK'S HAND AND PLACES IT ON HER STOMACH.
JACK: Ah, is this some kind of, um, important ritual? Do you rub it and make a wish or something?

JENNIFER: Can you feel anything?

JACK: Heh, certainly I can feel something. I can feel.... you.

JENNIFER: Well in time you'll be feeling the baby. (Beat) You know we have to remember what our life is about now.

JACK: Certainly, I mean we will. That's a promise. We're all growing here.

JENNIFER: Some of us in more ways than one.
THEY BOTH SMILE.
JACK: Yes.

JENNIFER: But we'll grow together.
SHE WRAPS HER ARMS AROUND HIS NECK.
JACK: Together.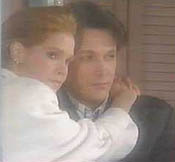 JENNIFER: Yeah.
[Transcribed by Carol Vaughan
added material by Sally A. Wilson]
---
---