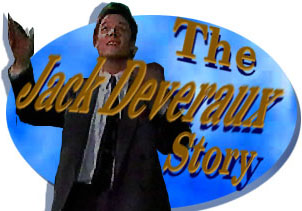 oldEpisode Three-hundred-ninety-three:
"Jane you Ignornant
Slut
": Jack
and Jennifer Are Hired to Do the
Crossfire
Segment on
WTGB
,
a la
SNL
's Jane Curtain and Dan Ackroyd.
---
[Air mid-March, 1992]
SCENE ONE: THE NEXT MORNING AND JACK AND JENNIFER ARRIVE AT THE TV STUDIO.
JENNIFER: Well I don't see Dan anywhere, do you?

JACK: He's probably filling out the pink slip even as we speak. That worm, I wonder how he'll do it? It'll probably be a slow build up and a gradual decline or better yet, a fast clean break as he drops the proverbial axe right on your neck just like a....

JENNIFER: Do you have to make it sound so morbid Jack?

JACK: Look getting fired is no cause for celebration especially for somebody in my.... in our financial position.

JENNIFER: Look we're not even sure that's going to happen, okay.

JACK: What, after that flagrant on-air display of unprofessionalism, what else could this be about?

JENNIFER: Well I don't know but maybe we're just borrowing trouble. I mean he just asked us to come down here. He didn't say why.

JACK: Do you see any cocktail parties going on? I don't. I mean he didn't ask you down here, he summoned you down here.

JENNIFER: Alright but if he was going to fire me, why did he make it a point that you come along with me. JACK: Well that's management. He knows that you're pregnant. He doesn't want to see you fall apart. He wants me to come along to pick up the pieces and take them home.

JENNIFER: Well you know what Jack, I hope you're wrong because I love my job and I really don't want to lose it. (Beat) But if I do, I guess it won't be the end of the world.

JACK: No, but we sure as hell will be able to see it from there. I mean we're talking about our only real source of income here.

JENNIFER: I mean we still have each other and we'll figure out a way to get through it.

DAN: Oh Jack, Jennifer, good, I'm glad you're here. But I just got beeped on a call I have to take so stay. I'll be right back.
THEY BOTH LOOK EVEN MORE WORRIED.
---
SCENE TWO: JACK AND JENNIFER ARE AT THE TV STUDIO, THEY THINK THAT DAN CALLED THEM THERE TO FIRE HER.
JACK: I don't.... listen, I don't....

DAN: Look I'm sorry to keep you two kids waiting but that was Arnie Leonard on the phone and you know how long winded he gets. You know I mean he starts off with the small talk and then it takes him twenty minutes to get to whatever he....

JENNIFER: Look Dan excuse me, I hate to interrupt you but do you think that we could get this over with please?

DAN: Get what over with?

JACK: Dan, Dan, please don't prolong the agony. Drop the guillotine, throw the switch.

DAN: Jack, I have no idea what you're talking about. I asked you and Jennifer to come here tonight because the station wants to hire you to do a new show. Like the Crossfire segment only more so with you and Jennifer arguing opposite sides of the issue.
JACK AND JENNIFER LOOK AT EACH OTHER IN SURPRISE.
JENNIFER: You're kidding me?

DAN: No I'm dead serious. The ratings on that piece you did the other night were terrific and the sponsors want more. So what do you think?
JACK HAS A SUSPICIOUS FROWN.
DAN: Oh, I get it, you want to see the deal before you commit to anything. Okay, fine, there it is, in black and white.
JACK OPENS THE CONTRACT AND SHOWS IT TO JENNIFER. DAN WALKS AROUND BEHIND JACK TO PEEK AND JACK FOLDS IT UP IN A HURRY. THEY BEND IN CLOSE AND JACK OPENS IT AGAIN AND POINTS TO THE BOTTOM LINE, THE MONEY.
DAN: Alright, alright, look, granted it is not a fortune. But for an unseasoned on-air professional such as yourself, I mean it's a pretty fair amount.

JACK: I tell you what I think. I think that The Spectator pays the interns more than this.
JENNIFER: So does the station Dan. Come on Jack, let's go.

DAN: Hey, hey, hey, come on. Now what can I say? I mean we've got a lot on interns here. That's why there's no money in the budget. But kids, I'm sorry this is strictly a take it or leave it offer.

JENNIFER: Thank you Dan, we'll leave it. Come on Jack.
JACK IS NOT SO SURE ABOUT REFUSING A PAYING JOB.
JACK: Ah.... heh.... I.... Dan....
JACK TAKES DAN'S HAND.
JACK: We'll take it.

JENNIFER: Oh no, oh no.

JACK: What's the matter? You got a problem?

JENNIFER: You guess again Jack. Yes we've got a problem. We will turn into the 90s version of Dan Ackroyd and Jane Curtain on Saturday Night Live. Are you kidding me? You would get carried away like you always do, I would over-react like I always do and we'd end up saying things like, Jack, you....

JACK: Pompus.

JENNIFER: .... pompous windbag and Jennifer, you ignorant slut.

JACK: Ignorant slut.... Look who's reacting now. We are not.... listen...

JENNIFER: No we are not going to do that.

DAN: Look, look, kids, kids, it looks like you're going to have to talk this over between the two of you. But would you make it quick because Arnie wants an answer right away. And.... ah, I hate to make this seem like an ultimatum but there's a lot of people around here like Maddie.... Madeline, who would kill for this opportunity. So Jennifer if you decide to pass maybe it would be best for you to pass on your other duties at the studio here as well.

JENNIFER: Hmmm, you know what you are Dan? Ah....
JACK IMMEDIATELY PUTS HIS HAND OVER JENNIFER'S MOUTH.
JACK: You know Dan, we already shook on this. Allow me to talk to the little woman if I.... aaargh.
SHE KICKS HIM.
DAN: Fine, I'll be waiting to here from you. Jennifer.
DAN WALKS AWAY JUST AS JENNIFER MANAGES TO BITE JACK'S HAND.
JACK: Arrrrgh!

JENNIFER: Don't ever call me that Jack.

JACK: Ah, what, what?

JENNIFER: Little woman. I hate that.
SHE HITS HIM ON THE BACK.
JENNIFER: You know I hate that.

JACK: I didn't even realize that I called you the little woman.

JENNIFER: That's because you were too busy to keep me from talking.

JACK: That's because you were so busy trying to tell Dan to take that thing and just shove it....

JENNIFER: That's right. That's what I want to tell him as soon as I can find him. I'm going to tell him that.
SHE BEGINS WALKING AFTER DAN AND JACK GRABS HER.
JACK: No, no, no, think, think, think for one minute, alright. If you lose this job we lose.... we can't even afford to pay for that slummy little tenement. Now if you keep this job, then we have a chance to do this extra show which could give us a chance to air our views, in a civilized way of course, and give us a little bit more money that we can put into our bank and.... put towards the future of our little bundle of joy. And after all, that's what it's all about isn't it?

JENNIFER: Alright, alright, if you think that this is the right thing to do, then I will not fight you on it. We will give it a try.

JACK: Good, you won't regret this, I swear.
HE KISSES HER CHEEK.
JENNIFER: Oh really, I want that in writing Jack.

JACK: You'll get in writing, first thing in the morning, on your desk, in triplicate. Now let's go home and we can watch....

JENNIFER: No, I need to go to the hospital. I need to see Carly. I haven't even told her about the baby. You want to come with me?
JACK NEVER REALLY WANTS TO SEE CARLY.

JACK: No, thank you, no. I'm going to go home, turn on the TV and see if I can catch a rerun of Saturday Night Live. (Beat) Just kidding, kidding.

JENNIFER: You better be kidding, you pompous windbag.

JACK: You ignorant slut.
HE LEANS DOWN AND THEY KISS.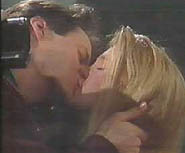 ---
SCENE THREE: JENNIFER GOES TO THE HOSPITAL WHERE CARLY IS GETTING READY TO GO HOME. JENNIFER TELLS HER THAT SHE AND JACK ARE HAVING A BABY. IT UPSETS CARLY BECAUSE SHE WANTS VERY MUCH TO HAVE A CHILD WITH BO.
---
SCENE FOUR: BACK AT THE APARTMENT, JACK HAS THE TV ON AND HEARS A COMMERCIAL THAT INTERESTS HIM.
DR. RAYMOND: Feeling lousy, under the weather, then do yourself a favor. Pick up the phone and call me. I'm Dr. Adam Raymond and I'm waiting to answer your call, on the air.
JACK PICKS UP THE PHONE AND CALLS. HE DISGUISES HIS VOICE BY COVERING THE MOUTHPIECE WITH A CLOTH.
JACK: Ah, I've been.... ah nauseated lately, dizzy, feeling bloated. I know this may sound strange but my wife is pregnant but I'm wondering if maybe I'm showing symptoms of sympathetic morning sickness.

DR. RAYMOND: Well it is possible but not very likely. To be on the safe sign, I recommend that you visit your physician to get an accurate diagnosis.

JACK: Ah.... right, right, thank you. Thank you.
JACK STILL SEEMS VERY WORRIED.
[Transcribed by Carol Vaughan
added material by Sally A. Wilson]
---
---