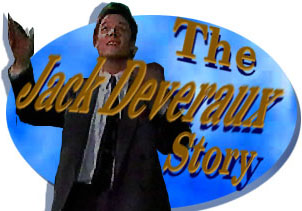 oldEpisode Three-hundred-ninety-four:
Jack and Jennifer Attend a Costume
Party; Later, They Babysit
Stephanie to Practice for Their Baby.
---
[Air mid-March, 1992]
SCENE ONE: VIVIAN, LAWRENCE'S AUNT IS IN TOWN AND SHE WANTS TO THROW A FANCY DRESS BALL. SHE INVITES THE WHOLE OF SALEM INCLUDING JACK AND JENNIFER. JACK IS DRESSED AS LIKE A FOOL, WITH A LONG FUNNY NOSE; BUT HE HAS HIRED A CHEAP COSTUME AND IT BEGINS TO FALL APART ALMOST AS SOON AS THEY ENTER THE BALLROOM AT WINGS.
JACK: Jennifer, perhaps you could find a needle or a thread or a staple or gum or.... something I could just....

JENNIFER: Jack will just stop. If this thing is bothering you so much why don't you just pull it....
SHE GETS HOLD OF THE LOOSE THREAD ON HIS SLEEVE AND PULLS IT OFF.
JACK: Wait....
THE CUFF OF HIS JACKET FALLS OFF AND JENNIFER LAUGHS.
JENNIFER: Here put this in your pocket.
SHE REACHES OVER TO PUSH THE CUFF IN THE POCKET AND THE POCKET FALLS OFF.
JACK: What are you doing?

JENNIFER: What is wrong, Jack?

JACK: Stop, stop. Thank you, that's enough. At this rate I won't even have any costume left to be embarrassed about.

JENNIFER: I'm sorry. Maybe you shouldn't have insisted we spend the whole budget on my costume.

JACK: What are you talking about? This was a deal. Two in one. Besides I couldn't have you walking around like some Dickensian street urchin let alone Lady Godiva.

JENNIFER: You know Jack we won't be here that long. We'll just be here long enough to get a story for our TV show, okay. Here stop messing with that.

JACK: I've got it!

JENNIFER: What?

JACK: Celebrity past lives. I was Marie Antoinette by Arsenio Hall.

JENNIFER: Stop, don't let anybody hear you saying that Jack. Come on.

JACK: It was an idea.

JENNIFER: Come over here. Let's just mingle, alright.

JACK: At least we can mingle in masks.

JENNIFER: Don't talk about those headlines anymore.
---
SCENE TWO: THEY WANDER AROUND THE ROOM AND JENNIFER ASKS JULIE SOME QUESTIONS ABOUT THE BALL FOR HER STORY. JULIE THINKS JENNIFER IS LOOKING VERY WELL.
JULIE: And how about Jack? I understand he's not fairing quite so well.

JENNIFER: Ah, he'll probably do better in the second trimester, hopefully.

JULIE: Where is he anyway? Don't tell me he could not make it.

JENNIFER: Oh no, he's here. He came.... grudgingly. He's right over there. JACK! Jack come over here.

JACK IS IN THE CORNER OF THE ROOM. BY NOW, HIS SLEEVES ARE HALF OFF AND HIS JACKET IS FALLING APART.

JACK: Sssssh.... sssssh.
JACK COMES OVER HOLDING ALL THE BITS THAT HAVE COME OFF HIS COSTUME.
JULIE: Jack is that you? I never would have known you.

JACK: Let's just hope and pray no one else does.
JULIE LAUGHS OUT LOUD.
JENNIFER: Will you just stop it? You don't look so bad Jack.

JACK: What are you talking about? I look like Napoleon after Waterloo.
HE PULLS ANOTHER THREAD AND ANOTHER PIECE OF COSTUME COMES LOOSE.
WAITER: Canapěs?
JACK TURNS TO LOOK AT THE TRAY OF CANAPŘS.
JACK: Ah.... I....

WAITER: Herve.

JACK: Herve.
JACK SUDDENLY FEELS ILL AND RUNS TO THE BATHROOM.
JULIE: Looks like he's already met his.
---
SCENE THREE: WHEN HE COMES BACK FROM THE BATHROOM HE FINDS A THREAD HANGING FROM HIS LACE CRAVAT. WHEN HE PULLS THE THREAD, IT ALL STARTS TO FALL APART.
JENNIFER: What are you doing Jack? Will you stop it?

JACK: At least I could have a decent costume.

JENNIFER: It doesn't make a difference because no one's even noticing. Here, put it away.
SHE STUFFS THE CRAVAT INTO HIS POCKET.
JACK: But that's the point. That is the entire point! People used to take notice when Jack Deveraux walked into a room and now look! Now look.... look at this one over there. I could be the invisible man or the invisible incredible shrinking costume or....

JENNIFER LOOKS ACROSS AT CARLY WHO JACK HAD POINTED AS SOMEBODY WHO WAS IGNORING HIM.
JENNIFER: Carly just has a lot of other things on her mind right now. Isn't that right?

CARLY: Oh I'm sorry. I didn't mean to ignore the two of you.

JACK: Oh well no problem. It just seems that some people around here don't think we're worth watching anymore.

CARLY: I just keep thinking about Bo.

JENNIFER: Of course you are.

JACK: Oh.

CARLY: He should be here with me tonight.

JACK: Excuse me.... excuse me.
JACK WALKS AWAY.
---
SCENE FOUR: JACK GOES OUT ONTO THE BALCONY WHERE HE IS ABOUT TO BE SICK AGAIN. WHILE HE'S THERE, DUKE AND HARPER APPEAR IN HIS SUBCONSCIOUS. DUKE IS DANCING WITH A VERY UGLY WOMAN.
DUKE: Stepping out, stepping out fine. Good stepping, that's it, beautiful. Wait a minute honey, just give me a second alone with my son here and we'll take the dance up in a second. Billy boy.

JACK: Oh no, no I don't need this. This is the last thing I need right now.

DUKE: Wait a minute, wait a minute, I'm here for a reason. Congratulations are in order. I'm about to become a grand daddy again, right? I knew you could do it Billy boy. Those old Johnson genes they just keep going along, don't they?

JACK: They keep going, and going, and going, yeah.

DUKE: And I have some advice for you. Don't spare the rod and spoil the child. You leave to those wuss daddies to take care of that, like Harper.


THE UGLY WOMAN TURNS AROUND AND IT IS HARPER.
HARPER: I BEG YOUR PARDON!

JACK: WHAT!
[MATTHEW IS TRYING HARD NOT TO LAUGH AT HARPER'S COSTUME.]

DUKE: You see what I mean. I beg your pardon. Hahahahah. (To Harper) I was just telling the kid here that you're the Rodney Dangerfield of fatherhood. Excuse me, Rhonda.

HARPER: Like your kids respected you so much! I mean Steve tried to charbroil you and what about Adrienne. She made Swiss cheese out of you with a Saturday night special.

DUKE: Yeah, yeah, and what about this kid here. He got your attention didn't he? He threw you out of a tower.

HARPER: That was an accident.

DUKE: An accident? He had the whole thing set up with the cops. What, you didn't give him his allowance that week, or what?

JACK: NO, NO, HOLD IT, HOLD IT RIGHT THERE. Come on, now I am scared enough with this whole baby thing alright.

DUKE: Listen, you don't have to be scared. All you have to do is listen to me. When it happens, whammo, keep them in line.
HARPER HOLDS UP A ROLL OF NOTES.
HARPER: There are ways around fear.

DUKE: Oh there's money again, the money trick.
JACK CANNOT TAKE HIS EYES OFF THE ROLL OF MONEY.
JACK: Ah, that's not real hooch?

HARPER: Yes, real, real.

JACK: No, no, I don't want it. I don't want it. I don't want anything to do with either of you. I don't any help from any of you. I can rule my life on my own, thank you very much.
JACK PULLS DOWN HIS MASK AND WALKS BACK INTO THE BALLROOM.
DUKE: That's fine, that's fine.

HARPER: Is he crazy?

DUKE: Yeah he doesn't want my advice or your money. Forget him. Let's resume our dance, shall we darling?

HARPER: Alright, but next time, you wear the drag and I get to lead.

DUKE: Don't worry about that. Just don't step on me with them spike heels.

HARPER: Don't dance close.

DUKE: Well don't ask me to dip again, you got that.

HARPER: Watch the cowboy boots.
---
SCENE FIVE: INSIDE, CARLY IS TALKING TO JENNIFER ABOUT JACK.
CARLY: Well I really hope he's going to be okay because that is the worst case of sympathy pregnancy that I've ever seen.

JENNIFER: Well you know Carly, I think it's just nerves. I mean Jack has been a basket case ever since I told him about the baby.

CARLY: He's going to make a wonderful father.

JENNIFER: I know that, I know he is. I wish he would believe it. I mean he is so afraid. he's not going to be able to provide for a family. And I told him that doesn't matter. What a child really needs is two parents who really love each other.

CARLY TURNS AWAY. SHE IS SAD BECAUSE SHE IS MISSING BO. AT THAT EXACT MOMENT A MASKED MAN APPEARS AT THE BALL. HE STARES AT CARLY CONTINUALLY.
---
SCENE SIX: JACK AND JENNIFER ARE TALKING WHEN KAYLA COMES OVER TO THEM.
KAYLA: Hi.

JENNIFER: Kayla, hi, I didn't think you were going to come.

KAYLA: Well I wasn't but Shane talked me into it.
A NEW LAWYER IN TOWN ASKS KAYLA TO DANCE AND IS VERY PERSISTENT.
KAYLA: This guy never gives up does he?

JENNIFER: He's been hitting on pregnant women all night.

ISABELLA: Tell me about it.

JACK: What.... when?

JENNIFER: Oh Jack, when you were praying over the porcelain god.
JENNIFER WALKS AWAY WITH HIS SLEEVE.
JACK: Hey give me that back. That's mine.
JULIE COMES OVER TO KAYLA AND TELLS HER THAT THE BABYSITTER IS SICK AND HAS TO LEAVE. KAYLA DECIDES TO LEAVE.
JENNIFER: No, no, you know what? Jack and I can babysit.

KAYLA: No, I would never ask you to do that.

JACK: You see, she would never ask....

JENNIFER: She's not asking, we're offering. It would give us practice for our own baby.

LAWYER: Well I think that sounds like a great idea.

JACK: You would.

JENNIFER: Alright, let's go. Come on.

JACK: Wait a minute, what about our story?

JENNIFER: What story.... oh.... OH. We'll find it somewhere else. Don't worry. It's going to be fine. Bye bye.

JACK: Fine, goodbye.
JENNIFER PULLS JACK OUT.
KAYLA: Jack didn't look too into that, did he?

ISABELLA: Oh it's okay. They'll be okay. You go on and enjoy yourself.
OUTSIDE, JENNIFER IS PUTTING ON HER COAT.
JACK: I tell you what, we'll call Jo. We'll have her.... she can take care of baby Stephanie. How about that? I mean she's her grandmother.

JENNIFER: Jack you are her uncle.

JACK: Well.... little kids like grandmothers.

JENNIFER: Will you stop it? Stephanie loves you. And you're going to great with her. You know tonight you're going to find out just what a good father you're going to make. Come on Jack.

SHE PULLS HIM AND HIS WHOLE SLEEVE FALLS OFF.

JACK: That's it, I'm getting a refund on this thing if it's the last thing I do.

JENNIFER: Come on.
---
SCENE SEVEN: IT IS A SHORT TIME LATER AND JACK HAS ARRIVED BACK AT KAYLA'S APARTMENT CARRYING TWO LARGE SHOPPING BAGS. AS HE OPENS THE DOOR HE HEARS STEPHANIE CRYING.
JACK: What, is she still crying?
HE KICKS THE DOOR SHUT.
JENNIFER: Jack, where have you been? What took you so long? I've been worried.

JACK: I didn't know this neighborhood. I spent most of the time trying to find the damn juice aisle.

JENNIFER: Alright, well as long as you got it. What do you have?

JACK: Oh I got it.
HE STARTS TO PULL DIFFERENT BOTTLES OUT OF THE BAGS.

JACK: Grape juice, orange juice, coconut, guava, tangelo teaser, passion pleaser, let's....

JENNIFER: What about apple juice?

JACK: What? Wait a minute, juice is juice.

JENNIFER: No, there's no apple juice. Not to kids.
JACK SIGHS.
JACK: Look, here, check that out. Look at that.
HE HANDS HER ANOTHER BOTTLE OF JUICE.
JENNIFER: What, Jolly Juice, made from cumquat, jujube and prune juice concentrate.

JACK: No, no, no. Right there. It says, look, Kids Love It. Someday she's going to thank us for turning her onto that. She's going to be very happy I tell you. You just give me the cup and I'll pour some of this in and we'll give it to her and she'll love it.

JENNIFER: You know what Jack, wait a minute.

JACK: What?

JENNIFER: Maybe we shouldn't give Stephanie anything with prune juice in it cause, you know.

JACK: Oooooh prune juice.

JENNIFER: Yeah.

JACK: You got a point there. (Beat) Alright I've got a cran/apple juice in there. We'll just scratch the cran off and she'll never know the difference.

JENNIFER: Well what if she does know the difference?

JACK: Well.... well then we'll try something else and then we'll try something else and then we'll try something else until she tastes something she likes.

JENNIFER: Alright, alright, if you say so. Just give me this.

JACK: Yes I do say so. Just quiet her down.

JENNIFER: Just hold on Stephanie, I'm coming. hold on. Here I come, I got juice for you right here.

ACK: Yeah we got juice for you right.

JENNIFER: Some nice juice. Let me just pour it in the cup for you. We got it all ready in one second.

JACK: Yeah.
STEPHANIE BECOMES QUIET AND JACK IS HAPPY.

JENNIFER: Good girl, just hold on one second.

JACK: Yeah.

JENNIFER: Hold on. Here we go. I'm pouring the juice right.... no, no, Stephanie. NO. No, it's okay, right here. We got juice....

JACK: Argh!

JENNIFER: Stephanie don't throw the glass!

JACK: Don't throw the glass.
THERE IS A LOUD CRASH.
JENNIFER: JAAAAACK!

JACK: It's alright, it's alright. Man if it's this hard being an uncle for the night imagine what it's going to be like being a daddy for the rest of my life.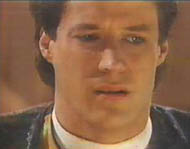 ---
SCENE EIGHT: IT IS SOME TIME LATER AND JACK IS ASLEEP ON THE COUCH. JENNIFER COMES OVER AND PUTS A BABY BLANKET OVER HIM AND PATS HIS FOREHEAD. KAYLA COMES HOME.
JENNIFER: Kayla.

KAYLA: Hi, how did it go?

JENNIFER: Well I finally managed to get both of them down.

KAYLA: You're going to be a great mother Jennifer.
JACK STIRS.
JACK: Oh mother, mother of a night....

JENNIFER: Jack, Jack....

JACK: Oh mother of the.... just me and the little....

JENNIFER: Jack, Kayla's home.
JACK WAKES UP PROPERLY AND STARTS TO PANIC.
JACK: Oh.... ah, what about Stephanie? We haven't tried the.... the, ah.... yeah the.... the old vegetable juice here. We haven't tried all these vegetables.

JENNIFER: Jack you don't have to because Stephanie is....

JACK: I can't tell you how many different things we tried on her. We went to three different stores and couldn't find any apple juice anywhere. The point is that, you know, I don't know, we tried everything and I mean we even tried the apples. You saw them right there. I mean I smashed a few and just ended up with apple smash.

KAYLA: It's alright Jack.

JACK: No it's not alright. Don't just say that to make me feel better.

KAYLA: I'm not. Actually there's nothing that could bother me tonight.

JACK: Really?

KAYLA: Huh, huh.

JACK: Well after we left it must have been quite the party.

KAYLA: Well it was best actually. Something really wonderful happened.

JENNIFER: Well tell us, tell us what happened?

KAYLA: Bo showed up.
[THIS WAS THE FIRST APPEARANCE OF RKK IN THE ROLE.]
JACK: Really?

JENNIFER: What?

KAYLA: Huh, huh.

JENNIFER: You're kidding me. Well how did he get there? How did he escape the kidnappers?

KAYLA: Well I don't exactly but Raphael Taurus was there and he was shot and they don't even know if he's going to live.

JACK: Well that's the sort of thing one can expect in his line of work.

JENNIFER: Wait a minute, let's not talk about Raphael. What about Carly? Where is she?

KAYLA: Well I think she's probably at the hospital right now. If Raphael lives it's only because she saved his life. JACK: Well I guess it's safe to assume that after we left it became the party of the year.

KAYLA: Yeah.

JENNIFER: Well we should really get going because actually....

JACK: Ah wait a minute, what about all the mess?

KAYLA: No, no, it's okay, really.

JACK: It's not okay. We got your child crying all night over a missing apple juice and we couldn't even find her any.

KAYLA: Well, you tried and that's all that really counts.

JACK: Not as far as Stephanie is concerned.

KAYLA: Well that's not true really. I mean kids know about things like this. Sure she doesn't know for sure that you drove all over town looking for apple juice and spent money you don't even really have but she does know that you care.

JACK: Is that why she spit all over me when I tried to give her the cumquat kiwi cooler?

KAYLA: I remember when she first did that to Steve.
JACK IS SURPRISED.
JACK: She did that to Steve?

KAYLA: Yeah it sort of became a game with him. Maybe you remind her of him.

JACK: I don't know about that. I mean he was.... quite the father type.

KAYLA: Well yeah after the baby was born. But before he was terrified about being a dad and he thought for sure he would turn out like Duke.

JACK: (Beat) I didn't know that.

KAYLA: Yeah, I kept telling him that he wouldn't but he wouldn't believe me. Not until.... not until he held that little baby in his arms and he felt a love that he never knew was inside of him. He'd be so happy to think you were looking after his Sweetness tonight Jack. You are going to make a terrific dad Jack, just like your brother. And if he was here he would tell you so.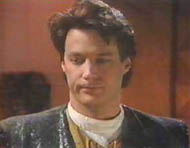 JACK'S MIND DRIFTS BACK TO STEVE AND HOW MUCH HE MISSES HIM.
[Transcribed by Carol Vaughan
added material by Sally A. Wilson]
---
---