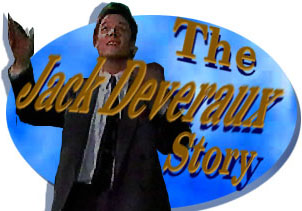 oldEpisode Three-hundred-ninety-nine:
To Try to Earn Money, Jennifer
Thinks She and Jack Should Audition
for the Game Show
Ask Dr. Love
.
---
[Air mid-April 1992]
SCENE ONE: IT IS A COUPLE OF DAYS LATER. JENNIFER IS READING THE CHRONICLE. THE HEADLINE READS, "CONGRESSMAN FALLS VIOLENTLY ILL AT MEDIA CONFERENCE." JACK IS READING THE SPECTATOR, THE HEADLINES READS, "CONGRESSMAN CHANNELS ELVIS AT CONFERENCE."

JENNIFER: Jack?

JACK: What?

JENNIFER: Jack, this is it. This is it. I found the answer to all of our money problems.

JACK: Where, what?

JENNIFER: I tell you what, I'll give you a hint.

JACK: Okay, give me a hint.

JENNIFER: Okay.

JACK: What is.... wait a minute, what are you doing?

JENNIFER REACHES OVER AND BEGINS TO UNDO THE BUTTONS ON HIS SHIRT.

JACK (CONT.): Jennifer, wait a minute, what are you doing?

JENNIFER: I'm giving you a hint like you asked for Jack.

JACK: Ah, Jennifer, wait a minute, ah I have to go to work.

SHE CHASES HIM INTO THE BEDROOM.
SCENE TWO: A SHORT WHILE LATER, JACK COMES OUT OF THE BEDROOM LOOKING FOR HIS SHIRT. JENNIFER FOLLOWS IN A ROBE, SIGHING WITH SATISFACTION.

JENNIFER: Aaaaah.

JACK: So, that was a hint.

JENNIFER: Are you complaining?

JACK:

No, no, no, not about the hint per say but I'm still not quite clear what you're talking about. I mean you said you found the perfect way to deal with some of our money problems and....

JENNIFER:

I did. I found the perfect way Jack.

SHE HOLDS THE NEWSPAPER UP SHOWING AN AD.

JACK: Ask Dr. Love? (Beat) I don't understand. What does this have to do with solving our money problems?

JENNIFER: Jack, don't you get it? When we locked inside that studio we were on the set of Ask Dr. Love.

JACK: Ask Dr. Love.

JENNIFER: Remember, we were making love, we won that game, we were experts at that game.

JACK: That's good, that's good. Why didn't I think of that myself. That's very good. I'm going to call them up.

JENNIFER: Oh, no, no, no. We can't go right now because I have to go to the hospital and meet Carly but you know what, it says here that the couples can't be interviewed until three. So why don't I meet you there?

JACK: Perfect. Absolutely perfect. We will just clean up on that interview and then we'll clean up on the game show besides. And then it's going to be back to the lifestyle to which I'm accustomed. To which we are accustomed.

JENNIFER: Now wait a minute Jack, let's not get carried away.

JACK: To which we are accustomed.

HE BENDS DOWN TO TALK TO THE BABY.

JACK:

Do you hear that? It's

silver spoon

time again, for all of us. I mean it.
SCENE FOUR: SOME TIME LATER, JENNIFER MEETS JACK AT THE STUDIO FOR THE INTERVIEW FOR ASK DR. LOVE. THERE IS ANOTHER COUPLE THERE FROM THE COUNTRY.

LUMPY:

Hi, I'm Lump Therman, this here is my wife Laurie.

JENNIFER: Hi, I'm Jennifer Deveraux, it's nice to meet you all. This is my husband Jack.

A MAN WALKS PAST THEM ALL AS THEY COME DOWN THE HALL.

THE GUY TRIES TO HIDE HIS FACE.

JACK (CONT.): Do I know you?

THE GUY HURRIES AWAY.

JACK (CONT.): I suppose I don't.

JACK DECIDES TO ASK THE CONTESTANT CO-ORDINATOR.

JACK (CONT.): Excuse me, who was that gentleman? The one with the big.... head.

CO-ORDINATOR: Oh, you! That was Dr. Love.

JACK LOOKS AT A PROMOTIONAL POSTER OF DR. LOVE AND HE LOOKS ENTIRELY DIFFERENT INCLUDING HAVING HAIR.

JACK: Wait.... wait a minute, that was that? That.... that was Dr. Love?

JENNIFER: Jack, Jack.

CO-ORDINATOR: Come along Mr. Deveraux.

JACK: He was wearing a rug.

CO-ORDINATOR: Time is money in television.

JACK: I'm sorry. He was wearing a rug.

JENNIFER IS TRYING NOT TO LAUGH AT JACK.

CO-ORDINATOR: Now possible contestants, I just want to remind you of one or two important rules.

JACK IS NOT LISTENING.

JACK: This whole thing's bogus. It's a fraud.

JENNIFER: What?

JACK: That was Dr. Love without the rug.

JENNIFER: Ssssssh! Don't say that.

JACK: He wears a toup»e. He was wearing a toup»e.

CO-ORDINATOR: Dr. Love, himself will be here soon to conduct the personal interview phase of our audition.

JACK: Wait a minute, excuse me. Did you say something about interview?

CO-ORDINATOR: Well he'll be very anxious to hear very juicy stories. The more embarrassing the better.

THE OTHER COUPLE START TO LAUGH BUT JACK DOES NOT THINK IT IS SO FUNNY.

JACK: HEHEHEH. Excuse me Vanna.... but when do we get a chance to play the game?

JACK USES THE NAME VANNA AS A PLAY ON WORDS FOR THE HOSTESS OF WHEEL OF FORTUNE, VANNA WHITE.

CO-ORDINATOR: I'm sorry Mr. Deveraux but unless you're chosen for the air, well we don't play actual game during the audition process.

JACK: Well how do you find out how good we are if you don't see us play?

CO-ORDINATOR: Comparing you and your wife's written tests tells us all we need to know. What we do need to know now is just how comfortable you are talking about the really intimate details of your life.

JACK AND JENNIFER LOOK AT EACH OTHER.

CO-ORDINATOR: Dr. Love wants you to bare your soul. Don't hold anything back. Now do you think you can do that contestants?

JACK LOOKS ABSOLUTELY HORRIFIED AT THE THOUGHT WHILE THE OTHER COUPLE SEEM TO REVEL IN IT.
SCENE FIVE: DR. LOVE ENTERS, NOW MADE UP AND WITH HIS HAIR PIECE, AND BEGINS TO INTERVIEW BOTH COUPLES IN PERSON. JACK FINDS THE WHOLE THING ABHORRENT AND IS STARTING TO FEEL SICK AGAIN.

DR. LOVE: Oh right, good, yes. Now tell me Laurie, on your last anniversary.

LAURIE: Ooooh on our last anniversary. You tell him.

LUMPY: You're goin' to love this Doc.

JACK AND JENNIFER CANNOT BELIEVE WHAT THESE TWO WILL TALK ABOUT.


LUMPY:

Well Laurie and me, we thought we'd spice things up right, so she made me haul the old brass bed out into the barn.

LAURIE: You should have seen those chickens.

LUMPY: And the sheep, man. I didn't know you could learn so many things from your livestock during mating season.

JENNIFER IS DISGUSTED WHILE JACK HAS A SMIRK ON HIS FACE.

DR. LOVE: We'll get back to that question. Now Mr. and Mrs.... (Misprouncing their name) Deverox, tell Dr. Luuuuuv about your most romantic evening. Make me, make me live it with you.

JACK GETS COLD SHIVERS.

JENNIFER: Ah actually, well I guess our most romantic evening was probably.... we were on this deserted tropical island and we were in this cave....

JACK: Ah no, no, we can't really talk about that can we. In fact we refuse to talk about that.

JENNIFER: Jack.

LAURIE: Were there bats?

DR. LOVE: Look I tell you what Deverox's. Let's move onto.... tell me about your favorite toys.

JACK: NO, NO, absolutely not. Not even for big money. No, no.

JENNIFER: Wait a minute Jack.

JACK: No, we can't. Now listen, that's it. I mean I don't know how I talked myself into this in the first place. I mean talking about important things in your life in front of millions of people is like dropping trowel figuratively or otherwise. I won't do it.

JENNIFER: This is our best chance to get back our money.

JACK: I don't care if it's our only chance. I'll work on a chain gang first.

LAURIE: Chain gang!

LUMPY: Chain gang, OH BABY!

JACK: Let's get out of here. It's Sam Cook and Co. Come on, we're going. We're going. I don't care if you throw a world of money at me, we're not coming back.

JACK DRAGS JENNIFER OUT.
SCENE SIX: BACK AT THE APARTMENT THEY ARE TALKING IT OVER.

JACK:

I'm just.... I'm just saying that if I have enough trouble talking about these things in front of you, why should I think I can talk about them in front of a studio audience? Not to mention the rest of the world and letting them know we're in need of a great deal of money.

JENNIFER: Jack you know there are rich people that go on game shows too.

JACK: You don't have to tell me another thing. It's over, we can forget about the whole thing. We're never going on anything like this again.

THE PHONE RINGS AND JENNIFER PICKS IT UP.

JENNIFER: Hello. (Beat) Yes this is Jennifer.

JACK: We're not going to even bother. We're never even going to tr....

JENNIFER: What? (Beat) We did?

JACK: Did what?

JENNIFER: We are?

JACK: We are what?

JENNIFER: Oh yeah, thank you. Thanks and I'll tell him too. Okay bye bye.

JACK: Don't tell me.

JENNIFER: You're not going to believe this Jack. That was Candice, they loved you. The producers said they've never seen such wild uncontrollable passion during one of their personal interviews.

JACK: Does that include Lumpy, Laurie and the sheep?

JENNIFER: Yes, Jack. They said you were one of the most exciting candidates they've seen in a long time and they want us back. We're going to be contestants, we're going to be on TV and we're going to win.

SHE GRABS HIM FOR A BIG HUG.

JENNIFER: We're going to win the game. Aren't you happy Jack?

JACK: Happy Jack, yes.

JENNIFER: Yes.

JACK:

Happy.... happy, happy.