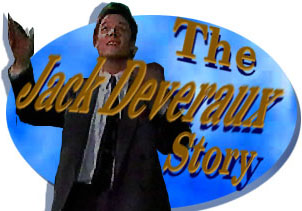 oldEpisode Four-hundred-two: Jack
Gets Paranoid, He Believes There
Is a Conspiracy and That Everyone
Is Hiding How Sick He Really Is.
---
[Air mid-April 1992]
SCENE ONE: JACK HEADS DOWN TO SEE MARCUS WHO IS HAVING A VISIT FROM THE DA, GLYNNIS TURNER.

JACK: Oh there you are. I've been looking.... ah, excuse me.

GLYNNIS: That's okay Jack. I was just leaving. So I'll see you back here later?

MARCUS: It sounds good. I'm looking forward to it.

GLYNNIS: Me too. (Beat) Goodbye Jack.

JACK IS PRETENDING THAT HE DID NOT HEAR ANY OF THEIR CONVERSATION.

GLYNNIS LEAVES MARCUS AND JACK ALONE.

JACK: Yes well I'm sorry to interrupt here but I'm here for my re-examination.

JACK: Under certain guidelines. No one finds out about this and that includes Jennifer.

MARCUS: Oh you're not going to try to keep this a secret too Jack. Come on.

JACK: I have no choice. She told me to my face that after this last go around she was glad she didn't know about it.

MARCUS: Alright, fine, fine. I'll keep it a secret if that's what you want. But let me tell you something, I still think you're making something out of nothing. Like I told you the original tests were very expensive and....

JACK: And I'm telling you, I've got a headache all the time. My stomach is constantly churning. I feel like dropping down to my knees to.... to faint. And I mean if that's healthy I'm the Surgeon General.

MARCUS: Okay, fine, fine. You made your point okay. I'll take another look, Jack.

MARCUS: Right this particular moment, yes. Follow me to my office. Come on.

JACK: Good, good. You're a prince amongst men, you know that.

MARCUS: You're going to be calling me something else when you get my bill.

JACK: Bill? My.... my insurance....

JACK RUNS OUT FOLLOWING MARCUS.
SCENE TWO: SOME TIME LATER, MARCUS HAS COMPLETED THE TESTS AND TAKES JACK BACK INTO THE NURSES' LOUNGE.

MARCUS: You don't mind if we talk in here Jack. I'm supposed to meet Glynnis and I don't want to miss her, okay.

JACK: Look, I don't care where we talk as long as you give it to me straight.

JACK: How much time do I have? Six months, six weeks, six days, what?

MARCUS: No, none of the above.

JACK: It's worse than that!

MARCUS: No, no, Jack. What I mean is that I still cannot find anything wrong with you.

JACK: Wait, what about all these symptoms?

MARCUS: They've got to be psychosomatic. Look I have run every test known to medical science on you and they all confirm my original diagnosis. You are as healthy as can be.

JACK: No, no, I don't want to hear this. I....

SUDDENLY A BELL TINKLES AND EVERYTHING FREEZES IN TIME, INCLUDING MARCUS. JACK IS MYSTIFIED.


JACK: (Think) Is that a smirk I see on the good doctor's face? I believe it is. And look AT how his eyebrows are arched. It's a dead giveaway. And that cocky way he has of tilting his head. It all adds up to one thing. Marcus is hiding something and I have to find out what. But how? (Beat) Huh, huh, there's my file. All I have to do is grab it and sneak a little peek.

THE BELL TINKLES AGAIN AND MARCUS STARTS TO MOVE.

MARCUS: So if you want a second opinion, be my guest alright. But as far as I'm concerned I'm going to give you a clean bill of health.

JUST AS JACK IS ABOUT TO GRAB HIS FILE, MARCUS PICKS IT UP.

MARCUS: I wonder where Glynnis is. I'm going to head on back to my office. We may have got our wires crossed. I'll see you later, okay.

JACK: Okay, I'll.... see you later too.

JACK LEAVES THE HOSPITAL.
SCENE THREE: JACK ARRIVES AT WINGS WHERE JENNIFER, JO AND VERN ARE AT A TABLE.

JO: Oh Jack, you're just in time. We're all ready to order.

VERN: There you go Jack. Anything that strikes your fancy.

JENNIFER: Feeling any better Jack?

JACK: Why, don't look better?

JENNIFER: Well of course, sure you do.

VERN AND JO TRY TO REASSURE HIM TOO.

JACK: No, no, I don't want to hear anymore of this. I.... I....

JACK HEARS THE BELL TINKLING AGAIN AND EVERYBODY FREEZES IN TIME.

JACK:

Well this is strange. It's truly amazing. (Think)

They all look suspicious too, just like Marcus. Same head tilt, same smirk and they have same strange gleam in their eyes. Except for Jennifer. She can't even look at me. My own wife can't even look at me anymore because she doesn't want me to see how she pities me. Oh they're hiding something alright.

THE BELL TINKLES AGAIN AND THEY ALL COME TO LIFE.

JENNIFER: Much, much better.

VERN: I should look so good.

JENNIFER: Wait a minute, wait a minute. What's the matter Jack? All of a sudden you look as pale as a ghost.

JACK: No, no, I'm fine. (Beat) I'm perfectly fine.

JO AND VERN LEAVE AFTER DINNER.
JACK: Jennifer, there's something I'd like to ask you.

JENNIFER: Oh, alright, what is it?

JACK: Are you upset with me because I couldn't go through with this Dr. Love thing?

JENNIFER: No, of course not Jack. And it's ancient history.

JACK: Well if you're considering that I've let you down with this then I'm sure that....

JENNIFER: No, you were in no shape to go on. You couldn't help it.

JACK: Are you sure that's how you feel about it?

JENNIFER: You listen to me, you are more important to me than any game show. Besides we can go on Dr. Love anytime we like. We have the rest of our lives.

JACK:

The rest of our lives....

JACK IS NOT TOO SURE ABOUT THAT.