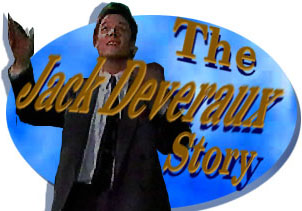 oldEpisode Four-hundred-four: A Nurse
Mixes Jack's Medical File with Someone
Else's; When Jack Sneaks a Peek at His File,
He Sees That He Only Has Six Months to Live.
---
[Air late April 1992]
SCENE ONE: IT IS THE DAY OF ISABELLA'S SHOWER AND JACK IS STILL FEELING ILL. HE IS LYING ON THE COUCH AS JENNIFER COMES OUT.

JENNIFER: Jack.

JACK: Oh.

JENNIFER: What are you doing here? (Beat) Oh no, you have sympathetic morning sickness again?

JACK: NO.

JENNIFER: Well then why are you home right now?

JACK: Heh.... well that's the way it is. I'm home right now because.... ah.... well I was waiting to see the next episode of.... As The Moon Rises.

JENNIFER: Are you kidding?

JACK: No, I'm not kidding. I.... ah.... happen to be fan of the show. Not a tremendous fan mind you, I could stop watching anytime I wanted.

JENNIFER: Since when have you become so interested in soap operas, Jack?

JACK: Since.... since, ah, Tootsie.

JENNIFER: Well I must say this is a new wrinkle. But you know what, I can't hang around and watch it with you because I've got to run. I don't know why I sat down in the first place.

JACK: To run where?

JENNIFER: Isabella's baby shower, remember. Carly and I are going to go over there and we're going to decorate. In fact Carly's going to pick me up.

JACK: You know, ah.... maybe I could give you a ride home from that and save Carly the trip. And we could.... maybe talk.

JENNIFER: Well I would like that very much. Thank you.

SHE BENDS DOWN AND KISSES HIM.

JENNIFER: Goodbye.

JACK: Goodbye. It is at Wings, right.

JENNIFER: Yeah, yeah right. I'll see you later okay.

JACK: Yeah, that's a good one. Not much later.

JENNIFER: What?

JACK: Nothing, nothing. Have a good time.... really.

JENNIFER: Okay. I'll see you later.

JENNIFER LEAVES.

JACK PICKS UP HIS COAT AND LEAVES TOO.
SCENE TWO: A SHORT TIME LATER HE IS WALKING ALONG FISHERMAN'S WHARF.

JO: JACK!

JACK: Oh, it's you.

JO: Yes, it's me.

JO IS ALL DRESSED UP.

JO: How are you? You look like you're carrying the weight of the world on your shoulders.

JACK: Well what do you expect in my condition?

JO: Your condition. Jack you don't have a condition. Now Jennifer.... Jennifer has a condition and that's called pregnancy. Son, I know it's a little hard on you but you'll get used to it. Now don't worry, just give it a little time.

JACK: Time?

JO: Yes.

JACK: That's very funny.

JO: I wasn't joking.

JACK: No? I'd say that you were. I'd say that you've been playing me for a fool, you and everyone else.

JO:

I have.... look son I know that you're upset. I can see that. I can see that you're upset but you've just got to just pull yourself together and tell me what this is all about.

JACK: This is about? This is about honesty, this is about integrity, or perhaps I should say the lack thereof. It's about so called friends and family who keep vital information from someone who has the right to know it. And more than anything else it's about a doctor who calls himself a family friend yet commits the ultimate injustice.

JO: Well I'm sorry, you're just not making any sense.

JACK: Listen, just stop playing games with me alright. I know. Marcus lied to me. I know I'm going to die and he doesn't have the decency to tell me. Apparently none of you have the decency to tell me.

JO: You think that you're terminally ill and you think that Marcus, Jennifer and I are trying to keep it a secret from you.

JACK: Desperate times call for desperate measures. I suppose that you thought you were just trying to protect me.

JO: Protect you from what? You're fine son. Your tests came out negative.

JACK: Please explain my symptoms.

JO: Your symptoms? The condition is right here.

SHE TAPS HER HEAD.

JO: It's hypochondria.

JACK: I don't care what you think or what you say. It's real.

JO: Son you are being completely paranoid.

JACK: I tell you something, even paranoiacs have real enemies. But you don't have to worry about me. I'm figuring out a way to prove this.

JO: Now wait a minute, you're not going to pull some crazy stunt are you?

JACK: One man's craziness is another man's brilliance. As I said, not to worry. I know exactly what I have to do.

JO: Oh that'll be the day Jack.

HE HEADS OFF TO THE HOSPITAL.
SCENE THREE: UNIVESRITY HOSPITAL, JACK IS LOOK FOR MARCUS.

JACK: Excuse me, is Dr. Hunter in today?

NURSE: No, I'm sorry. This is Dr. Hunter's day off.

TOM: Jack, I wasn't expecting to see you here at the hospital.

JACK: Ah, well I was just dropping by to see Dr. Hunter but he's not here so I guess I'll just be on my way.

TOM: Well I won't keep you.

JACK: Well thank you, I am in a bit of a hurry.

TOM: So long Jack.

AS JACK LEAVES, TOM SPEAKS TO THE NURSE AND JACK OVERHEARS.

JACK: Do you think he suspects anything?

NURSE: I don't see how he couldn't.

TOM: What a shame, I'll really miss him.

NURSE: Yeah.

JACK IS CONVINCED THEY ARE TALKING ABOUT HIM AND HE LEAVES.
SCENE FIVE: JACK SNEAKS AROUND TO MARCUS' OFFICE TO SEE IF HE CAN FIND HIS FILE. HE BREAKS IN USING A CREDIT CARD AND THEN SEARCHES THE DESK AND THE FILING CABINET.

JACK: Let's get started. Come on, Dennison, Dickson, Dillan.... Deveraux. What's it doing in the front here? You have to teach Dr. Hunter how to alphabetize. Alright, let's see.... "diagnosis is...." some word I can hardly pronounce.

JACK SCANS DOWN HIS DIAGNOSTIC SHEET TO PROGNOSIS.


JACK:

"Prognosis is....

terminal

." (Beat) Well it seems I have proved it.

HE READS FURTHER DOWN THE PAGE.

JACK: "Life expectancy.... six months."

HE IS REALLY SHAKEN UP.
HE IS STILL STANDING THERE HOLDING THE SHEET WHEN A NURSE WALKS IN. SHE IS VERY SURPRISED TO SEE ANYBODY IN THERE.

JACK: Hello.... ah, who are you?

NURSE: I'm Edna May, who are you?

JACK: Ah.... just a....friend of the doctor's but he's.... he's obviously not in.

JACK WALKS OUT THE DOOR.

NURSE: Well who should I say was.... here.

JACK IGNORES HER AND LEAVES ANYWAY. SHE GOES TO STRAIGHTEN UP THE FILES AND SHE FINDS THE DIAGNOSTIC SHEET THAT JACK WAS READING.

NURSE: What's this doing in here? Oh it belong in poor Mr. Dennison's file.

SHE PUTS IT BACK IN THE RIGHT PLACE.

NURSE:

Oh, it's a good thing nobody caught that screw up.
SCENE SIX: MEANWHILE THE BABY SHOWER FOR ISABELLA IS WELL UNDERWAY WITH EVERY WOMAN IN SALEM TURNING UP. WHEN THE GUESTS LEAVE, JO AND JENNIFER CLEAN UP.

JENNIFER:

Well you know I wish I knew where Jack was. He said he was going to pick me up. Maybe I should call him and see if he fell asleep or something.

JO: Oh, I'm sure he's on his way. He probably just got caught in traffic.

JENNIFER: Yeah.

JO: How's he feeling these days anyway?

JENNIFER: Terrible.

JO: Really?

JENNIFER: Yeah but I mean I know what's wrong.

JO: You do?

JENNIFER: Well yeah. He's still having a hard time with this whole pregnancy.

JO: Yours or his?

JENNIFER: Both.

JO: You think that then it's that sympathetic pregnancy?

JENNIFER: Oh yeah, I mean what else can it be. But I think I know how to fix it?

JO: What are you going to do?

JENNIFER:

I am going to cure him of this whole thing once and for all.
SCENE SEVEN: DOWN AT THE HOSPITAL, JACK HAS GONE TO THE NURSES' LOUNGE TO THINK OVER HIS SUPPOSED ILLNESS. HARPER AND DUKE APPEAR IN HIS SUBCONSCIOUS.

DUKE:

You're scared to death of life, Billy boy. Why, why, why.

JACK TURNS AROUND AND SEES HARPER AND DUKE BOTH DRESSED AS THE GRIM REAPER.

JACK: What, now this is a Bergman film, now right? Look I'm not playing chess with you two, no way.

DUKE: Way.

JACK: What?

HARPER: Not.

JACK: What?

DUKE: He obviously hasn't seen Wayne's World yet.

JACK: Oh you're telling me that this is Wayne's World.

HARPER: No, no it's just that we need a year to so to hone up on our parodies. You see we're doing last year's brain dead teen flick, Bill and Ted. And we are going play Twister.

HARPER PULLS OUT A TWISTER GAME.

HARPER: EXCELLEEEEENT.

JACK: Try bogus.

HARPER: Come on, you're playing first. Come on, what is it? Put your hand on the.... blue. Come on, put your hand on the blue.

JACK: Put my hand.... no, no. Look I'm not playing this. I'm not ready to go yet. I'm just.... I'm not ready to go.

DUKE: Yeah, that's what we said. Get a load of us.

JACK RUNS OUT TO THE ELEVATOR.

JACK: Oh come on. Come on.

HE SLAMS HIS HAND REPEATEDLY ON THE BUTTON.

NURSE: Is something wrong sir?

JACK: Ah, YES! Twister's wrong. The way they play they play for keeps. Stay away from them.

THE ELEVATOR OPENS AND HE WALKS IN AS A NURSE WALKS OUT. SHE GOES OVER TO THE NURSES' STATION.

NURSE: What was that all about?

NURSE 2: A guy screaming about a game called Twister.

NURSE: And I thought I was going crazy.

NURSE 2: It seems like everybody is around here. It's because of these staff cuts.

NURSE: Oh please, they've got me on clerical. What do I know about paper? I'm a dietitian.

NURSE 2: Everything going alright?

NURSE 2: Oh I got some of these files mixed up. Good thing I caught it in time though or some poor schnook would think he was dying.

BOTH THE NURSES LAUGH AS SHE REPLACES JACK'S FILE.
SCENE EIGHT: MEANWHILE, JACK HAS GONE DOWN TO FISHERMAN'S WHARF WERE JENNIFER AND JO HAVE BEEN WAITING.

JO:

Jack, where have you been?

JACK: I, ah, sorry I'm late. I was just held up a little bit with work.

JENNIFER: Oh, another Elvis sighting I suppose.

JACK: No, no, something a little more serious than that.

HE LOOKS STRAIGHT AT JO.

JACK: Actually a lot more serious.

JO PANICS.

JO: Oh Jack! Oh.... Jack!

JENNIFER: What? What do you mean, oh Jack? What's going on?

JACK: Jo, you were just leaving weren't you? Just going home?

HE PULLS HER ASIDE.

JACK: Can't talk now but suffice to say that I have proven the inevitable.

JO: Wait a minute, wait a minute, this isn't your imagination? I mean you really are....

JACK: I can't talk about it?

JO: No, but are you really?

JACK NODS.

JO: You call me, call me.

JACK: Yes.

JO: Goodnight Jennifer.

JENNIFER: Goodnight?

JO WALKS OFF AND JENNIFER IS CONFUSED.

JENNIFER: Are you alright?

JACK: Yes, ah, how was the shower?

JENNIFER: It was great, it was a lot of fun. Isabella got great little baby gifts Jack. I can't wait till I have a shower.

JACK: Hmmm, yes. How long is that going to be until the baby comes?

JENNIFER: Six months.

JACK: Six months.

JENNIFER: Come on, you knew it was going to be six months.

JACK: No, I just.... just didn't realize that it was coming up so soon, that's all.

JENNIFER: Is that too soon for you?

JACK: No, no, actually I was wondering if you might have it any sooner.

JENNIFER: What, I thought that you weren't looking forward to this at all Jack.

JACK: No, no, I am, I am. I can't wait. The sooner the better.

JENNIFER: Well I don't know what I can do to make the baby come any sooner but it sure makes me happy to hear you talk like this. What changed your mind?

JACK: I just want to spend as much time as possible with wife and child.

JENNIFER: Well that's good because you're going to stuck with us for the rest of your life.

JENNIFER GIVES HIM A BIG HUG.