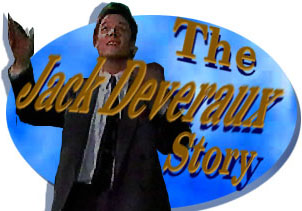 oldEpisode Four-hundred-sixteen:
Jack Interviews Candidates for
Jennifer's Future Husband. Jennifer
Suspects That Jack Weird Behavior
Is Because He Is Having an Affair.
---
[Air date mid-May 1992]
SCENE ONE: JACK IS AT WINGS TO WAIT FOR THE APPLICANTS. HE IS STANDING AT THE BAR.

JACK: Ah Dave?

DAVE: Yes.

JACK: Could you step over here for a minute into my office? I'd like to talk to you. Now tell me, what kind of finances do you have? I mean do you play the stockmarket, invest in CDs, mutual funds, that sort of thing?

DAVE: Why do you want to know?

JACK: Well actually The Spectator is doing a special investigative report on interesting bachelors and their interesting careers.

DAVE: You call this interesting?

JACK: Well I'm sure that someone does. Please tell me about it.

DAVE: Well.... I've got a little bit of money put away for a rainy day, that's about all.

JACK: Really. Let's just suppose that you were married, if you were married, what would you do if your wife suddenly became upset that you were working these long late hours here? I mean what if she wanted you to quit this job entirely?

DAVE: Well I guess I'd have to find myself a new wife.

DAVE WALKS AWAY AND JACK CROSSES HIM OFF HIS LIST.
---
SCENE TWO: THE FIRST APPLICANT ARRIVES AND HE IS WELL BUILT AND WEARING A RED T-SHIRT. HE ALMOST BREAKS JACK'S HAND WHEN THEY SHAKE.

APP 1: You can tell I work out a lot.

JACK: Yes.

APP 1: I take care of myself. I don't eat junk food. I don't drink and I don't smoke. And by the way how much are you paying me for this anyway?

JACK: Ah, Dutch, I really.... I really wish that we could think of this as more than a job. It's more like an opportunity if you will. An opportunity to meet and perhaps.... marry a lovely young lady with an incredible mind....

APP 1: Mind? Forget about the mind, I mean what about her bod? I mean is she going to be in shape enough to join me in the Florida Nationals next week?

JACK: I don't think so. But normally I mean Jennifer's in great shape most of the time. I just think she just doesn't put much focus on body building. (Beat) Not that that's not a good thing to focus on body building your entire life. I wish I could. But I think we should suffice to say that.... Jennifer doesn't let her body go to head. (Beat) I tell you what, I'll hold onto this resume and this picture and.... we'll be in touch.

THE GUY GOES TO SHAKE JACK'S HAND BUT JACK PULLS BACK.

JACK: Ah, later.

THE GUY LEAVES.
---
SCENE THREE: JACK CONTINUES TO INTERVIEW PROSPECTIVE HUSBANDS.

JACK: Next!

APPLICANT NUMBER 2 SITS DOWN.

JACK: Well your résumé tells me that you're a dentist which is very good for the teeth. Of course Jennifer has a perfect set....

JACK STARTS TO DAYDREAM ABOUT JENNIFER.

JACK: .... and eyes to match.

HE LOST IN HIS THOUGHTS OF HER.

APP 2: Excuse me, your ad said you wanted to know about me.

JACK: .... and a certain innocence and a sensitivity that's really lacking in women today. A vulnerability if you will that requires a certain person.... a person like myself.... I'm sorry I digress. Let's talk about you and your.... your personal likes. Do you like to dance?

APP 2: Not much.

JACK: Oh myself included. But Jennifer loves to dance. She loves pizza, pepperoni sausage....

APP 2: It's bad for the teeth.

JACK: Pizza?

APP 2: Dancing. It jostles the gums, shakes the roots loose.

JACK: Heheheh, yes well there is more to marriage than teeth, don't you think?

APP 2: No. I don't.

JACK: Heheheh.

THE DENTIST IS NOT JOKING.
---
SCENE FOUR: JACK HAS IS AT WINGS INTERVIEWING CANDIDATES FOR JENNIFER'S FUTURE HUSBAND. HE HAS JUST REJECTED ANOTHER ONE.

JACK: Next!

APPLICANT NUMBER 3 SITS DOWN AND HE'S VERY NERDY LOOKING WITH A BOW TIE AND GLASSES.

APP 3: And I'm currently working on a paper on the One Note Nightingale of Bangkok. I call it Play It Again Siam. Heheheheh. It's a little pun.

JACK: It.... ah, certainly is. (Beat) Well, do you know ornithology is such an interesting thing. I really wonder why.... why there isn't more of it.

APP 3: Oh I also do taxidermy on the side.

HE PRODUCES A STUFFED RAT WHICH HE PLACES ON THE TABLE. JACK IS VERY GROSSED OUT.

JACK: Aaaaah, well what do you know? A real live.... dead rat.

JACK TRIES TO TOUCH IT BUT CANNOT BRING HIMSELF TO.

JACK: Um, let me ask you, where do you do all this ornithology and.... taxidermy.

APP 3: At home.... at night.

JACK: Oh your home must be a real show place Will. It's been really nice meeting you. Nice to see your little friend here.

APP 3: No, no, no. Keep it, give it to Jennifer as a token of my affection.

HE HOLDS UP THE RAT SO THAT IT'S LITTLE TEETH ARE JUST INCHES FROM JACK'S MOUTH. JACK RECOILS.
---
SCENE FIVE: DOWN AT THE COURTHOUSE, JENNIFER IS WORKING HARD FOR THE TV STATION BUT JULIE WANTS TO KNOW WHERE JACK IS.

JULIE: You're covering this for the station?

JENNIFER: Yes. I'm trying to.

JACK: Well where is Jack?

JENNIFER: Well he had a meeting but I really wish he was here. He is so good with stories like this but they've already got somebody from The Spectator.

JULIE: Well it's because of The Spectator that I have to leave. I've just got so much to do before my meeting with Mr. Webster.

JENNIFER: The banker? You're having a meeting with him too?

JULIE: I hope I am. Unfortunately I will not know until the last minute if he can get away from Texas in time to make our appointment. I really hope he does. I really need his help with the judge when he makes about the creditors.

JENNIFER: But Jack says.... Julie you must be mistaken. Mr. Webster was at the bank this morning.

JULIE: No darling, no you're mistaken. I just spoke with his assistant. They are both in Texas. He won't be back in Salem until he catches the last plane out from Texas this afternoon.

JENNIFER: Really? That's.... that is so odd because I was sure that Jack said....

JULIE: What did Jack say?

JENNIFER: Um nothing, nothing. You're right. I must have been mistaken.

JENNIFER NOW KNOWS THAT JACK IS LYING TO HER.
---
SCENE FIVE: THE TRIAL CONTINUES FOR SOME TIME LONGER AND JUST NEAR LUNCH, JACK ARRIVES.

JACK: Sorry I'm late.

JENNIFER: Well did you have your meeting?

JACK: Yes, yes I did.

JENNIFER: With Mr. Webster?

JACK: Yes, yes.

JENNIFER: How did it go?

JACK: Well it was fine. It went just fine.

JENNIFER: Good, good. That's really good to know.

JENNIFER IS DETERMINED TO FIND OUT WHAT JACK IS LYING ABOUT.

JENNIFER: So where did you have your meeting?

JACK: Where? At a restaurant.

JENNIFER: Really, which one?

JACK: Which one.... oh I'm sorry I don't remember. Oh a coffee shop, a coffee shop. Why are you being so curious?

JENNIFER: Well you said it was such an important meeting so I was just curious about it, you know. Why are you being so evasive?

JACK: Evasive? Me, I'm not being evasive. I'm answering everyone of your questions, aren't I?

JENNIFER: Yes but in a very strange way.

JACK SEES THE HORTONS WALKING TOWARDS THEM AND DECIDES TO DISTRACT JENNIFER.

JACK: Well I'm sorry you feel that way. (Beat) As a matter of fact, how are you feeling? You're looking a little pale. Dr. and Ms. Horton I'm glad you're here. Doesn't Jennifer look a little pale?

ALICE: Well.... may.... maybe a little. But how are you Jack?

JACK: I'm fine, I'm fine. I'm not the problem here. It's Jennifer. She looks a little pale don't you think?

TOM: Yes I think Jack's right. Maybe you just need some fresh air.

ALICE: Yes you get some fresh air and we'll go out here.

JACK: It's a good idea. Let me take you for a little walk. Right this way.

JENNIFER: Will you stop it? I am very capable of walking on my own.

JACK: All I'm saying is that every now and then you might need somebody to lean on.

JENNIFER: Oh really? I thought you didn't want me to be so dependent on you all the time.

JACK: What are you talking about?

JENNIFER: I'm talking about the check book incident alright. You wanted me to make sure that I could balance the check book by myself.

JACK: This is different.

JENNIFER: Why is it different?

JACK: This is different. This is.... this is finite. You won't always be walking around pregnant. And even if you are I might not always be around to.... to.... to....

JENNIFER: To what, to what?

JACK: To.... never mind. Let's just get some fresh air, please?

JENNIFER: No, I am not going anywhere. I want to ask you a question.

JACK: What?

JENNIFER: Do you still love me?

JACK: Do I still.... what kind.... what kind of a question is that? Of course I do.

JENNIFER: I just have a very strange feeling today.

JACK: Well whatever it is you're feeling, it's in your head. Please, just put it out. This is no place to get upset. There's people all over the place. Look you know that I love you and I'm sure that everyone else here can see that I love you too. Look here, use this to dab your eyes alright.

HE HANDS HER HIS HANDKERCHIEF WHICH IS THE SAME ONE THAT JO USED TO WIPE OFF HER LIPSTICK FROM JACK'S CHEEK.

JACK: I'll be right back. I'm going to get you a glass of water and I'm going to get one for myself.

JENNIFER OPENS OUT THE HANDKERCHIEF AND SEES THE LIPSTICK WHICH IS NOT HERS. SHE IS CONVINCED THAT JACK IS CHEATING.
[Transcribed by Carol Vaughan
added material by Sally A. Wilson]
---
---