JACK: So the funding doesn't come in until then.
JULIE: That's how the bank wants it scheduled.
JACK: As long as they don't renege.
JULIE: Oh they're very enthusiastic about this Jack. You have no worries on that score.
JACK: I won't have any worries on any score before long.
JULIE: What?
JACK: Nothing, nothing. Could I see that second paragraph again?
JULIE: Sure.
JENNIFER: Wait Jack, it's nine o'clock in the morning.
JACK: We'll have breakfast then.
JENNIFER: I've already had breakfast and I'll have you for lunch if you don't tell me what's going on right now. I mean it Jack. I want to know what's going on. I want to know whatever it is that I don't know.
JACK: Sorry, if you could answer my question first. What are you doing here?
JENNIFER: I'm here to meet Brian.
JACK: Really! How very interesting. Are you here to talk, play cards, get the adrenaline up? I understand he's awfully good at that.
JENNIFER: As usual I have no idea what you are talking about.
JACK: I was just wondering why you're here with Brian.
JENNIFER: You're kidding me right? You hired Brian to be my body guard right, remember? You hired him.
JACK: Yes I hired him but I had no idea that you were going to run with it this way.
JENNIFER: I'm not running anywhere. He left his watch at our apartment and I wanted to return it to him. Now I want to know what's going on right now, please.
JULIE: Excuse me, excuse me. I want you to know Jennifer, I would never have consented to any of this if I realized that you hadn't even been told.
JENNIFER: I know that Julie. And Jack is not going to tell me so I would appreciate it if you would please.
JULIE: Gladly. I'll be delighted.
JACK: No, I'll do it. "If it were done, whence it were done, 'twould be well it be done quickly."
JENNIFER: What are saying Jack?
JACK:
Shakespeare. I did the Scottish play in school. Of course I played Lady Mc in the Scottish play. It was a
boys
school.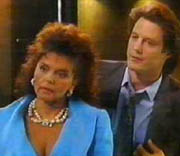 JENNIFER:
Who cares?
JULIE: No kidding, really.
JACK: Alright, I'm sorry. I've been under a tremendous amount of pressure from the bank and as you know it's been my determination that Lawrence will never get his hands on this paper.
JULIE: Jack, cut to the chase!
JACK: So, I have decided to let Julie....pay off all our debts to the bank in return....she takes full ownership of The Spectator.