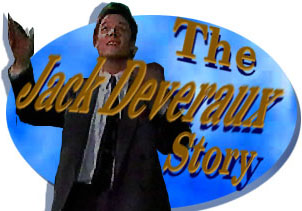 oldEpisode Four-hundred-twenty-two: Jennifer
Sees Ginger Kiss Jack; Later, She Reads
the Letter Jack Wrote for the Baby and
Assumes It Is a Goodbye Letter for Her.
---
[Air date mid-May 1992]
SCENE ONE: JACK IS SITTING ALONE IN A BOOTH AT ALICE'S. HIS HEAD IS HANGING LOW AND HE IS DEPRESSED.

GINGER: Hey, don't you know too much caffeine is not good for you.

JACK: Caffeine is the least of my problems.

GINGER: What, Jennifer again?

JACK: At this point I can't figure out what I've done to make her so mad at me.

GINGER: Oh look I'm sorry you're having such a rough morning but I have something that it going to just tickle you.

SHE HANDS HIM HER FIRST COLUMN.

JACK: Really.

GINGER: Here.

JACK: Alice's Pantry Blue Plate Special. Tofu grits and free range eggs.

GINGER: NO! It's the other side. It's a sample of my writin'.

JACK: Oh, (Sarcastically) writin' for what?

GINGER: For the job, for the column? Fashions for....hello! You didn't change your mind did you?

JACK: Ah, no, no, I didn't change my mind, not at all, not at all.

GINGER: Well that's a good thing because I was up half the night workin' on this thing. Look I know it's not going to be easy when it comes to convincing Julie so what I did was I got out my Smith and Corona and I just hammered out a few pages. I only hope they're good enough.

JACK: Well I'm sure they will be with just a little bit of reworking. In the meantime I want you to go home, put on your best dress because you and I are going to visit Julie at The Spectator.

GINGER: Oh Jack, you know what, I don't care what anybody says about you, you are such a sweetheart.

JENNIFER COMES IN AND OVERHEARS THE LAST COMMENT.SHE THEN SEES GINGER GIVE JACK A BIG KISS ON THE CHEEK. JACK PICKS UP A NAPKIN TO WIPE GINGER'S LIPSTICK OFF HIS CHEEK.
SCENE TWO: JENNIFER IS DEEPLY HURT, SHE IS NOW SURE THAT JACK IS HAVING AN AFFAIR WITH GINGER. PRETENDING SHE DID NOT SEE WHAT HAPPENED SHE THEN GOES OVER TO JACK.

JENNIFER: What was that all about?

JACK: Oh Jennifer, what are you doing here at this time?

JENNIFER: I want an explanation.

JACK: Explanation of what?

JENNIFER: An explanation of that.

SHE PICKS UP THE NAPKIN WITH THE LIPSTICK ON IT AND HOLDS IT UP TO JACK.

JENNIFER: You just don't get it do you Jack? You really don't understand what I'm talking about.

JACK: Listen I....I....know exactly....

GINGER COMES BACK IN THE RESTAURANT WEARING A MULTI-COLORED SKIN TIGHT SUIT THAT SHOWS EVERY CREASE OF UNDERWEAR UNDERNEATH.

GINGER: Well how do I look?

JACK: Oh that was fast.

GINGER: Heheheh.

JACK: Ah....ah....it looks....it looks fine.

GINGER: What, you don't like it? I....I could change. No really, I just want to make you happy Jack. Anything to make you happy.

JACK: No, no, it'll do for now, really.

GINGER: Oh okay, alright I guess I'll see you later then. Bye.....oh hi Jennifer....bye.

JENNIFER: I suppose you're going to tell me that Ginger's taking a course in fashion and you're helping her with her homework, right?

JACK: Well, actually I....

JENNIFER: Don't! Don't even try it Jack. Don't even try to give me one of your lame excuses. I am so sick of hearing your lame excuses. Just get out of here alright.

JACK: Yeah but....

JENNIFER: NO!

JACK: Yeah but....

JENNIFER: Get out of here. GO!

JACK: Yeah but...okay. But Je...

JENNIFER: GO JACK!

JACK: Alright, alright.

JACK RUNS OUT.
SCENE THREE: BRIAN COMES OVER TO TALK TO JENNIFER.

BRIAN: Okay Jennifer, alright, okay. Now listen, tell me exactly what you saw.

JENNIFER: Alright. Ginger was kissing Jack.

BRIAN: What else?

JENNIFER: That's not enough for you? (Beat) Alright, alright, she was hanging on his every word and she was dressing for him.

BRIAN: Here in front of all these people, here?

JENNIFER: Yes, she put on this whole different outfit to try to impress him right in front of me.

BRIAN: And you were here the whole time? They knew you were here?

JENNIFER: Yes, that's the thing that gets me, is they knew and I knew and they didn't even care.

BRIAN: This....this doesn't make any sense. There's got to be something else here.

JENNIFER: And you know what she said? She said that she wanted to make him happy and they'd made plans to meet later.

BRIAN: Okay, alright, hold on a second. Let me explain something to you about Ginger. I mean she's not shy around men, okay. I mean she couldn't possibly....well maybe she could. But not with Jack.

JENNIFER: I don't understand what you mean.

BRIAN: Well, um, Jack isn't the type of guy that women....you know he's just....he's just not Ginger's type.

JENNIFER: Brian I know that you don't want to believe it. But it's true. Trust me.

BRIAN STILL FINDS IT HARD TO BELIEVE.
SCENE FOUR: OUTSIDE ON THE WHARF, JACK RUNS INTO JO.

JO: JACK!

JACK: I'm sorry I don't have time. I have to run.

JO: Run where?

JACK: I have a very large mess to fix up.

JO: Oh, son are you finally going to tell Jennifer the truth about....

JACK: NO, NO! I mean at least not yet. It's The Spectator I have to take care of. I have to make sure Ginger gets on the staff.

JO: Doing what?

JACK: Ah, I don't care what she has to do. Anything that will keep her out of Brian Scofield's way.

JO: Oh, I see. So then Brian can get together with Jennifer.

JACK: Exactly, exactly. I'm glad you understand.

HE IS ABOUT TO WALK AWAY BUT JO HAS OTHER IDEAS.

JO: NO! I do not understand at all! All I can see is that you're digging a deeper hole for yourself. Jennifer doesn't want Brian, not now anyway. She wants you. She wants her husband.

JACK: I wouldn't be so sure about that. Actually I think my plans are working a little faster than I thought.

JO: What do you mean?

JACK: Well I was just at Alice's Restaurant where I ran into Jennifer and I received the coldest of shoulders.

JO: Why?

JACK: Well as far as I could see, she's starting to warm up to Brian Scofield and she wants me out of the picture, although it's happening a lot faster than I thought it would.

JO: Oh that's not true. She's probably just mad at you for some other reason.

JACK: Like what?

JO: Want me to make a list?

JACK: Oh, I said I do not have time for this kind of thing. I have fixed up Jennifer's financial future and I'm going to take care of her personal life as well and that means getting Ginger on The Spectator.

JO: Jack?

HE WALKS OFF.
SCENE FIVE: AT THE SPECTATOR, JACK IS SHOWING JULIE AROUND THE OFFICE AGAIN.

JACK: Well that's just about everything that you didn't see on the first tour.

JULIE: Right.

JACK: While I'm still able to show the way as it were, I was thinking I might make a little suggestion.

JULIE: Of course Jack.

JACK: I had an inspiration the other night. Actually I thought it was quite brilliant in its own special way.

JULIE: No kidding.

JACK: Yes, picture this, if you will. A new column called Dress Well for Less.

JULIE'S FACE DROPS AT FIRST, THEN SHE DECIDES MAYBE IT IS NOT SUCH A BAD IDEA.

JULIE: I like it.

JACK: Yes.

JULIE: I do like it. It expresses the sensibilities of the 90s.

JACK: Yes.

JULIE: Now we need somebody to write it.

JACK: Well actually I already had someone in mind.

JULIE: Someone I know?

JACK: Yes, it's actually....

AT THAT MOMENT GINGER ENTERS. SHE IS WEARING A DIFFERENT SUIT. THIS ONE IS BRIGHT ALMOST GLOWING YELLOW WITH COLORED SPLOTCHES ALL OVER IT. IT IS VERY TIGHT AND SHORT.

GINGER: Well what do you think? Isn't it just fantastic?

SHE SPINS AROUND SO THEY BOTH GET A GOOD LOOK.

GINGER: And you know what, you wouldn't believe how cheap this was.

JULIE: I just might....

JULIE SITS DOWN TO READ GINGER'S FIRST TRY AT WRITING.

JACK: Well Julie, don't you find that Ginger is the ultimate wordmeister?

JULIE: I don't think I'd go that far.

GINGER: Oh she hates it Jack.

JACK: I....I....

GINGER: I knew it.

JULIE: I didn't say that either.

GINGER: Then what would you say?

JULIE: I would say, it's not bad.

GINGER: It's not bad? Did you hear that Jack? She said it's not bad.

JACK: So Ginger you've got the job.

JULIE: Not so fast Jack!

JACK: You can ju....

JULIE: Not so fast Jack! (Beat) Ginger, my dear, you would have to turn out a column like this every single week. You think you can possibly do that?

GINGER: Yeah, yes, of course I can. I have a treasure trove of bargain hunter delights.

JULIE: Yes. We have a wide readership here. Do you think you could come up with ideas for styles other....(Julie looks ginger up and down)....other than your own.

GINGER: Look Julie I'm just trying to better myself anyway that I can so that Molly might think a little bit more of me. But I'm sure you probably don't care about that.

JULIE: This is not about Molly, it's not. This is about producing a good column that will be useful to our readers.

JACK: Let's just cut to the meat of the matter. Does she have the job, yes or no?

THE PHONE RINGS AND JULIE GOES TO ANSWER IT WHILE THEY WAIT.

JULIE RETURNS TO TALK TO THEM.

JULIE: My first mini crisis. I will get back to you Ginger on this matter.

JULIE LEAVES.

GINGER: Boy do I know how to blow it. I just had to bring up Molly didn't I? I just had to.

JACK: Well I think you can just chalk it up to an unconscious desire to self-destruct.

GINGER: And things were just going so well up to that point. I might as well just go out and shoot myself.

JACK: No, don't, don't start doing that. I think....I think there is something we can do. Something we have to do.

GINGER: Well what?

JACK: I tell you what, we're going to have another meeting with Julie and work this over again. And you will find something more....well....something different to wear.

GINGER: Like what?

JACK: Like what. On second thought why don't leave it to me. I'll find you something different to wear, alright.

JACK LEAVES WITH GINGER.
SCENE SIX: MEANWHILE JENNIFER IS HOME AND JO DROPS BY FOR A VISIT.

JO: Hi.

JENNIFER: Hi Jo, come on in.

JO: Look what I brought.

JENNIFER: What? Oh, oh boy, thank you, I could really use this right now.

SHE HANDS JENNIFER A VERY LARGE BOX OF CHOCOLATES.

JO: Something told me you could.

JENNIFER: You talked to Jack, didn't you?

JO: Well I ran into him earlier, yes.

JENNIFER: Then you kind of know what going on then.

JACK COMES HOME AT THAT MOMENT CARRYING A LARGE BOX.

JACK: Jo? Jennifer, what....well what are you doing here?

JENNIFER: Who's the box for?

JACK: The box?

JENNIFER: Huh, huh.

JACK: Well....um, well now that cat is out of the back, I guess....here.

HE HANDS HER THE BOX.

JENNIFER: It's for me?

JACK: Well of course it's for you. Who else would it be for?

IT IS OBVIOUS THAT HE IS LYING BUT JENNIFER IS TOO HAPPY TO NOTICE.

SHE PUTS THE BOX DOWN AND REMOVES THE LID. INSIDE IS A LOVELY PINK DRESS BUT IT'S NOT A MATERNITY DRESS.

JO: OH! OH! It's beautiful.

JENNIFER: Ah, why would buy me a dress like this?

JACK: Ah I don't know. I thought it would look great on you.

JENNIFER: Well which part of me did you think it would look great on? I can't wear it now.

JACK: Ah, well I was thinking that after the baby it would look great on you.

JENNIFER: This dress isn't even my size. It's a tall.

JACK: It is? (Beat) Well so it is. Well I tell you what, I'll just take it right back to that little sales lady....

JENNIFER: No, you know what, you don't have to take it back. You can probably just give it to Ginger because it would fit her perfectly actually.

JACK: Ginger? Why would I get a dress for Ginger?

JO: Jack, please tell her the truth.

JENNIFER: Jo, would you excuse us? Jack and I really need to talk alone, right now. I'll call you later, okay.

JENNIFER DRAGS JO TO THE DOOR.

AS SOON AS THE DOOR IS SHUT, JENNIFER STARTS HER QUESTIONS.

JENNIFER: I want to know what's going on and I want to know right now, everything.

JACK: If you're talking about Ginger, there's a perfectly good explanation.

JENNIFER OPENS THE CHOCOLATES AND STARTS EATING THEM.

JENNIFER: Oh good. I can't wait to hear this one Jack.

JACK: I am trying to get Ginger a job at The Spectator.

JENNIFER: Oh yes so that's what all that kissing at my grandmother's restaurant was about.

JACK: Yes, exactly, she was excited. You know how enthusiastic she can be.

JENNIFER: Yeah.

JACK: She....Jennifer I know there's a lot of things right now that don't make a lot of sense to you. A lot of it is very difficult to understand. But....given time you will understand and you will see that everything that's being done is for the best....for you and....and the baby.

JENNIFER: You know I really want to believe you.

JACK: You will believe me....in time. Now if you'll excuse me I have business to take care of. I'm going to take this back and get it exchanged for....well for something else. For something....

JENNIFER IS PRESSING HER FINGER INTO CHOCOLATES AND DOES NOT SEEM TO BE LISTENING.

JACK: ....something else.

HE WALKS BACK OVER TO HER AND KISSES HER CHEEK.

JACK: I'll see you later.

HE LEAVES.