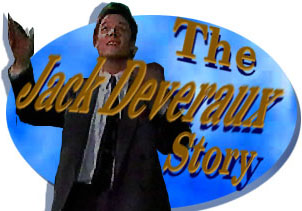 oldEpisode Four-hundred-thirty:
Jack is Frustrated with His New,
Fluff and Safe Assignments.
---
[Air date early July 1992]
SCENE ONE: IT IS THE GRAND OPENING OF THE NEW SALEM PLACE OUTDOOR MALL. JACK IS A WANDERING REPORTER WITH CAMERAMAN, REPORTING ON THE CROWDS, THE SHOPS AND THE ATMOSPHERE. JACK SEEMS BORED AND FRUSTRATED WITH, YET ANOTHER, FLUFF ASSIGNMENT.

JACK: Well there's nothing to worry about. Just give me a couple of quotes and you can get back to your shopping.

SHOPPER: Well the mall is beautiful. It's clean and convenient....

JACK: And safe, yeah.

SHOPPER: Oh I'm not so sure about that with all the crime downtown lately.

JACK: Yes there has been a regular crime spree here hasn't there. But there's nothing to worry about. I've seen Salem's policemen right here on duty.

SHOPPER: Oh it's still frightening. After all you don't know which one is a real policeman and which one isn't.

JACK: Truer words were never spoke.

SHOPPER: Oh the band. My son is the drummer. Excuse me.

THE BAND IS LOUD AND REPETITIVE AND JACK PUTS HIS HAND OVER ONE EAR.

JACK: Certainly, you have my condolences. This is so bad, if anybody bothers to rea....

THE PRODUCER FROM WTGB COMES OVER TO JACK.

MISS BANKS: Jack Deveraux.

JACK: Yes, yes Miss Banks. What are you doing here?

MISS BANKS: I'm shopping like everybody else. Oh look I'd like to get you and a cameraman out on patrol with some of these cops as soon as we can.

JACK: Excuse me. I never really agreed....

MISS BANKS: Look there's nothing hotter than reality programming right now and I think it's just what our ratings need with Jennifer out of town. So, when do you think you can have your first story ready for me?

JACK: Miss Banks, I've really given this whole thing a lot of thought....

MISS BANKS: Good, good, it's a great assignment isn't it? Out on the streets in the thick of the action.

JACK: Yes, yes, it's such a good assignment I'm sure you'll be able to find some other reporter to do it.

JACK WALKS AWAY.
---
SCENE TWO: MISS BANKS, THE WTGB PRODUCER, FOLLOWS JACK.

MISS BANKS: Wait a minute Jack, wait a minute. You don't want this job? Why?

JACK: Listen I made a decision. I'm just a little too busy.

MISS BANKS: Too busy to take on a very high salary plus the incredibly generous hazard pay that goes with it?

JACK: Hazard pay, right, yes.

MISS BANKS: Jack, one shoot out or anything with a little danger to it and you could take home an extra....

JACK: Listen don't worry about what I take home. Just don't put me in this kind of position. Me or my family. I've made a decision and that's final, thank you very much.

MISS BANKS: Tell you what, cover us Jack, just this once. As a favor to me and to the station where your wife intends to come back to work at a job that's still waiting for her.

JACK: Excuse me, is this a threat?

MISS BANKS: Look Jack, we have a meeting set at Roman Brady's office at noon. Ah, meantime I'll see what I can do to find a replacement for you. How's that?

JACK: Look I cannot....

MISS BANKS: Be there Jack. Trust me. You going to love the size of the pay check. Later.

SHE WALKS OFF AND JACK IS FEELING VERY PRESSURED.
---
SCENE THREE: HE GOES ON TO OTHER INTERVIEWS AT THE MALL INCLUDING BALITISKS.

JACK: Alright, who's the manager of this zoo? Free publicity for the asking.

MANAGER: I'm the manager, Mandy Cox. How can I help you?

JACK: Jack Deveraux, Spectator.

ONE OF THE SHOP ASSISTANTS NOTICES JACK AND THINKS HE IS EXTREMELY ATTRACTIVE.

GIRL: I've seen you on TV, on the news. What are you doing here?

JACK: That my dear lady is the question of the century. Actually I am here to do a story on the mall opening and perhaps my assistant (He thumps the cameraman, who is ogling the girls.) will take advantage of this photo opportunity.

CAMERAMAN: Ah yeah, I thought it would be great to get a couple of shots with the....best looking employees in the whole mall.

THE GIRLS ALL LAUGH AND GIGGLE.

JACK: Of course the caption will read words to that effect, assuming you ladies don't mind.

GIRLS: Oh no, not at all. That would be great. We'd love to pose.

THEY CANNOT TAKE THEIR EYES OFF JACK.

JACK: Great, please just step right over here, very quickly. We don't have much time. Right over here. Just line up.

GIRL: Thanks, we'd love to pose.

JACK: Very good. Here just keep down in front there. Just keep down. Good.

JACK LINES UP THE GIRLS AND JUST BEFORE THE PIC IS TAKEN, CARRIE COMES OVER AS WELL. SHE HAS JUST STARTED WORKING IN THE SHOP.

JACK: Oh, Carrie Brady. Excuse young man. Why don't you step up here young lady? This is home town girl makes good. Good, this is very good. Right in front. Okay, now all get together. Carrie, please, keep your face up. We want to see those pretty blue eyes.

CAMERAMAN: Okay that's great. Everybody together.

JACK: Nice big smile. Good, good. Carrie, eyes up.

THEY TAKE THE PICTURE.
---
]SCENE FOUR: OUTSIDE WHERE JACK MEETS ALICE AND MAGGIE.

ALICE: Hi Jack.

JACK: And not just women. There are more than just wo....

ALICE: Oh there you are.

MAGGIE: Jack.

JACK: Oh hello, hello.

MAGGIE: You are the last person I expected to see here today.

ALICE: Yes, I thought you hated shopping.

CAMERAMAN: Oh he does. It's just that we're getting some good shots for his article.

MAGGIE: Article?

JACK: Yes....thank you Animal. I tell you why don't go get some nice pictures of the clean bathrooms, alright. Like a good shutterbug. The men's bathrooms.

THE CAMERAMAN LEAVES.

MAGGIE: The paper has you doing stories on the mall openings?

JACK: Ah....yes. Well we have a couple of reporters on vacation and we're all filling in and it's....it's a hell of a lot better than doing.... stories on flower shows, don't you think?

ALICE: And you'll be wonderful and it's a safe job. It'll keep you out of trouble. So just remember, both you and I promised Jennifer you'd be good.

JACK: Yes, yes, I remember that promise.

MAGGIE: And speaking of shows, it's Jennifer's first broadcast from New York today, isn't it?

JACK: Yes, it is. I talked to her just this morning.

ALICE: And she's alright?

MAGGIE: She must be very excited.

ALICE: Yes, and she's alright, isn't she?

JACK: Yes.

ALICE: And the baby?

JACK: Yes, I guess they're both fine. Everything's fine. She's there and I'm here and it's....it couldn't be better.

ALICE: Jack you miss her, don't you?

JACK: Yes, I miss her and I love her. And I tell you something, I realize that no matter what I do, she's going to love me for it.

JACK WALKS AWAY AND ALICE IS A BIT CONFUSED BY THAT COMMENT.
[Transcribedby Carol Vaughan
added material by Sally A. Wilson]
---
---