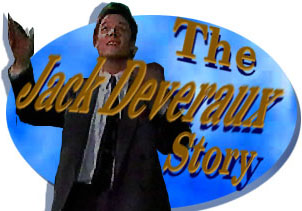 oldEpisode Four-hundred-thirty-two: Jack
Is Driving Around in a Patrol Car with
the Salem PD, in Hopes of Getting a Big
Story on the Fake Cops Terrorizing Salem.
---
[Air date early July 1992]
SCENE ONE: JACK HAS STARTED REPORTING WITH THE POLICE AND HE IS FOLLOWING THEM ON A SEARCH FOR THE FAKE COPS. THEY ARE SNEAKING DOWN A DARK ALLEY. HE SIGNALS THE CAMERAMAN TO KEEP UP RIGHT BEHIND THE COPS.

COP 1: I mean it Jack. Keep back! If we start to shoot I don't want you in the line of fire.

JACK: I am back, alright.

COP 2: Well will you stay back? Way back. I can feel you breathing down my neck.

JACK: Alright.

THE COPS MOVE FORWARD AND JACK TURNS BACK TO THE CAMERA.

JACK: A silent alarm at Alice's Restaurant has triggered instant response by the Salem PD. When you're in the battle zone you never know what's going to happen next. Just follow me.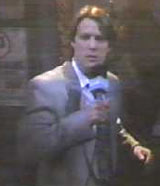 HE CREEPS UP THE BACK STEPS TO THE RESTAURANT.
---
SCENE TWO: JACK, HIS CAMERMAN, AND THE COPS ARE INVESTIGATING A POSSIBLE ROBBERY AT ALICE'S RESTURANT. JUST THEN ONE OF THE COPS COMES OUT OF THE BUILDING.

COP 1: Never mind, false alarm.

JACK: What the hell?

COP 1: Here's the perp.

THE COP COMES DOWN THE STEPS CARRYING GINGER'S SMALL WHITE FLUFFY DOG.

COP 1: Poochy here was playing with the alarm box. He must have set it off.

JACK: Alright, kill it. (Beat) No, not the dog, the camera. Kill it. This is great. This is unreal reality TV. Bogus alarms, bogus leads and now just bogus dog burglars. Give me that.

HE STARTS TO ROLL UP HIS MICROPHONE CORD.

COP 2: Oh come on Jack, it's all part of the big picture.

JACK: Right.

COP 2: You know, there are perhaps fifty stories in the Naked City tonight and this is one of them.

JACK: It's funny, it's very funny. Thank you.

ALL THE COPS LAUGH BUT JACK IS NOT AMUSED.

COP 2: Look I'm off duty now. I'm going to go hit it. I'll us in, okay.

COP 1: Okay, see you tomorrow.

COP 2: Okay.

JACK: (To the camerman) Why don't you go wait for me at the car?

CAMERMAN: Alright boss.

JACK: While I think of it, I may as well wrap it myself. This sure as hell isn't going to bring us any high ratings.

COP 1: I'm sorry we don't have any major crimes for you to report on tonight Jack. But we still have an hour and a half left. You want to stick with me for the ride around?

JACK: An hour and a half? Yeah, why not.

COP 1: Are you okay?

JACK: Am I okay? No I'm not okay. I just happen to, amongst other things, miss my wife.

COP 1: Oh she's a lucky girl.

JACK: Lucky girl, huh. Why do you say that?

COP 1: Well you're not such a bad guy. I noticed that.

JACK: Oh really, thank you. Look I'm just trying to do my job the best I can and get this thing.... the best it can be. Just for my wife.

COP 1: I know. Listen, we may actually catch the fake cops some day soon and then you'll be a local hero and.... as well as ten thousand richer.

JACK: Ten thousand richer? What are you talking about?

COP 1: You haven't heard? The police department's offering a $10,000 reward for the capture of the fake cops.

JACK: $10,000 reward! Why didn't you tell me about that sooner? Come on, let's get going. Let's crack this case open.

HE DRAGS THE COP BACK TO THE CAR.
---
SCENE THREE: AS THEY TRAVEL AROUND TOWN, JACK INSTRUCTS THE CAMERAMAN TO FILM DIFFERENT PEOPLE AND THINGS THEY SEE IN THE HOPE OF BREAKING THE CASE.

JACK: Over there, over there.... it's a 302.... it's a 302 in progress. Over there.

COP 1: A 302 is a parking ticket but nice try Jack.

JACK: Oh, hold it. Just hold it right there. What is.... what's a robbery in progress?

COP 1: A robbery is something that isn't likely to happen tonight. Now just relax. Everything's fine. The streets are safe.

JACK: Yes, the streets are safe because we're here. We're the only thing between the streets and total anarchy. I tell you something, I'd settle for a little total anarchy right now.

COP 1: I hate to disappoint you but it looks like a quiet night in Salem. We probably won't solve the fake cop capers either.

CAMERMAN: Could I turn this thing off now?

JACK: Can you turn this thing off.... Yes, you can turn it off. Let me tell you something, you better not fall asleep. The night is young.

COP 1: Nowhere else to go, huh?

JACK: I got somewhere else to go. The apartment's a little like a tomb though since my wife went away.

COP 1: So tell me, what would you do with the $10,000, if you got it?

JACK: If I got it, I'd get a bigger tomb. (Beat) I'd have a couple of rooms for my wife, Jennifer, and then a little room for the baby when the baby shows up. And I'd get a couple of stuffed animals and a train set and maybe then some athletic toys.

COP 1: I take it you want a boy.

JACK: No, I want a baby, that's what I want. But I mean that's a misconception. Girls.... girls can be athletic....

JACK NOTICES SOMETHING STRANGE GOING ON AND HE LEANS OUT THE WINDOW.

JACK: Wait a minute, wait a minute, we got another 30.... a robbery in progress. Right there.

COP 1: It's possible.

JACK: Of course, it's possible. Look there's a uniformed officer right there. That could be.... that could be one of the phony ones. Turn on that camera. This could be it. This could actually be it.

THEY STOP THE CAR AND ALL GET OUT.
---
SCENE FOUR: DRIVING AROUND WITH THE COPS, JACK BELIEVES HE SEES A "REAL" ROBBERY THIS TIME. THE COP STOPS TO INVESTIGATE, WHILE JACK BEGINS TO REPORT LIVE STRAIGHT TO THE CAMERA.

JACK: We are at Fisherman's Village.

COP 1: We don't have anything like that. You didn't give me a chance to call in.

JACK SIGNALS THE CAMERAMAN TO SWING AROUND AND TAPE WHAT'S GOING ON BEHIND ONE OF THE SHOPS.

JACK: Ssssh, just keep down. Hold on there.

COP 1: Jack, stop, stop!

JACK: Just follow me, follow me. I got him!

JACK CREEPS UP WHERE HE THINKS THE ROBBERY IS TAKING PLACE AND GRABS A GUY THAT IS UP THERE. HOWEVER THE GUY IS A COP, HE IS COP 2.

COP 2: Hey get off me.

JACK: HEY!

COP 2: What are you doing? Let go. What are you trying to do?

JACK: HEY! COP 2: What the hell are you doing Jack?

COP 1: Rob, what are you doing here?

COP 2: I was on my way home. I saw some suspicious activity over here. Had it all staked out and ready to move in and Jack sticks his nose in it and blows it. And know they're all gone and we're never going to catch them.

JACK: I, ah.... we don't want to see this. Cut, cut.

HE WAVES TO THE CAMERAMAN.

COP 1: Damn it Jack, I told you to let me radio in.

COP 2: You have blown this whole operation. All you want is some hot shot for your TV show but that is not the way the police operate.

JACK: I'm sorry.

COP 1: Let's just call it a night, okay Jack.

JACK: Sure, sure, your call.

COP 1: Yeah, come on Matt, let's go.

COP 2: Don't let it happen again.

THE COPS LEAVE BUT JACK IS STILL SUSPICIOUS.

CAMERMAN: Looks like we blew it boss.

JACK: Huh, I wouldn't be so sure about that.
---
SCENE FIVE: IT IS NOW MORNING, JACK HAS GONE TO SEE ROMAN AND EXPLAIN WHAT HE SAW. SHANE IS WORKING WITH THE POLICE AS WELL.

JACK: Hello Shane.

ROMAN: Oh Jack.

JACK: I got to talk to you.

ROMAN: Can't it wait Jack? Shane and I are discussing something rather important right here.

JACK: I tell you something, if it's about those fake cops, you can forget about it. I got a lead.

ROMAN: A lead.

SHANE: What kind of lead?

JACK: Actually it's more of a hunch but I'm telling you I can crack this case wide open if you give me one more shot at it.

ROMAN: Jack the entire police department has been bustin' their butts on this thing for weeks. Now what makes you think you can come in here and start....

JACK: I'm telling you I can.... just let me back on it, alright. Give me 24 hours. Let me ride with two of your officers. I can crack this case wide open.

SHANE IS IMPRESSED.

ROMAN: Straight Jack. You want me to let you go back on patrol with two of my people.

JACK: Yes.

ROMAN: Even though the last time I let you, you got in the way of an arrest that could have closed the case that has had this city immobilized for weeks. And now you come in here with a hunch?

JACK: Yes, absolutely, yes! I'm on to something.

SHANE: Would you mind giving us a little more detail?

JACK: Well if it's all the same to you, I'd rather not talk about it yet.

SHANE: Why not?

JACK: Because if we all start talking about it, there's a greater chance that there's going to be a leak.

ROMAN: A leak? Jack listen, unless you tell me what's going on you're wasting all of our time here.
---
SCENE SIX: JACK IS IN ROMAN'S OFFICE, HE HAS A THEORY ABOUT THE FAKE COPS AND THE ROBBERIES AND HE IS ASKING ROMAN TO GIVE HIM SOME TIME SINCE HE KNOWS HE CAN SOLVE THE CASE. HOWEVER, IT IS OBVIOUS THAT JACK IS AWKWARD ABOUT GOING INTO DETAIL HERE IN ROMAN'S OFFICE.

JACK: Listen Roman, if I'm right and I know I am, all of your boys in blue are going to be able to get back to their regular schedule and not have anymore interference from these.... these uniformed wannabes. Roman you told me yourself that you were undermanned, understaffed and outgunned at this point.

ROMAN: Forget it.

JACK: You need help.

ROMAN: Forget it. Listen to me, you're not a cop Jack. I don't care how many ideas or how many hunches you come in here with, you can't act on them. That's my job! So if you will excuse us, you've wasted enough of our time. Now we have important matters to take care of.

ROMAN: What?

JACK: Just give the next 24 hours and allow me to ride with two of your officers. That's all I ask.

ROMAN SIGHS. JACK IS HARD TO REFUSE.

ROMAN: One more time and you are ony there as an observer. Nothing else!

JACK: Nothing else.

ROMAN SHUTS THE DOOR.

JACK: And we'll see about that.

JACK GRINS TO HIMSELF.

[Transcribed by Carol Vaughan
added material by Sally A. Wilson]
---
---