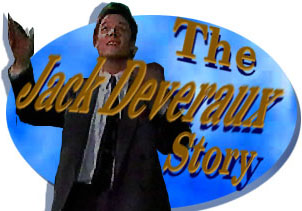 oldEpisode Four-hundred-thirty-three:
Jack Saves the Day: He Solves
the Case of the Fake Cop/Robbers.
---
[Air date early July 1992]
SCENE ONE: THERE HAS BEEN A HOLDUP AT WINGS. JULIE MANAGES TO PRESS 911 AND LEAVE THE LINE OPEN EVEN THOUGH SHE CANNOT TALK. THE COPS GET THE CALL BUT CAN ONLY HERE STRANGE VOICES IN THE BACKGROUND.
---
SCENE TWO: JACK IS TELLING THE COPS THAT HE'S BACK ON THE BEAT WITH THEM TONIGHT.

JACK: Look there is no room for argument. I am riding with you officers tonight.

COP 1: Okay!

COP 3: Officer Moto.

COP 1: What?

COP 3: We just got a really strange 911 call.

COP 1: What do you mean strange?

COP 3: Well there wasn't actually anyone on the line. Just voices in the background.

COP 1: Where did it come from?

COP 3: It came from Wings

. JACK: From Wings!

COP 3: We could hear a woman talking apparently to Salem PD but we don't have anyone in that area.

COP 1: Well we better get over to Wings.

COP 2: What's going on?

COP 1: More trouble with the fake cops.

COP 2: Well what are....

COP 1: Come on, let's roll.

COP 2: Let's roll.

JACK RUBS HIS HANDS TOGETHER.

JACK: Let's roll.
---
SCENE THREE: THE ROBBERS GET AWAY BEFORE THE COPS ARRIVE. HOWEVER JULIE IS STILL A BIT OVERCOME. JACK COMES ALONG WITH A CAMERAMAN AND GETS IT ALL ON TAPE.

COP 2: Mrs. Williams, Salem PD.

JULIE: Ah, no kidding.

COP 2: I understand you had a little problem tonight.

JULIE: Yes you could say that we had a little problem especially seeing as we here held up and robbed at gun point by police officers.

COP 1: The fake cops strike again.

COP 2: Okay Mrs. Williams, we're just as upset about this as you are. Now tell me are you the one who placed the call to 911?

JULIE: Yeah, I'm the 911 lady. I couldn't think of anything else to do.

COP 1: That was a smart move. Was anybody hurt?

JULIE: No, no, thank god. However they got every single cent that we had in the cash register not to mention everything in the safe. Everything my customers had. Will you please put that in your story Jack?

JACK: Certainly.

COP 2: Okay did you happen to see which way these people went when they left Wings?

DAVE: Well they went out the back door and they took a right towards the lake.

COP 1: Probably headed to one of the boat docks.

COP 2: Right, right, well let's go. You take the south shore and I'll take the north.

JULIE: Okay, you take the north shore. You take Dave. Take him through the kitchen. He'll show you the way, okay.

DAVE: Right this way.

COP 1: We'll get a report when we get back.

JULIE: Okay.

JACK: We'll.... we'll be here doing a couple of interviews. Don't worry about us.
---
SCENE FOUR: THE COPS LEAVE. JACK TURNS TO JULIE.

JACK: Julie, you are alright, aren't you?

JULIE: Oh, I'm fine. Thank god nobody was hurt Jack.

CAMERAMAN: Jack, are we going to stay here or what?

JACK: No, we're going to go right after them. Actually we're going to pick up with this interview later if that's alright with you?

JULIE: Alright, alright, more interview.

JACK: Good.

JULIE: Jack, be careful.

JACK: Just follow me.

JULIE: Please be careful and keep that tape rolling.

JACK: Absolutely.

JULIE: And stay cool. Stay cool.

JACK LEAVES. JULIE HAS A BIG DRINK OF WATER.
---
SCENE FIVE: JACK AND THE CAMERAMAN HIDE OUT AROUND THE BOAT DOCKS TAPING AND WATCHING FOR WHAT HAPPENS NEXT.

JACK: That must be them.

HE LOOKS ACROSS AT TWO POLICEMAN WHO SEEM TO BE EXCHANGING SOMETHING.


JACK: No self respecting policeman would find himself more than two miles from the nearest donut shop.

CAMERAMAN: Yeah that explains a lot. So what do we do know?

JACK: Keep your camera trained. Do you see who I think we're seeing?

CAMERAMAN: Ah, maybe. It's still too dark though. I don't know. (Beat) Jack, they're moving away. What are we going to do?

JACK: What else, call a cop.

HEY POLICE, HELP! JACK CALLS OUT LOUD AND CLEAR.

COP: It's dangerous, let's get out of here.

JACK: POLICE! HELP, POLICE!

COPS: Come on.

THE FAKE COPS PRETEND TO BEAT UP A REAL ONE THEN RUN AWAY.

JACK: POLICE HELP.

COP 1: Jack what are you yelling about?

JACK: What do you think I'm doing? There's nobody that way right. But there's plenty of police that way. fake ones.

HE RUNS AFTER THE FAKE COPS WITH THE CAMERAMAN JUST AS THE REAL COP STANDS UP AND FIRES AFTER THE FAKE ONES.

COP 2: Deveraux, you idiot. I was just about to put the cuffs on them and you opened your mouth.

COP 1: Come on we can still catch them.

THE TWO COPS RUN OFF.
---
SCENE SIX: LATER WE SEE COP 3 MEET UP WITH THE FAKE COPS AND DIVIDE UP THE MONEY THEY STOLE. THEY MAKE FUN OF JACK AND SAY THAT THE DEPARTMENT WILL NEVER LET JACK RIDE WITH THE COPS AGAIN.
---
SCENE SEVEN: ROMAN AND SOME OTHER COPS BREAK INTO THE WAREHOUSE BUT THE REAL COP MANAGES TO HIDE.

ROMAN: Okay, hold it right there. Get over here where we can see you. Hands up high. You know it's funny boys. I know all the men in my department. You two don't look vaguely familiar.

ROMAN FINDS THE MONEY ON THE FAKE COPS AND ARRESTS THEM. THE REAL COP COMES OUT OF HIDING ONCE ROMAN LEAVES AND JACK JUST HAPPENS TO BE THERE.

JACK: Officer Rhodes, the star of our show.

COP 2: Deveraux.

JACK: Heheheh.

COP 2: I thought I told you to get lost.

JACK: Well I would have, I really wish I could have but then I wouldn't have been able to get the proof I needed.

COP 2: What proof? What are you talking about?

JACK: Well I've been able to prove there was an inside man to this so-called fake cop conspiracy.

COP 2: No, no, no I mean it, I really do. I've got it on tape and you know pictures don't lie.

ROMAN COMES BACK INTO THE WAREHOUSE.

ROMAN: Jack, what the hell are you doing down here? I thought I told you to stay out of here.

JACK: No, I've got the proof right here. You see it, right now. You just look right into this tape.

THE CAMERAMAN HANDS ROMAN THE CAMERA TO WATCH THE REPLAY OF THE RECORDING THEY MADE.

ROMAN: What are you talking about Jack?

JACK: Look at the tape and it'll tell you the whole story.

ROMAN STARTS TO WATCH THE TAPE WHICH SHOWS THE REAL COP GETTING PAID OFF.

ROMAN: Rhodes, you are the lowest form of slime.

ROMAN GRABS THE COP.

COP 2: Captain I can explain this.

ROMAN: You're going to do your explaining to Internal Affairs.

ROMAN HAS THE COP ARRESTED WHILE JACK TAPES IT.

JACK: You got it Cecil, you got everything? All right.

ROMAN: I suppose this is what you meant by a hunch?

JACK: Well as a matter of fact, yes it is.

ROMAN: Yeah, yeah. You went against everything I told you, didn't you Jack?

JACK: No one got hurt.

ROMAN: No by some miracle they didn't. Let me tell you something, if you even ever think about pulling some kind of stunt like this again....

JACK: This is the last time. It's a one shot deal, that's all.

ROMAN: Good. (Beat) By the way.... thanks.

HE SHAKES HANDS WITH JACK.

JACK: You're welcome. (Beat) You got that on tape too?

CAMERAMAN: Got it.

JACK: All right we got one more thing, one more thing. One more thing about that reward. You know, the reward, the $10,000. I mean I like to be magnanimous and everything like that but I've got a wife and a little kid on the way. So when do I collect?

ROMAN: Oh well come on Jack, you know that.... virtue is its own reward.

JACK LOOKS SUSPICIOUSLY AT ROMAN.


ROMAN: Just kidding.

JACK: Right.
---
SCENE EIGHT: JACK HAS GONE TO WINGS TO SEE HOW JULIE. SHE OPENS A BOTTLE OF CHAMPAGNE. MICKEY ALSO COMES OVER.

JACK: Well it was very elementary. The more I rode around with those two, the more I came to realize that Officer Rhodes was the culprit. Of course I kept it to myself.

JULIE: Why?

JACK: Well I realized if I opened my mouth it could have been disastrous and I mean we've had enough disasters in last couple of months.

MICKEY: And what made you change your mind?

JACK: Well I knew that Officer Rhodes was trying to get rid of me and at the same time.... Roman gave me another chance so I jumped at it.

JULIE: How incredible.

MICKEY: Yes, it's amazing.

JULIE: Not only that you figured it out but that you lived to perform the heroic deed.

MICKEY: Yes, Julie's right. You know that could have been very dangerous.

JACK: Well, it.... really wasn't that bad. But it was worth the trouble. Now all I have to do is give my darling wife a call.... except for the fact I'm a little short. So if you don't mind Julie perhaps I could reimburse you for the....

JULIE: Jack, Jack, you're the man of the hour and Jennifer is my favorite short blonde cousin. So this one's on the house.

JACK: Thanks.

THEY BOTH LEAN IN TO LISTEN.

JACK: Now if I had a little privacy I'd be the happiest man in the world.

MICKEY: Well tell her we miss her.

JULIE: Yes, we both miss her very much.

THEY LEAVE JACK ALONE AT THE BAR TO MAKE HIS CALL.

JACK: Yes, I'll tell her.
---
SCENE NINE: AT WINGS, JACK PHONES JENNIFER IN NEW YORK.

JACK: Hello, yes, Jennifer, it's me. (Beat) Yes, Jack, yes. (Beat) Well I'm not up to much, just.... to tell you the truth I just wanted to hear your voice. And to let you know that everything is fine here, yes, and that includes the job. (Beat) Well I'd rather not get into it now, just, I'll tell you about it another time. Just suffice to say I'm working on a plan that's going to make sure that everything's going to be really rosy for our wonderful little family in the future. (Beat) Trouble? Me? No, why would you say such a thing? (Beat) Ah, all right, I'll admit that I've had a track record of trouble but this time you won't have to worry. (Beat) No, I'm being careful. As careful as I can be. (Beat) And I miss you too, yes. (Beat) And I love you very much.
[Transcribed by Carol Vaughan
added material by Sally A. Wilson]
---