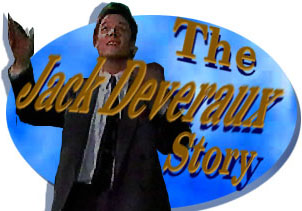 oldEpisode Four-hundred-thirty-four:
Jack Is Desperate to Find the
Perfect House for Jennifer, Before
She Returns from New York.
---
[Air date late July 1992]
SCENE ONE: IT IS ALMOST A WEEK AFTER JACK SOLVED THE CASE ABOUT THE FAKE COPS [IN THE SUMMER OF 1992, WITH MISSY REEVES ON MATERNITY LEAVE, MATTHEW HAD VERY LITTLE AIR TIME]. JACK IS READING THE CLASSIFIEDS AT ALICE'S RESTAURANT.

JACK: You know I don't even know why I'm even concerned about this reward. I can't afford one of these new houses and I can't even get out of the lease on that stupid apartment upstairs.

ALICE: Well Jack maybe you just hold off. Wait until Jennifer gets here.

JACK: No, absolutely not.

ALICE: For heavens sake, why not?

JACK: I'd rather not say.

ALICE: Jack!

JACK: I.... I just.... I would just like to surprise her.

ALICE: You mean you're going to buy a new house without even consulting Jennifer?

JACK: I just.... I say.... I'd like....

JACK LOOKS UP AND TANNER IS LISTENING IN TO THEIR CONVERSATION.

TANNER: You buying a house? Does that mean you're getting rid of your apartment?

ALICE STANDS UP SO THAT TANNER CAN SIT WITH JACK.

TANNER: Thanks Mrs. Horton. So you're really looking to get rid of your apartment, hey?

JACK: I can't wait to get out of the dump.

ALICE: Oh now Jack, it's really not all that bad. As a matter of fact I think it's rather charming.

JACK: Well you can keep all that charm.

ALICE WALKS AWAY.

JACK: Dark, dreary little place, the size of a shoe.... no thank you.

TANNER: That's too bad. I was looking for a place?

JACK PUTS DOWN THE PAPER. HE PUTS ON HIS MOST CHARMING SMILE.

JACK: Cozy, warm, lovely little place. Full of ambiance like you wouldn't believe.

TANNER: What happened to "dark and dreary?"

JACK: Oh you misunderstood me. I said romantic and cheery.

ALICE RETURNS WITH MORE COFFEE.

ALICE: Ah, Jack why don't you take Tanner upstairs and let him see for himself?

JACK: Excellent idea, excellent. Right this way young man. Let me tell you, this is an amazing apartment. TANNER: Errrr.

JACK: I consider it a bachelor pad amongst bachelor pads.

TANNER: I don't know.

JACK: You will know as soon as you see it.

JACKS DRAGS TANNER UPSTAIRS.
---
SCENE TWO: JACK IS SHOWING TANNER HIS AND JENNIFER'S APARTMENT. HE SHOWS IT LIKE THE BEST HIGH PRESSURE REAL ESTATE AGENT.

JACK: Let me show you the kitchen, the best part. Now it's a little tight but you know what they say, a little less square footage means less cleaning.

JACK OPENS THE FRIDGE THEN THE CUPBOARD DOORS AND FINALLY TURNS ON THE TAP WHICH AS USUAL SPURTS OUT DIRTY LOOKING WATER.

JACK: Aaaah, yes.

TANNER: Yeah well, you know I don't.... I don't cook much anyway.

JACK: Well there you have it. Why waste space on something you're not going to do anyway. And I tell you, it's very convenient. Alice's Restaurant is right downstairs.

TANNER: Yeah right.

JACK: And if you're looking for someone to do your windows, Jo is right down the hall.

TANNER: Well I will keep that in mind Jack.

JACK: Good, good, so do you want the place?

TANNER: You know, I got to really think about whether I can afford this place, you know.

JACK: This place?

TANNER: Yeah, I mean I'm not exactly making a fortune at Wings and ah, I don't Jack, I just don't have a lot of cash on hand right now.

JACK: Well I tell what, I will tell you what, you.... you can sublet from me and if you sublet from me you don't have to pay that landlord all that overhead and first month's last month's rent and the security deposit. Let me tell you, that's how they get you, coming and going.

TANNER: Hmmm.

JACK WRAPS HIS ARM AROUND TANNER'S SHOULDER AND HE LOOKS DOWN AT JACK'S HAND ON HIS ARM AND SQUIRMS AWAY.

JACK: Listen, listen to me, this is a deal. If you turn your back on this, you're turning your back on the deal of the century.

TANNER: Yeah, you know Jack, I just...I don't know.

JACK: Okay, listen, listen, if you sublet from me you don't have to pay any extra rent. They won't raise the rent.

JACK HAS A BIG FAKE SMILE ON HIS FACE.

TANNER: Well that's really nice of them.

JACK: Oh absolutely, absolutely. And.... if for some crazy reason you decide you don't like this place, don't want to live here any longer, you'll be out by.... the end of the summer which is when the lease is up.

TANNER: And when the rents go up.

JACK: I wouldn't worry about that really. I mean they'll be very fair with a nice clean cut young man like yourself. And while we're on it, while we're on it, I will throw in this beautiful, beautiful decorator's couch. It's very....

HE SITS DOWN AND THE SPRINGS SQUEAK LOUDLY.

JACK: .... it's ah.... it's just about as comfy as they come. And the hardwood table is, um, well it's an antique. That's all it is. So what do you say? Is it a deal?

TANNER IS STILL UNSURE.

TANNER: Well you know I'm not that particular.

JACK: Well there you have it. You'll fit in here just fine. So tell me.... hold that thought, just hold it.

THE PHONE RINGS.

JACK: Hold it right there. Hello.... ah yes, Jennifer. (Beat) Ah no, I'm.... I'm in the middle of some private business. (Beat) No, not that private no. (Beat) Yes I.... just hold on for a minute please.

HE COVERS THE PHONE AND TALKS TO TANNER.

JACK: Ah look, if you could, I'm going to take this call in the other room and I'll give you the high sign and you can hang up. In the meantime I want you to think about your room mate. Getting a room mate over here and having them check it out. Alright.... okay.

TANNER HANGS UP AND THINKS ABOUT WHAT IT WOULD BE LIKE IF MOLLY MOVED IN WITH HIM.
---
SCENE THREE: JACK HAS FINISHED HIS PHONE CONVERSATION WITH JENNIFER. HE COMES BACK OUT.

JACK: So Tanner, have you reached a decision?

TANNER: What?

JACK: About the apartment.

TANNER: Oh that.

JACK: Yes that. That's why you're here isn't it?

TANNER: You know something, I need to talk to one person. You don't give this place to anybody else, alright?

JACK: Oh no, no, no. I'll just wait for your call. But I tell you something, people are interested in this place so....

TANNER: No, I'm interested. I'm interested. I'll talk to you later.

JACK: Alright.

TANNER LEAVES.

JACK: Well there's one born every minute. Now all I have to do is get Jennifer and myself our new dream home.

HE SITS DOWN WITH THE REAL ESTATE SECTION OF THE PAPER.
---
[Air date late July 1992]
SCENE ONE: IT IS LATER THAT DAY AND JACK IS SITTING IN ALICE'S RESTAURANT READING A BOOK CALLED BUY YOUR DREAM HOUSE WITH NO MONEY DOWN.

TANNER: Hey Jack, thanks for meeting me.

JACK: One moment please. Creative financing, balloon payments, no deposit borrowing. (Beat) Yes please, go ahead.

TANNER: Alright, as I was saying, I've come into some extra cash so if it's still available I'd like to take over your apartment.

JACK: Well....

MOLLY OVERHEARS TANNER TALKING AND INTERRUPTS. SHE SITS DOWN WITH THEM.

JACK: So you've just come into a great deal of money.

TANNER: No, no not exactly but I've come up with enough. Enough to cover the rent.

JACK: I see. You don't say.

TANNER: No, no, I do say so. If it's alright with you I'd like to move in as soon as possible. You know, get your stuff out, get my stuff in.

JACK: Ah, if I may, I don't think you quite understand. In these United States it's customary for the sub-lessor to move out before the sub-lessee moves in.

TANNER: Right, well I thought you were quick to move, you know.

JACK: Well I would like to as quickly as I can however I can't move until I find a place that I can move into myself which is why I'm working, reading this book.

TANNER: "Buy your dream house" with what, no money down? You actually think you can do that.

JACK: I'm banking on it. No pun intended. Now if you'll excuse me I need to make a few phone calls.

TANNER: Yeah but Jack, you're going to let me know when the apartment's available, right?

JACK: Absolutely. You'll be the first to know. Miss Brinker.

MOLLY: Bye Jack.
---
SCENE TWO: LATER JACK COMES BACK AND SITS DOWN AGAIN TO READ HIS BOOK AND THIS TIME JULIE INTERRUPTS.

JULIE: Jack, mind if I join you?

JACK: Be my guest, please.

JULIE: Thank you. Fascinating reading material.

JACK: Yes, yes it is.

JULIE: If you're planning on buying a house and word has that you are.

JACK: Well it is intended to be a surprise for Jennifer so I would appreciate it if you kept it to yourself.

JULIE: Your secret is safe with me. You really miss her don't you Jack?

JACK: Yes, as a matter of fact I do.

JULIE: You know something, the old Jack wouldn't have even been able to say that.

JACK: The old Jack, yes. (Beat) Of course the new Jack is somewhat more evolved.

JULIE: Just goes to show what love can do. I'm proud of you. I know Jennifer is too.

JACK: There's nothing to be proud of, not yet.

JULIE: Honey, give yourself a chance.

JACK: To be honest, this is my chance.

HE HOLDS UP HIS BOOK.

JACK: My one and only chance. I just have to take it.

JULIE: For Jennifer and for the baby.

JACK: Oh, of course, of course. For Jennifer and the baby. Who else.

JULIE: Well you'll do it. I know you will. I mean I'd bet money on it.

JACK: As long as it's your money and not mine.

JULIE: Oh Jack.

JACK: I'm joking, just joking. (Beat) I must be leaving too.

JACK GETS UP TO LEAVE AS BRIAN AND GINGER COME IN WITH HANDOUTS ABOUT THEIR NEW PET CARE BUSINESS.

BRIAN: Here you go.

JACK: Thank you.

EVERYBODY IS SURPRISED AT THEIR CHANGE OF CAREERS.

JACK: Yes, I think this circular's wasted on me. I can't afford a child much less a puppy.

THEY WISH THEM LUCK IN THEIR NEW VENTURE.

JACK: And me also. I mean, the least I can do is wish you the best after all your help with Jennifer.

BRIAN: No hard feelings and Jack, call us if your kid needs a puppy.

JACK LEAVES. LATER JACK GOES TO WINGS WHERE TANNER IS THE BARMAN.

JACK: Barkeep! Something to slake the thirst of a road weary traveler.

TANNER: Alright, that sounds dangerous.

JACK: Surprise me.

TANNER: I didn't expect to see you around here for a while. I thought you'd be out trying to acquire a property or something.

JACK: I have been. However after doing that all afternoon, one's mind tends to wander.

TANNER: You do look lost or something.

JACK: Well that's to be expected when one's wife has been away the better part of the summer.

TANNER: Yeah, look, let me ask you something Jack and don't take this the wrong way but how did a guy like you end up with someone like Jennifer?

JACK: How could I possibly take that the wrong way?

TANNER: Hey you know what I mean. You see I've sort of been having a little.... well not exactly trouble with Molly but I sort of need some advice on how to treat her and I thought that maybe you could help me.

JACK: Me? (Beat) I could bend your ear all afternoon but just cut to the chase and say.... romance.

TANNER: What?

JACK: Romance.

JACK TAKES A SIP OF HIS DRINK AND WALKS OUT.

TANNER: Oh.... that.
---
SCENE THREE: A BIT LATER DAVE CALLS JACK TO THE PHONE AT WINGS TO SPEAK TO JENNIFER. JULIE OVERHEARS HIM.

JACK: Hello Jennifer. (Beat) Yes, yes, I'm glad you called. (Beat) No. (Beat) I'm now working very hard at the newspaper and with the police to do something for our future. For our very.... our very realistic future. (Beat) Yes, yes, food, clothing, shelter. The basics, just the basics. (Beat) Yes.... I love you too. (Beat) Not to worry. Say hello to your grandmother for me. (Beat) Yes, I will. Goodbye.

JACK WALKS BACK INTO WINGS.

JULIE: I can't believe you. I can't believe you're still lying to Jennifer. Oh it's just the basics. The basics my foot.

JACK: I'm not lying to her. I'm just.... I'm trying to surprise her.

JULIE: Oh you'll surprise her. You'll be real sorry but she'll be surprised.

JACK: Look, I understand that you don't appreciate any of my motives or what I'm doing but the fact remains this is what I want to do so please don't mess it up for me, alright.

JULIE: I won't get involved in it Jack. I.... I wish you luck. Just try to get a grip and get both feet on the ground.

JULIE WALKS AWAY.

JACK: Certainly.

TANNER: I know what you're going through man. I wish I had more money myself.

JACK: What are you talking about? I thought you didn't like money.

TANNER: I never did. I still don't for myself but you know when you get someone else and you want to show them how much you care. Sometimes it just takes money. Either you got it or you don't.
[Transcribed by Carol Vaughan
added material by Sally A. Wilson]
---
---