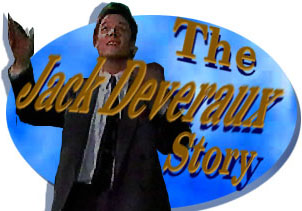 oldEpisode Four-hundred-thirty-seven:
Jack's Vacation Visiting Jennifer Comes
to an End. Back Home, Jack Steps up
His Effort to Find Them the Perfect Home.
---
[Air date early September 1992]
SCENE ONE: JACK AND JENNIFER HAVE ARRIVED AT THE STUDIO AND CALLIOPE IS RUNNING CRAZY BECAUSE SHE'S WORRIED ABOUT HER OUTFIT.

JENNIFER: Calliope, you look great. You've looked great in the past six outfits that you have put on.

CALLIOPE: For the last time I am changing. I mean win or lose, this is it.

JACK: This is nervous? I can't believe, I thought you'd be, you know, a pro by now.

CALLIOPE: I admit it. I have a perennial case of stage fright. If I had eaten something I would have thrown up three times.

JENNIFER: Jack, it's true. We have tried everything from picturing the audience in their underwear to giving Calliope herb pills to make her calm down. There is only one thing that even halfway works.

JACK: I'm afraid to ask what.

CALLIOPE: I think about all the things that give me pleasure, Euge not being one of them. Okay hit me with your best.

JENNIFER: Same as always?

CALLIOPE: Yes, the usual.

JENNIFER: Sit down.

CALLIOPE SITS DOWN AND JENNIFER START TO MASSAGE HER TEMPLE.

JENNIFER: Barbara Walters.

CALLIOPE STARTS TO HUM.

JENNIFER: Maria Shryver.

JACK: Ah Jennifer if you....

JENNIFER: No, Jack, not now. Oprah, Donahue.

CALLIOPE'S HUMMING GETS LOUDER AND LOUDER.

JENNIFER: Keep going, you're doing good, you're doing good. Good Calliope, good.

JACK IS COMPLETELY PUZZLED BY THE WHOLE INCIDENT.
---
SCENE TWO: A SHORT TIME LATER, THE SHOW IS READY TO BEGIN. JACK WATCHES FROM THE SIDELINES. THE SHOW IS ABOUT LITERATURE VERSUS TELEVISION AND AFTER CALLIOPE'S INTRODUCTION TO THE SHOW, JENNIFER BEGINS HER PART.

JENNIFER: You know Calliope I have prepared myself for this show and I have brought along a poem that I would like to read.

CALLIOPE: Please.

JENNIFER: Okay. This poem means as much as to me as it did over a year ago when I read it to my husband Jack on our wedding day. And actually I would like to read it again, especially for him today because he came here all the way from Salem to surprise me and I just want him to know how much that means to me.

JACK IS EXTREMELY UNCOMFORTABLE STANDING NEAR THE STUDIO MONITOR.

JENNIFER: This poem is called The Journey. (She looks across at Jack)

JENNIFER LOOKS TOWARDS JACK.

Now we will feel no rain for each of us will be shelter to the other.
Now we will feel no cold for each of us will be warmth to the other.
Now there is no loneliness.
We are two bodies but there is one life before us.
And one home.
When evening falls I'll look up and there you'll be.
I'll take your hand and you'll take mine.
And we'll turn together to look at the road we traveled to reach this.
The hour of our happiness.
It stretches behind us even as the future lies ahead.
A long and winding road whose every turning means discovery.

JACK'S EYES ARE FILLED WITH TEARS AS HE LOOKS ACROSS AT JENNIFER

Old hopes, new laughter and shared tears.
The adventure has just begun.

HE IS ALMOST OVERCOME WITH LOVE AS SHE FINISHES THE POEM.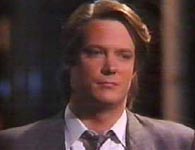 ---
SCENE THREE: THEY HAVE RETURNED TO THE HOTEL AND ARE APPROACHING THE DOOR TO THEIR ROOM. JENNIFER TRIES TO CONSOLE JACK.

JENNIFER: Jack it's nothing to be ashamed of.

JACK: I.... I just....

JENNIFER: I mean in fact I think it's rather sweet.

JACK: I was not tearing up.

JENNIFER: And if you're afraid of ruining your public image....

JACK: I was not....

JENNIFER: .... I will not tell a soul.

JACK: This has nothing to do with the public image.

JENNIFER: Stop denying it.

JACK: Public or private.

THEY GO INSIDE AND THERE IS A DINNER TABLE SET WITH CANDLES, FLOWERS AND FINE CRYSTAL.

JENNIFER: Jack.... now I feel like I'm going to start crying.

JACK: It's the wonders of room service on the old company tab. (Beat) Hope you like it.

JENNIFER: I love it. I love it and I love you. You know that's two surprises for me in one day.

JACK: We aim to please.

JENNIFER: I just can't believe how beautiful it looks.

JACK: It's something beautiful for my beautiful young starlet.

JENNIFER: Come on Jack.

JACK: I mean it. You really are becoming a star. (Beat) I watched you out there today. You were really something. (Beat) And I have to admit that there was a.... little something in my eye when you read that poem.

JENNIFER: I knew it!

JACK: You also know you're the only person.... who can have that effect on me.

JENNIFER: You have the very same effect on me. (Beat) You know I think I teared up quite a bit too.

JACK: Well I didn't want to say anything.

JENNIFER: Well it's not exactly out of character for me to cry Jack. But when I saw how emotional you got you don't know it made me feel inside. I love you so much.

JACK: And I love you.

JENNIFER: So what do you say we work up a big healthy appetite before dinner?

JACK: I'd say that's an excellent idea.

HE WALKS OVER AND TURNS ON THE CASSETTE PLAYER. JENNIFER WAS EXPECTING SOMETHING ELSE, SHE WANTED TO MAKE LOVE.

JENNIFER: Jack?

THE SOUND OF JOHNNIE MATHIS SINGING WONDERFUL, WONDERFUL! FILLS THE ROOM.

JACK: I know it's not exactly your idea of a way to burn off calories but I think it might be appropriate.

JENNIFER: You really thought of everything didn't you?

JACK SHRUGS.

JACK: Yes. (Beat) Now, if the lady wouldn't mind, may I have this dance?

JENNIFER: Under one condition.

SHE LOOKS IN HIS EYES AND THEY SPEAK TOGETHER.

.JACK AND JENNIFER: Don't sing.

JACK: Yes.

JENNIFER: No singing.

THEY START TO DANCE AND JACK BEGINS TO HUM.

JENNIFER: No humming.

JACK: Yes.... yes.

JENNIFER: Let Johnnie do it.

THEY SLOWLY DANCE WITH THEIR ARMS WRAPPED AROUND EACH OTHER, EYES CLOSED; HER HEAD ON HIS CHEST.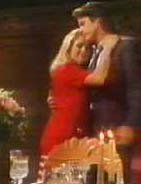 ---
[Air date early September 1992]
SCENE ONE: IT IS TIME FOR JACK TO LEAVE AND HE IS PACKING HIS SUITCASE.

JENNIFER: Are you sure you have to go?

JACK: If I want to keep my new position at The Spectator, I think so.

JENNIFER: You know what Jack, I am sure that Julie would understand....

JACK: Listen we have been through this. We cannot have anymore help from your cousin. We've had enough already.

JENNIFER: I know. I know that you have to go back. It's just that I miss you already and you haven't even left yet.

JACK: The week has certainly passed quickly hasn't it?

JENNIFER: Yeah. (Beat) Thank you so much for coming to see me. I mean you have no idea how much it meant to me.

JACK: I imagine I do.

JENNIFER: Have I told you lately how much I love you?

JACK: I believe you have but it wouldn't hurt if you told me again.

JENNIFER: Okay.
---
SCENE TWO: JACK IS LEAVING TO GO HOME, BUT BOTH OF THE HATE THE IDEA AND ARE TRYING TO DELAY THEIR FAREWELL AS LONG AS POSSIBLE. JENNIFER LEANS UP TO KISS HIM AND AS THEIR LIPS MEET, THERE IS A KNOCK ON THE DOOR.

BELLBOY: Sir, your taxi's waiting outside.

JACK: Ah, I'll be right down. If.... Jennif....

JENNIFER CUTS OFF JACK'S WORDS WITH A KISS.

JACK: Jennifer!

JENNIFER: I have to build up a reserve. You know it's going to be a while before I can restock.

JACK: Oh, I'm all for restocking.

BELLBOY: I suggest you don't keep your taxi waiting. You never know when you'll get another one.... sir? (Beat) Sir?

HE KNOCKS LOUDLY ON THE DOOR.AGAIN BUT JACK AND JENNIFER ARE STILL KISSING INSIDE.

---
SCENE THREE: A FEW HOURS LATER, JACK WALKS INTO ALICE'S RESTAURANT CARRYING HIS HEAVY SUITCASE.

JACK: Greetings from New York.

ALICE: Jack, dear, welcome home.

JACK: Ah thank you, it's great to be home.

ALICE: Now how did you leave Jennifer?

JACK: I left her.... huge. Quite literally, huge.

ALICE LAUGHS.

ALICE: Of course. I can't wait to see her again.

JACK: I can't wait to see her again myself.

ALICE: All right, now take that big thing upstairs, leave it in the apartment and I'll get you some breakfast.

JACK: I really don't have time for that. I need to get over to the office and work in Vern's computer....

TANNER INTERRUPTS.

TANNER: Hey.

JACK: You know I've been looking for you.

TANNER: Yeah I bet you have. Mrs. Horton, you're looking very nice today.

ALICE: Well Tanner thank you very much and good morning to you.

TANNER: Yeah, yeah. (To Jack) My father left a message that you were looking for me.

JACK: That's what I said. I've been looking for you.

ALICE: Alright, I have a feeling that you two want to talk so just tell me when you decide what you want for breakfast, huh.

ALICE WALKS AWAY.

JACK: Right. Look I.... we need to talk. I just want to let you know that I just came back from seeing Jennifer.... and she's coming back in a month.

TANNER: Congratulations. You want to have some breakfast?

JACK: No, I don't want to have breakfast. I want to tell you, I have redetermined that I'm going to get a house for us and that means that my apartment is available for you.

TANNER: (Beat) Thanks but no thanks Jack.

JACK: What do you mean, thanks but no thanks. Last week you said you wanted it.

TANNER: Yeah well that was last week.

JACK: Look, it's the money right?

TANNER: Well.... Jack it's always been the money. I never wanted to admit this to you before but I could never afford your place.

JACK: You can afford these shirts can't you? Sell.... sell this shirt and get an apartment. You need to have that apartment. It's bigger than yours. It's a little less ratty and you've got to impress that girl, don't you?

TANNER: You know what I found out? I found out I don't need a better apartment. She likes me for who I am. She doesn't care where I live or how much money I have.

JACK LAUGHS.

JACK: Heheheh, yeah right. Good luck.

TANNER: Yeah. I'm sorry if that messes you up. Have some breakfast.

TANNER WALKS AWAY.

JACK: Yeah, don't worry about me. Just go be happy. I'll.... I'll find someone. I've got to.
---
SCENE FOUR: BACK IN NEW YORK, JENNIFER ARRIVES AT THE STUDIO AND LOOKS WOEBEGONE. CALLIOPE TELLS HER THAT SHE LOOKS LIKE SHE LOST HER BEST FRIEND. JENNIFER REPLIES WORSE THAN THAT, JACK RETURNED TO SALEM. JENNIFER GOES TO GET READY FOR THE SHOW. MR. ARMSTRONG, THE HEAD OF PROGRAMMING, COMES DOWN TO THE STUDIO AND SEEMS VERY IMPRESSED WITH JENNIFER AND IS THINKING ABOUT GIVING HER HER OWN SHOW. CALLIOPE TELLS HIM THAT JENNIFER IS NOT READY FOR HER OWN SHOW BECAUSE OF THE BABY AND HER FAMILY IN SALEM. WHEN JENNIFER ASKS HER WHAT HE WANTED, CALLIOPE LIES AND SAYS IT HAD NOTHING TO DO WITH HER.
---
SCENE FIVE: BACK IN SALEM, JACK IS SITTING AT HIS OLD DESK, GOING OVER THE HOUSE ADS IN THE NEWSPAPER.

JACK: Four bedrooms, three bathrooms, fireplace, wall to wall carpeting.

HE MARKS THE AD.

JACK: It's a possibility. Let's see.... oh well it's time for Jennifer's show.

HE TURNS ON THE TV IN HIS OFFICE.

THE SHOW IS ABOUT LYING AND CALLIOPE FEELS VERY UNCOMFORTABLE ABOUT LYING TO JENNIFER. CALLIOPE IS VERY GLAD WHEN THEY GO TO A COMMERCIAL.

JACK: Fine, go to your commercial. I'll get back to my classifieds before Vern throws me out of the office. Jennifer.... I promised you I'd get you a new house before you got back from New York. I'll be damned if that's not what I'm going to do.
---
SCENE SIX: LATER JACK RETURNS TO ALICE'S WITH A LONG COMPUTER PRINTOUT THAT HE IS STUDYING.

ALICE: Jack, what on earth are you up to?

JACK: I'm looking for a house. What do you think?

ALICE: Well, have you found anything that interests you?

JACK: Well I've got a couple of things lined up. A couple of the right shape and size and price range and I've got a sneaking suspicion I might be able to grind the owners down on the price a bit.

ALICE: Grind.... what's that?

JACK: Well the realtor told me that the owners were highly motivated to sell which translates to the fact that they can't wait to unload the house.

ALICE: Oh, and that's nice for you.

JACK: That's very nice for me, yes. I mean I'm determined that there's a house waiting for Jennifer when she gets back and.... that's exactly what there's going to be.
---
SCENE SEVEN: MEANWHILE BACK IN SALEM, CALLIOPE OWNS UP TO JENNIFER ABOUT WHAT MR. ARMSTRONG WAS TALKING ABOUT. JENNIFER THEN HAS A DAYDREAM ABOUT THE POSSIBILITY OF THE JENNIFER DEVERAUX SHOW IN NEW YORK AND ALL THE FAME IT WILL BRING.
[Transcribed by Carol Vaughan
added material by Sally A. Wilson]
---
---