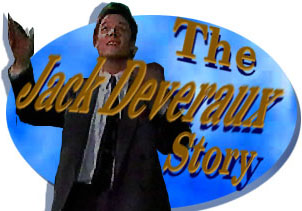 oldEpisode Four-hundred-thirty-eight:
Jack Hears Devestating News about
Isabella. In New York, Jennifer
Continues to Do Her Talk Show.
---
[Air date early September 1992]
SCENE ONE: IT IS A FEW DAYS LATER AND JACK IS IN THE APARTMENT TALKING TO JO.

JACK: And so New York is what it is, insane. I didn't go there to sample the insanity. I went to see Jennifer.

JO: How is she?

JACK: Good, good. She looks good, smells good, feels good.... good!

JO: Oh I miss seeing her so much. I wish she'd come home.

JACK: Well when you see her it will bring home the eventuality that she's going to be a mother. And I'm going to be a father.

JO: That's right you are and you better get used to it because in the next couple of weeks your whole life is going to change.

JACK: I'm prepared for that. I am.

JO: Oh well, don't forget, Jennifer's TV program is going to be on soon.

JACK: I know that, I know, I know.

JO: Okay, well I'm going to run some errands.

SHE LOOKS ACROSS AT THE TV.

JACK: I'm turning it on. It's on.

JO: Okay, I'll see you later.

JO LEAVES.
---
SCENE TWO: THE SHOW STARTS AND JACK MOUTHS THE WORDS "JENNIFER DEVERAUX" AS THEY INTRODUCE JENNIFER. IT IS A SHOW ABOUT MAKE-OVERS AND THE GUEST PUTS GAUDY MAKE-UP ON JENNIFER.

JACK: He's making you look like a clown.

JENNIFER SAYS TO THE GUEST THAT SHE WORRIED SHE'S GOING TO END UP LOOKING LIKE A CLOWN.

JACK: What did I tell you.

CALLIOPE THINKS SHE LOOKS SO GOOD THAT HER OWN HUSBAND WOULD NOT RECOGNIZE HER AND JENNIFER SAYS THAT IS WHAT IS WORRYING HER.
---
SCENE THREE: JACK SIGHS HEAVILY. NEXT THEY TEASE HER HAIR AND ADD EVEN MORE MAKE-UP SO THAT SHE LOOKS LIKE A CHEAP TRAMP.

CALLIOPE: This is wonderful.
---
SCENE FOUR: BACK IN SALEM.

JACK: Wonderful? This is insane. I've got to get her out of New York before that town changes her into something I don't even know anymore.
---
SCENE FIVE: THE NEXT GUEST ON THE SHOW IS A GUY WHO HAS WRITTEN A BOOK ON HAVING A BABY AND BEING A NEW FATHER. THE GUY REFUSES TO ANSWER ANY QUESTIONS BECAUSE HE SAYS THAT PEOPLE HAVE TO BUY THE BOOK. HE IS QUITE SEXIST IN HIS COMMENTS; JENNIFER AND CALLIOPE FIND IT HARD TO REMAIN CIVIL TO HIM. HE PUTS HIS HAND ON JENNIFER'S KNEE AND SHE PULLS IT AWAY. JENNIFER CUTS HIM AND GOES TO A COMMERCIAL. JACK IS WATCHING AT HOME.

JACK: Idiot!
---
[Air date mid-September 1992]
SCENE ONE: IT IS LATER THAT DAY AND JACK GOES TO SEE ISABELLA AT THE LOFT.

ISABELLA: Ah.

JACK: Hello.

ISABELLA: Jack, hi.

JACK: Um.

ISABELLA: Come on in, come on in.

JACK: Certainly, certainly. I.... ah.... suppose you've.... I suppose you've seen my wife's show today.

ISABELLA: Ah, no. No I haven't. I taped it. I got to watch it yesterday. She was.... she was wonderful.

IT IS OBVIOUS SOMETHING IS VERY WRONG WITH ISABELLA AND JACK SENSES IT.

JACK: Yes, yes, yes. I mean I hate to put anything against Calliope Jones but I think.... I think Jennifer could take the whole show over by herself. Not that I want her to stay in New York, mind you, but.... I've come at a bad time haven't I?

ISABELLA: No. (Beat) I mean you.... you didn't really come here to talk about Jennifer's show, did you?

JACK SEEMS A BIT PUZZLED.

JACK: Well yes and no. The show was about fatherhood actually and it's something I've become quite interested in.... of late. I thought I could come and talk to you and your husband since you're new parents and, ah, perhaps you could share some of your experience with me. Give me a little advice. I could watch and.... well the point is you're six months ahead, so any mistakes that the two of you make and Jennifer and I can learn and.... (Beat) That's a joke. (Beat) This is a bad time, isn't it? Something's wrong.

ISABELLA IS TRYING TO CONTROL THE TEARS ROLLING FROM HER EYES.
---
SCENE TWO: JACK IS VISITING ISABELLA, BUT IT IS OBVIOUS SOMETHING IS SERIOUSLY WRONG WITH HER.

ISABELLA: Yeah, something's wrong. Um, oh, I don't.... I don't know how to tell you this but, ah, I suppose eventually I'm going to have to tell everyone, so....

JACK IS REALLY SCARED.

JACK: Tell everyone.... what?

ISABELLA: I.... ah.... well Jack I, um.... I've been having some.... some back trouble so I went to see Carly and she ran a series of tests and.... it turns out it isn't back trouble. (Beat) I have cancer.

JACK SUCKS IN HIS BREATH.

ISABELLA: Pancreatic cancer.

JACK: Cancer.


JACK SWALLOWS HARD.

JACK: Well they can operate of course.

ISABELLA: No. This kind of cancer is inoperable.

JACK: You.... you don't understand. There is definitely something that can be done. I.... I have.... I've had cancer. I.... I've gotten through it. I've survived it. I....

HE IS TRYING TO SMILE AS HE TALKS BUT UNDERNEATH HE KNOWS WHAT SHE IS SAYING.

ISABELLA: Well, um, your kind of cancer was different from mine.

JACK: (Beat) Well if there's something I can do at this moment just tell me. If you need something.... I could do something.

ISABELLA: You can. You can be my friend. And, ah, don't tell Jennifer about this now, okay.

JACK: Wait a minute, I have to. She's going to want to know if you're not.... if you're not....

ISABELLA: I know but listen, she'll be home in a few weeks and then you can tell her. She's so far away and she's about to have a baby and it's all much too depressing. You promise me?

JACK: (Beat) I promise.

ISABELLA: Good. (Beat) Listen I will never forget Jack Deveraux and the great Bayview escape. (Beat) And I wish you could help me escape now but anyhow.... you were my first friend when I came to Salem.... and you're my best. Thank you.

SHE GIVES HIM A BIG HUG AND THEY STAND TOGETHER WITH TEARS ROLLING DOWN THEIR FACES.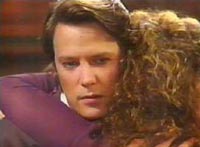 ---
SCENE THREE: IT IS LATER THAT DAY AND JACK IS HOME AFTER SEEING ISABELLA. JENNIFER CALLS FROM NEW YORK.

JENNIFER: Come on Jack, be there, be there.

JACK: Hello.

JENNIFER: Jack, hi, it's me.

JACK: Well hello. I.... ah.... I saw your show today and it was good.

JENNIFER: Well you know what Jack. The ratings are still flying high. They just told me. We are a really big hit.

JACK: Yeah.

JENNIFER: Did you hear that? I'm a big hit.

JACK: Yes, yes I heard you. That's something. I'm very happy for you.

JENNIFER: Really? You don't sound very happy. Are you sure there's nothing wrong?

JACK: No, no, nothing's wrong, nothing at all. I'm fine. Everything's fine. I'll.... I'll call you tomorrow, okay?

JENNIFER: Ah, okay. I love you.

JACK: (Very emotional) I love you too. (Beat) Goodbye.

JACK SLOWLY PUTS DOWN THE PHONE.
[Transcribedby Carol Vaughan
added material by Sally A. Wilson]
---
---