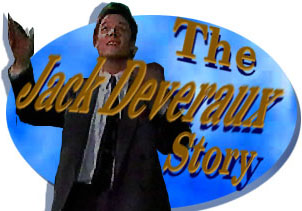 oldEpisode Four-hundred-forty-two: Back
Home, Jennifer Finds out about Isabella;
Jack Tells Her They Have Been Evicted
and Have to Move in with Alice and Tom.
---
[Air date early October1992]
SCENE ONE:JACK AND JENNIFER HAVE RETURNED TO SALEM, AND HAVE GONE TO SEE ALICE AT HER HOUSE.

ALICE: Jennifer darling it's so good to see you. And you Jack.

JACK: Yes.

ALICE: Now, you look wonderful. Let me look at you. How do you feel?

JENNIFER: How do I feel? I feel enormous. That's how I feel.

JACK STRETCHES AFTER THE LONG DRIVE.

JACK: Tiring.

ALICE: Jack dear. He told me he was going to take off and get you in New York but I didn't know when you'd be back.

JACK: Well I didn't know when we'd be back either but they wouldn't let Jennifer on the flight in her condition so we had to drive the whole way.

ALICE: Ooooh, how is the littlest Deveraux?

JENNIFER: This Deveraux is bouncing every second of the day. But now that I'm feeling better I really wish I could have stayed and finished those shows, really.

ALICE: Oh darling, we watched those shows almost every single day and we felt that you stole the show. Now come on, Tom and I were about to have our dinner. Come and eat with us.

JENNIFER: Oh, we....

ALICE: No, there's plenty.

JENNIFER: You know what grandma, we really need to get back to the apartment and unpack. We really just stopped by to say hello.

JACK: There's a problem with that.

ALICE: What?

JENNIFER: What problem?

JACK: The apartment. Ah there's a problem with that. Actually we can't go back there. I mean, not right now, anyway.

JENNIFER: Well what do you mean? Why can't we go home to our apartment?

JACK: What I'm trying to say is I had to rush out of this place so fast that I didn't have a chance to clean up and it's a big mess.

JENNIFER: Well that's not a problem. I mean I'll help you straighten it up. It won't take us more than an hour probably.

JACK: No, no, no. I made the mess, I'm going to clean it up. It's my mess. I just need a little time to deal with it. You eat dinner and I'll just do that.

ALICE: Jack darling, don't you want to eat your dinner first?

JACK: No, dinner will slow me down.

TOM COMES INTO THE LIVING ROOM.

TOM: I thought I heard voices. Welcome home Jennifer.

JENNIFER: Oooooh. Here he is.

SHE AND TOM HAVE A BIG HUG.

JENNIFER: Hi grandpa, how are you?

JACK: Well you two enjoy yourselves and I'll see you all later.

TOM: Aren't you staying?

JACK: Ah, I just explained that I couldn't. I have to check on some things and clean up the apartment and ah, I'll be back.

JENNIFER: All right, bye.

HE GIVES JENNIFER A QUICK PECK ON THE CHEEK AND RUNS OUT.

JENNIFER: He never changes, does he?

ALICE: You'd be sorry if he did.

JENNIFER: You're right. I think I will keep my husband just the way he is.

TOM: Well tell us how you're doing.

JENNIFER: What, don't I look all right?

TOM: You look the picture of health.

ALICE: That's what I told her.

TOM: No more false labor alarms?

JENNIFER: No, no, I mean not even a cramp. Everything seems to be back on schedule.

TOM: I'd say you had that Madonna glow if Alice hadn't told me it means something different. Oh you don't know how wonderful it is to have you home.

JENNIFER: Thanks grandpa.

ALICE: Well I better get dinner on the table or that baby will be complaining.

JENNIFER: You're right, this baby will be complaining. And you know what grandpa, I think I'm going to stop off and see Isabella and Brady. I want to pick up some tips on diaper styles. I need to get ready for this little baby here.

ALICE: Jennifer?

JENNIFER: Hmm.

ALICE: Darling, before you go, there's something you need to know about Isabella.

ALICE AND TOM TELL JENNIFER ALL ABOUT ISABELLA'S CANCER.
---
SCENE THREE: JENNIFER HAS GONE OVER TO SEE ISABELLA.

JENNIFER: Hi there.

ISABELLA: Jennifer.

JENNIFER: Remember me?

ISABELLA: Oh my gosh, look at you, you're pregnant.

JENNIFER: You noticed.

ISABELLA: You look....

JENNIFER: I know how I look. Don't tell me.

ISABELLA: .... beautiful. John and I just finished having some dinner. Can I get you something? Ice cream or something.

JENNIFER: No, no, I just had dinner with grandparents.

JENNIFER NOTICES A VIDEO CAMERA ON THE KITCHEN BENCH. ISABELLA HAS BEEN USING TO RECORD HER LIVING WILL AND ALSO A MESSAGE FOR JOHN AND BRADY.

JENNIFER: So what is this, are you video taping Brady?

ISABELLA: Ah, no. Actually we're making video tapes for Brady.

JENNIFER: Oh really.

ISABELLA: Come on sit down. I have something that I want to talk to you about and.... ah....

JENNIFER: It's all right. My grandparents told me tonight.

ISABELLA: Then you know.

JENNIFER: Yeah, I know. (Beat) I don't even know what to say.

THEY BOTH HUG.

JENNIFER: Oh Isabella, it's so wrong.

THEY HAVE A CUP OF TEA.

ISABELLA: You know what let's not talk about this anymore right now, okay.

JENNIFER: Isabella, I want to do something. I want to help you.

ISABELLA: Oh you have. Seeing you has been a real tonic.

JENNIFER: You know I can't believe that Jack didn't tell me. I have talked to him so many times on the phone and....

ISABELLA: No, really, really listen that was my doing. I asked him not to do that. It's just that you were so far away from home and all alone and it would have been so depressing. Jack has really been wonderful. You're lucky to have him.

JENNIFER: Yeah I know I am. If there's that anything I can do please tell me. I....

ISABELLA: Actually there is something you can do for me. You know what you can do? You can concentrate on this right here, on you and your baby. You see that's what really matters, new life.
---
SCENE FOUR: MEANWHILE JACK HAS RETURNED TO ALICE AND TOM'S, HE IS WAITING IN THE LIVINGROOM FOR JENNIFER. WHEN SHE RETURNS.

JENNIFER: Jack, are you.... hi.

JACK: Yeah, I heard you come in. I, ah, I was a little worried about you being gone so long. I was going to go looking for you.

JENNIFER: Well didn't grandma tell you where I'd gone?

JACK: Yeah, she did. That's why I was worried.

JENNIFER: Are they in bed?

JACK: Yeah, they're in bed. Ah, before she went up she told that.... she said that she told you all about Isabella and that's where you went. Look I want to let you know that I would have been the one to tell you all about it but she....

JENNIFER: Jack, I know that. I know that. And Isabella told me why you didn't. And you did the right thing, I'm telling you because I would never have been able to handle news like that being alone in New York.

SHE STROKES HIS FACE.

JACK: Well that's what I figured.

JENNIFER: It's just so hard. I don't understand it. I don't understand how something like this could someone as wonderful as Isabella. It doesn't make any sense.

JACK: It kind of makes my bad news seem trivial by comparison.

JENNIFER: What bad news?

JACK: It's nothing really. It's.... it's the real reason I went back to the apartment. I was checking on our status there and it appears we.... don't have an apartment to go back to.

JENNIFER: What.... what happened to it?

JACK: Nothing happened to the apartment. It happened to us. We've been evicted. Because Julie saw fit to give us a baby carrier which indicated our intention to break the no-baby lease, the landlord saw it and put two and two together and booted us out.

JENNIFER: Right, so as of now we're homeless, right?

JACK: No, we're.... we're not homeless. In spirit maybe but your grandparents have agreed to let us stay here. I would like to have it otherwise but, um, I don't know, we have no choice. I had a.... I had a lot of plans this summer to.... I was going to get you a home and now it seems.... it's not going to happen. I'm sorry.

JENNIFER: It doesn't matter. That really doesn't matter Jack. I'm not upset. I keep thinking about everything that Isabella has to give up. And a home means absolutely nothing. It means nothing as long as we have each other.

SHE HOLDS ON TIGHT TO JACK.
---
SCENE FIVE: LATER THAT NIGHT ISABELLA CALLS JENNIFER AND OFFERS TO GIVE HER A BABY SHOWER. JENNIFER SAYS SHE WOULD LOVE IT BUT JENNIFER IS UNSURE THAT ISABELLA HAS THE STAMINA TO ORGANIZE SOMETHING LIKE THAT.
[Transcribedby Carol Vaughan
added material by Sally A. Wilson]
---
---