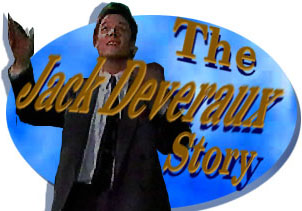 oldEpisode Four-hundred-forty-six:
The Birth of Abigail Johanna Deveraux
Part I: Bill Horton Makes a Surprise
Visit; He Has a Special Offer for Jack and
Jennifer. But, Will Jack's Pride Get in the Way.
---
[Air date Thursday, 15 October 1992]
SCENE ONE: JACK AND JENNIFER ARE GETTING READY TO LEAVE ALICE'S.

JACK: Let's go.

JENNIFER: Here's your coat.

ALICE: Is this another trial run?

JENNIFER: Oh no.

ALICE: It's the real thing?

JENNIFER: No grandma, don't worry. Relax.

JACK: We're just going to pick up a crib.

JENNIFER: We're going out to Aunt Maggie's farm.

ALICE: Oh the antique crib she had for Sarah.

JENNIFER: Yes, it's in storage in the attic and we're going to go drive out there and get it.

JACK: It's only a loan of course.

ALICE: Of course.

JACK: We'll return it as soon as the kid outgrows it.

ALICE: Yeah, I'm sure the kid will enjoy it. All right, drive carefully dears.

JENNIFER: Bye Grandma. See you later.

JACK: Yes, yes.

JACK OPENS THE DOOR AND BILL HORTON IS STANDING THERE.

BILL: Ooooh, good morning.

JENNIFER: DAD! Oh my GOSH!

JENNIFER GIVES HIM A BIG HUG AND JACK SMILES.
---
SCENE TWO: JENNIFER'S DAD HAS JUST RETURNED FOR A SURPRISE VISIT.

ALICE: Bill darling, it's just so good to see you.

JENNIFER: I know this is such a surprise. I can't believe it.

BILL: Well, I figured I have been away from my family long enough. It was time for a visit. Mom, you get prettier and younger every year.

HE KISSES ALICE'S CHEEK.

ALICE: My son, the diplomat.

BILL: I mean it. You, young lady, you're radiant.

JENNIFER: And big.

BILL: And big.

JENNIFER: Thank you dad.

BILL: And Jack, you must be doing something right.

BILL SHAKES JACK'S HAND.

JACK: Thank you, thank you.

TOM: I thought I recognized that voice.

BILL: Dad.

TOM: Ah, Bill. Just been too long. How are you?

TOM AND BILL HUG.

BILL: I'm great. Great considering I'm about to become a grandfather again. Apparently at anytime now.

JENNIFER: Oh come on now, I think you have a little bit more time. So come on, what do you want, you want a granddaughter, you want a grandson? What do you want?

BILL: Oooooh either one is fine with me as long as it's healthy.

ALICE: Oh and this child will be healthy. Jack has been absolutely wonderful to Jennifer.

JENNIFER: Yes that's right, he has. You know what dad, you should have told us you were coming in because we could have picked you up at the airport.

BILL: Well, I wanted to surprise you.

JENNIFER: Well you did that.

BILL: You know I kind of got a surprise myself. I went by your apartment and the landlord said that you guys had moved on out.

JENNIFER PATS JACK'S HAND.

JENNIFER: Well that's right. We did. We're living here with Grandma and Grandpa now.

JACK: It's only a temporary arrangement of course. I'm going to have us moved into our own place before you know it.

BILL: Is that so?

JACK: Absolutely! As a matter of fact I'm working on a couple of deals even as we speak.

BILL: Well, that's good to hear. Hey I'm very happy for you.

JACK: We're reasonably happy ourselves.

BILL: Jen, ah, Jen, you know I bought some gifts for you and baby. Come out here and take a look will you?

JENNIFER: Oh yeah, will you excuse us for one second? I'll be right back.

BILL: Feel free to talk.

BILL AND JENNIFER GO OUT TO THE FOYER TO LOOK AT THE GIFTS.

JENNIFER: Oh Daddy, you didn't. Look at all these.

BILL: Well I wanted to.

JENNIFER: You know what, let's go inside so that everybody can see them.

BILL: No, hold on Jen. That's not why I brought you out here, okay. What's the real reason you and Jack are living here with your grandparents?

JENNIFER: Aaaah, well I guess there's no sense in hiding from you. You're going to find out sooner or later anyway. Right now we're having a.... few money problems, that's all.

BILL: Yeah, that's what I thought.

JENNIFER: But it's not Jack's fault. I mean he has desperately been trying to find a house for us. Nothing's working out.

BILL: Hmmm.

JENNIFER: And now that we're down to the wire, it looks like we're going to have to wait until the baby is born.

BILL: Hmmm.

JENNIFER: What, you look like you're up to something.

BILL: Hmmm.

THE DOORBELL RINGS.

JENNIFER: Oh let me get that. Hang on. (Beat) Hello.

IT IS JULIE.

JULIE: Hel....

BILL: Heeeey! Hello Julie.

JULIE: UNCLE BILL!

SHE RUNS HIM AND GIVES HIM A BIG HUG.

JULIE: What are you doing here? You're the last person I expected to see coming through this door.

BILL: Well, I tell you, I planned to fly in for a quick visit but the way things are turning out, that might be just a little bit longer.

JENNIFER: Will you quit beating around the bush and tell me what's up your sleeve?

JULIE: Yeah, tell, tell. This sounds interesting.

BILL: I tell you what, why don't we go back in and join the others and I'll just make a sweeping announcement.

JENNIFER: Well all right.
---
SCENE THREE: EVERYONE IS NOW IN ALICE AND TOM'S LIVINGROOM. BILL HAS SOMETHING IMPORTANT TO SAY TO THEM.

JENNIFER: Dad's going to make a sweeping announcement.

JULIE: Hello darlings.

JENNIFER: Dad has something to tell us.

SHE SITS DOWN NEXT TO JACK.

BILL: Jack, I have a proposition for you. Now I know that you and Jennifer are looking for a place to live but it just so happens that I have this cozy little cottage right here in town.

JULIE: Uncle Bill, you mean the house on....

BILL: Ah, let me finish Julie. Now look this cottage is not very big but what it lacks in size it more than makes up in charm. It's got a fireplace, a big backyard. It's got a perfect place for a young family just starting out. In fact.... well I bought it when Laura and I were first married.

JENNIFER: And it's been vacant all this time?

BILL: No, no, no honey. I've rented it out these past couple of years but the people who are living there now and leaving and I haven't been able to find anyone to replace them. That is up till now. So you would really be doing me a big favor if you just moved in and looked after the place for me.

JENNIFER: Oh dad that sounds absolutely perfect. Doesn't it Jack?

ALL THE TIME BILL HAS BEEN TALKING, JACK HAS FELT AWKWARD. HE KNOWS THAT BILL IS GIVING THEM THE HOUSE AND IT'S CHARITY. HE CANNOT REPLY TO JENNIFER.

BILL: Well Jack what do you say?

JACK: Well Bill.... all I can say that I appreciate your offer.... but we can't accept.

JENNIFER'S FACE DROPS. JACK LOOKS BILL STRAIGHT IN THE EYE.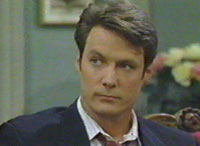 ---
SCENE FOUR: LATER THEY ARE IN THE KITCHEN TO DISCUSSING THE PROPOSAL.

BILL: I really wish you would think this through before you turn me down. Now what I'm offe....

JACK: Bu....

BILL: Wait. What I'm offering you is the perfect solution to your problem.

JACK: Thank you but no.

BILL: Jen?

JENNIFER: I have to go along with Jack. It's up to him.

JACK: I'm sorry but I will not resort to charity.

BILL: OH JACK! It isn't charity. We're family.

JACK: Especially from family.

BILL: Haven't you heard, charity begins at home.

JACK: Not when the home is someone else's house.

BILL: Well that really makes a lot of sense.

JACK: All right.... all right, you want me to explain it and make you understand it I will. I will be the one to support my wife, my child and my family!

JACK IS MAD AND SO IS BILL AT JACK'S STUBBORNESS.

BILL: I do understand how you feel Jack and maybe when you have your own baby you'll understand how I feel. Look.... a child doesn't stop being a baby just because she's all grown up and having a baby of her own and a parent doesn't stop being a parent. He wants to be there for his child for as long as she needs him. I want to be here now Jack for my baby and for you.

BILL GOES ON TO EXPLAIN IT MORE.

BILL (CONT): Things have not always been perfect between my daughter and me Jack. I'm sure you're aware of that but I would be the first to assume responsibility for most of the friction.

JENNIFER: Dad you don't have to do this.

BILL: Honey it's true. Look the whole time you were growing up I was all involved with your mother's problems so you were shipped off to boarding schools and had to fend for yourself.

JENNIFER: Well I paid you back didn't I? I mean no teenager could have been as rebellious as I was.

BILL: Huh, huh. Maybe we've both changed, huh?

JENNIFER: Yeah and I realize now how sick mom really was at the time and how much she needed you. It wasn't an easy time for you either.

BILL: You know you really have paid me back by becoming a beautiful young caring woman.

JENNIFER: Thank you daddy.

BILL: And now that you're about to make me the grandfather of your baby I want to do something for you and Jack, won't you please change your mind and take the house?
---
SCENE FIVE: JACK HAS BEEN CONSIDERING WHAT BILL HAS JUST SAID.

BILL: We really should settle this Jack. Don't you have anything to say?

JACK STILL REMAINS SILENT.

JENNIFER: You know what dad, I think that Jack has made up his mind and I really appreciate you suggesting it but if Jack doesn't want the house then neither do I.

JACK: Je.... Jennifer, ah, I appreciate your loyalty but I have just.... I've rethought my position on this matter.

JENNIFER: What? You mean?

JACK: We'll take the house!

JENNIFER GRABS JACK FOR A HUG.

JENNIFER: You're kidding. Oh Jack, that's wonderful.

JACK: We will take the house on my terms only.

BILL: Aaaah, and they are?

JACK: You will not give us this house. You will sell us this house.

BILL: Think you can manage that?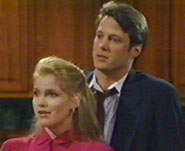 JACK: I think I can manage a small deposit. If you carry the paper, I'll make the payments. Is that a deal?

BILL: It's a deal!

JACK: Good.

BILL: Son.

THEY SHAKE ON THE DEAL AND JENNIFER BRUSHES HER HAND ALONG JACK'S CHEEK.
---
SCENE SIX: SOME TIME LATER, IT IS THEN TIME FOR JACK AND JENNIFER TO GET MAGGIE'S CRIB.

BILL: Sorry you guys have to take off so soon but I know you're anxious to get that cradle of Maggie's.

JACK: We're anxious to get back too. It looks like there's a storm starting up. Even though the weather man did say that it would be clearing up later today.

JENNIFER: Yeah, well I don't really trust what the weather man says. I want to get out there, get the cradle and get back again before it starts.

BILL: Jack, Jack, I want to thank you again for taking me up on my proposition.

HE SHAKES JACK'S HAND AGAIN.


JACK: I believe I should be the one thanking you.

JENNIFER: He's right daddy. Thanks to you we'll be able to bring our baby home for real. I'll see you later.

BILL: Okay.

JENNIFER: Bye.

BILL: Drive with care, heh.

JACK: Yes.

AFTER THEY HAVE GONE, JULIE TALKS TO BILL ABOUT THE HOUSE. SHE IS A BIT WORRIED ABOUT JACK AND JENNIFER LIVING IN IT BECAUSE OF IT IS UNUSUAL HISTORY. THEY DECIDE IT IS PROBABLY NOT IMPORTANT THAT ANYBODY KNOWS THAT HISTORY OF THE HOUSE.
[Transcribed by Carol Vaughan
added material by Sally A. Wilson]
---
---