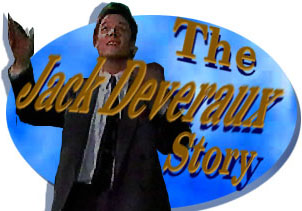 oldEpisode Four-hundred-forty-nine:
Jennifer and Abby Are Discharged
from the Hospital. Jack is Depressed
after Seeing the House Bill Gave Them.
---
[Air date mid-October 1992]
SCENE ONE: JENNIFER AND ABIGAIL HAVE BEEN DISCHARGED FROM THE HOSPITAL AND JACK HAS BROUGHT THEM BACK TO ALICE'S. JACK IS HOLDING THE BABY AS ALICE AND JO SCREAM WITH DELIGHT.

ALICE: Oh welcome home.

JO: OOOOOH.

JACK: Please, I'm trying to get the baby to fall asleep. Just watch the ears!

JO: No, no, just listen. Let me get one close-up of the baby. Just one close-up.

JO POINTS THE CAMERA AT ABIGAIL AND JACK PUTS HIS HAND UP.


JACK: And you, please watch the eyes.

JO: Oh come on, aren't you being a little over sensitive Jack?

JACK: Just looking after the best interests of my progeny.

ALICE: Oh look how she's grown since I saw her in the hospital. Let me take her.

JACK: Ah, please. Sit down. I'd hate to see you drop her.

JO: Jack, Jack, give.... give Alice the baby. Give Alice the baby.

JACK LOOKS DOWN AND SEES DROOL ON HIS JACKET.

JACK: My god there's drool on my good jacket. Excuse me, I will take care of it. Jennifer, call the dry cleaners.

JACK WALKS OUT OF THE ROOM CARRYING THE BABY.
---
SCENE TWO: WITH JACK OUT OF THE ROOM, JENNIFER APPEALS TO ALICE AND JO FOR HELP.

JENNIFER: Grandma, you have got to help me. He is driving me crazy. (Beat) He is really driving me crazy, absolutely crazy.

ALICE: Now look Jennifer, most new fathers are overly anxious. Tom was. Well of course he wasn't as extreme as Jack but.... very few people are as extreme as Jack.

JENNIFER LAUGHS.

JENNIFER: Yes I know.

JO: Jennifer, Jack's just.... he's just trying to make sure that you and Abigail are all right. I mean you are his girls, his family. Oh you're like a dream come true for him.

JENNIFER: I know, I understand that and I love him for trying but you saw how he was just now. That's nothing. I mean he's constantly fussing over Abigail. He won't even let me hold her.

ALICE: Oh no.

JENNIFER: And he already has her on a schedule that he knows she's going to keep.

ALICE: No I can't believe it.

JENNIFER: No grandma I'm serious. Really, he thinks if he tells Abigail to go to sleep for three hours that she is going to listen to him. And I don't know how much more I can take.

JO: Now listen, I know that it's hard but Jack is.... well he's just trying to be the kind of father that he wished that he would have had instead of that mean cuss of a man that he got stuck with.

JENNIFER: Jo, I know. I know that is was very difficult for Jack growing up. That's why I haven't said anything. But I mean how long can I go on with this?

ALICE: Jennifer, you've got to talk to him dear. He'll understand.

JO: Men just need guidance. He does, he does. Just like every other man.

THEY ALL LAUGH.

JENNIFER: Oh Jo.

THEY ALL LAUGH AGAIN.

JENNIFER (CONT.): Okay well I'll give it a try.

JACK WALKS IN BEHIND THEM.

JACK: I'll excuse your mirth. Obviously you've never seen a grown man with drool on his shoulder before.

JENNIFER: Now we weren't laughing at you. We were.... we were just talking.

JACK: Huh, huh.

JO: Oh you know, I was thinking, that maybe Alice and I could take care of Abigail and the two of you could go look at the house.

ALICE: Oh Jo, that is an absolutely wonderful idea.

JO: Yes.

ALICE: Bill is over there right now and he'll be glad to show you around.

JACK: What's he doing over there?

ALICE: Well he said that the last tenants left rather abruptly and he went over to check things out.

JACK: Well let's hope there's nothing wrong. Jennifer, this way. On the way maybe we can discuss piano lessons and ballet lessons. You realize that they look best on a college application.

JACK DRAGS JENNIFER OUT BUT AS SHE GOES SHE LOOKS BACK AT ALICE AND JO FOR HELP.
---
SCENE THREE: JACK AND JENNIFER ARRIVE AT THE HOUSE BILL IS SELLING THEM. JACK VERY TENTATIVELY OPENS THE DOOR. HE DOES NOT LIKE WHAT HE SEES.

THE HOUSE HAS BEIGE WALLS AND THERE ARE BOXES AND TRASH LYING AROUND ALL OVER THE FLOOR. AS JACK IS STANDING IN THE MIDDLE OF THE LIVING ROOM LOOKING AROUND IN DISGUST, BILL COMES DOWNSTAIRS.

BILL: Jack! I thought I heard somebody down here.

JACK: Ah, yes, Jennifer and I decided to check the place out.

BILL: Oh. (Beat) Not exactly what you expected is it?

JACK: No, no, it's just that I.... was expecting a little more for Jennifer and the child.

BILL: Ah, where's.... where is Jennifer?

JACK: She's outside, walking around. (Beat) You know something, I was actually planning on surprising Jennifer myself. I was going to have a house waiting for her when she came back from New York. It just didn't quite work out, that's all.

BILL: Jack, Jennifer loves you, not real estate.

JACK: Yes, she does. You know, there's some people who don't understand that. (Beat) They seem to think that I'm wrong for her. A bit too self involved.
JACK IS TESTING BILL.

BILL: You know I can't think of Jennifer being married to anyone else.

BILL PUTS HIS HAND ON JACK'S SHOULDER.

BILL: Look, I know you love her and I know you'll take care of her.

JACK: You're absolutely right. (Beat) I will.

JENNIFER COMES IN THE BACK DOOR.

JENNIFER: There you are. BILL: Hey.

JENNIFER: WOW!

SHE LOOKS AROUND IN AMAZEMENT BUT IN TRUE JENNIFER FASHION SHE LOOKS FOR THE GOOD THINGS.

JENNIFER: Well I can't wait to see the rest of the house.

JACK SIGHS AND WHISPERS TO HIMSELF.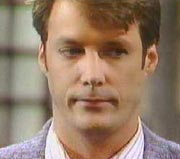 JACK: Yes.

THEY GO UPSTAIRS AND LOOK AROUND AND THEN COME BACK DOWN TO THE LIVING ROOM.
---
SCENE FOUR: A LITTLE LATER, THEY HAVE FINISHED THE TOUR OF THE HOUSE.

BILL: I'm going to go down and check the sub-pump and make sure the basement's okay. So you two, make yourselves at home.

JENNIFER: Thanks dad.

BILL: I mean it is your home.

JACK GIVES A WEAK LAUGH.

JENNIFER: Oh boy.

JACK: Yes.

JENNIFER: Jack this house is wonderful. I mean it is. It has a lot of potential. You know the garden outside, it gets sun all day long and the fireplace works. And that really odd shaped room upstairs, it's going to make a wonderful nursery.

JACK IS KICKING NEWSPAPER AROUND THE FLOOR.

JACK: I'm sure it will.

JENNIFER: Are you okay?

JACK: Yeah, certainly, fine.

JENNIFER: I know that you want everything to be perfect. (Beat) And it will be Jack. It's going to take a little bit of time, that's all.

JACK: You just deserve so much more than this.

JENNIFER: I already have what's most important to me. (Beat) Abigail and you.

HE WALKS OVER TO HER AND TAKES HER IN HIS ARMS.

JACK: Or.... me and Abigail if you take your....

JENNIFER: You and Abigail.

JACK: Huh, huh.

HE KISSES HER PASSIONATELY.
---
SCENE FIVE: JENNIFER THEN BEGINS TO WALK AROUND THE LIVING ROOM AND MAKE PLANS.

JENNIFER: I think this area right here could be a.... like little reading nook, you know.

JACK: Huh, huh.

JENNIFER: And then we could maybe put a little conversation area right here with some chairs.... maybe.

JACK: Huh, yes. Maybe we'll be able to turn this dump into a showplace. Who knows?

JENNIFER: All right, as long as we do it together, okay.

JACK: Yes.

JENNIFER: Come on let's go upstairs. Let's start with the nursery. Come on Jack. It's going to be so much fun. Come on.

SHE IS FULL OF ENTHUSIASM AND HE IS FOLLOWING ALONG WITH NONE AT ALL. SHE TAKES HIS ARM AND RUNS UP THE STAIRS. HE TRIES TO FOLLOW BUT GETS HIS FOOT STUCK IN A BOX.

JACK: I'm sure it will be. Just.... watch your step.

THEY DISAPPEAR UPSTAIRS.

JENNIFER: WHOA!
---
SCENE SIX: AS SOON AS THEY GO UPSTAIRS, BILL COMES IN FROM THE GARDEN.

BILL: Well I hope I did the right thing. Jack and Jennifer must never learn what happened in this house.
[Transcribed by Carol Vaughan
added material by Sally A. Wilson]
---
---